The first race weekend after the Indianapolis 500 and the intensity of the 'Month of May' might in theory feel like a chance to get back to normality for the IndyCar field.
But when that event is the double-header on the wild, bumpy, tyre-eating streets of Detroit, normality can be in short supply.
We pick our winners and losers from a weekend of late-race shocks.
Winners
Pato O'Ward
There's always at least one 'well, obviously' entry in the winners section when we deploy this feature, and Detroit's is the man who took a third place in race one from pole and then won race two from 16th on the grid and put himself into the championship lead in the process.
And all at the type of venue where his Arrow McLaren SP team would've been right to fear it would be weak given its form on the last street outing in St Petersburg earlier this year.
We'll be exploring the significance of O'Ward's remarkable Sunday win in more detail on The Race later.
– Matt Beer 
Marcus Ericsson
IndyCar's newest winner and its seventh different winner in as many races this season was a deserving – if not surprising – race one victor.
Ericsson was propelled into second place by Felix Rosenqvist's crash, but he was more than a match for Penske's Will Power at the front of the field and showed good pace throughout the weekend.
Power failing to restart his car in the pitlane was a lucky break for Ericsson, but the Swede has had more than his fair share of bad luck since he entered IndyCar in 2019.
Ericsson acknowledged after winning the race that team owner Chip Ganassi "likes winners" and he's relieved to now finally call himself that after a painful eight-year victory drought.
It will be interesting to see if Ericsson's breakthrough win acts as a springboard for further success, or he forever remains on the long list of one-time IndyCar winners.
– Josh Suttill
Rahal Letterman Lanigan
Graham Rahal may be a difficult talent to analyse over the stretch of his career, but he's been every bit one of the stars of this season and his team Rahal Letterman Lanigan has stepped up generally too.
Without his crash at the Indy 500, where he'd been tipped to win and was saving more fuel than most before a wheel literally fell off his campaign exiting the pits, he'd have five top-fives in six races. He scored seventh from 18th on the grid in the Barber opener and a 15th which would have been a top-five had Alexander Rossi not barged him off the St Pete track in the next race, too.
Top five speed in every race this year. Not many drivers can say that, and he scored two fifths in Detroit.
The team's Achilles' heel has been qualifying this year, with Rahal's first fifth in Detroit coming from 20th and the second from ninth. Team-mate Takuma Sato has had a woeful season but delivered fourth in race one from 16th – even if that felt like a bit of a loss when he could have won – and then in a car made up of Salo's oval back-up car, Santino Ferrucci put the third RLLR car 10th in a brilliant drive, backing up his strong charge to sixth in race one.
It was a good weekend for the squad, which is constantly tweaking and improving in a bid to match the big three teams in the series.
– Jack Benyon 
Alex Palou
What an impressive championship contender Palou is becoming in just his second year of IndyCar and first with Ganassi.
The triple whammy of complete circuit inexperience plus carried-over grid penalty plus a lack of confidence in the car led to a tail-end start on Saturday, when he admitted that the sole practice session on Friday just hadn't been enough for him to get on top of Belle Isle's unique demands.
"If you can imagine a really bumpy place, you're not even close to that. Like it's super bumpy," he said.
"I tried to imagine that. I tried to say, 'OK, Alex, it's going to be really bumpy, get ready for it".
"I was mentally ready. One lap and I was like, 'oh my God, I cannot race IndyCars here…'"
A 15th place race finish was nothing special but in circumstances where he could easily have crashed out trying too hard to make amends, it was a very sensible result – and it could have been a top 10 if the strategy/red flags lottery had fallen slightly differently for him.
By Sunday, Palou was more at home with the Belle Isle circuit and what he needed the car to do for him around it, praising his engineers for giving him "the right car today to be able to have the confidence and push forward" – suggesting the performance gain was as much that driving confidence as any extra pace in the car.
The outcome was fourth on the grid and a late move on Colton Herta for third in the race.
Yes, he lost the championship lead to O'Ward by one point, but Palou's reaction was even more evidence of the mental approach that's cementing him as a season-long title contender.
"Why is it bad news? We're still there," he said. "You have to look at until now who has been the best, and that's Pato for sure and then it's us."
– MB 
Losers
Penske
Penske's 2021 win drought continues in the most painful way possible with two victories snatched away in the final five laps.
A furious Will Power was left stranded in the pitlane when the first race was due to restart following Grosjean's late-race crash.
Although Ericsson arguably had better pace, Power seemed to have the measure of him and would have had a good chance at holding on in the last laps for what would have been his first win since October last year.
His Penske team-mate Josef Newgarden had the race two victory wrestled from him by O'Ward with just three laps to go. It was painfully inevitable with long-time race leader Newgarden struggling on worn soft tyres and O'Ward making an unstoppable charge.
He'd recovered well to 10th in the first race after going a lap down due to losing his tyre, but Detroit should have marked a more significant points haul to recharge his championship bid.
It was a meandering weekend for Simon Pagenaud. There was contact with Romain Grosjean via a 12th place finish in race one and a solid if unspectacular drive to eighth place in race two.
Rookie Scott McLaughlin endured his most painful weekend of his IndyCar season so far with a crash that left him completing just five laps in practice on his first visit to Detroit. He qualified as the slowest of his group in qualifying and then slid into the wall in race one.
He picked up a puncture after contact in race two and ended up finishing down in 20th place.
– JS 
Colton Herta and Andretti
Race two looked like a certain victory for Herta as he hacked Newgarden's lead down to nothing and arrived on the leader's tail with plenty of time to make a move and a superior tyre situation.
Then the spate of late yellows cost him green-flag laps to get the job done and brought the rest of the pack – and in particular the hard-charging O'Ward – onto Herta's tail.
That likely win became fourth as O'Ward usurped him as Newgarden's threat and Herta locked up and went wide trying to retaliate, allowing Palou to pounce on him.
Overall, absolutely everything went wrong for Andretti Autosport all weekend. Herta's penalty for avoidable contact on Saturday, Ryan Hunter-Reay's early error in that race, slow pitstops that hurt Alexander Rossi at crucial times and yellow/red flag timing that seemed to constantly work against every strategy any of the team's cars was trying added up to another weekend of pain.
With half the season gone, Herta is the only Andretti driver in the championship top 10 and he's 97 points off the lead in ninth.
That's not supposed to be what life is like for a team with an increasingly tenuous status as one of IndyCar's 'big three'.
– MB 
Romain Grosjean
There were still huge positives about Grosjean's weekend. Despite being totally new to this very tricky track and despite Dale Coyne Racing having gone awry on set-up for the last IndyCar street race in St Pete, Grosjean qualified a brilliant third on Saturday and fifth on Sunday.
It underlined that he has taken to the IndyCar style exceptionally well and is fast enough to win races.
Now he just needs to put the weekends together. He can drive this car fast, but there were times when it looks like he still needs to adapt to the nature of the racecraft in the series as he can look less in control of what's going on when going wheel to wheel.
He was also very unlucky at times, though, and what he needs to learn about what lunges are possible and what moves pay off in an IndyCar on a street track is something that can't be learned on a sim.
Given how Grosjean's pace improved from St Pete to Detroit, it would be no surprise at all if he's an even more refined racing package when the series next goes street racing in Nashville in August.
– MB 
Scott Dixon
Last time Scott Dixon was in Detroit, he crashed out of race one and spectacularly won race two. This past weekend was less dramatic and less successful.
He still recorded two top-eight finishes but it could have and should have been a lot more, especially on a weekend where he needed to reclaim the championship momentum after a dismal Indy 500.
In race one, Dixon was leading the race when Felix Rosenqvist's crash brought out the first of two red flags. He'd built a respectable lead on the harder tyres while his rivals who pit early were getting stuck in the traffic.
He would have likely been in contention for a podium at worst, but instead, the red flag flipped the race and forced him to pit at the restart and drop outside the top 10. Instead, his Chip Ganassi Racing team-mate Ericsson picked up his maiden IndyCar win.
In the second race, Dixon made contact with Grosjean and Rossi through Turn 1 and he was lucky to survive relatively unscathed, in part thanks to a miraculous bit of car control. Dixon didn't make any significant progress in the race and ended up seventh at the chequered flag.
It's another solid points haul for Dixon's pursuit of his seventh championship but he's now slipped to third in the standings. Outshone by his team-mates and current title rival Pato O'Ward, Dixon appears to still be struggling to find his early 2020 form.
– JS 
Meyer Shank Racing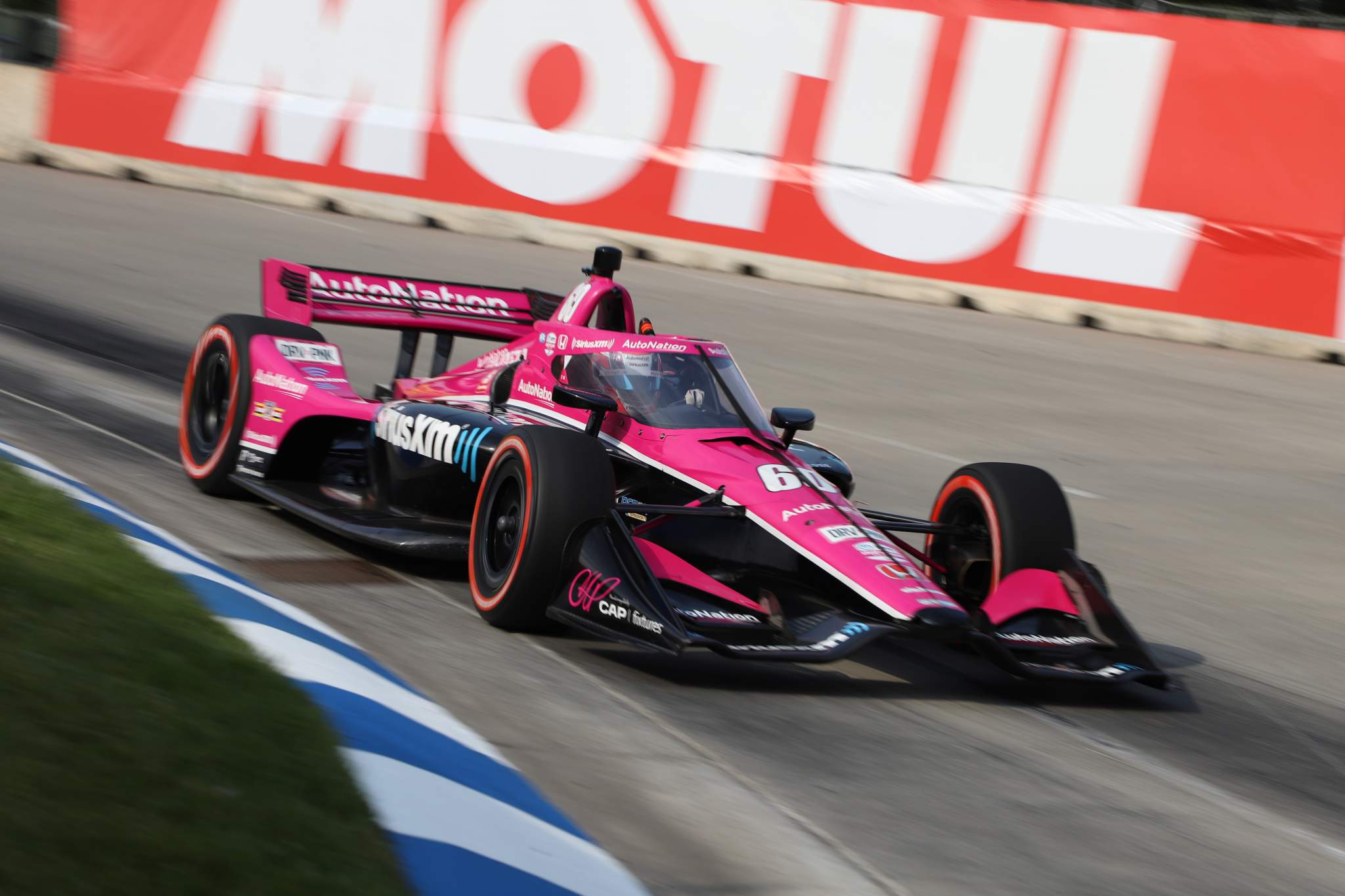 The Indianapolis 500 winning team went missing in action in Detroit with its sole entrant Jack Harvey finishing the two races in 16th and 19th places.
The weekend began with an uncharacteristically poor qualifying for Harvey, who was narrowly denied his maiden IndyCar pole in St Petersburg – this season's last street circuit round.
Harvey lined up in 19th and while the likes of his row 10 companion Rahal were able to charge into the top 10, Harvey could make no such impression.
Things didn't get much better on Sunday with 18th in qualifying. Harvey did find himself inside the top 10 but he then had to pit for a puncture after contact with Grosjean.
The team and driver's first IndyCar visit to Detroit yielded little and served as a reminder of how quickly your fortunes can change in the championship. A return to the more familiar Road America this weekend will a welcome one.
– JS