IndyCar's first oval race of the 2023 season at Texas Motor Speedway was totally revitalised after years of one-lane racing, and one of the biggest reasons for that was a new set of aero parts.
Some estimated these parts added 200lbs of downforce to the car, and it meant drivers found it easier to race side-by-side and create a thrilling spectacle.
Now those same parts – plus some additional ones especially for IndyCar's blue-riband event – are being put through their paces in the traditional annual two-day Indianapolis open test this week ahead of next month's 500.
---
New IndyCar speedway parts in 2023
Available at Texas and now Indy
Longer outside rear diffuser strake (in blue below) known as a sidewall
A wicker, a small piece that fits into the hole in the floor behind the front wheels
Additional underwing bargeboard, small pieces attached to the floor behind the front wheels
New updates for the #PPG375.

Check out the changes to the cars for this weekend at @TXMotorSpeedway.

MORE INFO: https://t.co/7VjbWabZdU pic.twitter.com/qbcUszIeap

— NTT INDYCAR SERIES (@IndyCar) March 31, 2023
Indy-specific parts
New rear wing support pillar that allows three degrees more angle in the wing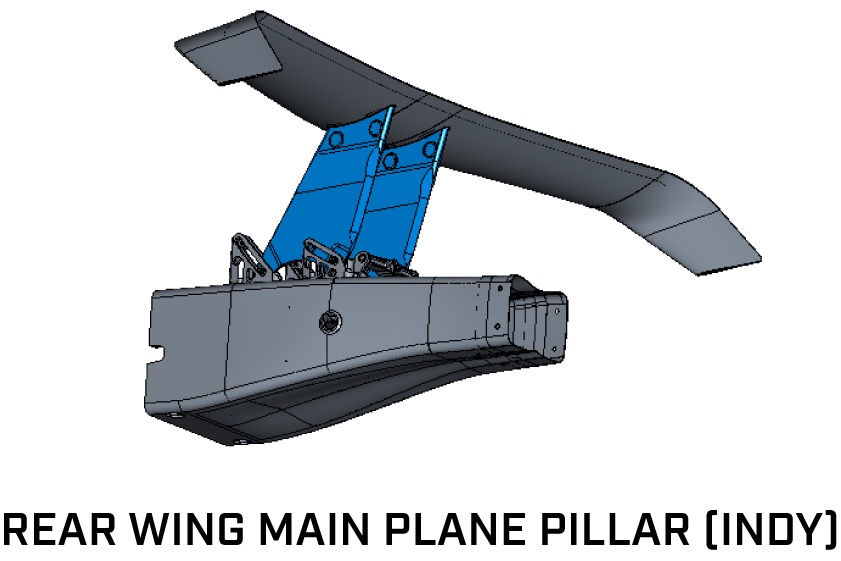 A wicker which goes either side of the rear wing, attached to the floor just above the diffuser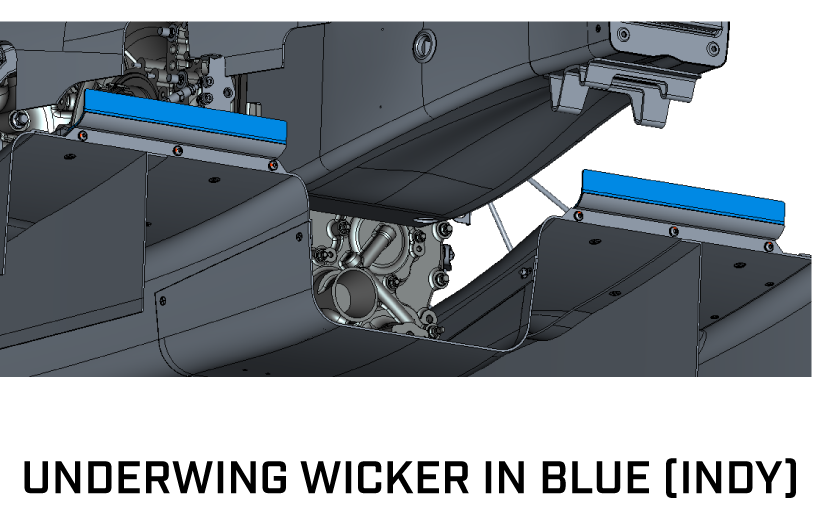 ---
At Texas, admittedly there was only one short practice session before qualifying and then the race next day, so extensive experimentation was a tough ask. But most teams added all the parts that were available.
Sadly though, the story is much more complicated at the 500.
Instead of having too little time, the teams and drivers almost have the opposite with the five days of practice they'll have in May alongside qualifying.
Indy probably constitutes 60% of every team's seasonal efforts. To many it's bigger and more important than the championship title.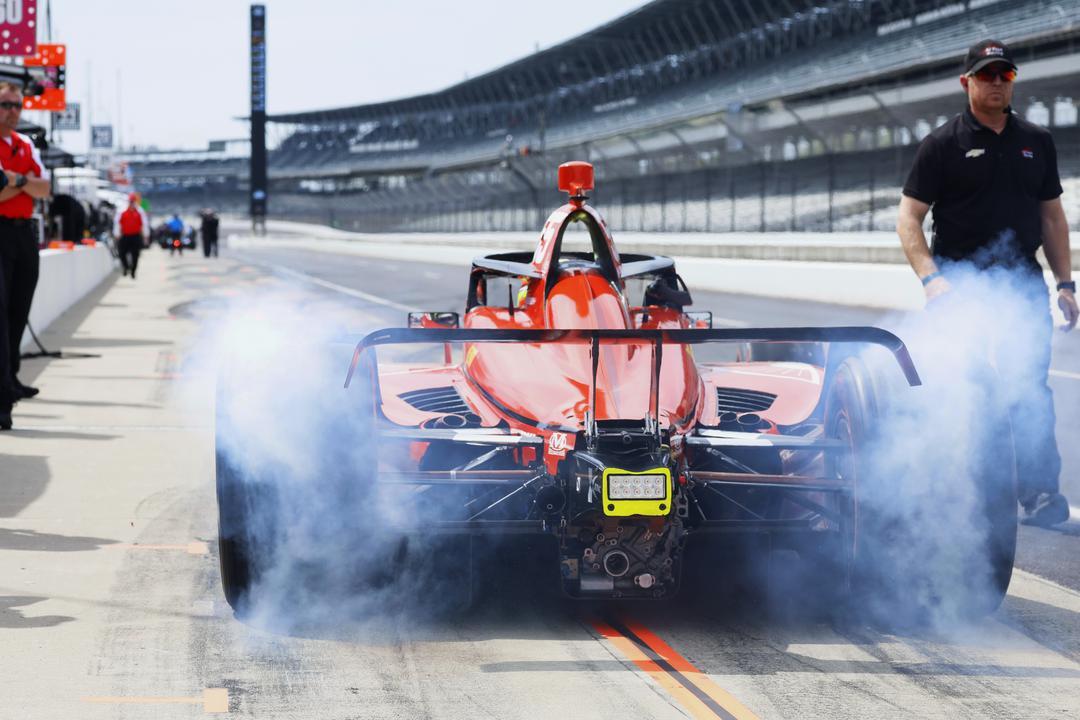 Josef Newgarden topped the timesheets on the first day of the test and explained why getting a read on the new aero parts takes longer at Indy.
"Everyone is going to be more diligent here," said the two-time IndyCar champion.
"They have today as kind of a precursor to May. In May you have day after day to really scan through the stuff and do it methodically across cars for most teams.
"Texas, you're basically just coming out with your best guess completely. Everything, mechanically and aerodynamically. I think here you're coming with pieces of your best guess, but you're definitely working through stuff methodically all around.
"I don't think what you saw today is necessarily just the ticket for what everyone's going to be using. There's still a lot to go through on the list, including ourselves.
"There's a lot we have not done yet. We've only got through partial bits.
"Relative to Texas, it's a very different, different set of circumstances."
That means Friday – if it isn't totally ruined by rain – should be important for doing more set-up and aero experimentation, although the 3522 laps run on Thursday might tell you that the track could be quiet on Friday and that many will stand pat until returning for the first day of official Indy 500 practice in May.
Make no mistake though, Thursday was crucial as the first day of on-track action ahead of the 2023 Indy 500.
While the event is always a spectacle, Newgarden did hint at the opportunity for improved overtaking with the new car configuration.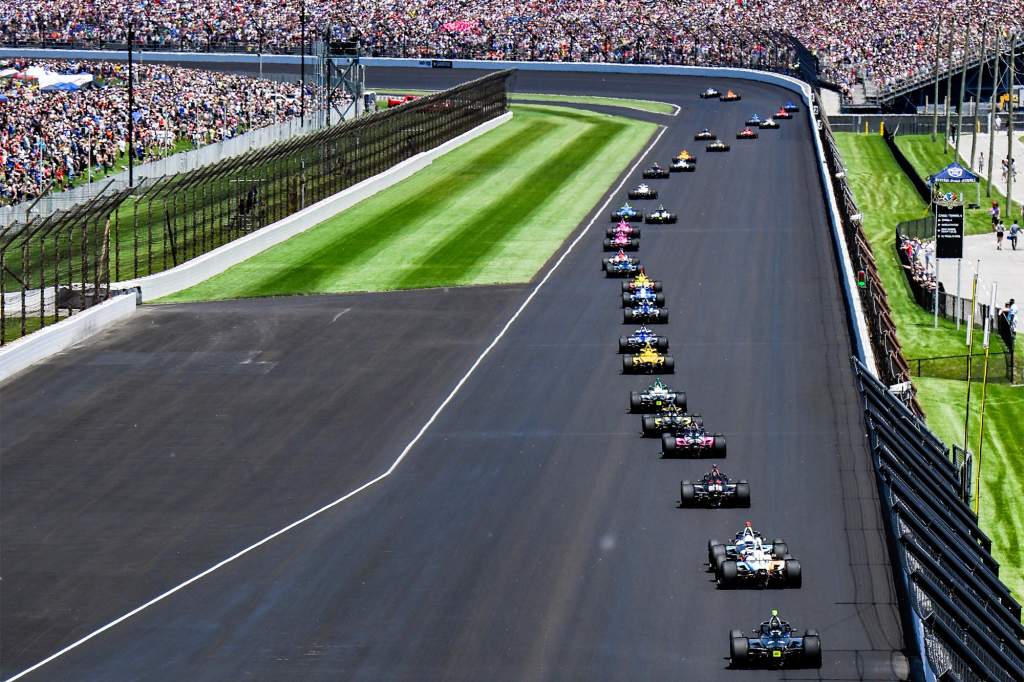 Since the introduction of the aeroscreen in 2020, the cars have understeered heavily in traffic due to the significant weight of the device, high up at the front of the car. Combined with dirty air and ageing tyres, it meant overtaking has been tough for people running outside of the top 10 in one long train at Indy.
Asked if the new aero parts will help side by-side racing, Newgarden said: "Definitely in traffic.
"Weather is such a big component. If it's a 65-degree day with low wind, you'd be more packed up than when you were going to be today.
"I don't think everybody was as loaded up as maybe they could be today. Everyone is going to try to find that right balance and efficiency.
"I think purely speaking from what's available, there will be more load on the cars than last year. That should pack everyone up theoretically. I think that will happen.
"I don't think you're going to get the Texas effect. This is not a two-lane racetrack. At least not currently.
"Outside of restarts and starts, you're not going to have side-by-side, lap after lap.
"You're going to have really exciting restarts, a really exciting start to the race, then it's going to be a matter of how do you work traffic etc.
"I think the goal would be giving a little bit more of the frontrunners an opportunity to shuffle around.
"Typically it's just the front two shuffling. I think if we could get the shuffle going three-, four-deep, even getting people opportunities in the mid-pack to make moves more often, that's really the goal without overstepping it.
"It remains to be seen if we've struck that right balance. It's just very hard to predict."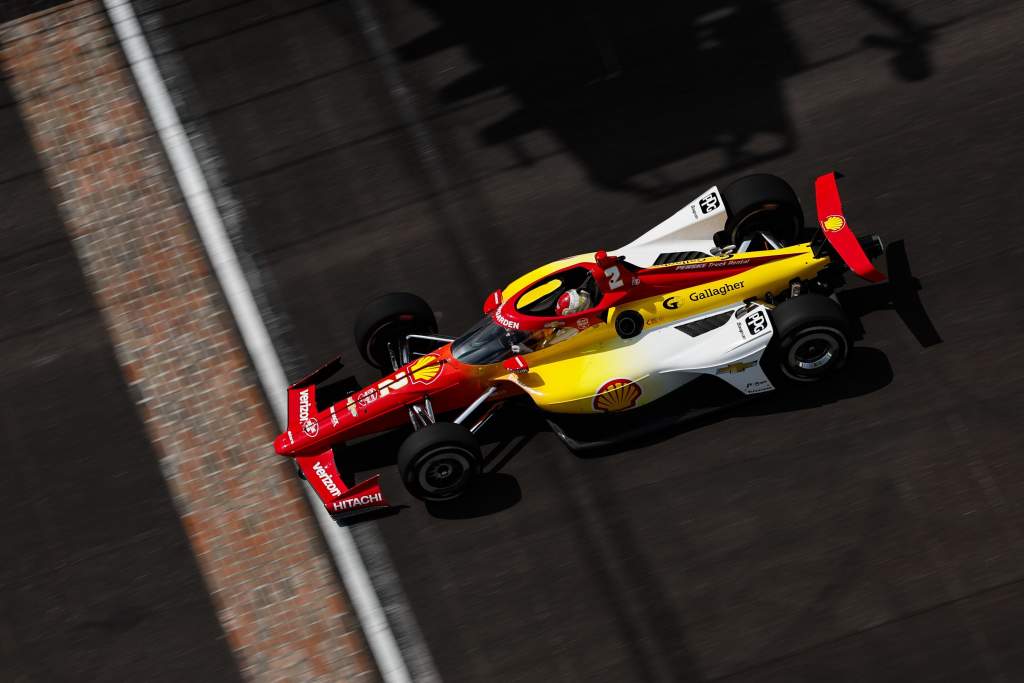 The balance Newgarden refers to is a reflection of the fact IndyCar doesn't want to create a pack race where the skill of overtaking on an oval is removed and it looks more like a Tour de France peloton.
After all, this is the Indy 500, it should be tough to win and the best combination of team (including engineers and strategists), driver and car should win the race.
With a pack race you also have more cars racing closer together and that's a worry from a safety standpoint.
That means IndyCar can't just pile on downforce – it has to be a scientific alchemy of creating the right balance of parts available to teams to create the right sort of safe and exciting race.
The change to the rear wing pillar could well be the most important because the additional degrees of downforce should stop teams piling on other parts which create dirtier air. But we don't know yet if those additional parts will still be used anyway.
IndyCar appears to have done a good job this year at balancing those parts, too. If you add downforce to the rear, chances are you need to then balance that at the front, too. The range of parts moves from front to back, creating a nice opportunity for balance.
The jury is out on how racey the cars will be with the new parts and how that will impact following. Certainly, the drivers aren't sold on what to expect.
But heavy winds on Thursday weren't ideal for assessing everything and there's still hours of recon work to be done.
The new parts have certainly caused intrigue, and could play a key part in making the on-track product at the Indy 500 even better.