How would Ferrari go about entering IndyCar?
With Formula 1's impending budget cap, many of the big teams will have to lose or redeploy staff to make sure they are under the limit required, which is $145million in 2021, $5m less in 2022 and $135m from 2023 onwards.
Earlier this year Ferrari suggested it could look to do IndyCar or a top-class World Endurance Championship programme with the staff it can rehouse from its F1 operation, with IndyCar then confirming talks have taken place with Ferrari about it joining the series.
Talks aren't anything to get too excited about just yet, but any motorsport fan has to hope this is the real deal, with the world's biggest car name interested in venturing Stateside.
So how would Ferrari go about an IndyCar entry? The Race investigates.
Not for the first time with Ferrari – it's about power
IndyCar runs a spec-chassis – developed by Italian firm Dallara – which has a long history of working with Ferrari. Usually that work comes in the form of engineering assistance on its road cars. But Ferrari power has been placed in a Dallara chassis before, think not only the Dallara F192 run by F1 team BMS Scuderia Italia in 1992 but even the current Haas – created in collaboration with Dallara.
So, the best way for Ferrari to get into IndyCar now would be to rival Honda and Chevrolet as an engine manufacturer, unless it wants to take on Dallara for the chassis tender, which is thought to be extremely unlikely.
IndyCar is set to introduce a new hybrid engine in 2022, which would provide the perfect reset button creating a level-playing field among Ferrari's new (potential) rivals, if indeed it wants to enter that soon.
The hybrid element of the series is obviously an advantage for Ferrari, as its experience in F1 would no doubt help in avoiding some of the trap doors when it comes to adapting such a unit – even if the hybrid part will come from an outside supplier and not be developed by Ferrari itself like it is in F1.
Currently, IndyCar employs a push to pass system, which gives drivers a limited increase of 40bhp to help passing. This is done by turbo boost levels.
IndyCar's new hybrid system will work in a similar way, activated on the steering wheel, making it not completely dissimilar to the KERS system adopted by some Formula 1 teams including Ferrari in 2009. In its only full year of use, Ferrari took a victory at Spa with Kimi Raikkonen.
That system however did create the additional power through heat created from braking, whereas IndyCar's new system will work with hybrid energy – likely making use of batteries.
The biggest area Ferrari would have to adapt to in terms of engine performance would likely come from the ethanol fuel used in IndyCar. Ferrari's struggles with fuel in F1 have been well documented over the last 12 months, with a dominant engine reduced to a gutless and underpowered unit this season owing to directives over the FIA's rules on fuel flow.
However, the problem-solving of a group used to grappling with complicated systems like KERS and the MGU/H should make building a cheaper and more simplified IndyCar unit a doddle for the head-honchos at Maranello, and it shouldn't take long to adapt to the fuel.
Having time to test the unit extensively to iron out the flaws before 2022 would be a major issue for Ferrari, but at the moment there should be time, if it confirms an entry soon. Extensive testing in 2021 before introduction in 2022 is likely to be extremely important, unless IndyCar defers the introduction of the engine from 2022 further into the future.
IndyCar is finalising an adapted rule package where its chassis revamp is likely to be introduced in stages as opposed to all in one year, between 2022 and 2027. The coronavirus has given IndyCar a lot to think about in that department and keeping costs down has to be a priority, which could mean further shake-ups in the future.
People power and crunching the numbers
Ferrari will probably have to rehouse around 200-300 people from its F1 programme to get under the budget cap, which would be more than enough to develop an IndyCar engine division.
Obviously, a lot of the numbers here – money and staff – are affected massively by how many IndyCar entries Ferrari would want to provide for, and the finalised 2022 rules, which we don't have yet.
Honda, for example, provides 13 full-season entries and has just over 200 people working at its base in California. However, not all of these people are believed to be working exclusively on IndyCar.
Ferrari would probably need 2-3 people per car on site – that's in line with the current manufacturers – to look after the cars over the course of the weekend. It probably wouldn't want to design and build the engines with fewer than 100 people either.
Where things get tricky are predicting IndyCar's next engine rules, and whether Ferrari will have to provide a minimum number of entries.
IndyCar doesn't have a third manufacturer currently, or a rule for how many engines each manufacturer has to supply per entry.
The last time IndyCar had three manufacturers was when Lotus took part in 2012. Back then manufacturers had to be "prepared" to provide 40% of the full-season entries, but Lotus certainly didn't as it supplied one full-season entry and a handful of part-schedules – and was rapidly dropped by most of its teams as it proved uncompetitive.
In the current rules, each full-season entry may possess only one engine at any one time and is allowed to use four in total per season. Teams may use a fifth engine, if they have completed the 'Full-season Entrant Engine Mileage' dictated by IndyCar, which is 7800 miles. If that mileage hasn't been used, the engine is treated as unapproved and the entry isn't eligible for engine manufacturer points.
That means Ferrari needs to be ready to supply four engines per entry, plus spares.
Leases for a full-season entry are understood to be just over $1m currently in IndyCar, and it is yet to be announced how much that will change when the new engine comes in for 2022. What we do know is that barely covers costs for the current manufacturers, which have to accept that making a loss is a possibility. Some rumour that loss figure to be in the six-figure territory.
Location logistics
While Ferrari should have no problem in building its engines in Maranello and sending them to America if it wants to, at a minimum it will surely need an American base for its on-track staff, somewhere to refresh the engines after each round and a store for parts.
An obvious suggestion for this would be the Risi Competizione outfit, which has looked after Ferrari's endurance activities in North America for years, including many successful IMSA seasons and even a few Le Mans 24 Hours class wins to boot.
However its current base in Houston – where it houses its IMSA GT entries – probably isn't big enough to accommodate an IndyCar programme too. Geographically, Houston is also well over 15 hours drive to the championship's major nest of teams in Indianapolis.
Therefore Ferrari would have to persuade Risi to take on a US Ferrari IndyCar base and perhaps even relocate – something Risi may not be keen on – or start a new facility for any American staff and associated work elsewhere.
A spokesperson for Risi told The Race that it had no interest in IndyCar currently, and is happy with its sportscar efforts.
Chrysler, Dodge and Jeep are all affiliate brands to Ferrari as part of the Fiat group. So it does have existing factories that could support it, but a new facility in Indianapolis could be more likely.
F1 – Fuel for thought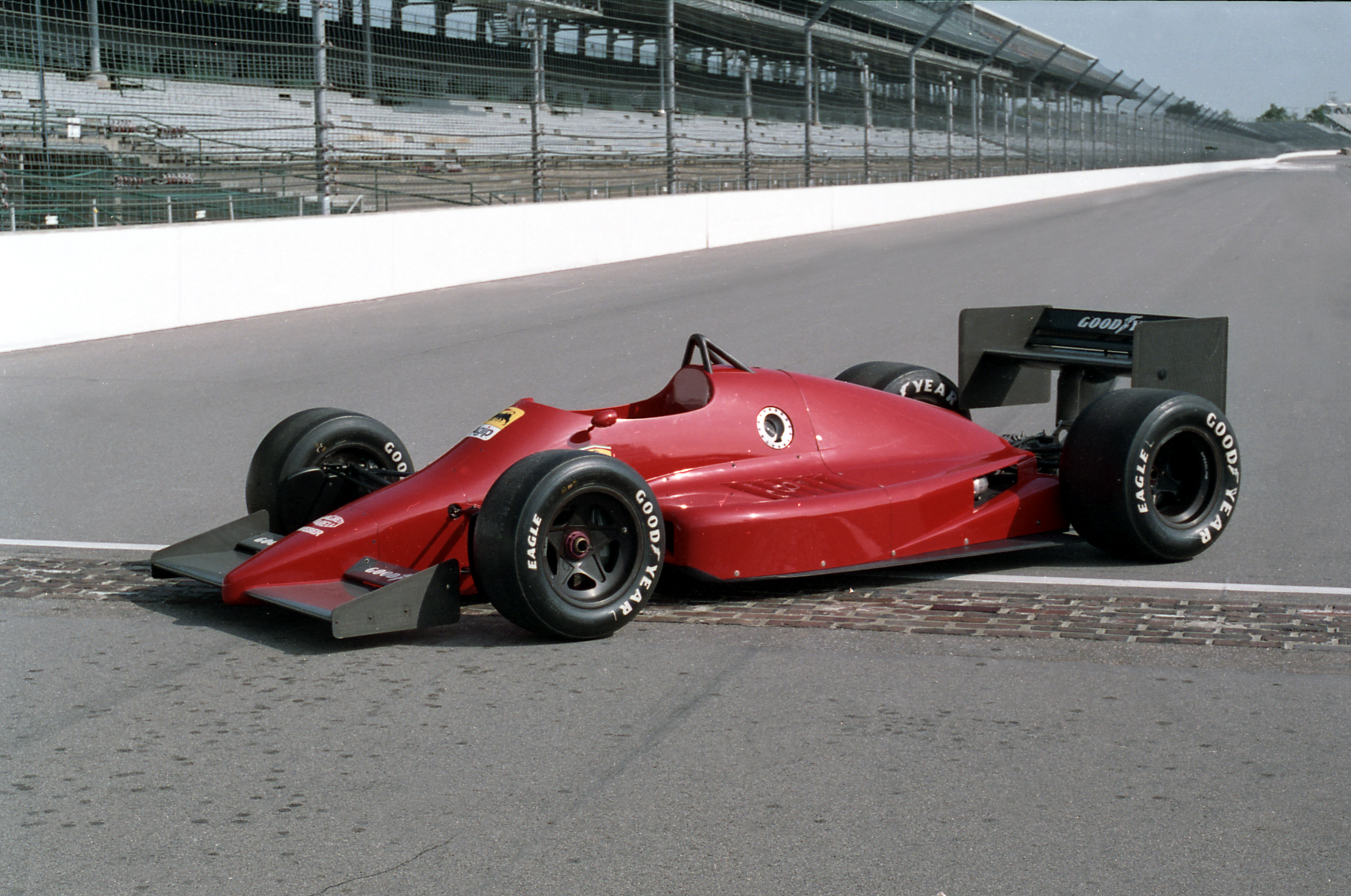 This isn't the first time Ferrari has muted a full IndyCar assault, as it designed and built the 637 with the aim of conquering the series and the Indianapolis 500 in 1987.
Some believe the car was just a ploy by Enzo Ferrari to persuade the FIA to allow V12 engines in F1 for 1989, but others believe the feeling inside Ferrari that its poor performance in F1 led to any side projects being scrapped, including an Indy entry, to focus on its more immediate problems.
Fast forward to 2020 and the F1 team is in as dire a position as it has been in years, facing a battle with Racing Point and the midfield, with group chairman John Elkann admitting the team is unlikely to be competitive again until at least 2022.
That's a frightening admission for a team that dominated the second half of last year before the fuel saga emerged. Could something similar to 1986/87 strike again, and mean an IndyCar entry will be deferred until further notice while matters closer to home are addressed?
It's a possibility, but in this instance Ferrari desperately needs a distraction, and an IndyCar entry would certainly provide that along with some good PR, for a change.
The Ferrari factor
Roger Penske has confirmed already that he'd like to bring Ferrari to IndyCar, and the name conjures such a strong feeling in fans that it's a no brainer for the series to do everything it can to get Ferrari over.
If that stretches to favourable terms to attract the Prancing Horse in – and it wouldn't be the first time we've seen that, would it? – it could well make the difference.
In terms of its road car range, the manufacturer's crossover is set to be introduced in 2021 and a new hypercar in 2022. In 2019, Ferrari sold over 10,000 cars for the first time, but numbers weren't groundbreaking in the Americas.
Rumour has it that North America is a key target market for Ferrari in coming years, and if that's the case, having a more prominent US base and racing programme could help with that.
Now it's up to the board. Should Ferrari focus on its own backyard and a struggling F1 programme, or defect, deflect, deflect, and start a new one with the added benefit of exposure in the US? We aren't far away from finding out.