IndyCar's exotic rookie class and its young championship leader have proven the series is a drivers' championship, where talent can trump experience.
Romain Grosjean in particular has excelled in his post-Formula 1 destination, while Scott McLaughlin from Australian Supercars is already a podium finisher and NASCAR's Jimmie Johnson has had moments of impressing as well.
In the championship lead is Alex Palou, now in his second season having arrived in IndyCar via excelling in the Japanese Super Formula series.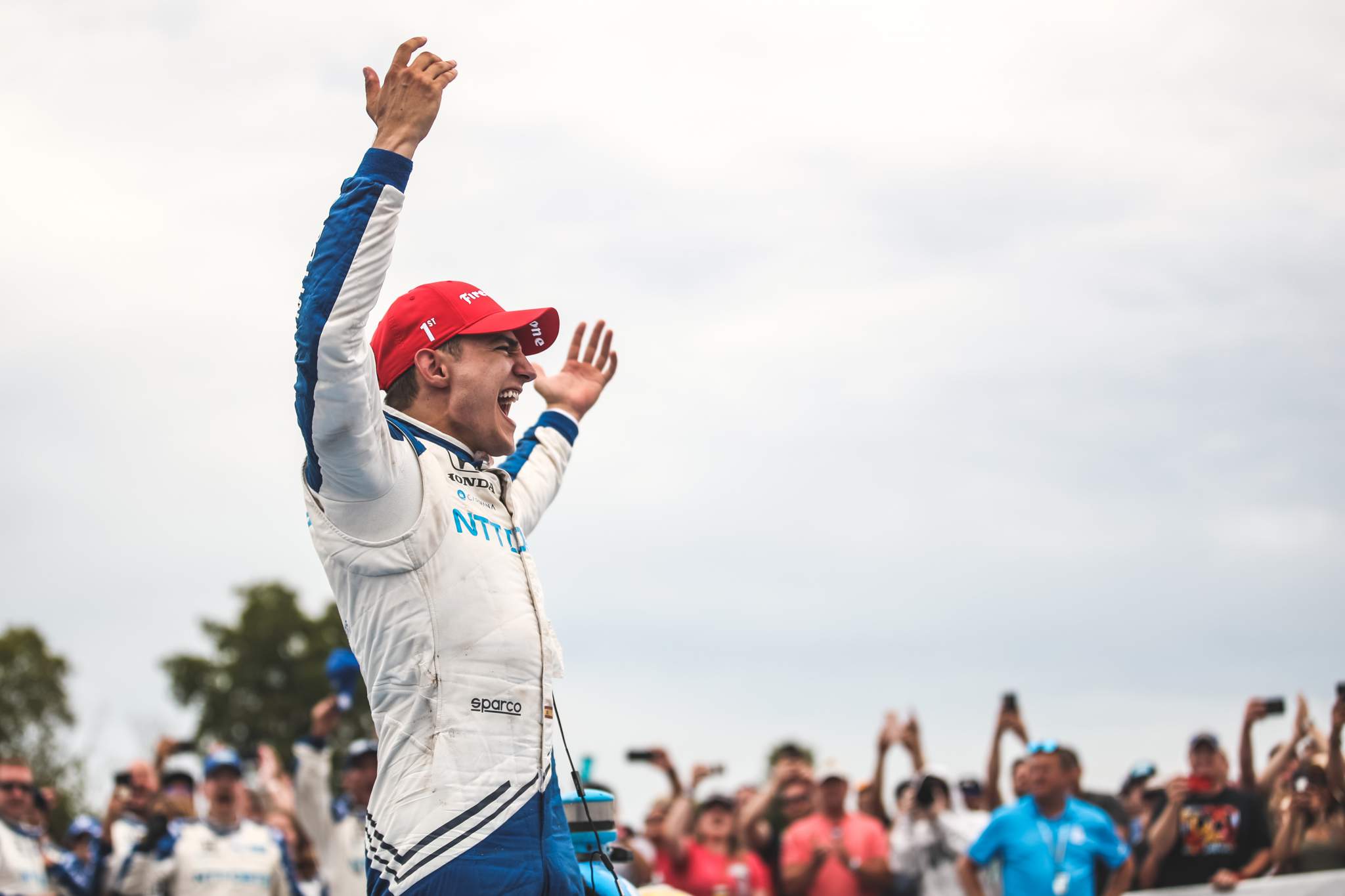 "Clearly with as many road course races as there are, there's no reason why you shouldn't look everywhere for a potential driver," IndyCar legend and team owner Bobby Rahal told The Race.
"The way Romain is going, Palou came from Super Formula… Good drivers will show regardless of where they come from.
"There's a lot of guys that Formula 1 either passed up or they didn't get the proper opportunity in Formula 1, and quickly got forgotten, and yet are quite good drivers.
"I think that's showing with Romain this year.
"Yes, IndyCar is not as sophisticated as a Formula 1 car but it allows the driver to really showcase his talents. And so it's not so machine dependent.
"I think it should drive a lot of interest in Europe for guys who want to come over.
"Clearly winning the Indy 500 will do a lot more for your career than running around at the tail end of the Formula 1 race."
With that in mind, The Race has looked at who could be the next drivers to realistically make the future switch from championships outside of IndyCar to this increasingly popular destination.
From F1 – a Canadian influence?
Arguably Nicholas Latifi has done better in Formula 1 than people expected, but the late-starting Canadian driver is unlikely to attract interest from teams further up the grid.
And with Williams improving year on year, there's every chance it could elect to go in a different direction than renewing Latifi's deal – even if it does lose George Russell to Mercedes soon.
Latifi proved in his junior years that he takes time to get up to speed with machinery, so providing he's willing to pay for a seat at least early on, IndyCar could be a great landing spot. Indeed, speculation indicates that he is already considering an IndyCar future.
He's certainly able enough to be on the IndyCar grid, and money is not a problem for him and his family. He could legitimately do IndyCar in a plumb seat for half the price of what he's rumoured to pay for his F1 ride. He could even fund the popular Formula 2 tactic of paying a team for both your own drive and for an established driver to take the other seat, in order for the team-mate to act as a coach and help with development.
To be honest, there's every chance Latifi could prove his worth on his own given the chance. You'd certainly expect him to be a regular top 15 threat knocking on the door of the top 10.
And even if he did have to pay initially, there's every chance he could develop into a professional IndyCar driver and have his drive paid for, something which is never likely to happen for him in F1.
With his Canadian background you have to feel IndyCar would be a logical step for Latifi if his F1 career comes to a halt. Apart from sportscars, it would probably be his most likely path to being a paid professional at an elite level.
From Formula E – A matter of time?
Antonio Felix da Costa has been heavily linked with an IndyCar switch at some point, and it certainly feels like when not if for the reigning Formula E champion.
He tested an IndyCar at Barber last year and team owner Bobby Rahal – who met da Costa when both were linked to BMW – has spoken warmly about welcoming him back into his IndyCar team in the future after impressing on that outing where he posted very competitive times.
"We did test Antonio at Barber, he did a very nice job for us," Rahal told The Race last week.
"We liked him a lot. I'm hopeful that we're going to be able to do some races with him, but we're not sure yet. But I'm hopeful."
Whether he makes the switch in part depends on if any team in Formula E makes him an offer he can't refuse, likewise for any manufacturers taking the next generation of sportscars seriously. Peugeot snubbed him, but surely other marques won't let him slip off the radar with so much hype around the next-gen Le Mans and IMSA rules.
You get the feeling IndyCar is what da Costa really fancies, though. Rumours over a late season deal to race there following the conclusion of the current Formula E campaign continue, but for now they are just that – rumours.
Rahal told The Race that Santino Ferrucci would be in his team's third car for Mid-Ohio this weekend, and added: "We may have a different driver starting with Nashville [in August] for the remainder of the year, we're just kind of seeing.
"We definitely are looking to run a third car next year, hopefully, all the sponsorship will align to allow us to do that.
"Who would drive that car we don't know yet. But, it's looking positive that we'll have a third car and hopefully get that concluded here in the next 30 days.
"So, yes, I think the odds are much better than they've ever been for us to have a third car full-time in 2022."
From sportscars – The next Japanese star?
Kamui Kobayashi has spoken of his interest in racing an IndyCar. But it was very much a case of 'driver says he would love to do great series' without any sort of basis to the claim. He confirmed he'd had no offers, and that his schedule is extremely busy with World Endurance Championship and IMSA deals.
Kobayashi would be unlikely to give up his lucrative Toyota deal – Honda's arch-rival hasn't been in IndyCar since 2005, sadly – and it would unlikely to let him leave given the level of his performances in recent years and his involvement in the development of the next Toyota Le Mans and WEC challenger.
Add to that it seems totally unimaginable for Toyota to allow Kobayashi to go and join a Honda-powered IndyCar team because of the manufacturer rivalries on the home front, and the rumour starts to cool very quickly.
There's no doubt Kobayashi has the talent to make it in IndyCar and would be a great addition to the series, especially presuming Takuma Sato is likely to retire somewhere in the not too distant future and that would leave the series without a Japanese star.
Outside of the World Endurance Championship, the IMSA SportsCar series is a frequent home for IndyCar drivers, even if people rarely go the other way.
Felipe Nasr became an IMSA champion after leaving F1 and repeatedly talked of his want to race in IndyCar. He tested with Carlin last year, but a deal and the backing has failed to materialise.
Kevin Magnussen is fresh off his IndyCar debut standing in for Felix Rosenqvist, but his future is complicated slightly by his commitment to racing for Peugeot in the World Endurance Championship in 2022.
His Chip Ganassi Racing deal at least keeps him racing in IMSA this year and in close vicinity of IndyCar, where he will almost certainly get another go before the year's out.
Apart from that, any other sportscar names we could throw into the IndyCar mix would be based on guess work and/or fantasy, although there are certainly drivers who are good enough.
From NASCAR – is a youth option on the way?
Cody Ware – after his excellent IndyCar debut at Road America – is the most likely driver to follow in Johnson's footsteps by switching on a more permanent basis from NASCAR.
But there's still every chance Ware will want to see through his NASCAR career with his family team, as a future in stock cars can be a lot more lucrative than in IndyCar.
And if that's the case, the NASCAR schedule is too rigorous to allow enough focus to excel in IndyCar, too.
However, Ware may just have been swayed by how well he did in such a competitive field of single-seater stalwarts at Road America, and could make a full-time switch to IndyCar. Especially as Rick Ware Racing is a part owner in Dale Coyne's Grosjean entry.
Given that NASCAR is so lucrative, we're unlikely to see many more drivers making this switch. A test day/car swap may be much more likely, and as JR Hildebrand pointed out on a recent The Race IndyCar Podcast episode, surely it's time, seeing how well Ware did, that someone in the paddock gives all-rounder and current Cup Series dominator Kyle Larson a test.
There are others who it would be great to see as well, like Kyle Busch who is often linked to an Indy 500 outing. His brother Kurt's sixth place in the 2014 event shows what's possible on a one-off with the right approach.
Testing rules – perhaps enforced too rigidly in these cases – often get in the way of these scenarios but with the Cup Series and IndyCar racing at the same track on the same weekend at Indianapolis this year – and with NASCAR running the road course – hopefully a swap/test will become more likely.
No McLaughlin clone from Supercars?
Will McLaughlin's move prompt more touring car drives, particularly from Australia, to consider IndyCar? Cam Waters was runner-up to McLaughlin in Supercars last year and is an Australian Formula Ford champion, but it's hard to see Waters being offered the same courtesy as McLaughlin.
Waters is only two years younger than McLaughlin and achieved a lot less – arguably partly down to a lack of competitive machinery – and McLaughlin's Supercars team then being co-owned by Penske opened a lot of doors.
Waters – and any of his current Supercar rivals – are pipe dreams for IndyCar switches at this stage. Plus, McLaughlin is a stand-out talent who blew away the opposition in Supercars. Talents like that don't come along often.
Or a Palou-esque Super Formula convert?
Giuliano Alesi shocked recently as a relatively disappointing junior career in Formula 2 and Formula 3, and being dropped by Ferrari, translated to him winning on his Super Formula debut.
今日の #スーパーフォーミュラ をぎゅぎゅっと1分で振り返る📺

悪天候となったRd.3 オートポリス
代役参戦ながらも2戦目でポール・トゥ・ウィンを飾ったジュリアーノ・アレジ選手や、初表彰台2位の阪口晴南選手、4位で続いた宮田莉朋選手などトヨタ勢の戦いをダイジェストでご覧ください❗️#SFormula pic.twitter.com/FeHnWK9JQF

— TOYOTA GAZOO Racing (@TOYOTA_GR) May 16, 2021
In many ways Super Formula is an ideal training ground for IndyCar given the speed of the cars, and it even had refuelling at pitstops until rule changes prompted by the pandemic. Plus Palou has proven it's a worthwhile path to take. The link between Honda in Japan and America can help too.
Alesi doesn't have a full-season deal in Super Formula, but returned after his win to finish ninth at Sugo earlier this month.
If he can continue to impress – winning in the series is nigh on impossible for newcomers and only good drivers do it – perhaps he can follow in his dad's footsteps and race in IndyCar.
Thankfully, following in those footsteps won't feature having Lotus power, luckily for Giuliano. His father Jean's 2012 Indy 500 was a career low.
There's no rumours or known discussions linking Alesi to IndyCar, but he seems the most likely for it if anyone from the Japanese scene was going to do it.
If Honda decides that when Sato retires in the hopefully distant future, it really wants a Japanese driver in IndyCar – which seems unlikely but could well be the case – perhaps it will look to Super Formula for a potential replacement.
Whether any of those drivers will want to make the jump is a different story altogether.