What more does Felix Rosenqvist have to do to secure an IndyCar future?
Alright, I see you looking at the championship standings and pointing out he's ninth – not the most impressive position. But if you break down this season, so much has been out of his control.
What's in his control for the most part is qualifying, and he has the fourth-best qualifying average in the series and has been almost a spot higher per race than his team-mate Pato O'Ward.
In the races, the first group of road and street courses were subject to heavy degradation for Arrow McLaren SP as it looked to adapt its set-up work from the off-season with a new drivability upgrade from Chevrolet, which was welcome but somewhat unexpected for all the Bowtie teams in terms of how big an impact it would have.
Rosenqvist's also raced with the pit crew that the Firestone Pit Stop Performance award – which isn't perfect as it's judged on cumulative time on pit road, but is still a decent measure of performance – judges to be the 16th-best in the series, well below his ninth-place finishing average should dictate. All of the drivers ahead in the championship have pit crews ranked higher.
Perhaps Rosenqvist's most impressive stint of the season has come in May. The Indianapolis road course race was a spectacular drive where he hit spinning team-mate O'Ward, went to the back and then drove out of fury to come all the way back to sixth in the wet.
A perhaps even more impressive drive came at Detroit – a race that had no yellows and where he'd started already 12 seconds behind the leader because the field wasn't bunched up – where he executed a three-stop strategy to go from 26th to 10th.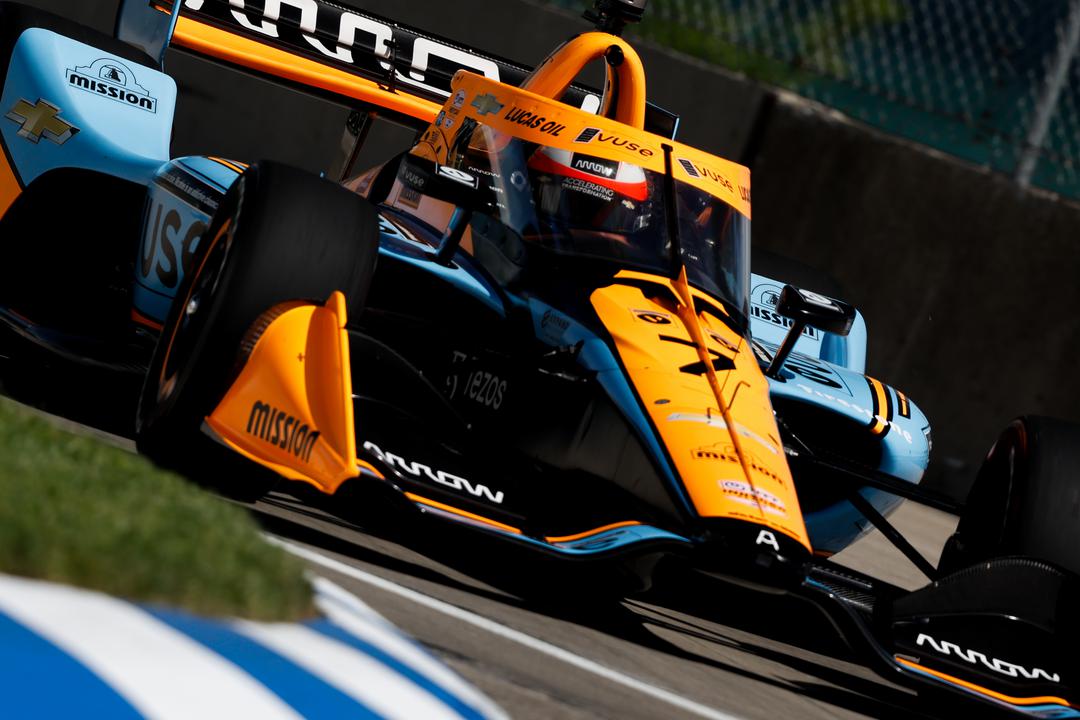 The Indy 500 was slightly more under the radar because of something that hasn't happened seemingly in Rosenqvist's year and a half with the team – it went pretty much without incident or error and he took fourth from seventh on the grid.
All of that while the media bangs the drum of his future, which started in May with Rinus VeeKay potentially coming over to replace him from Ed Carpenter, and ended with rumours that Zak Brown had his cheque book out ready to try and poach reigning champion Alex Palou.
"There's been some good comebacks and good performances and it kind of bugs me that there's always something happening, you know?" Rosenqvist tells The Race.
"But I feel like now more than ever, we just have everything we need to go win a race. I think that's our approach right now.
"Like we're going into the weekends to be able to win and that's a genuine feeling, I think across all the #7 crew right now. We had the best pitstops in the 500, we had the best pitstops out of all the three stoppers in Detroit.
"So it's been a huge improvement on pitlane.
"I feel like my racecraft has improved a lot and we've kind of found a direction with the set-up that seems to work pretty much everywhere with me now. And yeah, just finally we're in a position where we can just go and do well, pretty much everywhere right now."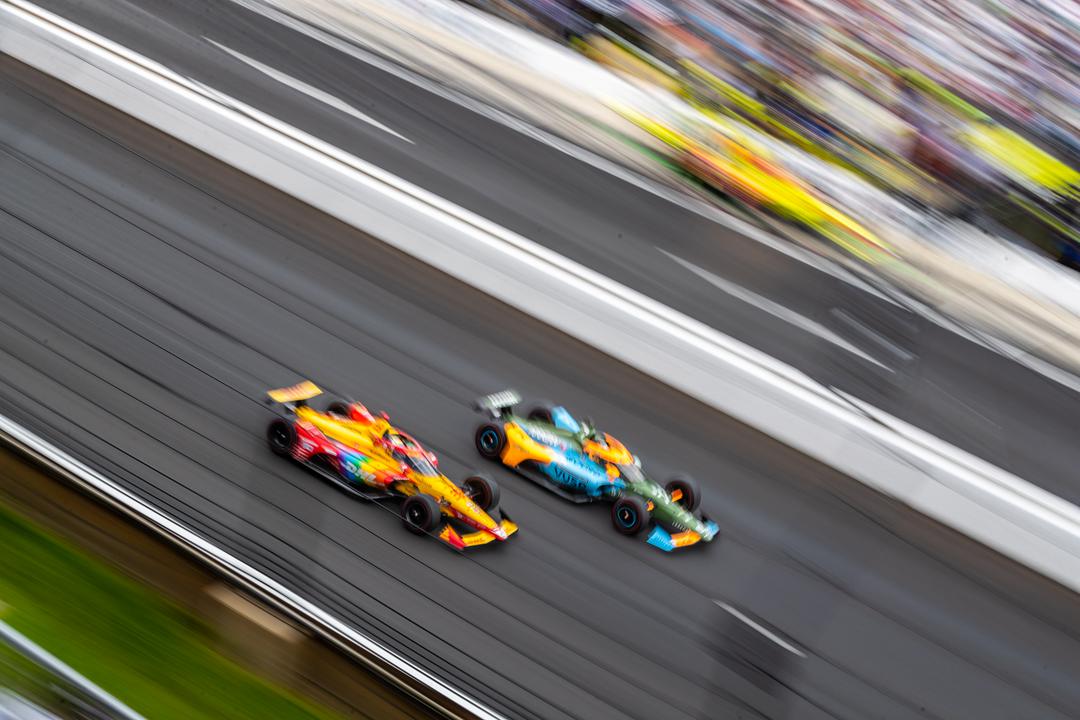 On performing under that mental strain, he continues: "I think every one of us, we're sure that, whenever we do bounce back, we're going to be very strong. And I think that's pretty much exactly what's happened.
"At the beginning of the year, we had some hurdles. But as you said, none of them were really in my control, let's say.
"And now, when we finally started executing as a team, there hasn't really been mistakes in that regard that we had earlier this year.
"It feels more normal. When you struggle, obviously, you know you can do better, and you know, that you've been doing better previously, and that you want to do better. But for whatever reason, the results are not there.
"I feel the last three, four races here, you feel more like yourself, when you're up there fighting for pole positions, and you're passing cars in the races, and you're not happy with a P10 anymore, you want to finish in the top three, or the top five.
"It's just a more healthy way to approach your racing after struggling for quite a long time last year. So yeah, I feel like we finally got there and now the expectations are on a different level, for sure."
Those expectations will be sky high for Rosenqvist especially as he heads to Road America for the first time since his victory there with Ganassi in 2020, having missed last year's race through injuries sustained in a crash at Detroit.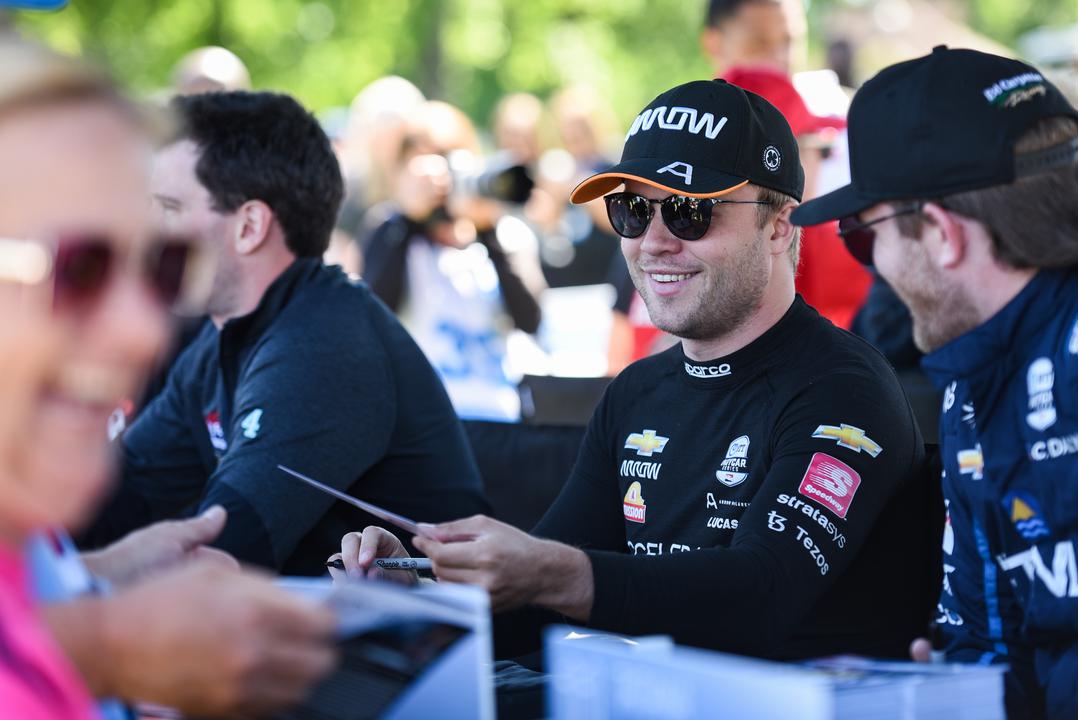 He's approaching the fact that he missed the last race in a positive light though, given how badly last year went. He also cited after Detroit the team would have some "updates" which he was keen to trial.
"Kind of trying to see it from a fresh point of view, I think maybe could actually be a good thing," he tells The Race about not racing there since 2020.
"I think last year was probably the team's weakest track, maybe together with Laguna, and since then we've come a long way on our setup on those kind of tracks.
"So I think the car specifically on that track will be very different compared to what we had last year. So that's pretty exciting.
"I think we learned a lot on tracks where we struggle like that, especially with tyre deg, this car being loose in general.
"I think we know what to do to counter that.
"Last time I was there, I won the race, so it's gonna be fun coming back.
"I think it's gonna be a big kind of indicator where we're gonna stand for the rest of the season. Like, if we can be good there, I'm pretty sure we can good on any track."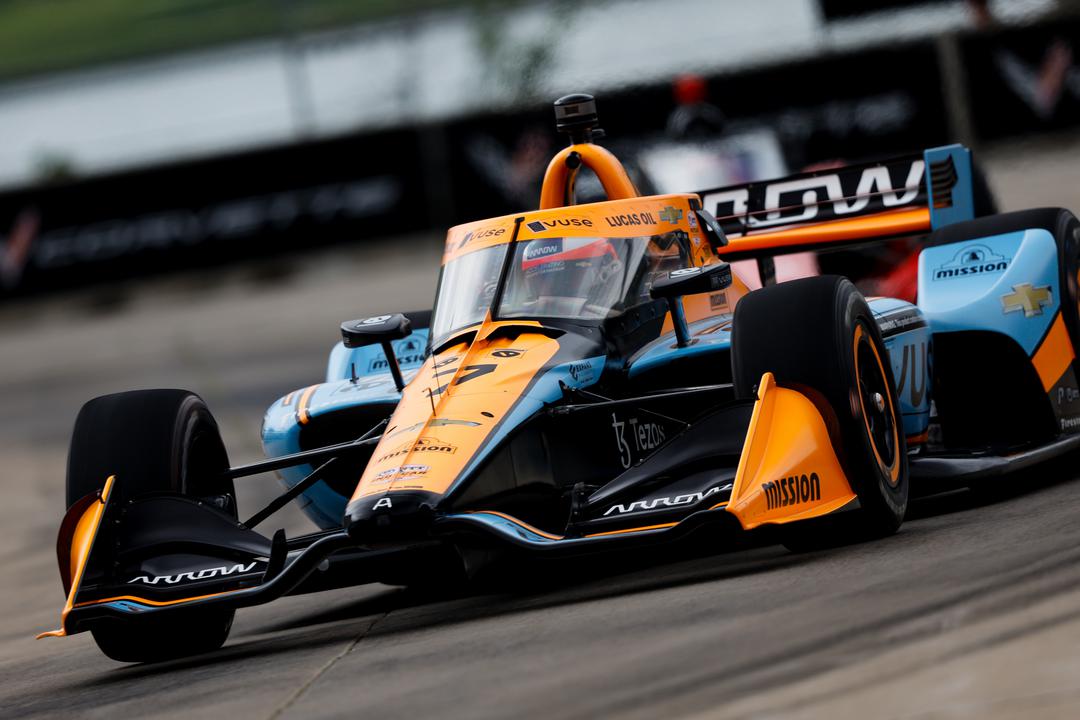 That's a threatening proposition for Rosenqvist's opponents. They already have to deal with the super-talent that is O'Ward, and Rosenqvist is no lesser the driver when the car is in a window he can work with – which he seems to have found.
So back to the question at the start – what more does he have to do to prove he's worthy of at least another year with McLaren in the series?
Perhaps we wouldn't be having this conversation if he'd had a more convincing 2021, but how he's rebounded and how he's carried himself – always crediting the team and never blaming it when it is at fault, which it has been a fair amount since his arrival, and regularly admitting he can improve in different areas – shows he's the ideal driver to have in a three car team.
The Race asked Rosenqvist where he stands, amid rumours that McLaren has told him that he'll be kept on in 2023 – but that that could be in IndyCar or a Formula E return where Rosenqvist finished sixth in the championship in 2017 and where McLaren has just set up a team.
"I'm talking to Zak every day, and honestly, nothing has really been confirmed from his side, what I am gonna do," Rosenqvist said.
"I feel like it's been a positive conversation, though. Especially after the performances I've had the last couple of weeks, I think it's obviously helped in that regard.
"My ambition is to stay with McLaren and to continue to do something with them for next year and into the future. But at this point, honestly, I cannot confirm anything.
"I'm just focused on doing good results and I want to keep the momentum going into Road America. If I get a win there or a podium, I think things are gonna be looking better, for sure.
"That's how it always is in your career. You're always gonna have to perform and it's always gonna help you if you perform, that's the only thing that's in my control at the moment.
"So that's what I'm focused on.
"I have a positive feeling, it's gonna work out well."
While Formula E was a successful stomping ground for Rosenqvist, he still maintains IndyCar is where he wants to be and that hasn't changed.
He feels he has become a more "complete" IndyCar driver through his recent experience and doesn't want to "throw away" his stint,
"I've felt, just the fact that we're having all the tools and on paper now actually performed on all kinds of tracks like ovals, street courses, road courses, we've been having good results and good momentum, I think obviously that helps," he says, "and all the time you've been over here has obviously been a huge experience gathering.
"Especially like at IMS. I mean, I feel genuinely when I come back to IMS every year I just get stronger and stronger.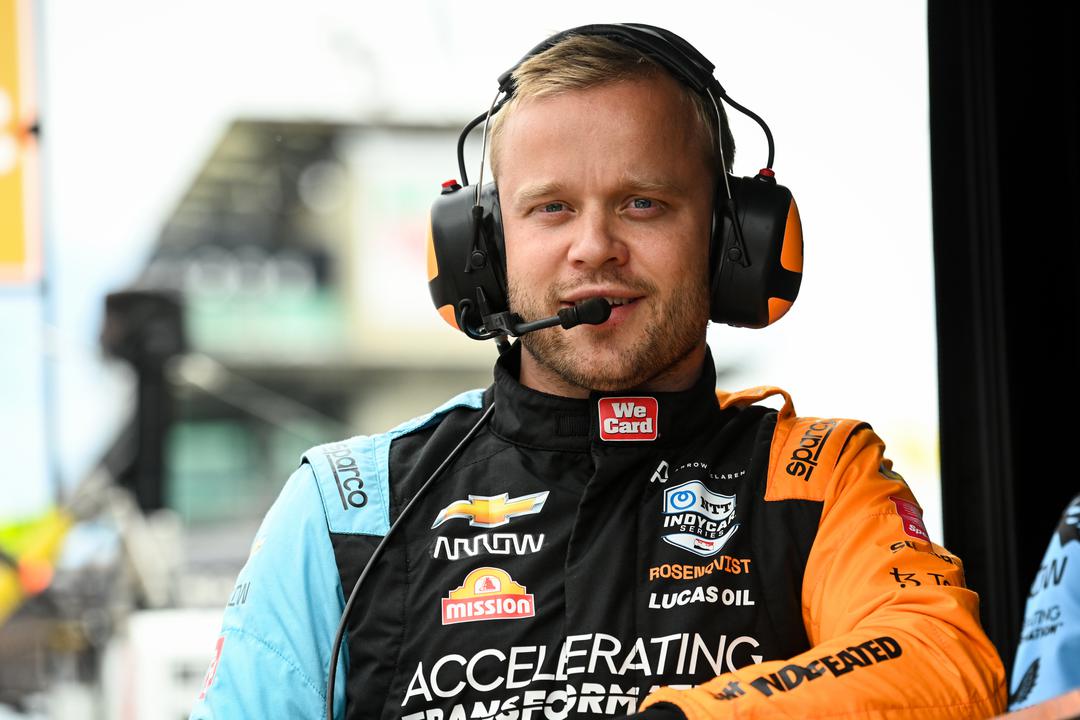 "So that's something you don't want to throw away and say like, 'Hey, I want to do something else'.
"So yeah, I'm definitely feeling like I'm becoming a very capable IndyCar driver and the ambition is to continue being that."
As Rosenqvist suggest a lot may depend on his next few races and maintaining his momentum for the future. A lot may also depend on whether Brown can persuade Palou into the McLaren stable.
The Race's sources indicate the pursuit of Palou has been driven by the fact the Spaniard isn't yet on a contract that reflects his status as one of the series' best drivers and now a champion. That's surely something he'll be looking to rectify for next season and Ganassi won't be willing to let him stroll out of the door.
Palou's not a driver driven solely by money and that's something he told IndyStar last week, saying he's making more than he ever thought he would and that money "doesn't drive me".
So Palou would likely need more selling on McLaren as a project for him to leave the Ganassi powerhouse.
Ganassi has been the team to beat in championships and the Indy 500, so it would have to be an incredible offer for Palou to leave – in which case he'd ironically be replacing Rosenqvist for a second time after he jumped in the Ganassi seat Rosenqvist had vacated.
I need far more convincing that there's any likelihood in Palou to McLaren.
But I don't need any convincing that Rosenqvist has earned at least another year to show what he can do.