Felix Rosenqvist was fastest in Saturday's Indianapolis 500 qualifying session that sends 12 drivers forward into chance to fight for pole and leaves another four drivers fighting just to qualify for the race.
Really consistent conditions through the day gave the many fans at the Speedway the most qualifying attempts in Indy 500 history to watch with well over 75 attempts. There was no usual midday lull for high temperatures this season.
Alexander Rossi was the first driver to do a single lap over 234mph and his big average time stood for over four hours, until his shocked Arrow McLaren team-mate Rosenqvist took the benefit of decreasing temperatures to jump up to the top of the order inside the last hour and a half.
'@FRosenqvist to the top!

One of the fastest 4-lap runs in #Indy500 qualifying HISTORY: 233.947 mph!

📺 : @peacock pic.twitter.com/x0Foz41Ef3

— INDYCAR on NBC (@IndyCaronNBC) May 20, 2023
"I have no words, that was a phenomenal run, big thanks to Arrow McLaren and Team Chevy," he told NBC.
"I had no idea that was going to be that quick. That puts a smile on my face."
---
Top 12 advancing
1 Rosenqvist
2 Rossi
3 Palou
4 VeeKay
5 Dixon
6 Kanaan
7 Sato
8 O'Ward
9 Ferrucci
10 Ericsson
11 Pedersen
12 Power
---
Rossi and Ganassi's Alex Palou had topped the order after everyone had done one qualifying run and rounded the top three at the end of the day, ahead of Ed Carpenter Racing's Rinus VeeKay and Palou's team-mate Scott Dixon.
Dixon and Rosenqvist were late improvers with Rossi, Palou and VeeKay not getting out for a second run.
Reigning winner Marcus Ericsson was 10th fastest for Ganassi, sandwiched by one of the shock storylines of this year's 500.
AJ Foyt's strong turn of pace has been a surprise, and its impressive rookie Benjamin Pedersen (11th) joined team-mate Santino Ferrucci (ninth) in moving ahead to the next day as they sandwiched last year's winner.
The top 12 now goes through to an initial Sunday session in which they get just one run, and the top six from that group will go on to fight for pole later in the day.
Four Ganassi cars and four McLaren cars have made the top 12, with eight Chevrolets and four Hondas.
Also back out on Sunday are the drivers fighting to make the race in the 'Bump Day' part of second qualifying, as there are 34 entries and only 33 starting spots.
---
Bump day runners
Lundgaard
Harvey
Robb
Rahal
---
Juncos Hollinger Racing's Callum Ilott had been outside the crucial top 30 after switching to a back-up car because of awful handling in his primary car, and Saturday morning in practice was the first time he drove it.
His first run was really poor but his second, with the benefit of car changes, comfortably boosted him into the show and he eventually ended up 28th.
"I kind of want to cry. Maybe I did a little bit."

As it stands, @callum_ilott is in the #Indy500 field.

Qualifying on @NBC and @Peacock. pic.twitter.com/ncHYmWmzZk

— INDYCAR on NBC (@IndyCaronNBC) May 20, 2023
It quickly became clear that the drivers heading to Sunday would likely be a selection from the four Rahal Letterman Lanigan cars and the two Dale Coyne cars.
Rahal struggled here last year but Coyne was a surprise to be so low down, and while David Malukas was able to knock Christian Lundgaard out of the field inside the last two hours, Lundgaard put another run together which was just good enough to provisionally score the 30th and final guaranteed spot.
Disappointing day so far for @GrahamRahal.

After 2 qualifying attempts, he's still not happy with his current P33 spot.#INDYCAR // #Indy500 pic.twitter.com/KFT4EtrJxT

— NTT INDYCAR SERIES (@IndyCar) May 20, 2023
But with 12 minutes to go Malukas found an incredible turn of pace to jump to 23rd and put Lundgaard out of the grid.
With seconds to go, Lundgaard got out on track in the most pressure-filled of runs, but his first lap was too slow and he will join two team-mates in the Last Chance qualifying.
'@MalukasDavid is IN the #Indy500 field! 👏 pic.twitter.com/mNO9WSwC3j

— INDYCAR on NBC (@IndyCaronNBC) May 20, 2023
Graham Rahal said he had the same set-up as team-mate Katharine Legge – in only her third 500 and first since 2013 – but was 2mph slower and clearly struggling with inherent issues slowing his car despite him being consistent.
He and team-mate Jack Harvey had multiple runs waved off by IndyCar because they were too slow and it was no surprise to see them miss out, alongside Coyne's rookie Sting Ray Robb.
Robb had the penultimate run and had been tracking to make it but his last lap was too slow.
---
Positions set for the 500
13 Carpenter
14 McLaughlin
15 Kirkwood
16 Daly
17 Newgarden
18 Hunter-Reay
19 Grosjean
20 Castroneves
21 Herta
22 Pagenaud
23 Malukas
24 Andretti
25 Wilson
26 DeFrancesco
27 Canapino
28 Ilott
29 RC Enerson
30 Legge
---
Of the drivers now set in the 107th running of the race, Ed Carpenter had spent a lot of the day in the final spot advancing to the top 12 – after the absolutely amazing feat that Tony Kanaan set the exact same time over four laps and 10 miles as Carpenter, but did it later giving Carpenter the advantage – until Kanaan jumped up to what would eventually be sixth late on.
Carpenter went out to try to improve but brushed the wall and lamented a slow downshift after missing the top 12 by 0.0196s.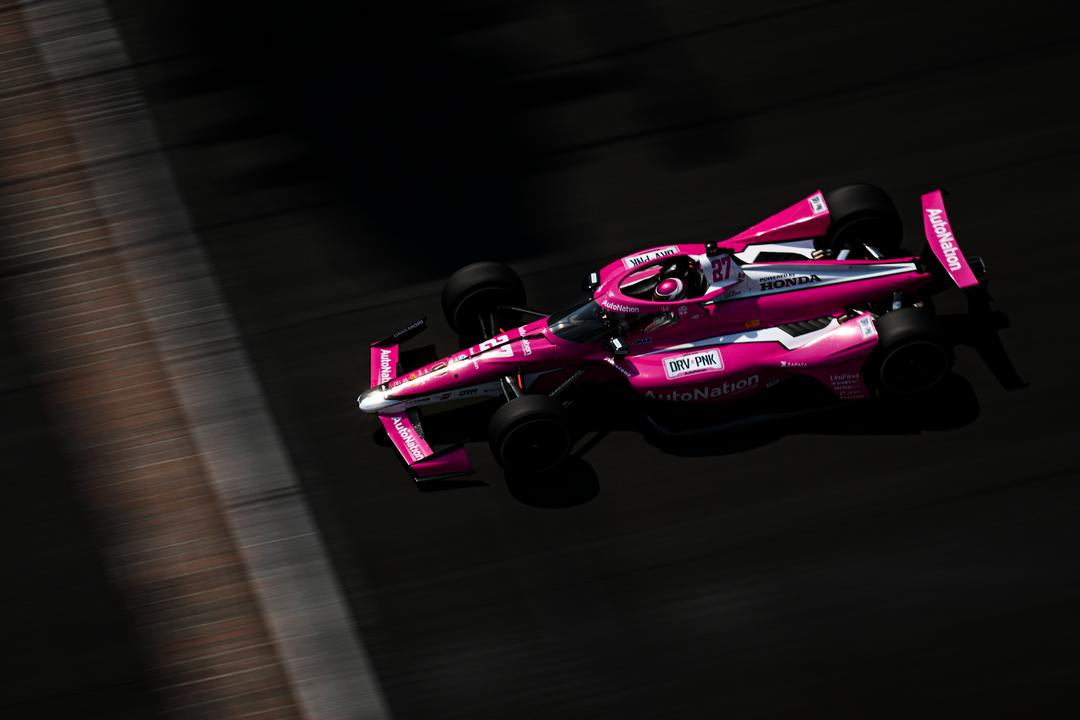 Kyle Kirkwood was the top Andretti car in 15th – as Marco Andretti in 22nd called the team's performance embarrassing in an outburst after his final attempt – with Romain Grosjean starting 19th having made the top 12 as a rookie last year.
Four-time winner Helio Castroneves the top Meyer Shank car in 20th.
Incredibly, with 12 minutes to go, Penske's Josef Newgarden pulled his lap time and went for a final run. If he had a car issue or went slower, he would be in real trouble.
Luckily, he managed to deliver a lap for 17th, one position higher than where he was before pulling his time.
Earlier in the day he and Scott McLaughlin had pulled out of the line for guaranteed laps, which is a very rare occurrence, but they were due to qualify 32nd and 34th so they used the time to go back to the garage and learn from Will Power's run early on.
.@Team_Penske President, Tim Cindric, explains the team's decision to take the No. 2 & No. 3 cars back to the garage. pic.twitter.com/jaICmwrcBa

— NTT INDYCAR SERIES (@IndyCar) May 20, 2023
Power will give Penske a shot at its best start in years at the Speedway in what has been a barren run.
RC Enerson was 29th in the Chevy-powered Abel Motorsport entry which missed the open test in April such was the lateness of that programme coming together, even if it is stocked with veteran staff.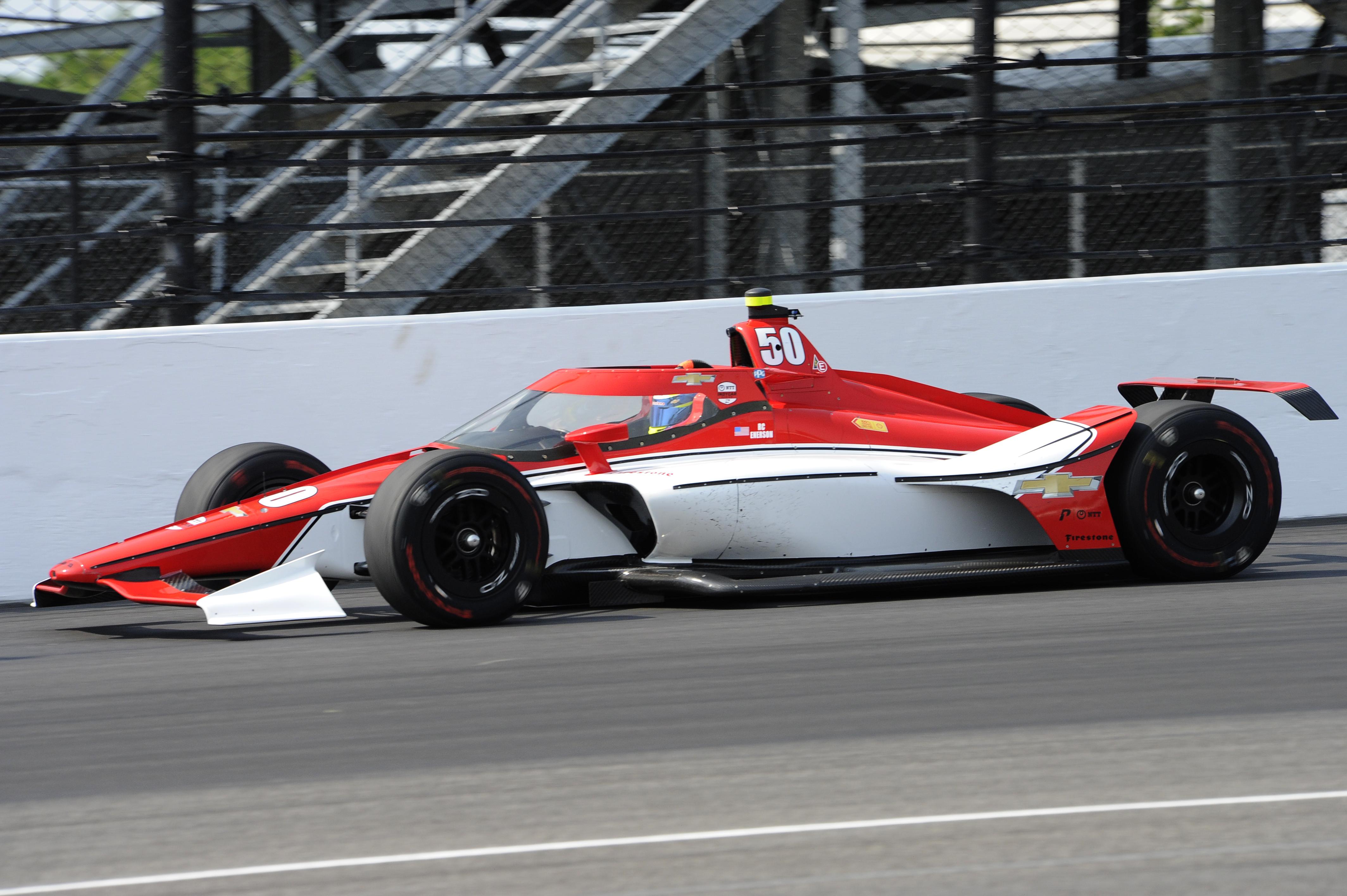 It's a magnificent achievement for the single-car team with no technical tie-up to a bigger squad, while outfits like Rahal and Coyne struggle.
Legge was the last car to make the field having been the most comfortable Rahal driver in practice, despite it being 10 years since her last Indy 500 appearance.
"That wasn't stressful at all, was it," she laughed after the session.
RETWEET to congratulate @katherinelegge!

She qualifies for the #Indy500! @OnHerTurf pic.twitter.com/M8TV1iQ5G1

— INDYCAR on NBC (@IndyCaronNBC) May 20, 2023
While times in the Indy 500 are typically arranged using miles per hour as the measurement, in terms of time, 1.9161s separated 1st and 30th over 10 mile qualifying runs, with 0.8122s splitting the top 12.
---
How does Sunday work?
On Sunday, the top 12 are given a practice from 1130-1230hrs ET, and then the Last Chance qualifiers practice 1230-1330hrs ET.
Top 12 qualifying takes place from 1400-1500hrs ET, where the best six cars will go through to fight for pole. There's no line format here, the drivers get one chance to make it through.
Last Chance qualifying is first between 1600-1700hrs ET (2100-2200hrs BST), with the drivers going in the order of the original draw made on Friday.
This will decide the cars starting 31-33 and the car that goes home.
The line format is introduced if there's time remaining after each car has completed a run. As there's only four cars and an hour, there should be time for multiple runs.
If you go for line 1, you are given priority and this line should be the shortest, so you'll get on track quickest. This is good near the end of the day if line 2 is long and you're desperate to go for another run, or if you have nothing to lose.
The catch of line 1 is, to enter it, you sacrifice your previous/best time. So if you fail you will go to the back of the field.
If you're last in the order, or there's only minutes left and a long queue in line 2, line 1 is the one for you.
Line 2 is much safer because if you do not improve your time, you keep your previous/best time. So perhaps if you are 11th and are heading for Pole Day, but you want to be in line in case you can improve or to cover off others improving.
After Last Chance qualifying is the pole shootout from 1715-1745hrs (2215-2245hrs BST) where the cars will go in reverse order from where they finished in the Fast 12 shootout. So the fastest person in the Fast 12 goes last, the sixth place finisher goes first.
This is simple. Each of the six has one chance to take pole.