If you needed any reminder why the Indianapolis 500 needed the return of 'bump day', the 2023 event was the perfect example and once again showed the juxtaposition of elation and desolation in equal measure.
The trepidation of bump day where at least one driver doesn't make IndyCar's biggest race only happens when there are more than 33 entries – the maximum starting number for the Indy 500 – and that wasn't the case in 2022.
So it's not a given that it will even be part of the 500 each year, but it is vital in terms of establishing the drama of the race and making it different from most other elite racing events.
This year, over four laps and 10 miles, at the very last possible opportunity, Jack Harvey ejected Rahal Letterman Lanigan Racing team-mate Graham Rahal from the Indy 500 field with an advantage of 0.00044s per mile.
The chance of an RLL car bumping a team-mate was always high given three of the four Bump Day runners – Rahal, Harvey and Christian Lundgaard – were from the team, all up against Dale Coyne Racing's Sting Ray Robb. Only RLL's additional Indy 500 runner Katherine Legge was already in the field, and she was only 30th on the grid.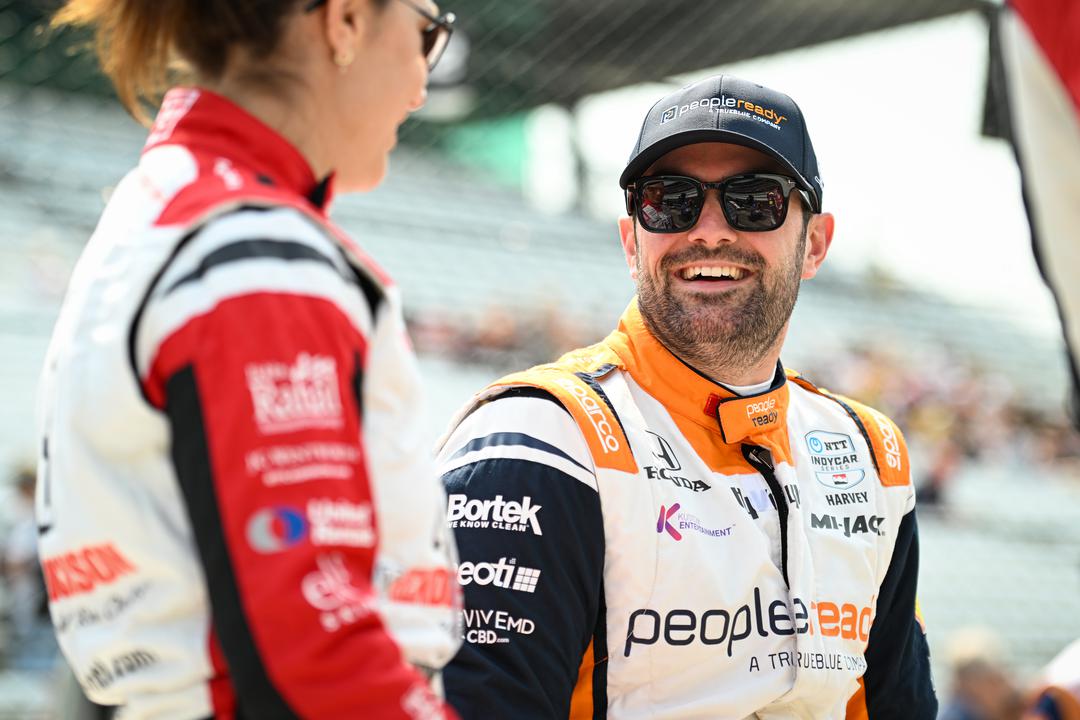 Harvey had tried twice to get in the race during the session, and his third attempt appeared doomed because he didn't give the engine all-important time to cool, but through the dropping track temperature, changes made after the first run to his aero balance and front-left spring and being more "johnny on the spot" with the tweaks he made in the car, Harvey pulled off the impossible.
"It's not a good feeling, to be honest with you," said Harvey after the session.
"It's not a moment necessarily for celebration. As a team we're going to be starting 30th, 31st and 33rd, and I hated it today, felt like we were in the Hunger Games with our own team.
"But of the four people driving, three of them are in. I know it's not great odds and it's not a great feeling.
"It's unbelievable relief. I've got to be honest with you. It's actually quite hard to process it.
"There's a lot of emotions. Like massively grateful to be in the race, massively sad that we bumped out a team-mate because I know what that means for the entire team."
There was no doubt of the emotion of Graham Rahal after he had to sit and watch his stablemate eliminate him from the race.
Graham will be all too familiar with the story of his father, Bobby, failing to qualify for the 1993 race in a similar fashion when he was the reigning CART IndyCar champion.
Thirty years on, history repeats itself with a Rahal bumped and a Ganassi car on pole (swap Arie Luyendyk for Alex Palou in the 1993 edition).
"You can't do anything, you're stuck there," Rahal told NBC seconds after Harvey had bumped him.
"As I said to these guys, you've just got to be positive, everybody puts a lot into this and we just came up short. This place, it doesn't come easy. It doesn't just happen.
"We weren't good enough. We were the slowest of our cars just on pure pace all week. Unfortunately that happens.
"You got to be positive, got to be humble and gracious in victory and defeat. There's next year."
"We weren't good enough."

Graham Rahal was overcome with emotion after being bumped by Jack Harvey. #INDY500 pic.twitter.com/FJeeTjcOUx

— INDYCAR on NBC (@IndyCaronNBC) May 21, 2023
Reporter Marty Snider tried to ask a follow-up but Rahal's voice started to catch and he was clearly close to tears, breaking away to console his young daughter. The Rahals left the track shortly after.
It's been a really disappointing month for the team.
Its path is well-trodden on these pages. It had the best average finish across its cars in 2021 for entries that did more than two races, but 2022 was a nightmare affair as it went down a rabbit warren with its development path that took until the second half of the season to resolve.
The 2023 season was supposed to be turning over a new leaf with Formula 1 aerodynamicist Stefano Sordo coming in. But with such a big turnover of staff and with Sordo not having managed a whole team before – or worked on ovals before, for that matter – there was always going to be trouble on the team's path to redemption.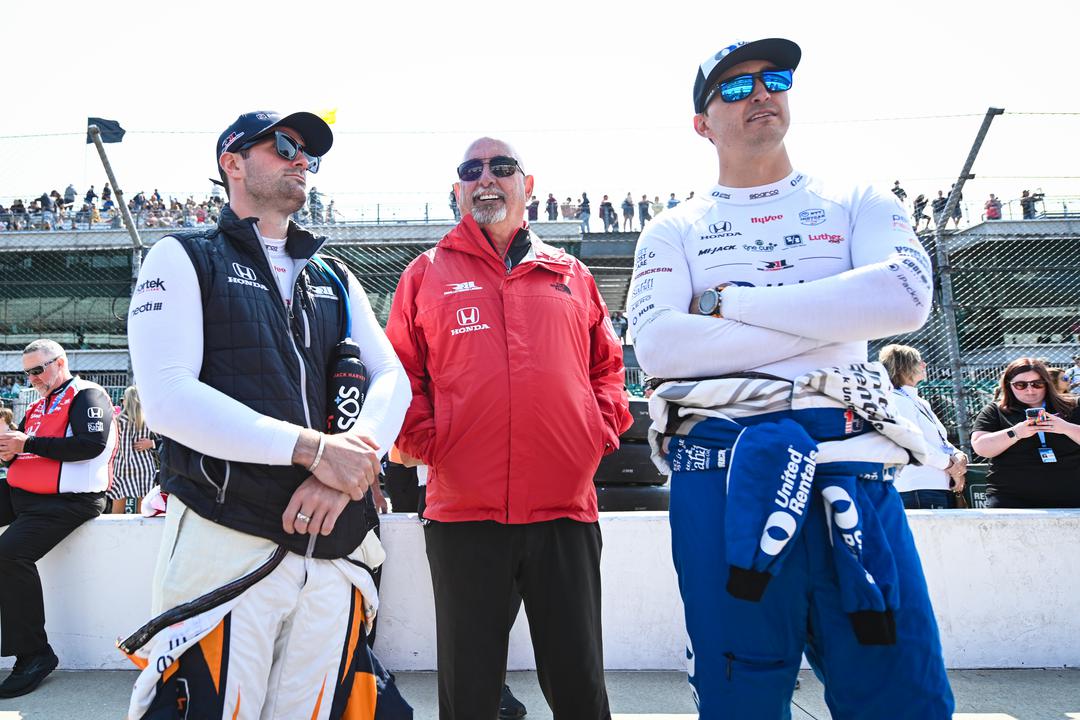 At the 500, three of its cars that qualified inside the top 12 in 2020 and one of which that won that race with Takuma Sato are still in use today. But while other teams have made their cars push the 235mph lap speed average, Rahal is almost 5mph behind and setting similar times to those it managed three years ago.
Rahal's car had the same set-up as Katharine Legge's – Legge is doing her first 500 in 10 years and was the only Rahal car not to be in Bump Day – but was roughly 2mph slower typically.
That left the team perplexed as to where that deficit was coming from. Floors can be really sensitive in IndyCar, and the build of everything from the gearbox to the suspension to the bearings and bolts has to be absolutely perfect and working in harmony with the rest of the aerodynamics at the Speedway.
It may well be in the car build where the team is struggling given all four cars are at the back of the grid and having tried everything over three days of six hour practices to turn it around.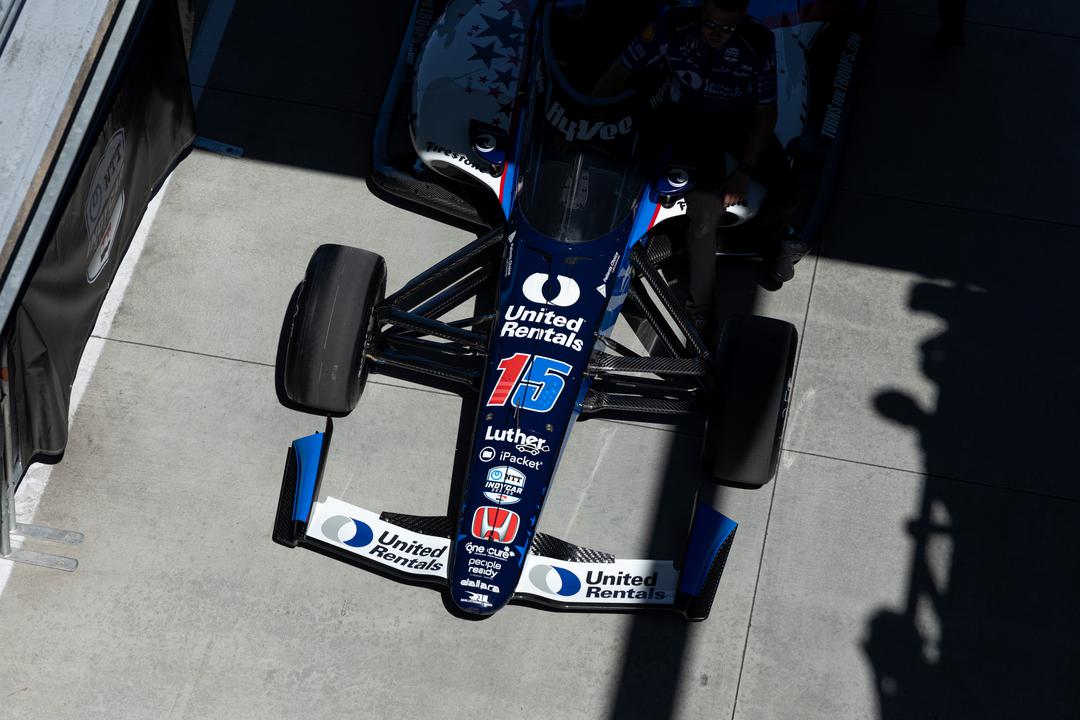 Despite the adversity it is facing, the RLL drivers all reckoned their cars were better in the race running. And Harvey departed the press conference with a message for the media covering the event.
"Just, everybody, please remember that we're trying," he asked.
"We might not be trying the best way, but not one person in our team is happy with our performance, from the very top to the very bottom.
"We're going to work as hard as we can. We've just got to find the grit and the determination to make it happen.
"But it's a great group, and I'm excited that we're going to be in the race, albeit last. We'll do our best now."
Harvey himself has had a rough start to the season.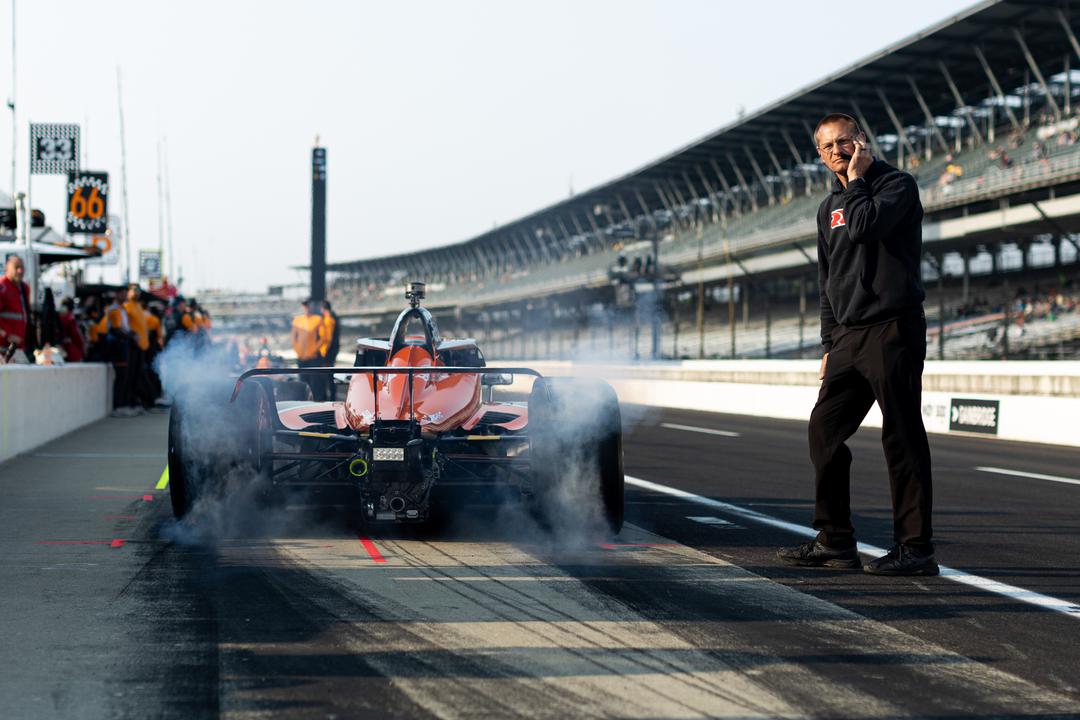 An issue in qualifying slowed him having been the fastest RLL car in St Petersburg practice and then he was collected in a crash in the race. Texas Motor Speedway was a nightmare for the whole team. He was 13th in Long Beach, had the wrong strategy and broke his front wing at the start in Barber, and then a puzzling drop from qualifying third to finishing 20th in the Indy GP road course race summed up the season perfectly.
He's in a contract year and he'll know better than anyone that the results he has scored have likely not been good enough to keep his seat.
But equally, for all of the finger-pointing you can do about last year and the first part of this one, he has just delivered one of the most pressured-filled qualifying runs any driver can do. Knowing all along that if he did it, he would knock out the driver whose father co-owns their team out of the race.
It's a good job IndyCar has a docuseries named 100 Days to Indy covering the event to chart this drama as it feels Hollywood-worthy, backed up by Harvey's 'Hunger Games' description.
The Race asked Harvey if he had spoken to Rahal, and what do you say in those situations?
"On the personal side, Graham is a very close friend of mine," said Harvey.
"The guy texts when I've got issues or I want his advice or want to pick his brain on something. It's not fun, essentially not only knocking out a team car but one of your mates at the same breath.
"He wants to be in the race, I want to be in the race, and the tradition of this place is tradition for a reason.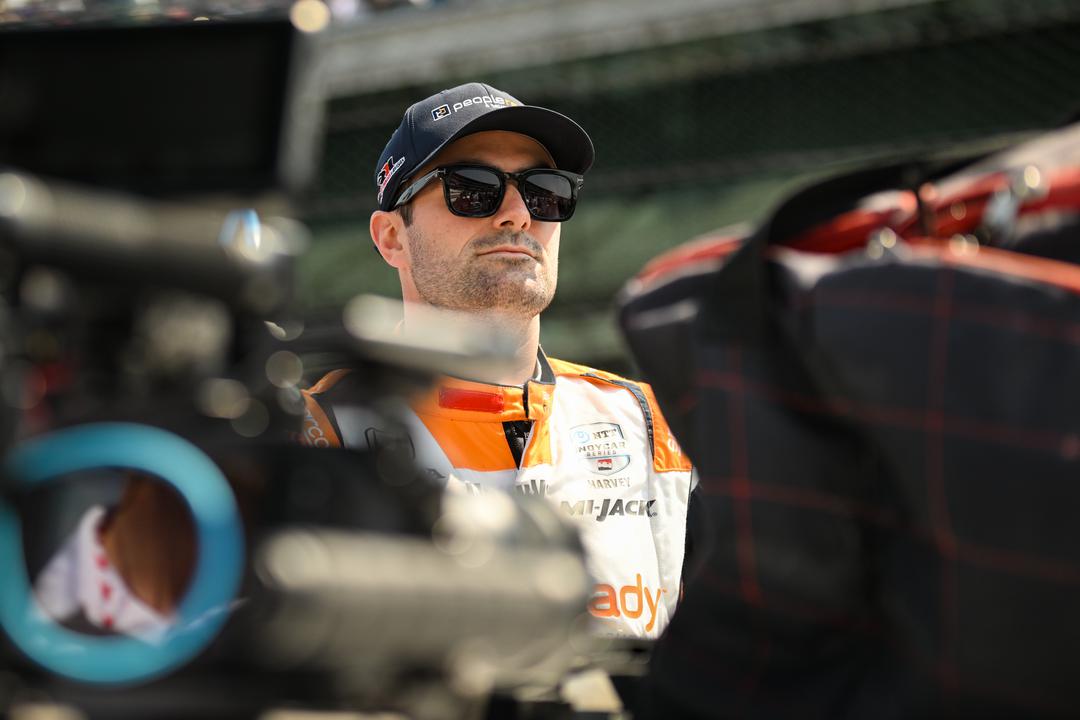 "Bump Day is notorious as soon as there's 34 cars. It's a tough day, mate.
"I said to Graham, 'I'm sorry, I'm not sorry'. What do you say to someone in that moment?
"I want to be in the race. I want to be in the 107th running of the Indy 500. I want to do it for me, for my family, my friends.
"I want to do it for the mechanics on the team, for everybody on the team, for all of the sponsors that we have on the #30 car, especially for People Ready [sponsor] this weekend.
"I hate what it means for the #15 car and for Graham and all his crew because at the end of the day we are one united effort, and we know there's a lot of work ahead, but I just said to him, 'I just wanted to do the best four laps I could. I'm sorry it's bumped you out'."
Asked whether they had discussed the possibility they could knock each other out beforehand, Harvey added: "It was kind of clear that realistically Katherine has been the fastest of our cars this month, then followed by Christian.
"Honestly, I thought it was a little bit of a toss-up between me and Graham. We threw a Hail Mary last night, trying to look for the holy grail, and didn't seem to find it today.
"We made some changes taking some parts off of our primary car from the road course, putting it on the oval car. Didn't work.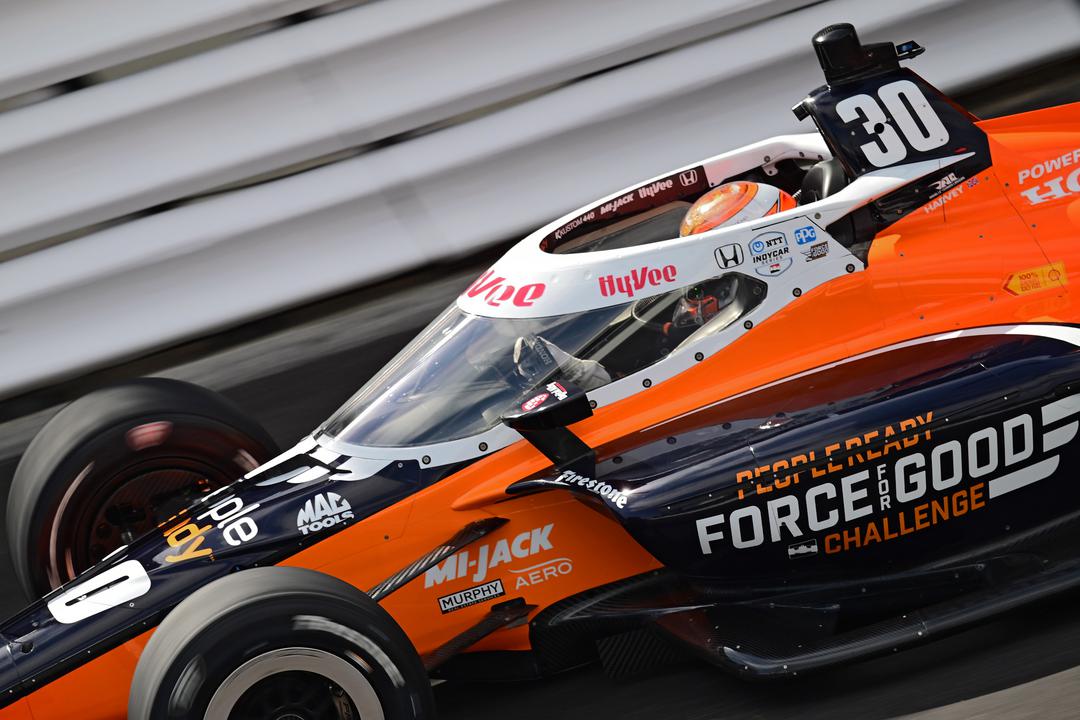 "It's a huge mountain as a team that we're trying to climb, but I think burying our heads in the sand and not acknowledging that, not admitting that, is the wrong thing to do, and what we have to show now is the same level of grit and determination that we just showed just to make the race is to now improve so that we aren't in this situation again."
One of the ironies of Rahal being bumped is that he was much happier with his race car that he'll no longer get to steer into Turn 1 next Sunday with his peers.
Rahal's an interesting driver because he's without a win since 2017, and his qualifying record is not one to write home about, but his race performances are regularly some of the best in the series.
The problem is, people don't tend to notice because when he starts far back and comes through the field to the back end of the top 10, they tend to be focused on the top five or other areas of the race.
His Indy GP last time out was the perfect example, where he was tagged in the first corner, went to the back of the field, ran incredibly long stints and managed to score a top 10.
Rahal's racecraft was certainly something that occurred to Harvey in the aftermath of qualifying, unprompted.
"Graham is one of the most underrated drivers on the grid. I think he never really gets the respect he deserves," he said.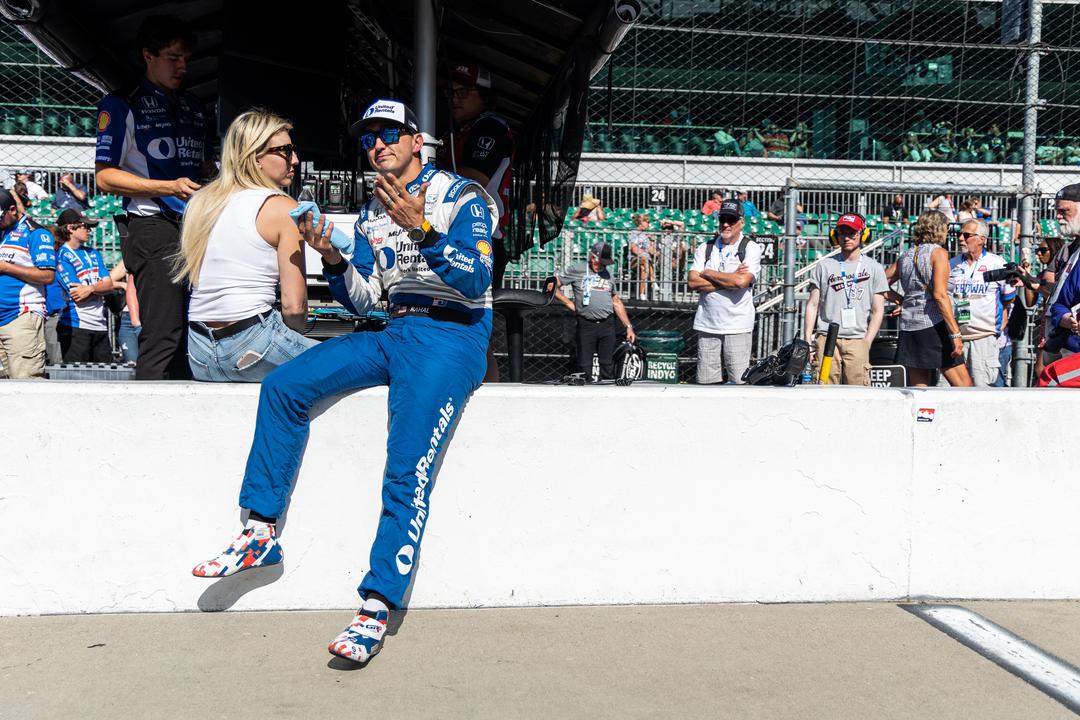 Graham's father Bobby had added on a similar note on Friday: "I'd put Graham up against anybody on race day."
Sadly we won't get to see that, and the most disappointing part as a fan is that Rahal is not the worst driver in the field.
He should have won this event in 2021 had a rear tyre not been loose following a pitstop and speared him straight into the Turn 1 wall.
Not only is he not the worst driver in the field, he's one capable of winning the race, which is sad for everybody tuning in next Sunday.
However, the drama of his expulsion will no doubt do plenty for the TV ratings and interest in qualifying and the big race.
It's the kind of drama and tradition that make the Indy 500 as big as it is.
It's just a shame it's Rahal missing out, and that his team-mate – regularly touted as one of the nicest people in the paddock – was the one to cause it.