"To me he seems like the top gun over there," Josef Newgarden replied when asked by The Race if Colton Herta has emerged as Andretti Autosport's strongest title contender.
Coming from Newgarden, there are few compliments bigger out there, at least in IndyCar racing.
It came after Herta absolutely destroyed the field on Sunday. In the middle stint of the Grand Prix of St Petersburg he'd pulled out a 10-second advantage over Newgarden – who had won the previous two St Pete races for Team Penske – while saving ample fuel.
Herta led all but three laps – a race record – and made a late charge by Newgarden look easy to deflect as he took his first street course IndyCar win.
If you were to create the worst scenario you'd like to see in IndyCar as a leader in Herta's position, it would be 20 laps to go at St Pete with Newgarden right behind you on the soft tyre with more push to pass and at one of his favourite tracks, while you're on the harder tyre at a track where you threw away a podium in October due to going off at the same corner twice.
Yet even in the face of that, Herta had an air of untouchability that just reflects his meteoric rise.
The irony was not lost on me when Herta's team-mate Alexander Rossi – who should have been in this lead battle – cost Newgarden a significant chunk of time while Herta was building up his mid-race buffer.
Rossi had worked his way up to seventh from 11th and was likely looking at a top five when he had a slow pitstop. Coming out of the pits he squeezed Graham Rahal and the two crashed, burying Rossi in the wall with a front right puncture.
SHEEEEEEESH.

Alexander Rossi and Graham Rahal get together! 😱 #INDYCAR // @NBC pic.twitter.com/ubWdxZ8uDB

— IndyCar on NBC (@IndyCaronNBC) April 25, 2021
He got the car out of the tyre barrier, but his only contribution to the lead fight on the day was to hold Newgarden up with a car effectively on three wheels while a lap down.
In 2018 Rossi signing for Penske to race in the 2019 IMSA SportsCar season had kickstarted the rumour mill that he could go the same way in IndyCar in 2020.
But after a drawn out process the man who was then IndyCar's hottest property committed to Andretti for the long term in one of the series' biggest silly season stories for some time.
However, a woeful 2020 resulting from the aeroscreen hindering the team's set-ups and a few niggly mechanical problems or driver errors meant Rossi was 18th in the points with five races to go last year. Only a stunning rebound moved him up to ninth via a run of four podiums – before his season ended with an unforced St Pete crash.
The Herta vs Rossi stats make for interesting reading.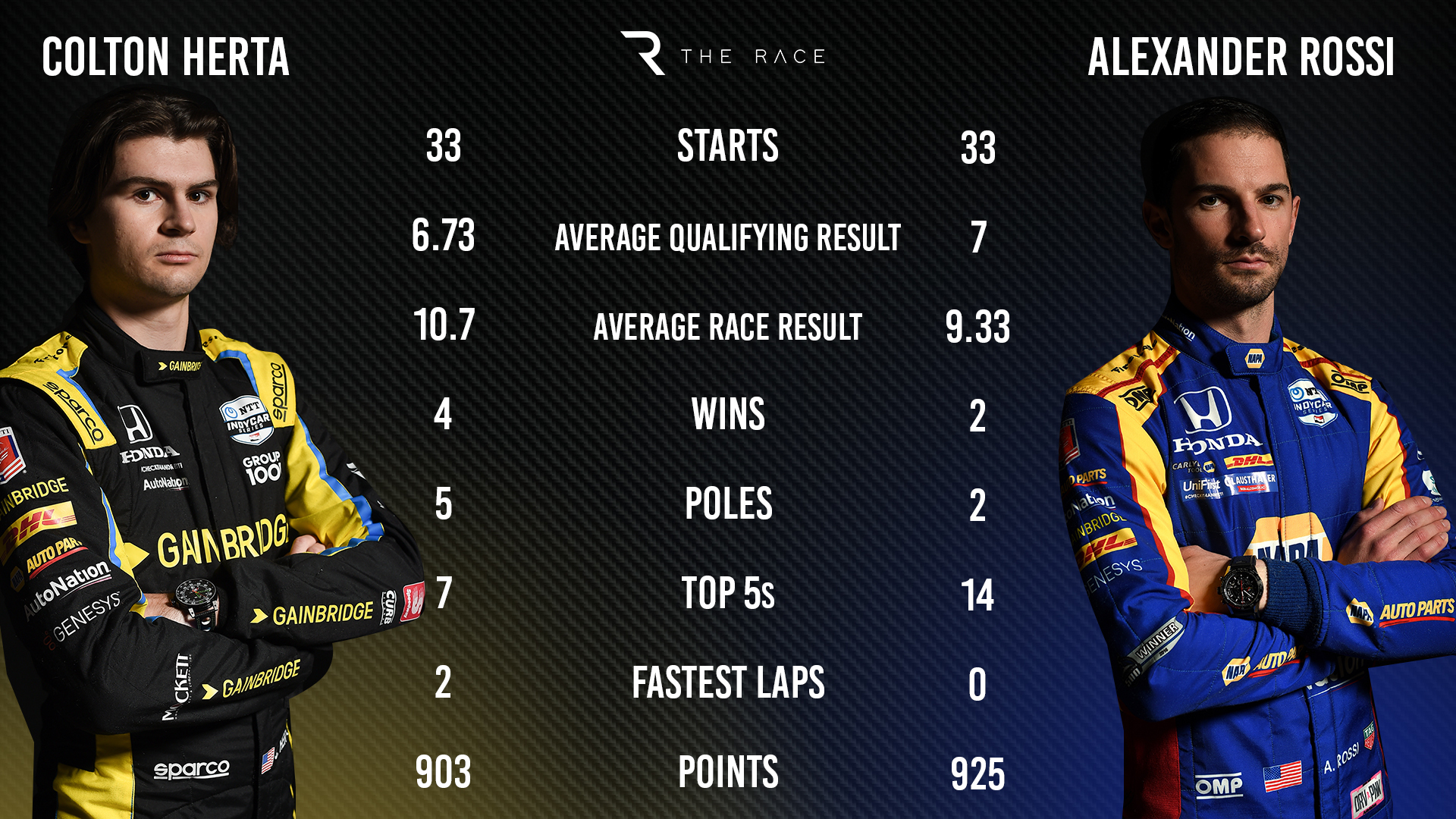 Herta's turbulent rookie 2019 season has affected his points and top five tally – especially as we haven't included wins in that top five count. So there's still plenty of work to be done on consistency but it's clear that Herta's quickly established himself with the 'future champion tag'.
Rossi's 2020 season – which he said "globally sucked" – has hit his score hard and 2021 hasn't been an improvement as of yet.
At Barber the team just went with the wrong strategy – something polesitter Patricio O'Ward also did with Arrow McLaren SP – but St Pete was a bit more peculiar as Rossi could only qualify 11th while Herta put it on pole.
NBC Sports showed an apparently frustrated conversation between team owner Michael Andretti and strategist Rob Edwards after qualifying, but Rossi's race had been going much better until the slow stop.
But like the Indianapolis 500 last year, when Rossi got an unsafe release penalty he was furious about, then crashed while trying to make up time on track – the incident with Rahal at St Pete was avoidable and Rossi could well have comfortably scored another top 10. Especially given how many cautions followed later in the race.
The stats are telling but the feeling is too. Rossi is making too many mistakes to be a Dixon/Newgarden-level title contender, whereas Herta is adding something new to his resume almost every race.
Herta was caught up in that early Newgarden crash in the first race at Barber, but had earlier recovered to qualify ninth having crashed in practice.
In St Pete he bounced back from his silly mistakes last October, and while he and Rossi have both had crashes this year, Herta made up 17 spots in the championship to lie fourth – five points off first – after two races while Rossi is 16th and 36 points behind already.
Herta's crushing St Pete performance was also underpinned by an area that was previously a weakness, which further shows his advancement.
"We were saving fuel to get to 34 laps [in the stint] every single time, and we were most of the time going faster than everybody else," said Herta when asked by The Race about improving his fuel saving.
"So I think it shows the research that we did for me in the off-season, everybody came together and knew that they had to work on that with me, and we went through a lot of different data sets and stuff like that to better myself for this event, and I'm really happy to see the personal growth.
"That's kind of what I look for every year: personal gains and getting better as a driver. And so it's a huge accomplishment for me when you can look back at this race and know that I did exactly what I wanted to do."
These personal gains are constant and visible. In his rookie year, Herta won two races but lacked any form of consistency. In 2020 he went too far the other way in the sense that wins were harder to come by but he was the team's most consistent driver even as it struggled through set-up woe.
Now it's fuel saving he's tackled. While other drivers including Rossi are prone to repeating similar mistakes, Herta seems to be working on them and correcting them.
Herta's attitude has changed over the years as well. You can see why he's able to work on these things because there's no shred of arrogance or expectation that he should receive any sort of preferential treatment. He just gets on with it in his own insightful, analytical and reflective way.
It's clear that the addition of his father Bryan as strategist has made an instant impact too, and Herta's recollection of his early years perhaps gives insight into how Colton has matured into this self-correcting machine.
"Growing up, I had a lot of arrogance, and I didn't want to hear anything that my dad had to say from probably like age 10 to like 14," explains Herta.
"No, probably earlier than that, like six, when I started karting, to like 14. And then I realised bigger, faster cars, I learned more about the sport, I was like, 'hey, he [Bryan] actually knows what he's talking about!'
"Actually I've grown a lot since then, so the situation works a lot better."
Herta's grown in just about every area and it's no surprise to hear Newgarden highlighting him as a title contender.
However, as the stats show, it would be unwise to rule Rossi out of any championship bid in the future – as Newgarden also points out when The Race asked him if Herta was the biggest Andretti challenger now.
"I would say so," Newgarden says.
"I don't want to discount someone like Rossi, either. I think Alex is certainly capable of being in that mix every weekend, so I think it would be unwise to discount him, but Herta, without a doubt, to me seems like the top gun over there.
"He's so young; he started [in IndyCar] I think three years ago [in the 2018 finale, pictured above], but he's still so young right now, so he's got a lot of runway, pretty level-headed, has a great crew around him.
"I know his engineer [Nathan O'Rourke]. He was my first engineer. He's got a great team around him.
"Seems to work well with his dad. I was watching his dad this weekend and how proud he was of him when he was getting in the car, and they just seem like they have good chemistry."
Newgarden's right to point out Herta is young – he recently turned 21 – so he has plenty of time to improve, and also that Rossi is still a contender and should never be ruled out.
But given his recent form and progress, Herta might not even need that time. If he can continue in this way he's going to be a tough prospect for the field he faces through 2021.
Asked what he thought of Newgarden's comments, Herta replied: "It's good to hear. It's good to know that they're thinking about us.
"I definitely feel like we are championship challengers. Obviously we had a bumpy first round, but that's not to say that the rest of the 15 other races for this year aren't going to be spectacular for us.
"The field is deep, I've said it before, but I expect guys to have rough, rough weekends and just not be competitive at some points.
"We're seeing a year where champions are struggling to qualify in the top 10 at some points."
There's no doubt of the fact that the margins are incredibly close. In the first two groups of qualifying in each race so far, the difference between making the top 12 or not has been 0.0603s at its highest and 0.0153s at its lowest.
When margins are that fine, you can see how valuable learning quickly, adapting and cutting out errors can be.
So, the burning question then, how does Herta feel about the fact he's seemingly overtaken Rossi as the Andretti team's leader and most consistent performer – at least for now? Does he feel the weight of expectation and the pressure that comes with it?
"No, because I know what I want to do, and obviously I know I want to win the championship, so pressure from the outside doesn't really do much for me," Herta answers when asked that question by The Race.
"I work every day to get to that goal and to win the Indy 500 and to win an IndyCar championship.
"People can say that I need to win a championship or I need to not or whatever, but I know what I want to do. I put enough pressure on myself, so I don't think the outside pressure really gets to me."
A typically composed answer from a reflective rising star.
Make no mistake, his St Petersburg performance was extraordinary for myriad reasons and it feels like what we are watching unfold with Herta is something extremely special.