For many people, this was the first time that it all sunk in. Romain Grosjean is in an Andretti car. He's on the Indianapolis oval. He's doing the Indy 500!
On Wednesday he underwent his Indy 500 rookie orientation programme alongside Jimmie Johnson, and while Grosjean was two laps short of completing it and Johnson 10 shy due to the rain that affected the day, IndyCar deemed both drivers have passed and can finish the laps at the pre-season open test or in practice at the race itself.
While he might not be a two-time Formula 1 champion like Fernando Alonso, expect a similar level of hype around Grosjean who might come to the Brickyard with less F1 success, but has spent a year plying his trade in the IndyCar Series, unlike Alonso, wowing and endearing himself to the fans and enjoying a new lease of life that has made him a fan favourite.
After @RGrosjean and @JimmieJohnson completed their ROP today, we sure can't wait for May. ⁰⁰#INDYCAR | #IsItMayYet
pic.twitter.com/Vr1PRuPof2

— Indianapolis Motor Speedway (@IMS) October 6, 2021
It's not just the fans and onlookers that can get excited now about 'The Phoenix' racing at the 500. It's finally starting to sink in for Grosjean for what it's going to be like to be involved in the Indianapolis 500.
"I think this year people have been super nice, following the American journey of mine," smiled Grosjean when asked about the significance of racing in the 500 by The Race.
"I think it's great to see a lot of people have embraced IndyCar and are loving it.
"Obviously now moving to Andretti there is definitely a big expectation of trying to get some wins and why not more?
"The Indy 500, I've come to the circuit a few times and always was amazed by the energy that comes from the Speedway.
"I think you need to see it to realise it.
"It's one of those things, you cannot imagine what 350,000 spectators looking forward to seeing a race feels like. That's going to be next May."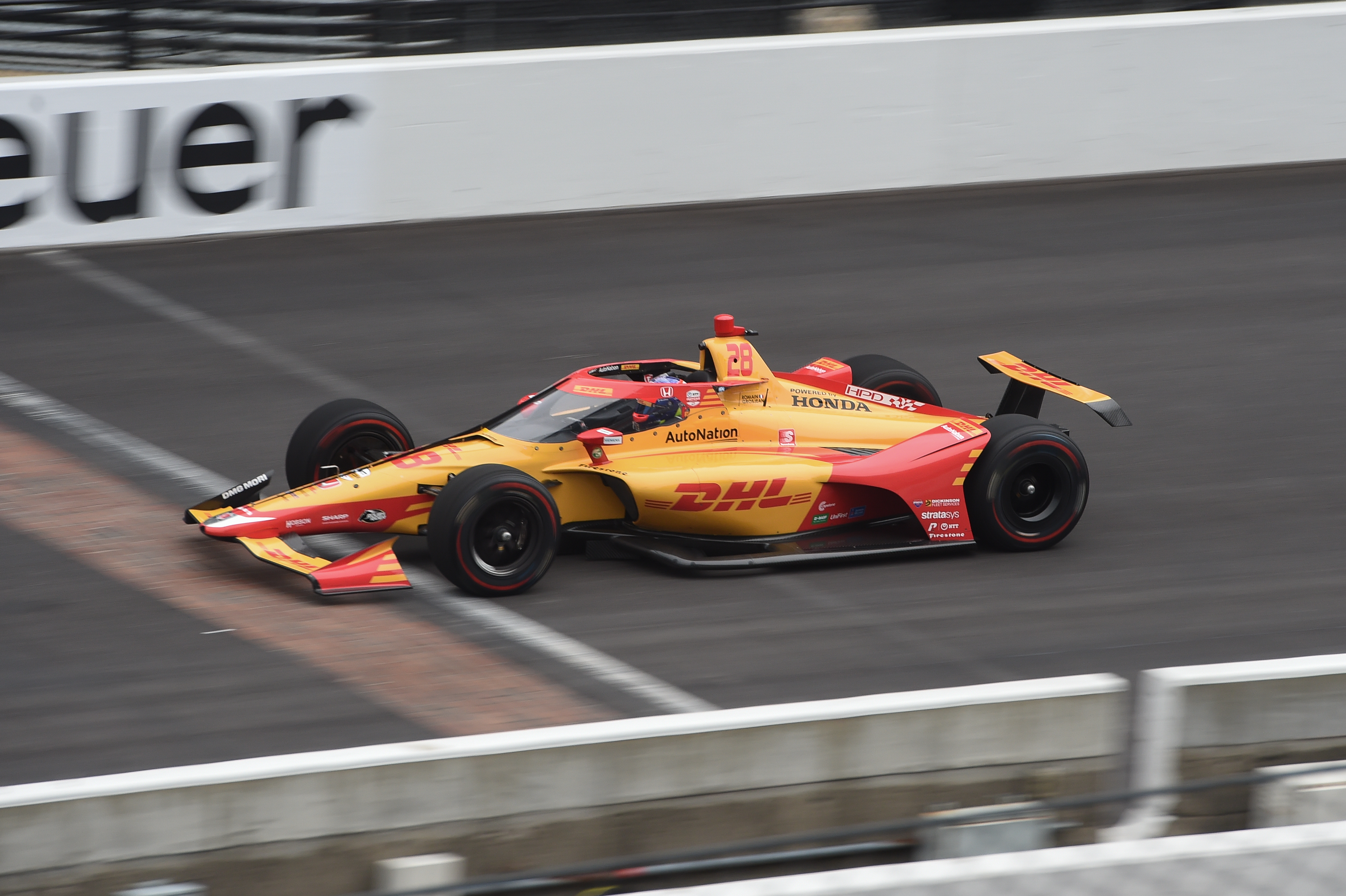 It's not only the fact that he will be doing the 500, it's the additional factor of doing it with Andretti, which needs no explanation as to the significance of its stature at the speedway and in American motorsport.
It was Grosjean and his ex-Dale Coyne engineer Olivier Boisson's first time operating at the track with the new team, and it's fair to say Grosjean was immediately at home.
Grosjean praised the idea of working in a family environment at Dale Coyne before and after joining that team, so it may well have been a concern for Grosjean to join a much bigger and more corporate outfit.
But if he did have those concerns, they've been rebuffed.
"It's a very impressive team," he says when asked by The Race if he immediately felt the calibre of the outfit.
"It's a very impressive team in the way they work, the way they operate. But it's also a very open team.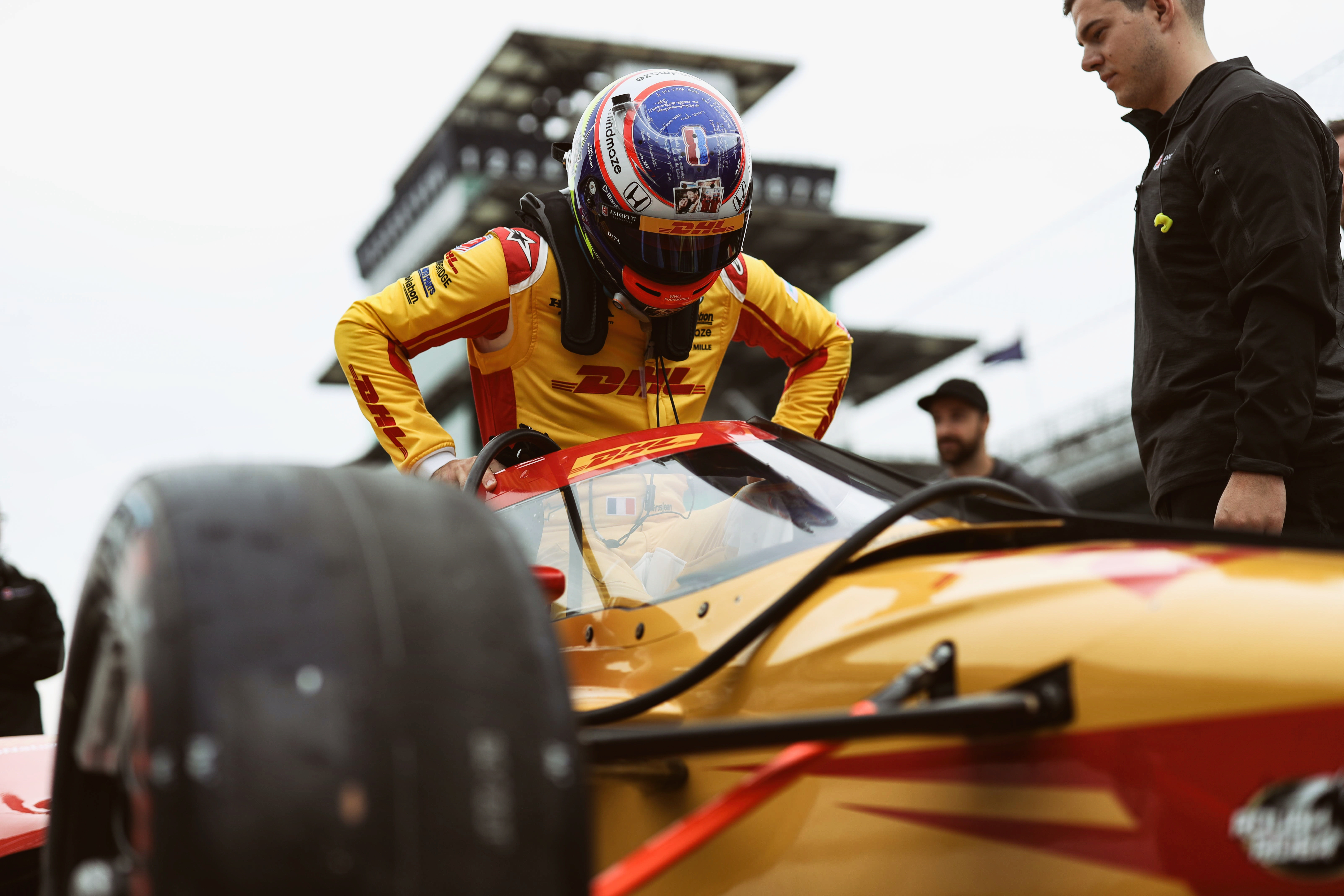 "They also are very interested in understanding what we were doing with our car [at Dale Coyne], how could we be so fast!
"Yes, I mean, it's a big team, but also I like the fact that inside the team you can fly with your own wings. It's not, like, super rigid where you cannot do anything. It's not necessarily what I want to have.
"I feel like we've got all the resources we want, but we can also do our work on our side. If it doesn't work, we have the chance to revert back to someone else. If it works, feels like we can be onto something cool.
"For me, just meeting everyone and getting a feel how they work was great, as well. Again, this year I've had an incredible human experience with Dale Coyne, with everybody there, starting with Dale but also with the mechanics. When I left I didn't know what to expect in the next chapter.
"Then I got the message from Michael saying, welcome to the family, which meant a lot to me. Today I got to meet everyone.
"I felt like, yeah, OK, those guys, it's great to be here. I think they're excited. I'm excited. Let's just go and have fun."
There's no doubt there's a lot of egos in the Andretti engineering debriefs this year with its drivers and the Meyer Shank affiliated outfit sharing the room. But the upside it provides is that he has access to the likes of Colton Herta's data, and more specifically at Indianapolis, defending four-time Indy 500 winner Helio Castroneves's data which he singled out as being of vital importance after the test.
Grosjean felt immediately at home in the test. Unlike Johnson – who has much more oval experience from NASCAR – he was using the tools inside the car and felt immediately up to speed even if he felt it didn't feel that fast in the car. That's before the speeds get turned up for qualifying.
With James Hinchcliffe helping out, Grosjean was also using the 'windsock' – flag-like items which are positioned ahead of the turns and show wind direction – and trialling different lines on the track.
From the way Grosjean was debriefing on this test, his acclimatisation feels very advanced. I'm not saying this because it's Grosjean or to give off a false sense of hope, his comments genuinely made him sound like a driver much more comfortable than a rookie should be on the Indy oval at this point.
Even if he did accidentally press the overtake button instead of the pit limiter. We'll put that down to the differences in the cockpit and steering wheel from his Dale Coyne car!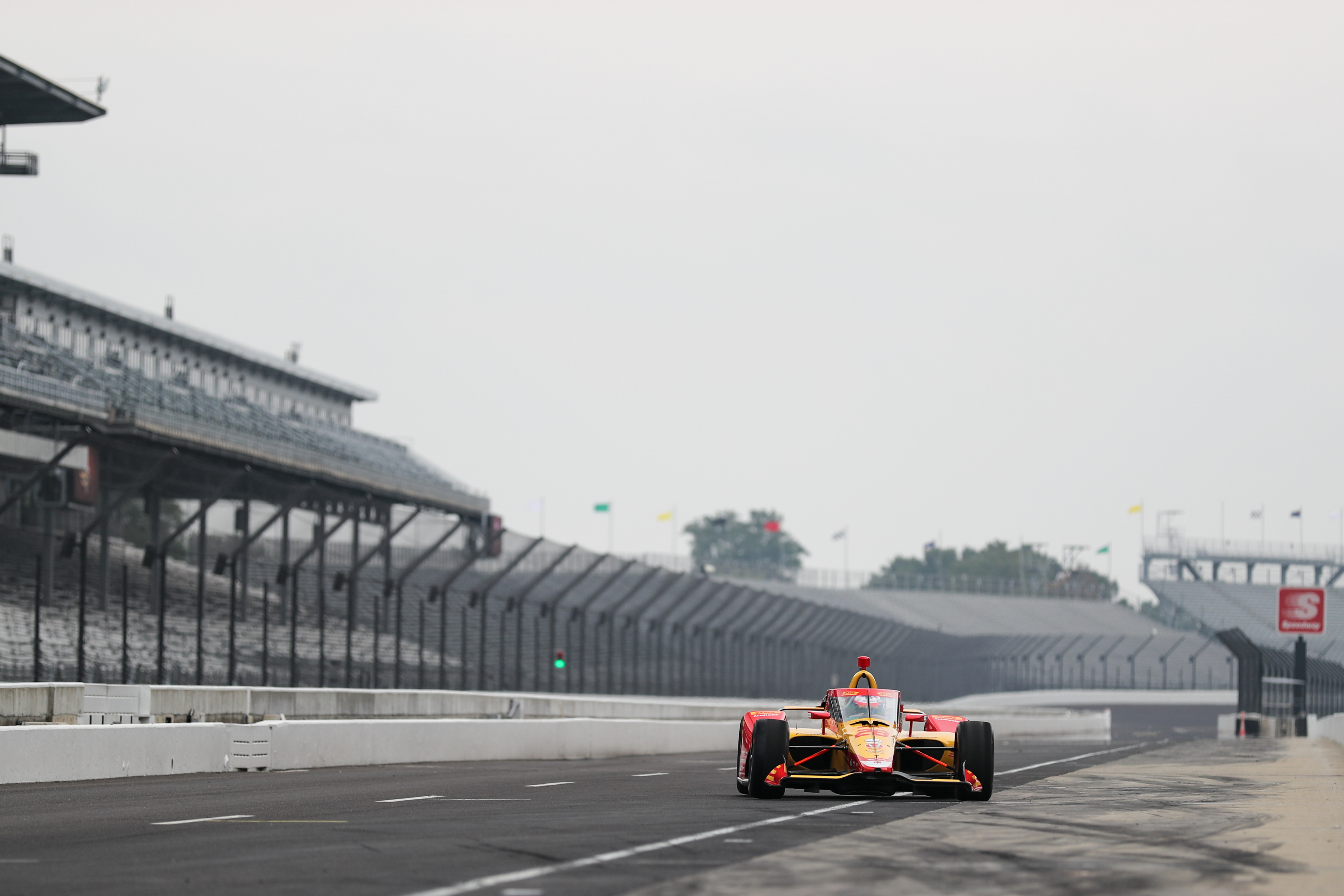 "Well, the steering wheel is different because every team can put the buttons where they want," he explained.
"Some of the buttons are different. Need to get used to them. A few times I pressed the overtake button for the pit limiter, a few things like that.
"The screen, the dash, was a bit different as well. I was getting used to it.
"The cockpit feels pretty much the same, especially that we could carry over my seat from Dale Coyne to Andretti. All my seating position has been the same.
"The only thing is, I was using a Ryan Hunter-Reay grip today on the steering wheel, while we are going to do mine now. That was a bit different from what I'd ideally like.
"Apart from that, it was good. It was just going and racing.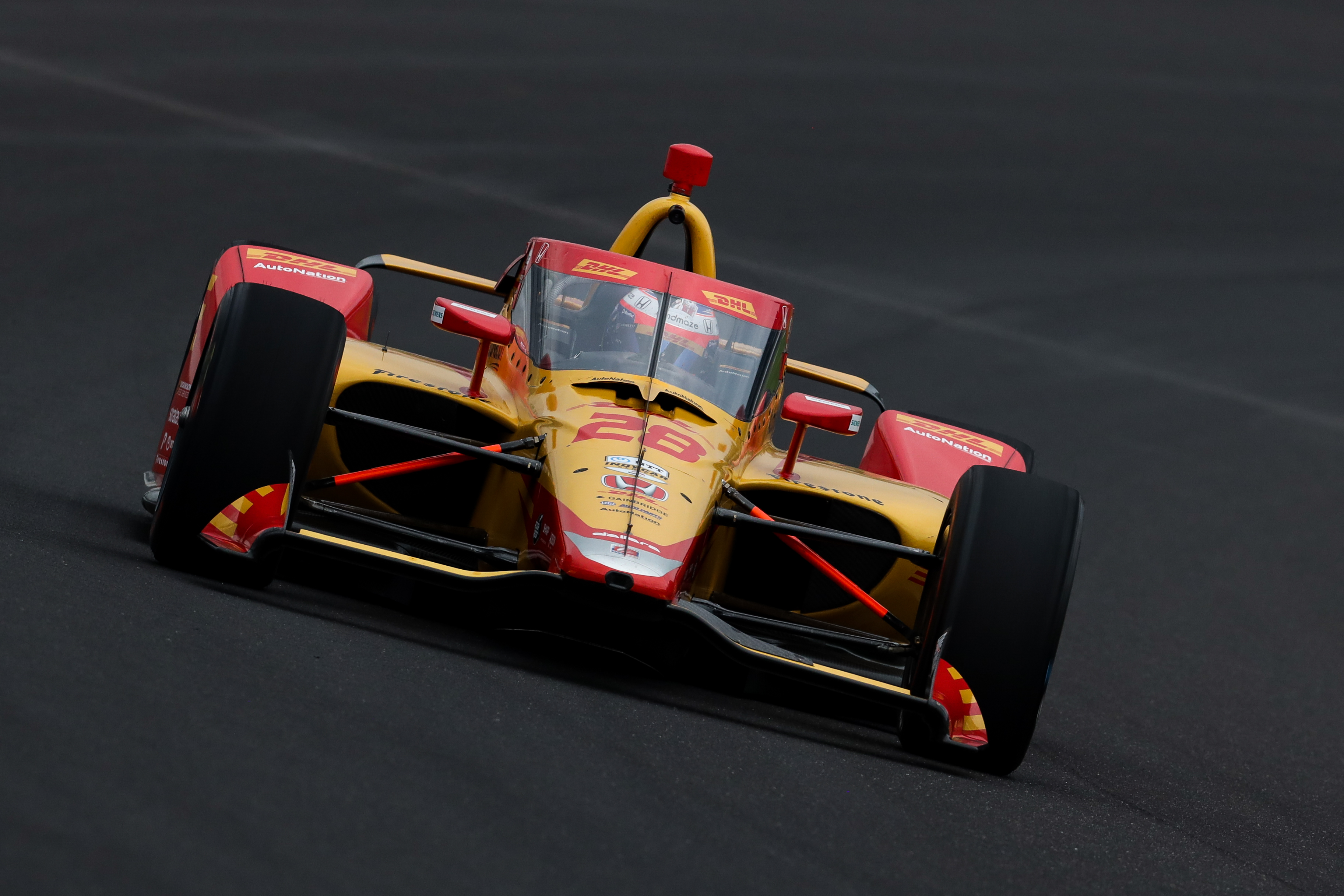 "Yes, the systems are different behind them [the teams], the way they operate is a little bit different. Olivier [Boisson] was not talking to me directly on the radio. It was Josh [Freund, IndyCar team manager]. Few things are a little bit different.
"Actually it went very well."
Grosjean reckons he looks good in his new yellow overalls – in the colour of the DHL-sponsored car he'll drive – and that "my daughter loves it, which is the most important".
Aside from looking at home, it feels like he has adapted quickly and that this relationship is off to a very good start.
Now the work starts on integrating properly into the team and for the Andretti squad, in general, to be pushing to improve in 2022 as it has been somewhat disappointing by its own high standards over the last two years.
Grosjean's experience and speed is a big part of the equation for turning things around, and that turnaround started in the best possible way at Indy.
Johnson closer than ever to Indy 500 entry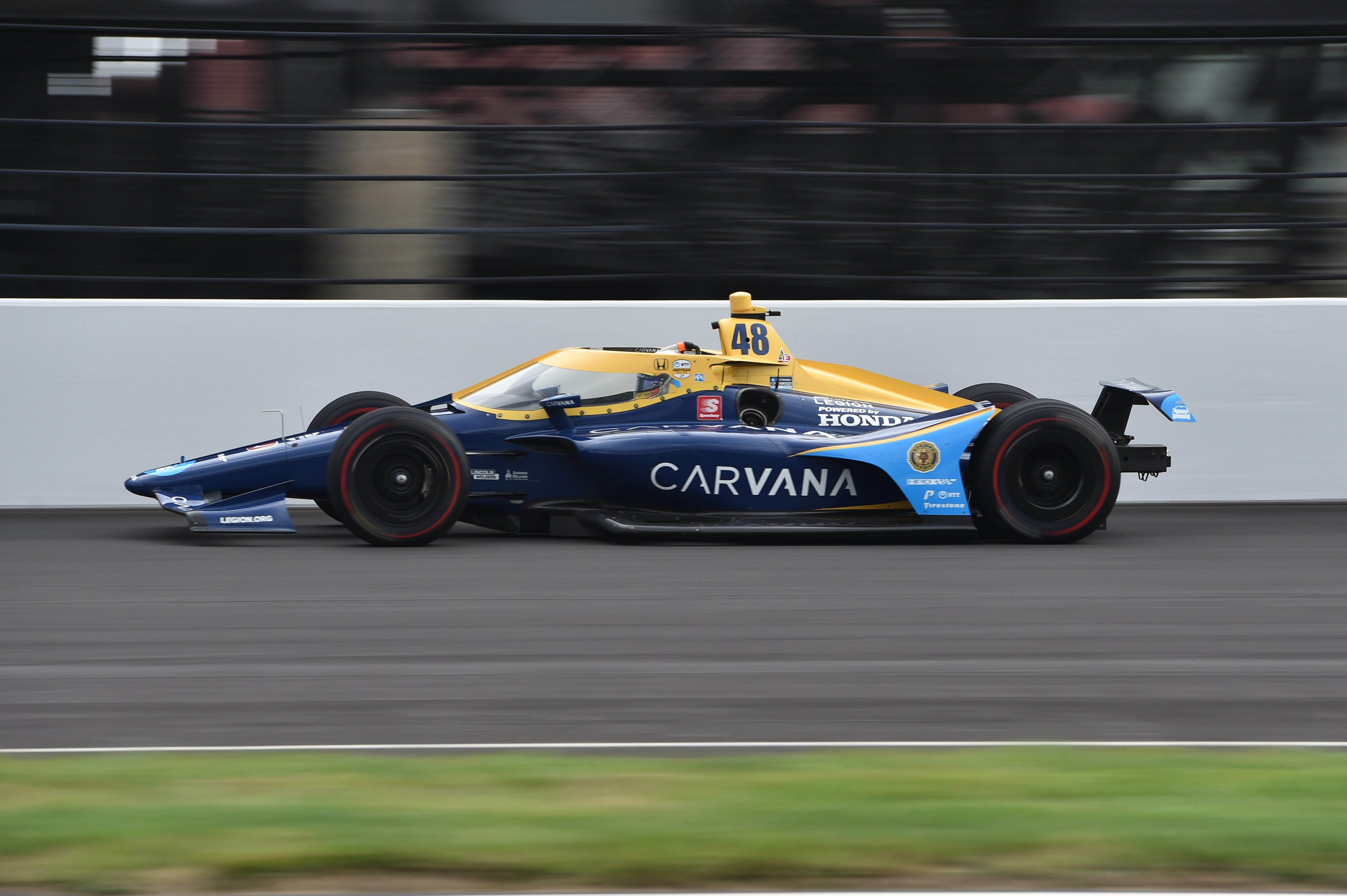 This was Johnson's second oval test – after Texas two months ago – and he has increasingly become more open to the prospect of ovals since ruling them out for his maiden IndyCar season in 2021.
Asked if his desire to do the 500 has increased, he said: "Definitely, definitely increased.
"I think the look I had at Texas increased it and brought me here.
"A little short on laps for what I wanted to experience today. As comfortable as I felt my interest is at the highest it's been, certainly my comfort is at the highest it's been.
"All that said, there's still a lot of work between now and really pulling through with this opportunity."
The main stumbling block is how Chip Ganassi Racing makes this work as it would need to run five cars to incorporate Johnson and his 2021 oval team-mate Tony Kanaan who is under contract for next year too.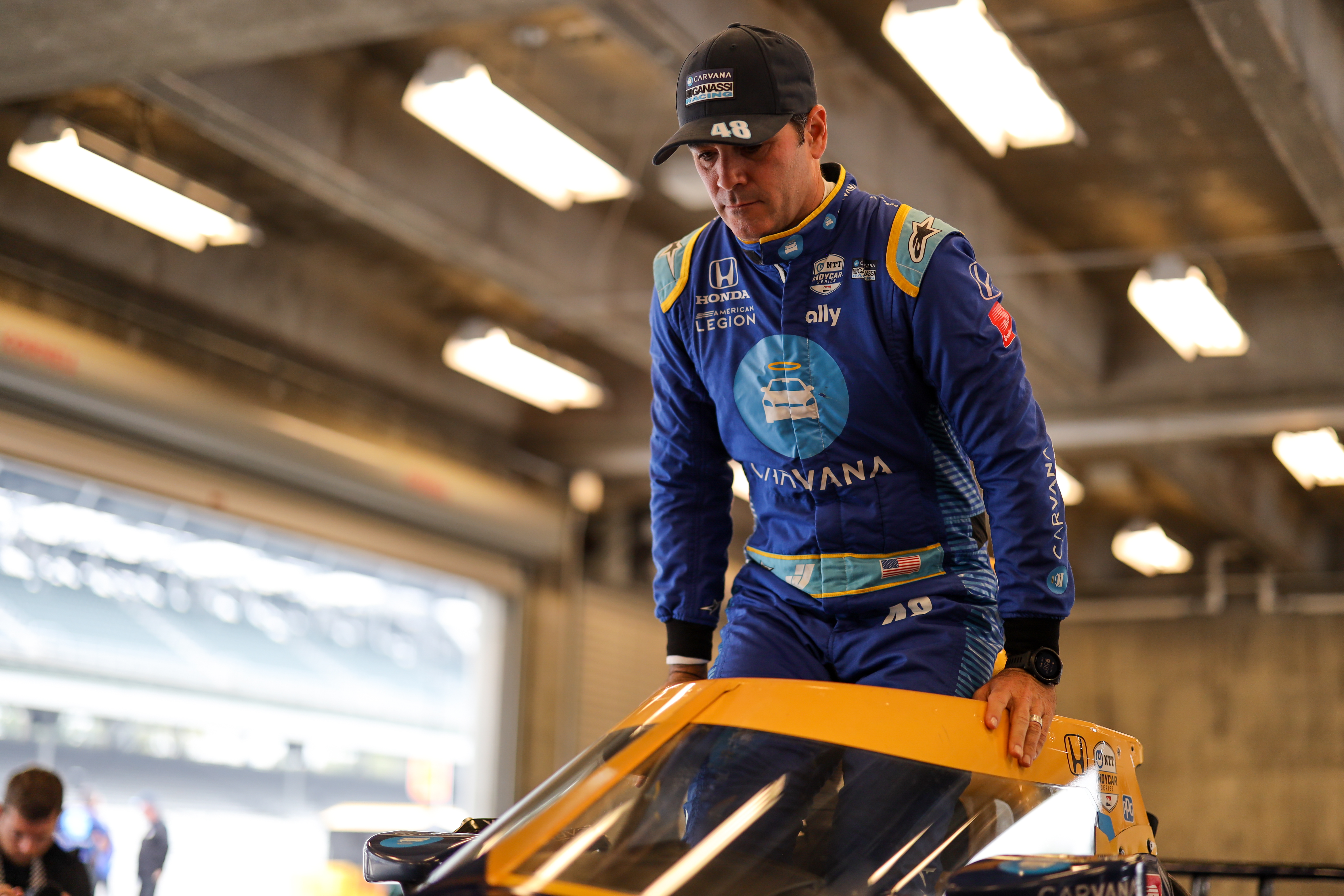 You have to believe that will work itself out in the background as Johnson would be such a big draw for the series, team, engine manufacturer and event, so really the decision is down to Johnson.
The good news is Johnson immediately felt comfortable reducing down to the level of downforce used in the race and lower, happy with the way the car handles and performs at speeds 30mph or so faster through the corners than he was used to in a Cup Series car.
While Johnson's switch to IndyCar has been tricky on the road courses because of his lack of experience of circuit racing and driving an open-wheel car, you would think an oval switch would give him a better opportunity to be successful, and The Race asked him if that would likely be the case.
"Yeah, I would naturally hope so.
"I have a lot of work to do on street courses, to be in the mix, to be competitive.
"I think it's fair to have higher expectations on the ovals if I do make that decision, the 500 or more, whatever that might look like.
"I know myself, that's all I'm caring about in this journey, is what I feel like I can do, what I'm capable of. If I choose to do it, I will raise my expectations and expect to be much more competitive."