It's been a wild Month of May for Romain Grosjean.
In fact, it's been a wild sophomore year for the ex-Formula 1 star turned IndyCar fan favourite turned Graham Rahal aggressor.
Last year Grosjean's return to racing after his fiery Bahrain Grand Prix crash in 2020 and his switch Stateside really inspired the IndyCar fanbase that accepted him as one of its own.
Now he's living in Miami with his wife and kids and driving for one of the series' best teams in Andretti Autosport.
Still, the year hasn't been without its growing pains, and the Indianapolis 500 is the perfect metaphor for that. It's much tougher than some drivers in Europe give it credit for.
"I'm still learning about it," Grosjean told The Race during practice, before he became the race's top rookie qualifier this year and will start ninth.
"Track evolution, the wind changing. It's funny because from Europe, you look at data and you think it's easy and just flat out and what can be complicated about it?
"And then you actually end up here and you start going and like oh, OK, it is complicated, and at 230mph, 380km/h, a gust of wind of 5mph feels big, track temp is much more, a small understeer becomes a big understeer and everything is, like, multiplied by a lot."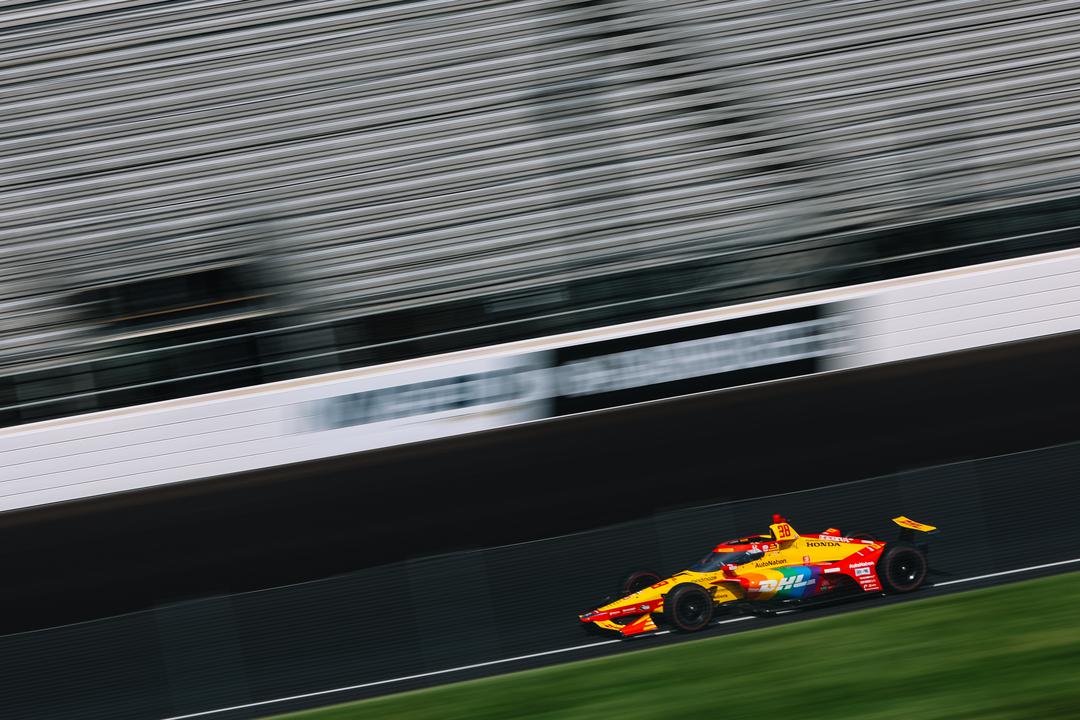 Asked if he thought his F1 friends would be surprised by how complex it is, he replies: "I think so, definitely.
"I talked to Fernando [Alonso] about it and yeah, he was telling me it's not easy.
"It's not easy! And it's complicated. There's a lot going on and there's a lot of laying around and moving parts and yeah…"
It feels like, when Grosjean discusses his adaptation to the Speedway, he's struggling for words. Perhaps watching his qualifying lap and the onboard speeds will help to explain why…
Another aspect is that the event is such a challenge mentally. Especially this 500, which featured one day of practice rained off and one day almost entirely lost to gusts of wind.
Trying to stay focused on the job at hand and the car improvements needed while having to attend dinners, sponsor activations and simply just live, is an underrated part of what makes the 'Month of May' such a challenge.
"It's just a fine line," Grosjean adds.
"I rely on my guys, my team, my team-mates, my engineers, just to give me good help that I need and my experience and knowledge of myself and what to do, where to go.
"One day I started spending far too much time here, for example, on the rain day [Wednesday practice] and I took the car and I drove to my engineer's place and we played darts and pool.
"So nothing really that exciting, but it's just good to be outside of the IMS."
His other activities have involved milking a cow, as per the traditional rookies' luncheon at the Speedway hosted by the American Dairy Association Indiana, and having his scooter (which he's named Jeanette, incidentally) placed on the ninth floor of the Pagoda on the sniper's perch, in one of Indy's notorious rookie pranks. Another, which he didn't elaborate on, featured carpets.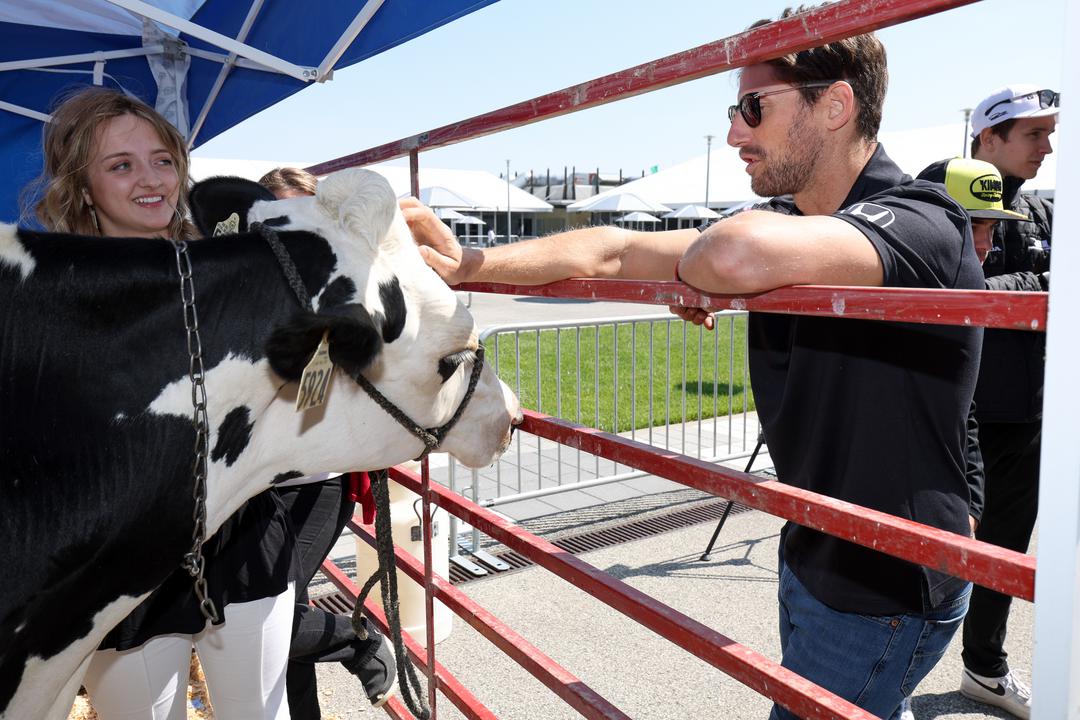 On the track, it's been a learning curve and on Thursday practice Grosjean almost crashed on multiple occasions – getting up close and personal to the wall, telling the crew he didn't want to come in after one of the moments, saying "let me learn".
He avoided speaking to TV crews after the session but came back the next morning with his trademark US TV smile and was as charming as ever after a night to sleep on the tough day.
It perhaps points to Grosjean being under the microscope even more in 2022 following his rookie year. And some of that is down to previous events on track.
There seems to be a groundswell of movement against his perceived aggressive style and sometimes how he races wheel to wheel.
It's just hard to tell who is genuinely upset with Grosjean's driving, and who is jumping on the bandwagon, getting in a punch while the boxer is on the canvas.
It's somewhere around 50/50, I suspect.
There may also be some ill-will from fellow drivers at Grosjean's meteoric rise. IndyCar has rightly made him its poster boy as he represents the fact that international talent can come and succeed in a true drivers' championship, but that's also brought him plenty of media attention that others don't get.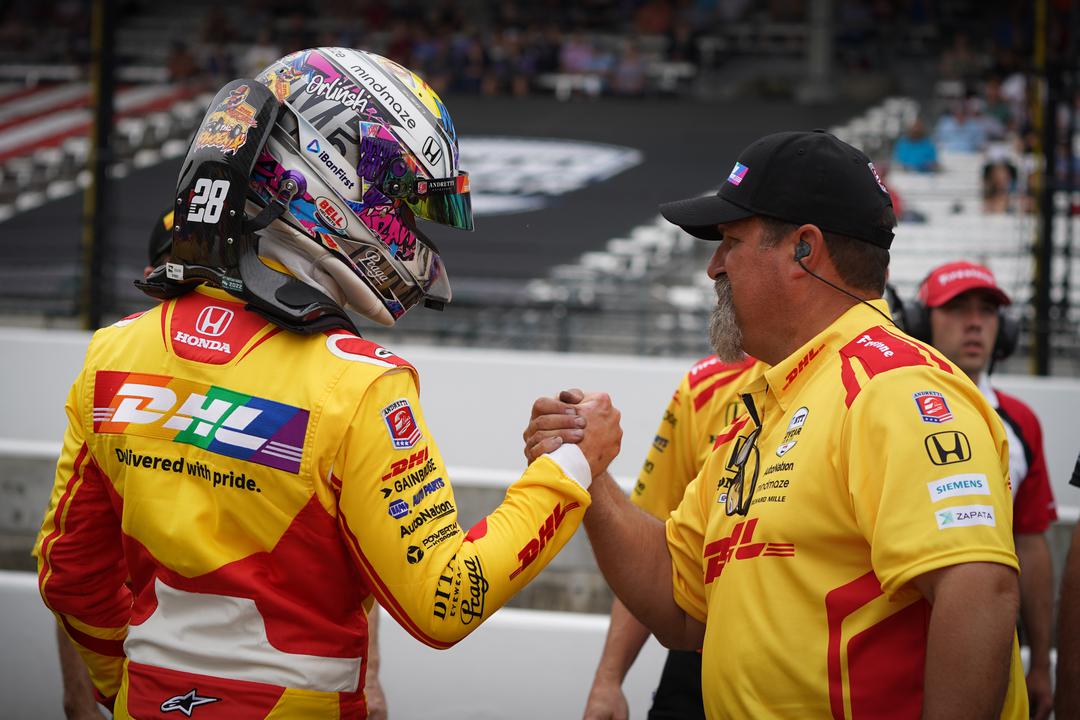 Has Grosjean's driving been aggressive? Sure. Was Rahal right to criticise the Barber clash between them? Definitely.
Grosjean sometimes crosses the line in wheel-to-wheel combat as he goes in search of the absolute limit and that's bound to upset people, but it's also what fans want to see, within reason and the bounds of safety, of course.
Another reason this might have become an issue recently is that he's generally up front more consistently with his new team.
Grosjean rebounded well from a practice crash in St Petersburg to score a top five in the opening race of the year, before a mechanical issue ended his Texas Motor Speedway race.
In Long Beach, he was a close second and then scored seventh at Barber Motorsports Park before being punted off by Jack Harvey at the Indianapolis road course while fighting for a podium.
The Texas result could easily have been a top 10 and with a podium at the first Indy race he'd have been right with the championship leaders or in striking distance at least.
"We are in a good place," says Grosjean when asked about how he and engineer Olivier Boisson are adapting to Andretti.
"I feel when the track is very hot we still need to improve, like Friday last weekend [Indy GP] we qualified 10th, 14th, 16th, 17th, 20th and 21st. So that was nowhere near good enough, I feel like that's somewhere we need to improve.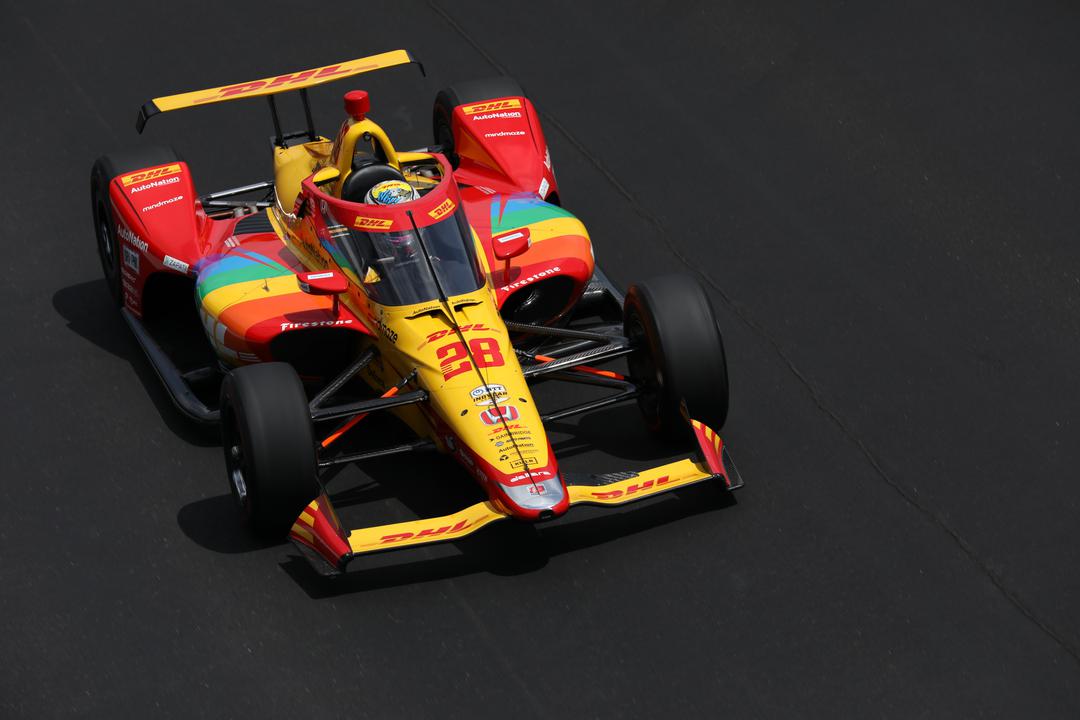 "But in the race, I feel like we had a very, very fast car in both conditions [wet and dry]. Could have definitely had a shot at winning.
"In Barber, we were fast we just messed up qualifying so we're trying to understand why. So there's still bits and pieces that we can always make better, but the team is definitely working well, we've got a lot of fast drivers so that's cool.
"You learn all the time. You keep learning, you keep improving yourself, you keep getting better. I like that. I like the fact that you can always get better at it.
"Obviously, I've got a lot of experience so I can use that knowledge overall. But still on road courses, I feel like every weekend we learn a few things and bits and pieces and trying to know how the track is going to evolve, how the tyre is going to go in the race and so on.
"It's quite a challenge."
Speaking of a challenge, the 500 qualifying is about as pressure-filled as it gets: completing four laps and 10 miles in under three minutes.
There was nothing 'rookie' about Grosjean's performance. He may have missed the Fast Six but was the only Andretti driver to make it through to Sunday's qualifying, and had it used last year's format he would have been battling for pole in the Fast Nine, with the first driver missing out being Scott Dixon – who went on to score pole!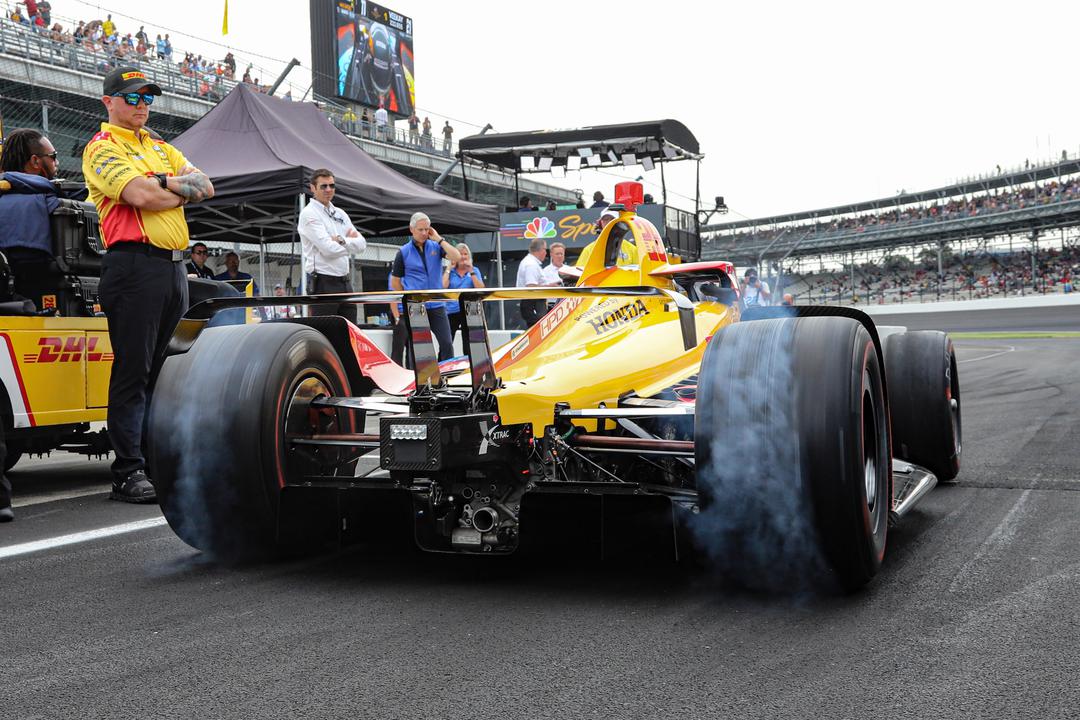 The race itself hasn't been won by a rookie since Grosjean's team-mate Alexander Rossi did it in 2016.
So with that in mind, The Race asked Grosjean what result he'd be happy with come Monday after the race.
"Top five would be incredible, top 10 will be great," he says.
"But first things first, finish the race. Get the laps, get the experience, try to, in the last 20 or 30 laps, be on the leader's lap and see from there what we can do.
"I just want to play intelligently, get the points and be at the end. And a lot of people told me that the place chooses the winner and not the winner chooses the place.
"It's just one of those races where everything has to be coming your way. And that's why it's very impressive that some of the guys like Helio [Castroneves] have won four times."
It certainly feels like Grosjean has had a tougher start to 2022 than last year. But the pace in the car is good and a tidy-up here and there might have Grosjean in title contention.
It would certainly be interesting to see him in Victory Lane at the Indy 500 – it would be a great story and we know the place tends to favour a great story.
He's been on the ragged edge in practice in the name of learning and backed that up with a solid qualifying. If Andretti's car is competitive, there's no reason Grosjean won't be.