Team Penske president Tim Cindric believes a broken right-rear damper was to blame for Josef Newgarden's Iowa crash, after which the two-time IndyCar champion went to hospital following a fall.
Newgarden won the first race of the Iowa weekend and was leading the second when the he spun and hit the wall at Turn 4, intimating in an interview afterwards he felt something had failed.
"Something went wrong there," said Newgarden, adding, "I never have this stuff so maybe we were due. We can't afford it for this year. But we'll fight back. We have a great team here."
Penske declined to offer a statement on the reason for the crash to The Race, but team president Cindric has since discussed it in an interview with another publication.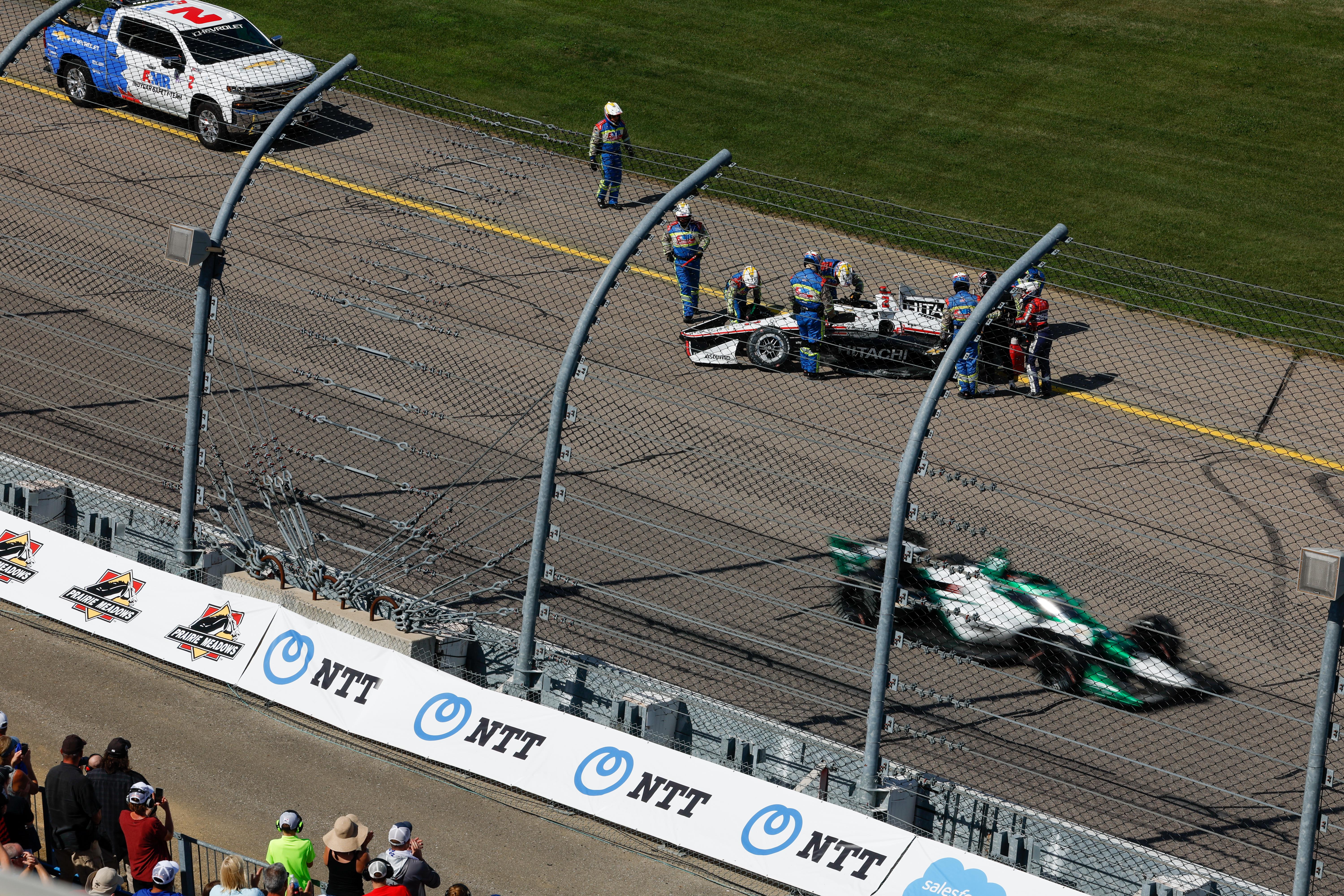 Cindric told Racer.com: "I think it's all pretty matter of fact from where I sit – the failure was the right-rear shock.
"That side of the car didn't even hit the wall."
Cindric confirmed that the design of the part has not changed in a "long time".
"We sent it off to an expert to tell us what happened, and we've got metallurgists to look at it," he added.
"There was no crack that propagated from some other accident. So, the reason it failed is unknown. It's still a mystery."
While it is hoped Newgarden will be cleared to race at the Indianapolis road course this weekend, Penske has signed Santino Ferrucci as a stand-in just in case Newgarden is denied.
In a separate article with Racer.com, Cindric said that Ferrucci has turned down a NASCAR Xfinity drive this weekend in order to focus on the chance with Penske, and that a trip to Charlotte on Monday that was already planned meant Ferrucci could take Newgarden's simulator slot and work with the team.
Dreyer & Reinbold, which ran Ferrucci in the Indy 500, has loaned Penske Ferrucci's seat and belts ahead of the weekend if Ferrucci is needed.
Newgarden fell in the paddock after being cleared at the infield medical centre following his crash and was sent to hospital on Sunday, although his scans came back negative and he was discharged the next day.
He will be reassessed by IndyCar on Thursday to determine whether he can race.