One of IndyCar's most fascinating off-season stories is the intricate meshing of the Andretti Autosport line-up, which seemingly has the power to restore the great team to its former IndyCar glory – or tear it apart from within.
Andretti's three drivers confirmed are Colton Herta, Romain Grosjean and Alexander Rossi, with the fourth entry expected to go to an Indy Lights graduate.
Add in the technical partnership it has with Meyer Shank Racing, which puts that team in Andretti's engineering debriefs, and you effectively add four-time Indianapolis 500 winner Helio Castroneves and 2016 IndyCar champion and 2019 500 winner Simon Pagenaud to the Andretti stable.
However, the relationship with Meyer Shank took a first unusual twist in May when that team – with a hastily assembled group of personnel for a part-time entry – did what Andretti hasn't since 2017 by winning the Indy 500, essentially with one of Andretti's cars.
The two teams argued it was good for both of them that Meyer Shank won and that there was no downside to this David vs Goliath situation, although in this scenario Goliath is a bit smaller and has given David one of its weapons!
There have been other signs that things aren't always harmonious, with Shank's outgoing full-time driver Jack Harvey and Rossi having a bit of a disagreement about Harvey's racecraft at Texas.
Then at Long Beach last weekend Castroneves erupted at Rossi.
The two made contact in the warm-up as the rapidly approaching Castroneves expected Rossi to move at the Turn 1 exit but he did no such thing.
Contact in warm-up?

Yeah, today's shaping up to be pretty intense.#INDYCAR // #AGPLB

WATCH LIVE:
🦚: @PeacockTV – https://t.co/Py4Niudrrg
📲: INDYCAR APP – https://t.co/vyuISIyifv pic.twitter.com/SAWPtmETxt

— NTT INDYCAR SERIES (@IndyCar) September 26, 2021
You can make your own mind up on the incident.
Castroneves came from quite far back to attempt the move while he was on a fast lap and Rossi had just come out of the pits.
But Rossi felt entitled to his place in line and wasn't expecting a move there. It's tough to call, myself and JR Hildebrand disagreed slightly on who was to blame on this week's The Race IndyCar Podcast.
One thing is for sure: Castroneves was apoplectic.
"The guy's coming out of the pits," he said.
"I'm the old guy here, he's the one who has the mirrors and should take a look what's going on.
"It's totally unnecessary, totally unnecessary.
"It's absolutely insane, so I'm pissed off about it, but anyway, just calm down and move onto the race, your turn will come."
"The fact that he thinks any of that is my fault is hilarious. I guess when you're a four-time Indy 500 champion you can have your opinion. [But] he's wrong" :: Alexander Rossi on Helio Castroneves
Asked about how much it set back his preparation for the race, he added: "Oh come on, it's ridiculous, it's the ****ing warm-up. It's ridiculous, it's absolutely insane."
Rossi was much calmer than Castroneves but his undertone was no less resolute on who he thought was to blame.
"Kind of since Portland [two races earlier] things have been brewing – not brewing… but he likes to jump in line when we're all trying to get gaps and everything," Rossi said.
"It happened yesterday [qualifying at Long Beach], it happened in Portland.
"We're team-mates.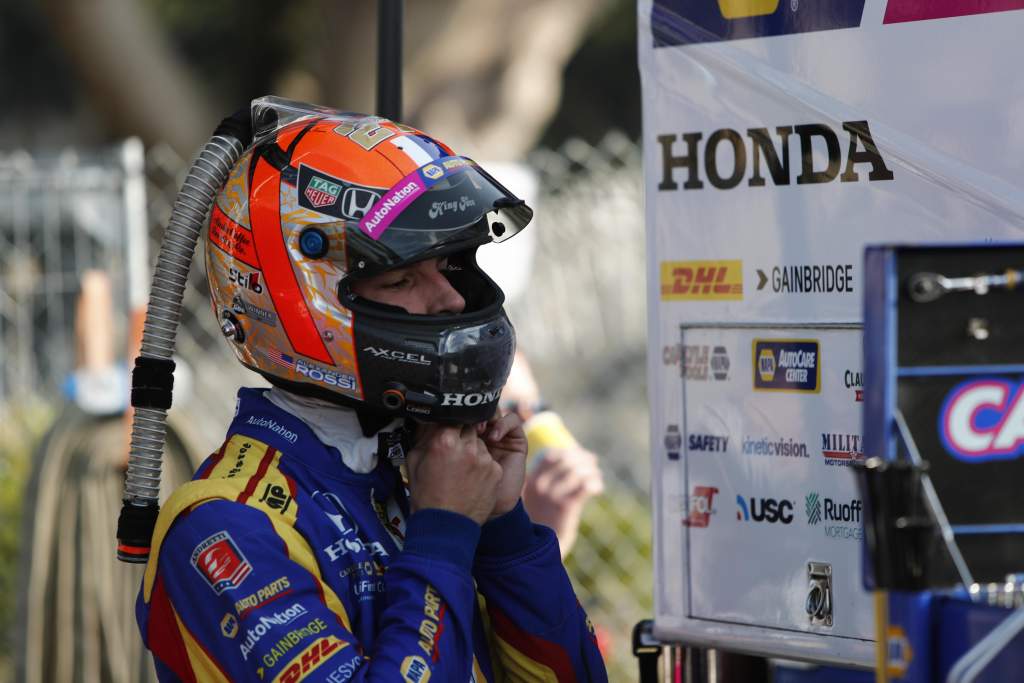 "We haven't really talked about it, now is a good time to talk about it.
"But the fact that he thinks any of that is my fault is hilarious.
"I guess when you're a four-time Indy 500 champion you can have your opinion and he's entitled to it. [But] he's wrong."
Asked how to handle that knowing Castroneves is a "corporate team-mate and someone you share meetings with", Rossi replied: "He is and he isn't.
"Quite honestly the Shank car didn't help Colton last week in Laguna. I don't know how much of team-mates we're being right now."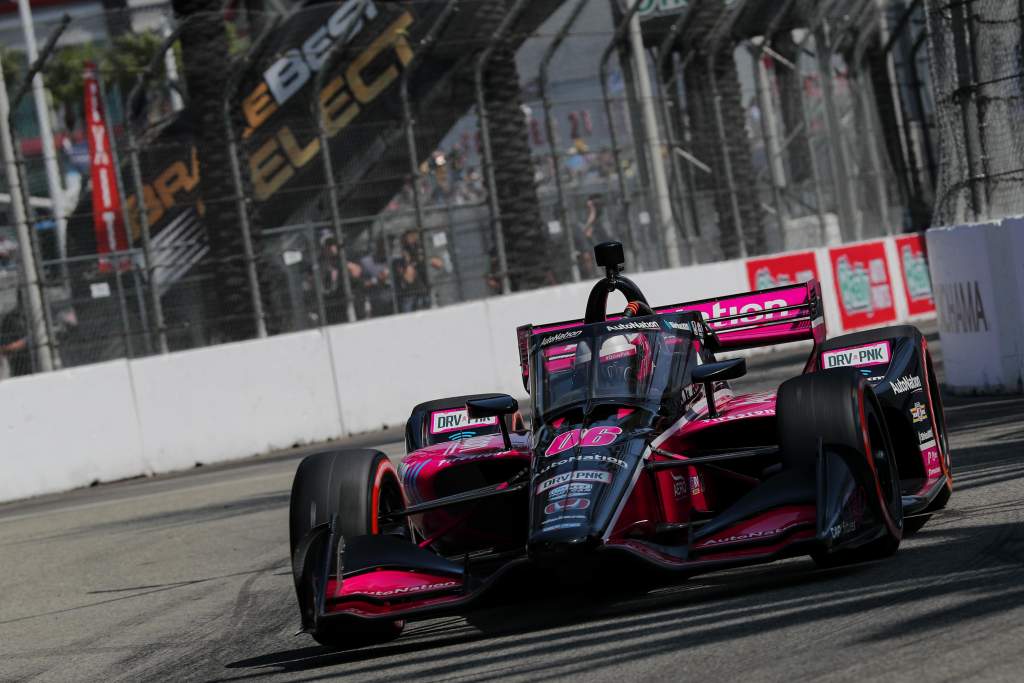 By now I'm sure this matter has been discussed and had a line drawn under it in the post-race debriefs, and I still think this driver line-up is a good one. Don't take this column as a suggestion there's a big Andretti vs Shank crisis.
But I don't think it's unfair to use this incident to discuss how these two teams merge moving into 2022 and how it could impact performance.
For the first time for the full-season Meyer Shank's expanded team will have two drivers at the Andretti/Shank collaborative table, and statistically both are more successful in IndyCar than any of Andretti's own drivers.
In terms of the bigger picture, the immediate challenge for Meyer Shank is going to be meshing its two teams together as it goes from one full-time entry and one occasional extra to two full-time.
Finding elite personnel is extremely difficult as the IndyCar grid continues to bulge, and getting a group of people together and leading them to the front will need everyone on the same page. There will be no time for pettiness or squabbles.
On the Andretti side, this is its best chance in years to return to the top step in the championship and at Indy.
With Herta there's no doubt it has one of the most naturally gifted drivers in the series, and we know what Rossi is capable of even if he hasn't won a race in two years.
Grosjean's a more difficult read but everything we've seen says he can fight for a title and he brings different experience too.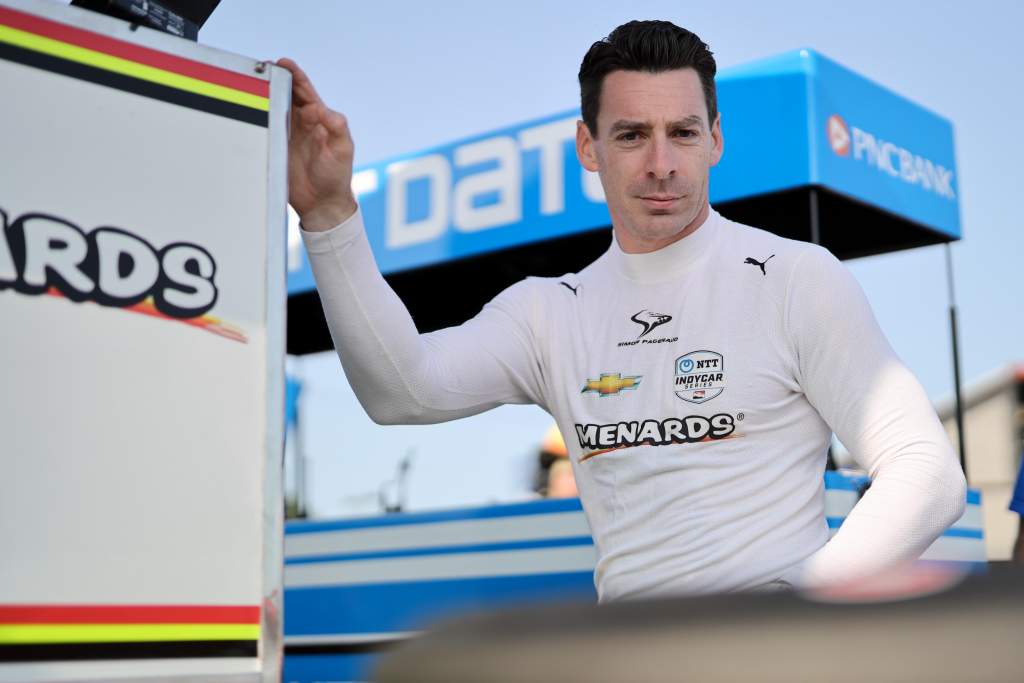 Add in Pagenaud's Team Penske knowledge and this organisation surely has the potentially to improve on this year's result of fifth and 10th in the championship for its top two cars.
Perhaps Chip Ganassi Racing is the blueprint for Andretti. Grosjean is like Ganassi's Marcus Ericsson with his depth of F1 experience and Herta is Andretti's young gun equivalent of Ganassi's new champion Alex Palou. Maybe that's a stretch, but you can see the lineage and why not try to replicate what Ganassi's doing when it had three drivers in the top six in the championship this year?
What Ganassi's driver line-up doesn't have is a lot of egos. That team works together fantastically and that's what Andretti/Meyer Shank will need next year.
All five of the drivers mentioned have their own egos. Remarkably it might be Herta and Grosjean – the two most likely to lead Andretti forward at the moment – who could be the least fractious and Pagenaud could be in that category too as he tries to rekindle some of the magic missing in the last two seasons.
There's no doubt this group – the biggest driver-line-up shake-up of the top teams in IndyCar this winter – has a chance to give Andretti what it has been missing and elevate Meyer Shank in the process. Six cars provides more data than any of the other big teams and with so much experience and top level success within those six it really has the firepower to compete.
On the other hand, if poorly managed, the egos in this line-up could create a very fractious superteam indeed.