"It's going to be so interesting to see who the king of qualifying is," DS Techeetah sporting manager, James Rossiter, told The Race at Formula E's Valencia test.
He's dead right. The early narrative of the 2022 Formula E season will be one of who can master the new 'tournament' style qualifying system, which in theory should form a fairer grid hierarchy.
According to Rossiter we're going to get to see that for the first time ever in Formula E.
"Who is the best qualifying driver on the grid, who can really cut the mustard under stress and pressure?" adds Rossiter.
"You will need drivers that can deliver one lap pace. It will be fascinating to see who comes out on top."
That stress, of which Rossiter talks, has always been present in Formula E. With minuscule track time and all errors punished by street circuit walls, not caressed by tarmac run-off, the pressure will be exacerbated by doing it four times in less than hour if you are good enough to start from pole position and absorb three championship points.
Qualifying has always been one of Formula E's toughest challenges and that is set to continue this year. But 2022 sees the start of the first true 'king of qualifying' billing as drivers will have to deliver not just two stellar laps as per the previous regulations, but now at least four, in group running and the quarter-final, semi-final and final duels.
More emphasis will be placed on the driver's inherent feel and skill of warming up and managing their tyres as effectively as possible prior to those critical laps.
The Michelin all-weather tyres are certainly quirky in how they operate, with windows much narrower than most other types of racing due to the grooved surface of the rubber.
There's only so much that the tyre can give a driver in any given lap of course. If they use it all up in the first few corners it will inevitably give out towards the end of the lap, irrespective of temperatures.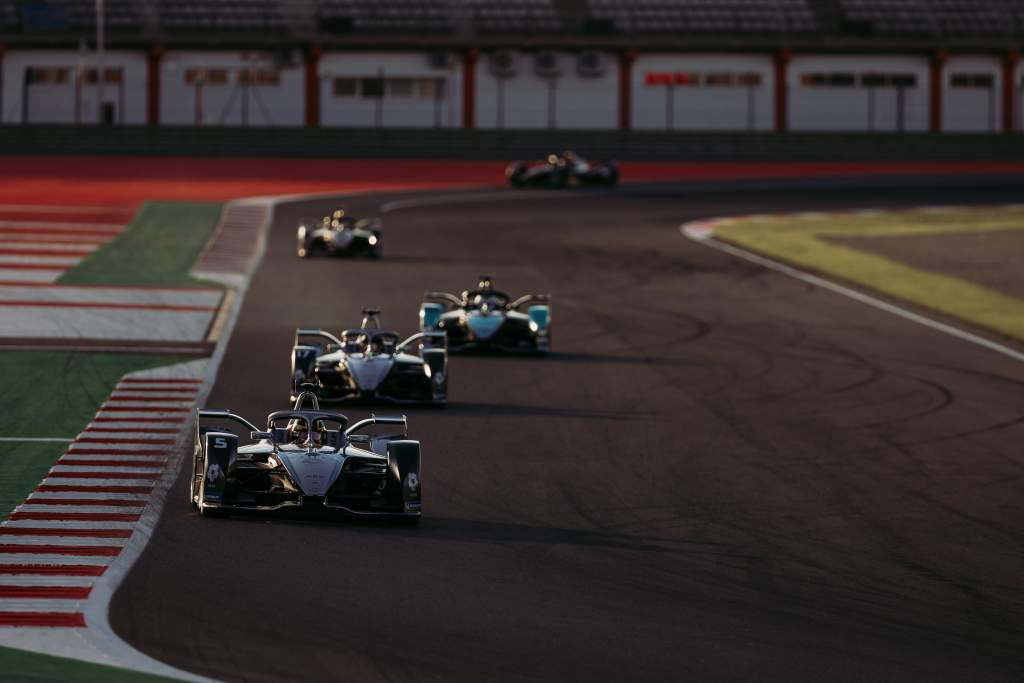 Depending on how the car is driven it will therefore give them a different result across the lap especially at a short circuit with low dynamic energy, can benefit an aggressive driver.
But a track that needs energy distributed across the lap and is a bit smoother will allow a more artful driver to prosper because looking after the tyre will pay them back later in the lap.
"Say you've done a really good run in FP2, and you've just overcooked the tyre and you've overused that amount of energy, it's your feel of where you then take a step back as you go into the quali runs that will count, then you can evolve with each run," Jaguar's tech chief, Phil Charles, told The Race in Valencia.
"It'll be a bit like F1, you go bang, bang, bang, as you go through Q1, Q2, etc and you start to learn a bit more about the tyre.
"That's where they get a chunk quicker each time, it's not just because they are repeating the same thing and the track is improving a little, they're also evolving and learning each time what makes that tyre work a bit better and now we've got a bit of that as well too."
Brute force will only get you so far in 2022 Formula E qualifying, as drivers will also have to work out what works and what doesn't in the first run and then correct it for the next one.
"I think it does give the teams a bit of work to do on the tyres but also hands the drivers a bit more too, to use a part of their brain power some more. So that's a good thing I reckon," opines Charles.
The beauty of the new system is that the dirty track disadvantage – which so often put the championship leaders at the back of the grid under the previous system – is largely taken away, because drivers now have the 12-minute group sessions to filter down the eight of them that go forward in to the first duels in the 'quarter finals'.
Those two groups are obviously going to clean the track, so it is unlikely that we will see many of the gamesmanship antics of the past.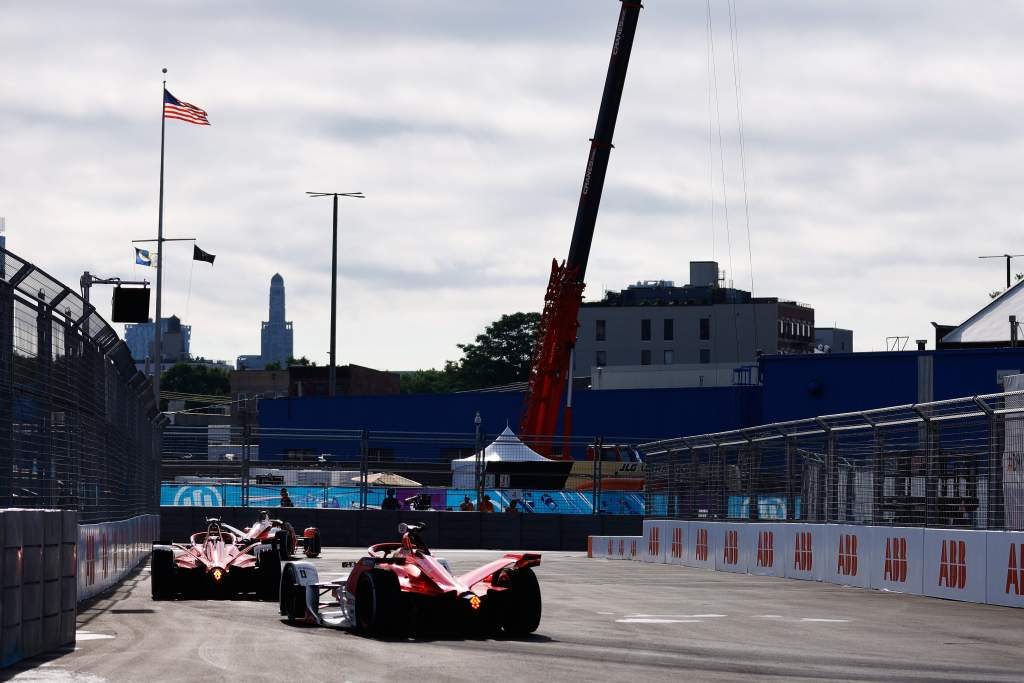 Focusing on preparing laps and nailing those efforts will be much more the order of the day in 2022.
But let's say there's a track where there is still some decent track evolution. Will we get little microcosms of 'antics' what we've had before?
"You don't want to spread it out, you want to leave it to the last minute for that one still," says Charles.
This means that drivers could still go out to 'accidentally on purpose' slow rivals down. It could stop them getting a lap in before the six minute cut off within the group for a banker time.
Therefore, the potential is still there and with more cars on track (11 as opposed to six last season) the last laps could still get very fraught.
"Now they have split the qualifying group in half [six minutes and six minutes effectively], so we've all got a flatter part of the curve now," says Charles.
"Because you've got two runs, if you've had a really competitive first run and you're in good shape you might not also be needing to push so much in the final six minutes.
"If we've got a bit left in the pocket and we can go a bit earlier and can still qualify well and just get through, it won't be as critical that you're last on track."
Any aggravation is set to be confined to the racetrack and not the pit-lane however, as the FIA will mandate a minimum speed in the pit lane at each race.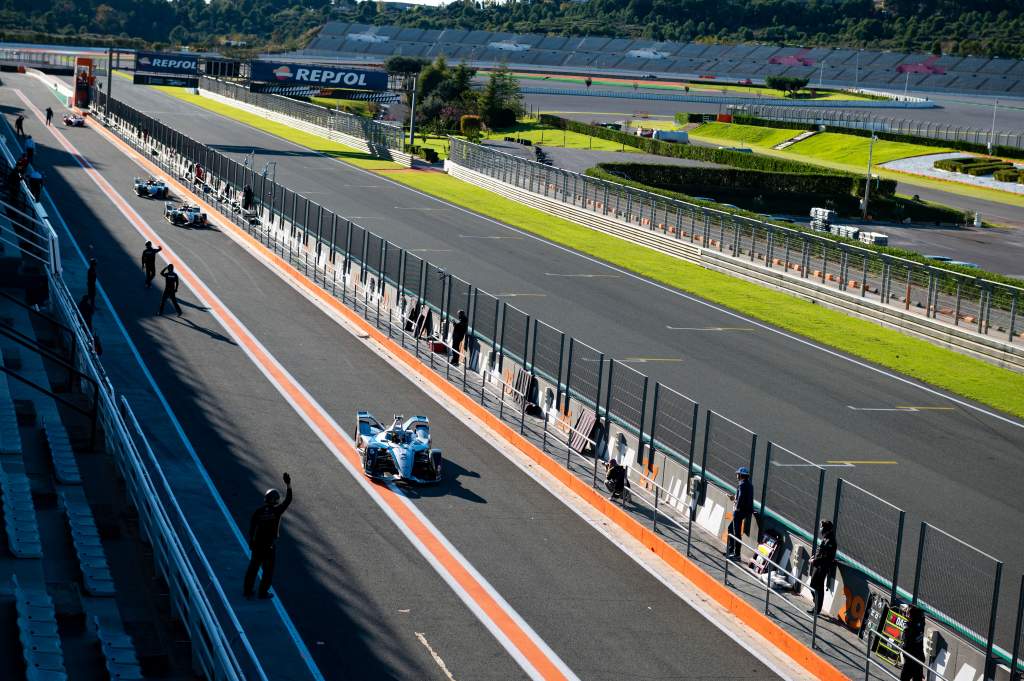 At Valencia it was 48kph. Pulling out in the pit lane to 'manage' the pace of rivals, which happened on several occasions in 2021, therefore will not occur in 2022.
Pitstops will also play a vital role in the group qualifying portion of the new format as teams grapple with the challenge of Formula E's famously varied and often abrasive street track surfaces.
Both pit-apron and pit-box stops were trialled at the Valencia test last month before the FIA mandated that stopping in the temporary garage structures was the safest and fairest choice.
The cars will therefore be dragged back into the boxes by mechanics and four of them only are allowed to 'participate in the operation of changing tyres'.
At certain circuits this will likely become a hot topic as pitlane configurations are often on the intricate side of design.
"It's tricky in both [pit-apron and pit-box] scenarios," says Charles.
"Coming back into the garage, as you swing across to come back in, that's tricky because you've got a narrow pitlane and you're having to navigate not going in the fast lane.
"But then there are other championships with really chaotic pit lanes like on ovals, so we won't be the be the first ones to navigate that."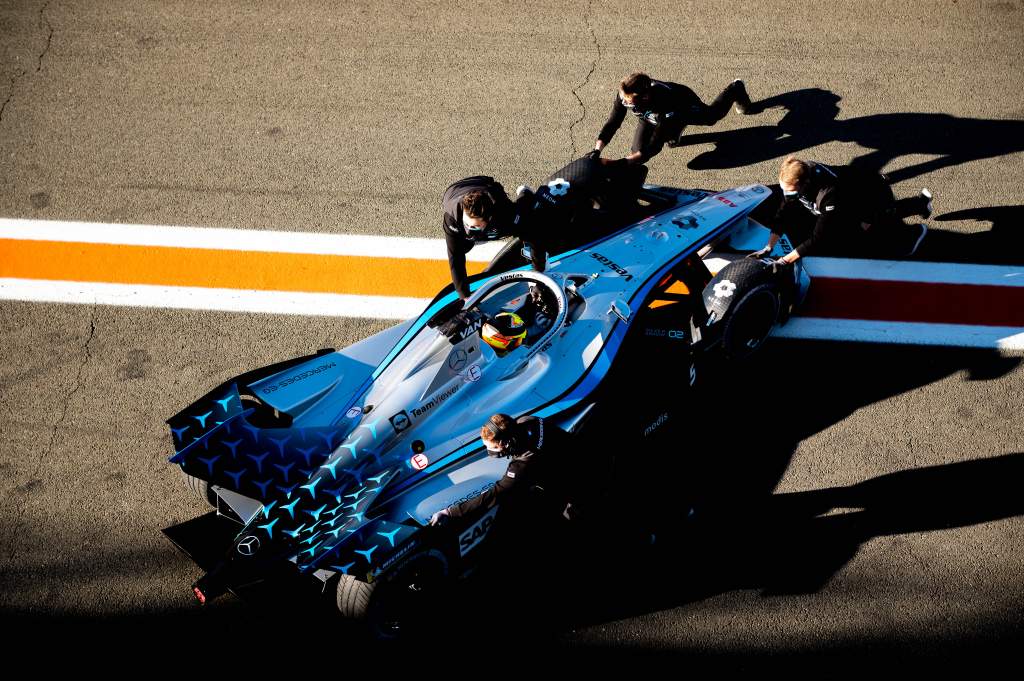 At Valencia teams were pushing their cars back in to the garage between nine and 13 seconds from when they came to rest, so teams will need to factor that into their qualifying plans.
In 2022 there will be tyres to play with due to the expansion to six front and rear tyres per car for double-headers (three sets), which accounts for all bar four of the ten events this season. Single races will have an allotted four front and four rear tyres (two sets) for the duration of the event.
Once those fresh sets are applied it will be up to the drivers to ensure all that preparatory work in the free practice sessions, reduced to just two 30-minute periods in 2022, is executed.
"I think you'll invest a little bit more heavily in trying to understand the tyre from track to track and that will be key at many races," says Charles.
"You'll be trying to answer questions like 'does this track require keeping the front tyres on or changing the front tyres between those two group runs?' Does it need a hot in-lap or cooling, so that the axles are a bit cooler for the next one?'
"It's that kind of thing which will be really key for that 10 minute session.
"We've not had to do that before because we've always gone from 'cold' only. Now we've got a chance to go cold on the first run and something else on the second. Do you bang cold tyres on? Or do you just have hot fronts? Those are the kind of questions that you'll be answering race-to-race."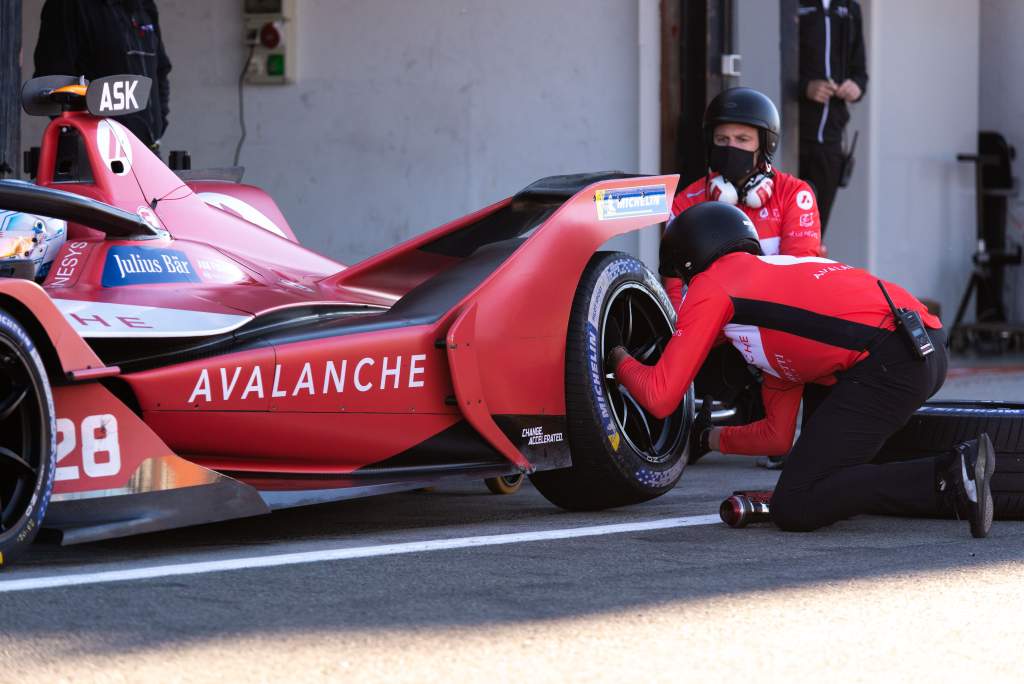 The intricacies of these small yet crucial decisions are likely to define who will be scoring big points in 2022, and as a result could reflect heavily on ultimately where the title heads to.
Theories already abound that certain drivers' styles will come to the fore under the new method which may negate prep laps to get the tyres in to the perfect window.
One of the names that has come up several times in discussion already is 2019-20 champion Antonio Felix da Costa, who revels in a simple out-and-push run.
"With the duels, they're all out (lap) and push (lap), it's not out, prep-lap, push lap, which a lot of drivers did in the past," reckons Da Costa's DS Techeetah sporting guru, Rossiter.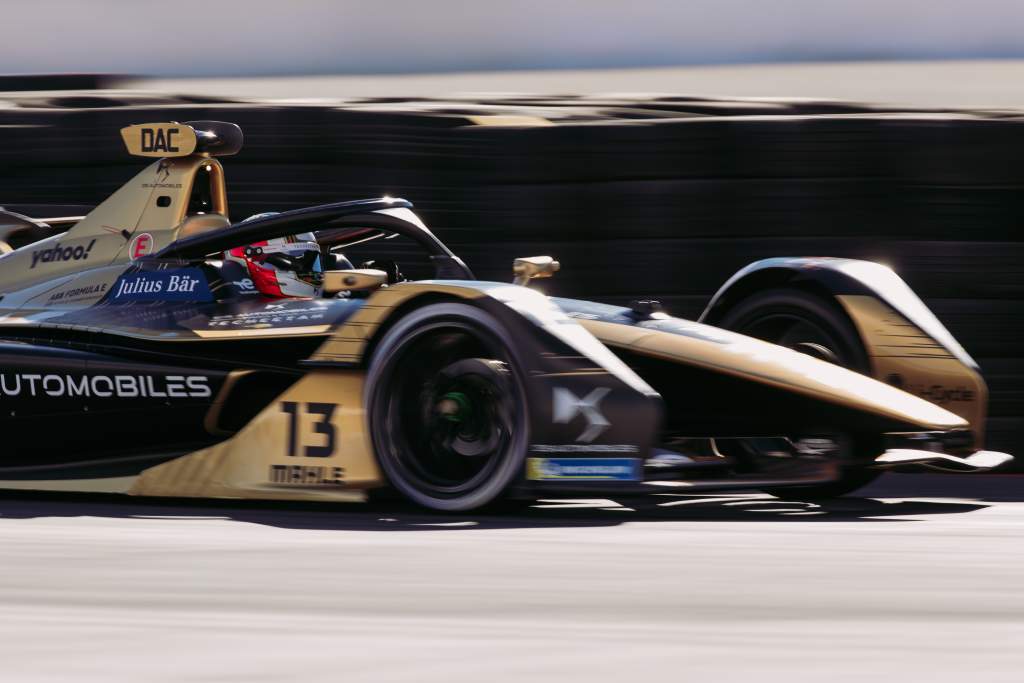 "That's where Antonio is really strong. He's done out and push I think since season five [2018-19] and he's incredibly good at that."
But Da Costa's tactics have not gone unnoticed, particularly on the other side of the black and gold garage.
"JEV [Jean-Eric Vergne] has learned a huge amount about how to get that right too," adds Rossiter.
"I think the excitement of going head-to-head with a competitor, and don't forget you could possibly be head-to-head further down the order with your championship rival giving the opportunity to knock him out and then you to progress all the way, is there too.
"It's going to be a very exciting season and we've not even talked about the racing yet."