The eight-car accident that red-flagged Formula E's inaugural Seoul E-Prix today was mostly caused by a combination of drivers hitting a stretch of concrete in the braking area for the Turn 20 right-hander and poor visibility in the wet conditions, according to those within the carnage.
The crash involved the cars of Norman Nato, Nick Cassidy, Nyck de Vries, Sebastien Buemi, Andre Lotterer, Oliver Askew and both of the NIO 333 entries driven by Dan Ticktum and Oliver Turvey.
Nato's Jaguar was the first to impact the tecpro barrier and was quickly joined by Buemi, who was then instantly collected by De Vries – whose Mercedes submarined under the Nissan.
Stoffel when seeing Nyck's car is all of us: 😲#SeoulEPrix #WeDriveTheCity pic.twitter.com/RuE06vTxoJ

— Mercedes-EQ Formula E Team (@MercedesEQFE) August 13, 2022
Ticktum then hit just to the left of Buemi and De Vries before Cassidy's Envision Audi just avoided Nato and wiped its nose section off against the barrier.
Lotterer's Porsche had what seemed to be the biggest hit as he glanced Buemi and then slammed the wall, while Turvey appeared to have got away with the lightest of touches but was then rear-ended by an out of control Oliver Askew in his Avalanche Andretti BMW.
Porsche later confirmed to The Race that Lotterer's car for Sunday will be built up around a new survival cell.
While Nato and Cassidy were able to extricate themselves from the scene, the other six were retired on the spot.
A very strange incident… what do you make of this?

📸 @FIAFormulaE pic.twitter.com/c5uOzDph64

— The Race (@wearetherace) August 13, 2022
The cause of the simultaneous crashes was initially unclear but Nato explained to The Race that he was convinced that the change of surface, a common trait of Formula E circuits, was the overriding factor.
"In Turn 20 there is different tarmac, and already in dry conditions if you're not really on top of it, it's slippery and really easy to lose the car," said Jaguar's stand-in for the injured Sam Bird.
"There was a lot of spray in sector three and I had like three cars in front of me.
"It was a bit of a surprise and I tried to make it safe and avoid it, but by trying to do it in fact I took the slippery tarmac and when you go on here – and it's the first time I experience it in the wet – I just went straight.
"I think the guys were holding the inside, so I missed the apex because I couldn't really see the corner because of the spray but as soon as you touch this part you go straight.
"There is a concrete patch, wide, in the middle of the track and also that the visibility was really poor.
"I hit this in the middle of the track. That's why I think there were so many who made the mistake here in this corner."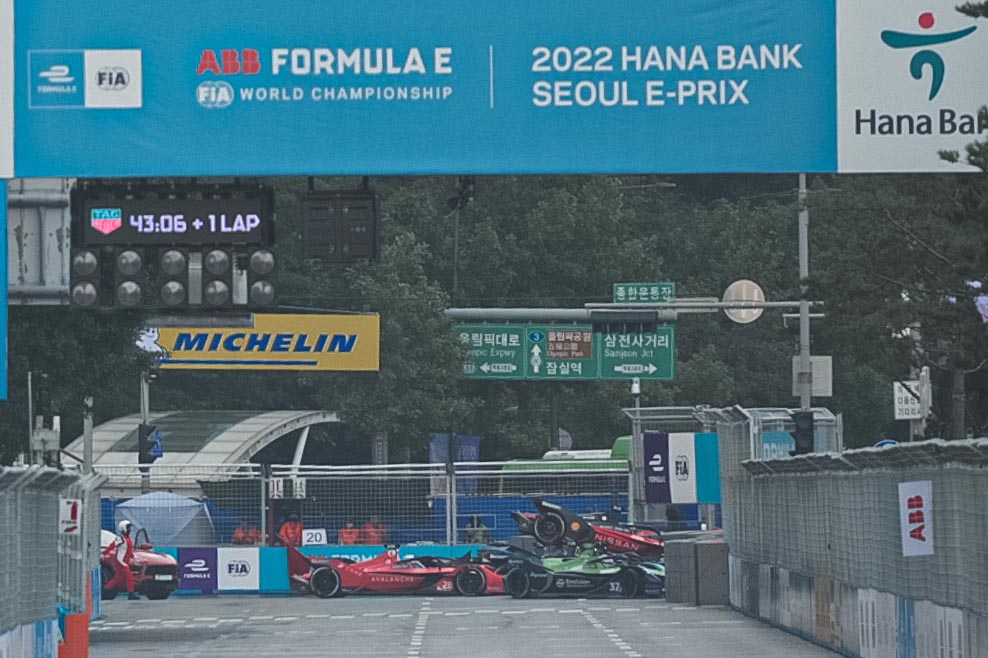 While all of the victims of the incident appeared to struggle on the slightly shinier concrete surface, Buemi suspected that a braking issue on his Nissan may also have contributed to his downfall.
"We need to check the car because for me it felt like the [brake] pedal had a problem. We have to check but that is what it felt like," he told The Race.
"The conditions were wet but not really bad. There is a track [surface] change there and it looked like some went off because of that, I don't know."
Buemi also described the bizarre sight of being atop De Vries and the reigning champion having to wait patiently until the Nissan was removed from on top of his Mercedes before he could get out.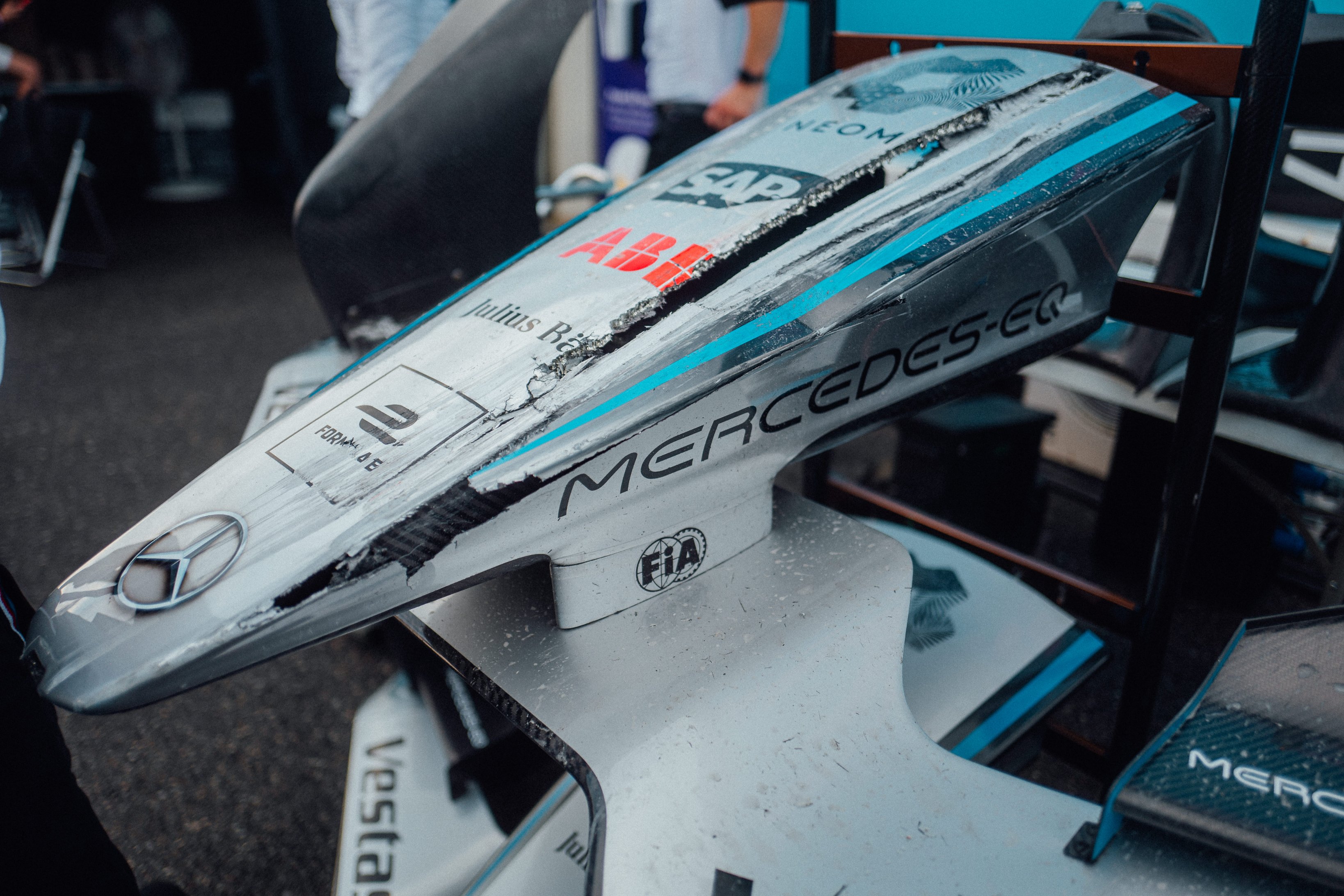 This was because the multi-car incident needed several recovery vehicles at the scene and after it was ascertained that De Vries was uninjured, room was made by moving other cars to access the Nissan and Mercedes carefully.
Buemi was also disappointed that he was unable to have the chance to try to continue back to the pits as Cassidy and Nato had done.
"My car was not badly damaged at all. Nose, yes and maybe diffuser a little," he said.
"I don't know why I could not continue when taken off [De Vries' Mercedes] and I was a bit frustrated because points were available for me today."
De Vries spent some time conversing with his team on the radio during the removal of the cars from the barriers and declared that he "thought I'd been conservative" and that there was "no one to blame" for the drama.
"Of course, I wanted to get out but I respect everyone's job and they know what they're doing so I was just waiting for them to clear it up," he added.
"For me, it was just tricky conditions, poor visibility and I was kind of counting, not on the people in front because it's my own responsibility, but you see so little that you kind of base or judge your braking point on the cars in front."
Mercedes has determined that De Vries' chassis itself will be fine for race two, but is expecting a very late night given it will need to change the complete rear suspension, driveshafts, powertrain, carbon rear structure, rear impact structure, diffuser and engine cover among many other parts.
NIO 333's Ticktum was contacted by Buemi's suspected brake limited Nissan and said that "he just hit me, there wasn't much I could do really".
Ticktum also described how the visibility "wasn't great" but opined that "you deal with that ever since you race karts" so should not have been a problem.
"I don't think it's particularly an excuse," he said.
"Yes, it's tough, don't get me wrong, but to be honest I've got a sort of awareness peripherally, I can see the boards, I seem to manage alright but others seemed to complain about it a lot more."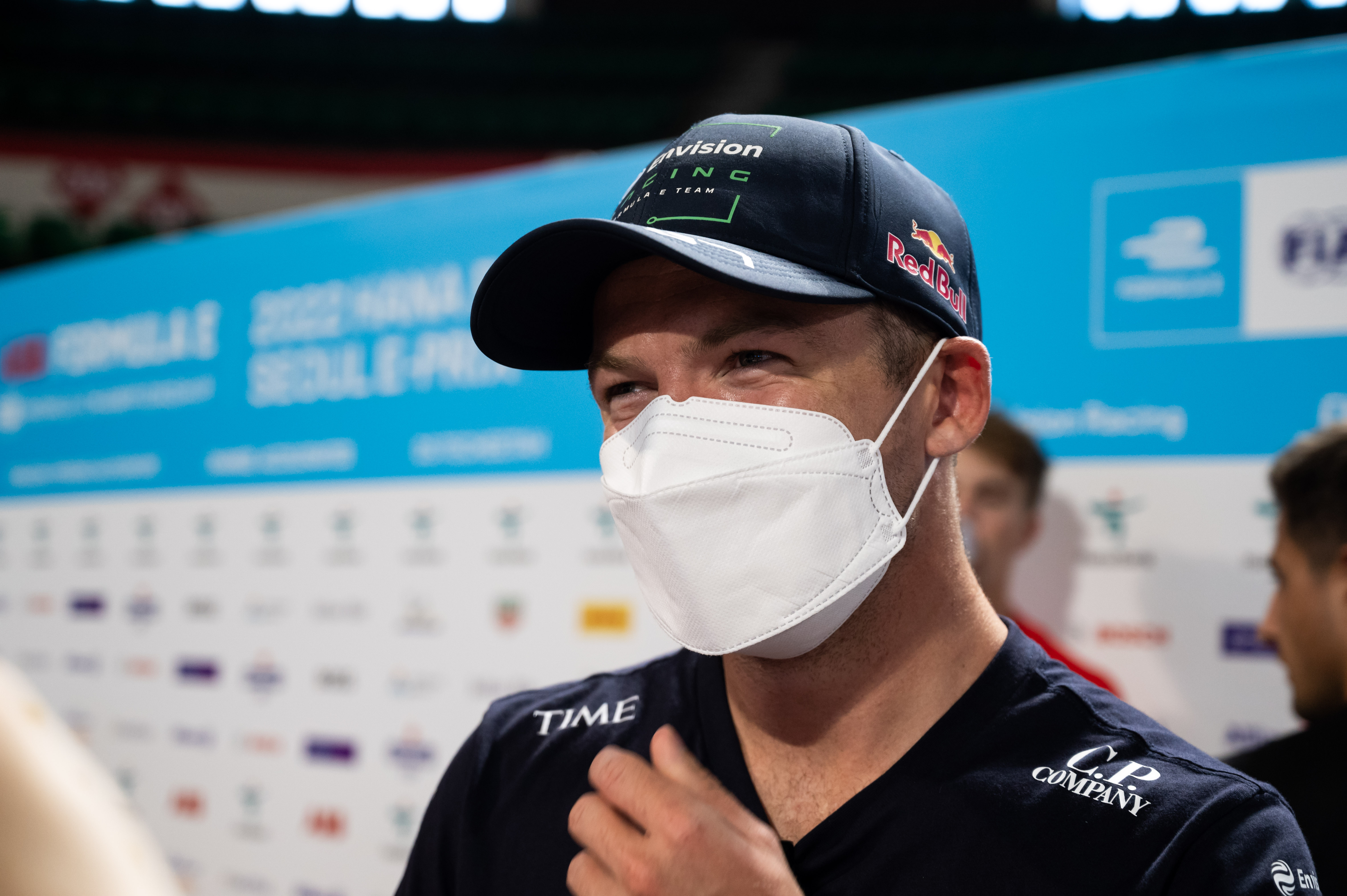 Envision driver Cassidy described how he "used the cars in front of me as a reference to brake, and it seems quite a few guys did the same and we were all too late.
"I just didn't have visibility so I used the red light as the reference, and the red light was a bit wrong.
"It's difficult in every category in the wet, but it's funny; your whole career you watch the red light and you brake and you get to the apex and think 'ahh that was way too early'.
"That wasn't the case today."
Additional reporting by Alice Holloway