Rene Rast cultivated a spectacular blast from the rear of the grid to claim two unlikely points the second race of Formula E's Puebla double-header, after a qualifying error left him starting last.
But the Audi driver could have finished much higher had it not been for the bizarre reason of picking up loose trackside banners that became dislodged during the race.
He executed a bold race strategy of cruising at the rear of the field for the first phase of the race to bank useable energy for an ultra-aggressive carve through the pack in which he overtook 10 cars.
The massive energy saving enabled Rast to make his bid for points despite few retirements in the first three quarters of the race.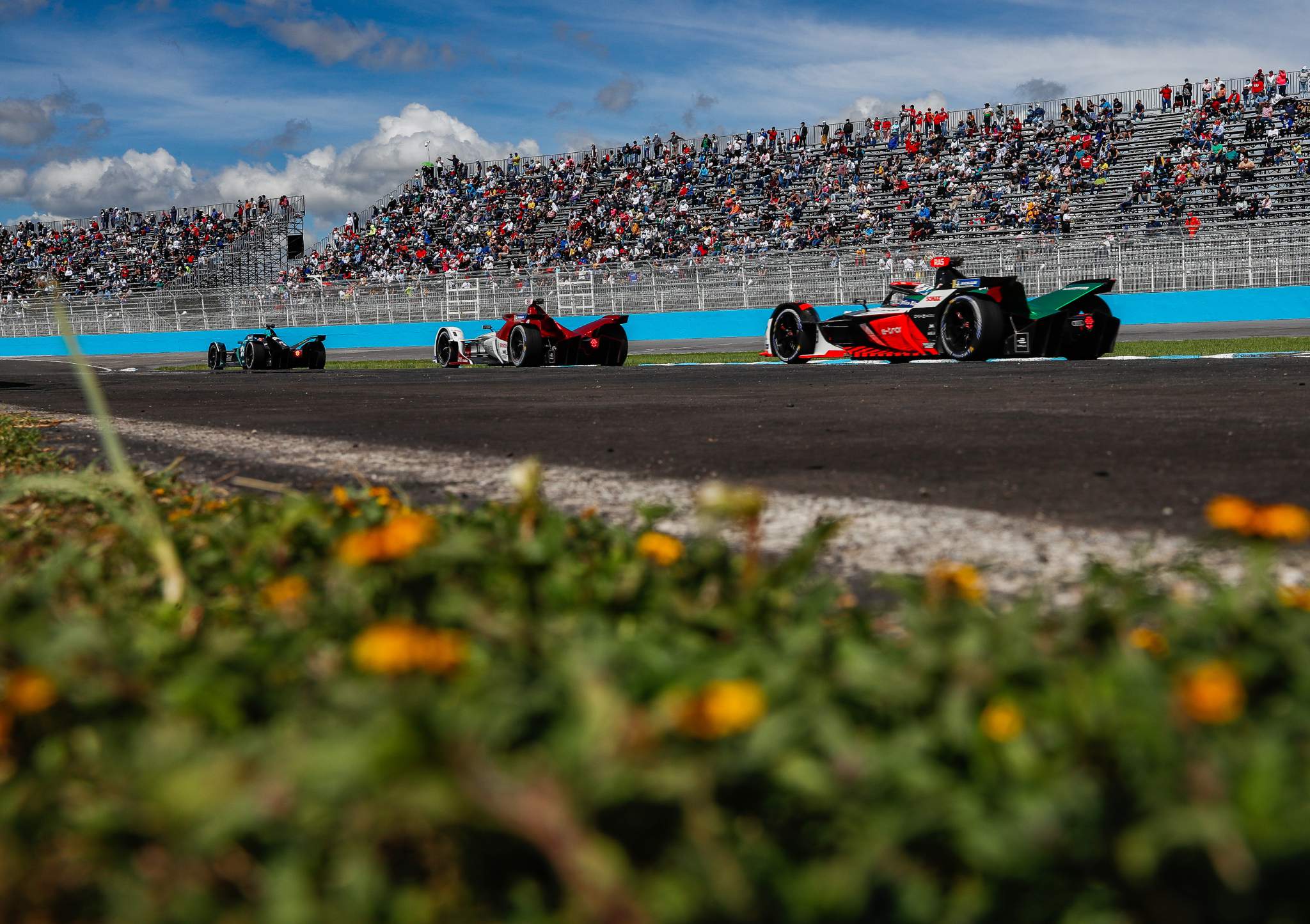 "In the early stages, I knew the only strategy I could do was to save massively energy," Rast told The Race.
"Then towards the end I attacked hard, which worked out quite OK yet this time there was no safety car unfortunately. But I was not entirely happy."
This was because that Rast got caught up in a train of cars that featured at least three of them trailing trackside branding banners that had got caught in the cars through earlier contact with the wall.
Antonio Felix da Costa and Robin Frijns were among those with the material stuck amid their cars and Rast also picked up some of the debris, which he says "basically influenced a lot of the car balance and efficiency".
Despite this Rast got to the cusp of the top 10 and was fighting with Frijns when the Envision Virgin Racing driver encountered a crumbling track surface at Turn 9 and skated off the track, handing Rast 10th place.
"Unfortunately the track basically lost a lot of grip and was broken up and a lot of marbles and stones were on the racing line," said Rast.
"Robin was ahead of me and was on the racing line and all of a sudden the car was just not cornering anymore.
"He just went straight and I went through. But it could so easily have been me too or anyone because it was really unpredictable."
That control from @ReneRastRacing 🔥

Click here for LIVE updates 👉 https://t.co/qD4c9DojZZ@audisport
🇲🇽 2021 CBMM Niobium #PueblaEPrix pic.twitter.com/pUu4yfevsl

— ABB FIA Formula E World Championship (@FIAFormulaE) June 20, 2021
Despite his epic drive to take a point and also a second consecutive bonus point for setting fastest lap, Rast was still slightly frustrated by the qualifying mistake in which he went off over the grass at Turn 3.
"It wasn't great but personally I think it didn't make a big difference because if you look back the quickest car from group one finished [qualifying] in P17 [Stoffel Vandoorne], so there was not such a big difference starting P24 or P17," he said.
"Group one was nearly three seconds slower than FP3 so that just shows how much grip there was and the changes that happened.
"Maybe I could have been 18th or 19th but it wouldn't have really changed the end result."
Rast's 21 points haul from Puebla – where he finished second behind team-mate Lucas di Grassi in a breakthrough Audi 1-2 on Saturday – ensures he remains in the title fight and places fourth in the standings behind leader Edoardo Mortara, Robin Frijns and Antonio Felix da Costa.