Robin Frijns beat Nyck de Vries in practice for Saturday's ABB FIA Formula E World Championship race in Diriyah, which featured a massive crash for Edoardo Mortara after the chequered flag.
Mortara's incident happened as the field undertook practice starts following the session finish.
His Venturi-run Mercedes failed to slow for the first corner and went straight on into the barriers at the end of the runoff area.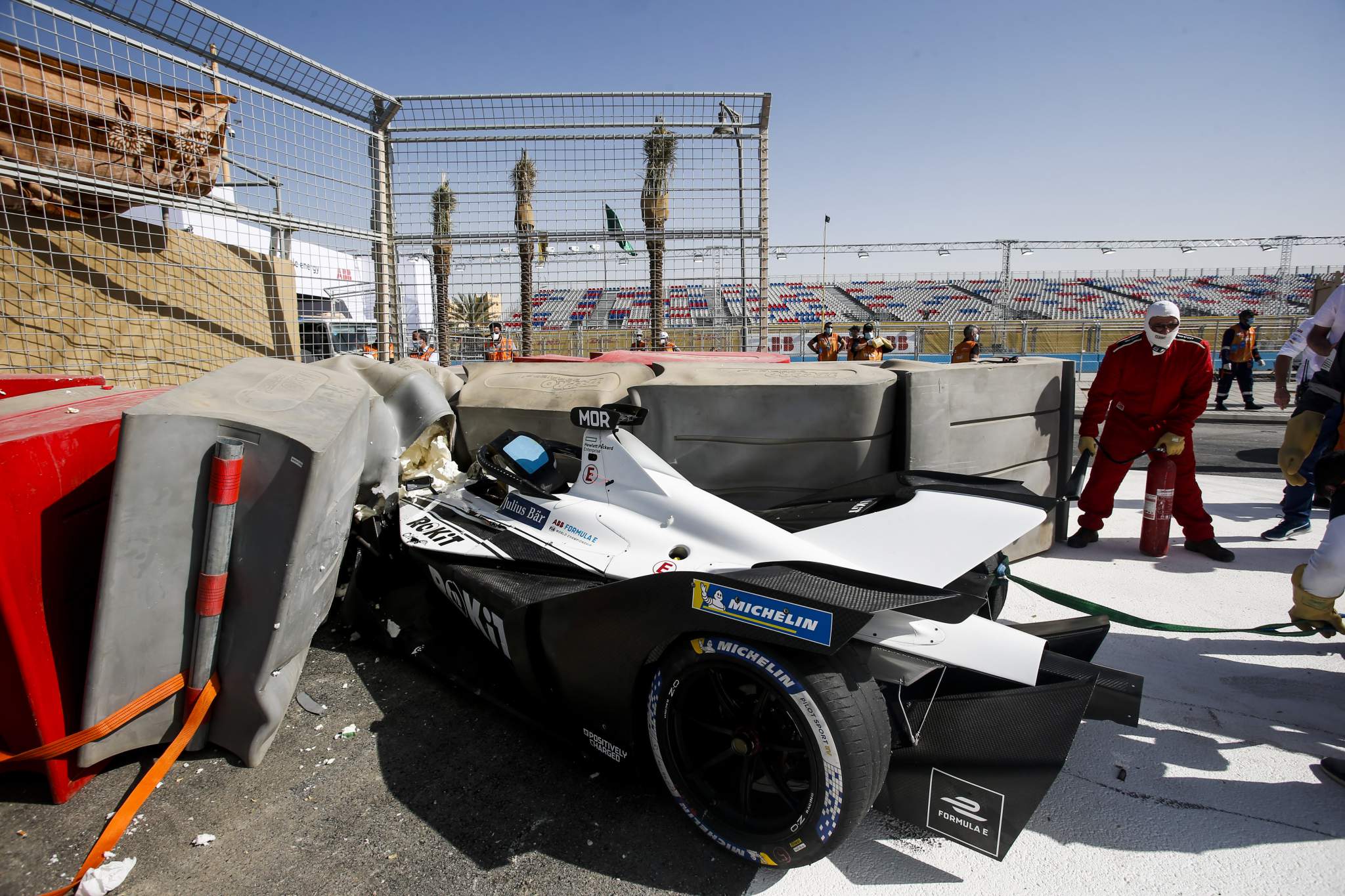 Mortara has been extracted from his car and is being taken to hospital.
A Venturi team spokersperson said: "Edo has been taken to the hospital. He is conscious, talking, and moving his fingers and toes.
"It is a precaution and when we have more information we will let you know."
Frijns' timesheet-topping lap made him the first driver to outpace the previously dominant de Vries at this event.
In a strong session for an Envision Virgin team that had endured a miserable Friday, Frijns' late 1m07.294s beat race one winner de Vries' Mercedes by 0.146s just before Frijns' team-mate Nick Cassidy slotted into third.
Frijns had missed Friday qualifying after crashing in yesterday's corresponding practice session. That incident prompted a battery change that Frijns felt might have been overcautious but was mandatory due to the sensor readings from his shunt.
Cassidy then appeared to earn a superpole place for his Formula E debut, only to have his lap controversially deleted due to the yellow flags for Sergio Sette Camara's accident.
De Vries had been fastest in both the first two practice sessions, both elements of race one qualifying and then led the Friday night race from start to finish.
He will find it hard to replicate that form in today's race as under Formula E's qualifying format he will run in the first group of cars and therefore have the least favourable track conditions.
Oliver Rowland was fourth for Nissan ahead of reigning champion Antonio Felix da Costa and Mortara.
The Saturday session was also disrupted by a red flag for a crash by Porsche driver Andre Lotterer.
He lost control near the foot of the circuit's downhill section and hit the wall with both sides of the car, leaving Porsche doubtful about whether repairs can be completed in time for qualifying.
Practice 1 Results
| Pos | Name | Team | Car | Gap Next | Gap Leader | Best Time |
| --- | --- | --- | --- | --- | --- | --- |
| 1 | Robin Frijns | Envision Virgin Racing | Audi e-tron FE07 | | | 1m07.294s |
| 2 | Nyck de Vries | Mercedes-Benz EQ | Mercedes-EQ Silver Arrow 02 | +0.146s | +0.146s | 1m07.44s |
| 3 | Nick Cassidy | Envision Virgin Racing | Audi e-tron FE07 | +0.009s | +0.155s | 1m07.449s |
| 4 | Oliver Rowland | Nissan e.DAMS | Nissan IM02 | +0.003s | +0.158s | 1m07.452s |
| 5 | António Félix da Costa | DS Techeetah | DS E-Tense FE20 | +0.06s | +0.218s | 1m07.512s |
| 6 | Edoardo Mortara | RokIT Venturi Racing | Mercedes-EQ Silver Arrow 02 | +0.036s | +0.254s | 1m07.548s |
| 7 | Stoffel Vandoorne | Mercedes-Benz EQ | Mercedes-EQ Silver Arrow 02 | +0.014s | +0.268s | 1m07.562s |
| 8 | Sébastien Buemi | Nissan e.DAMS | Nissan IM02 | +0.187s | +0.455s | 1m07.749s |
| 9 | Sam Bird | Jaguar Racing | Jaguar I-Type 5 | +0.029s | +0.484s | 1m07.778s |
| 10 | Lucas Di Grassi | Audi Sport ABT Schaeffler | Audi e-tron FE07 | +0.106s | +0.59s | 1m07.884s |
| 11 | Oliver Turvey | NIO 333 Formula E Team | NIO 333 001 | +0.133s | +0.723s | 1m08.017s |
| 12 | Jake Dennis | BMW i Andretti Motorsport | BMW iFE.21 | +0.01s | +0.733s | 1m08.027s |
| 13 | René Rast | Audi Sport ABT Schaeffler | Audi e-tron FE07 | +0.163s | +0.896s | 1m08.19s |
| 14 | Jean-Eric Vergne | DS Techeetah | DS E-Tense FE20 | +0.001s | +0.897s | 1m08.191s |
| 15 | Tom Blomqvist | NIO 333 Formula E Team | NIO 333 001 | +0.059s | +0.956s | 1m08.25s |
| 16 | Norman Nato | RokIT Venturi Racing | Mercedes-EQ Silver Arrow 02 | +0.006s | +0.962s | 1m08.256s |
| 17 | Maximilian Günther | BMW i Andretti Motorsport | BMW iFE.21 | +0.062s | +1.024s | 1m08.318s |
| 18 | Pascal Wehrlein | TAG Heuer Porsche Formula E | Porsche 99X Electric | +0.08s | +1.104s | 1m08.398s |
| 19 | Alex Lynn | Mahinda Racing | Mahindra M7Electro | +0.132s | +1.236s | 1m08.53s |
| 20 | Nico Müller | Dragon / Penske Autosport | Penske EV-4 | +0.073s | +1.309s | 1m08.603s |
| 21 | Mitch Evans | Jaguar Racing | Jaguar I-Type 5 | +0.05s | +1.359s | 1m08.653s |
| 22 | Alexander Sims | Mahinda Racing | Mahindra M7Electro | +0.19s | +1.549s | 1m08.843s |
| 23 | Sérgio Sette Câmara | Dragon / Penske Autosport | Penske EV-4 | +0.003s | +1.552s | 1m08.846s |
| 24 | André Lotterer | TAG Heuer Porsche Formula E | Porsche 99X Electric | +0.955s | +2.507s | 1m09.801s |