Jake Dennis controlled Formula E's opening London E-Prix, but second place puts Stoffel Vandoorne in a very comfortable position in the championship fight.
What was a four-way title battle just a month ago now looks like Vandoorne's to lose in his Mercedes team's final FE season as he takes a 24-point advantage into the final three races of 2022.
Vandoorne put pressure on Avalanche Andretti's pole-winner Dennis at various stages during the race, but was also urged not to take any unnecessary risks given the title implications.
Dennis looked in imperious form in any case, and won by 2.2s to give Andretti its first win since BMW's exit at the end of last season returned it to independent status.
Vandoorne was already in a strong position after qualifying as all his title rivals struggled.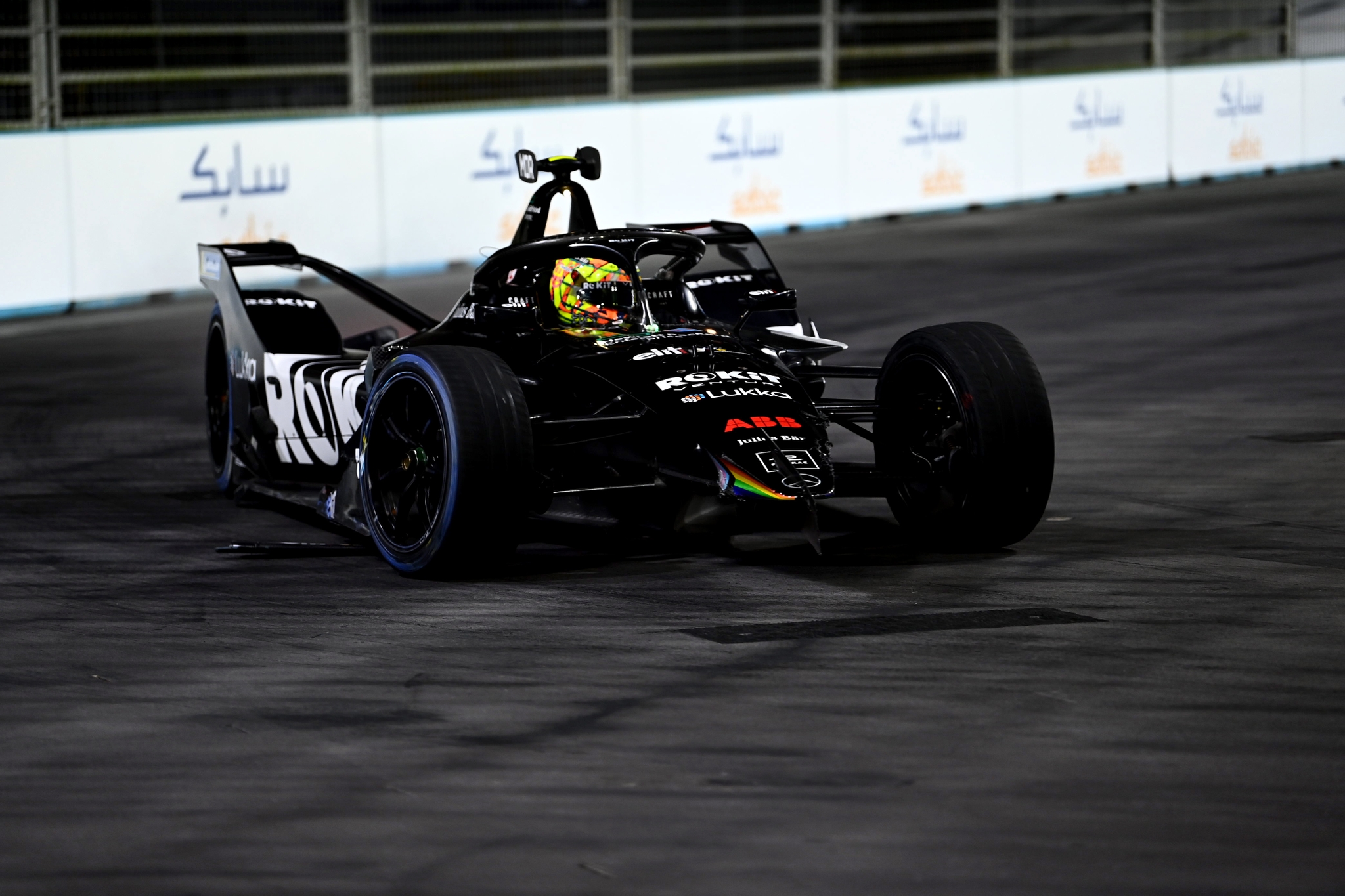 Two of them getting involved in a first-corner tangle boosted him further. A three-way clash left Edoardo Mortara limping to 18th in a damaged Venturi Mercedes and Jean-Eric Vergne firmly in the midfield (where he'd later collide with Sebastien Buemi on the way to 13th), with Sam Bird the other driver involved and immediately out of his and Jaguar's home race.
But Bird's team-mate Mitch Evans did at least keep his title hopes alive with a great drive from 14th on the grid to what became fifth after a post-race penalty for Nyck de Vries.
Mercedes initially had two cars on the podium as reigning champion de Vries narrowly fended off a flying Nick Cassidy for third on the road.
Envision driver Cassidy left both his attack modes late and was able to fly through the order as a result, though he couldn't quite separate a very defensive de Vries from the position.
But three hours after the finish, the officials ruled that de Vries had gone too far in that defence and gave him a five-second penalty for making too many moves on the straight, dropping him to sixth.
They had considered two separate incidents on the approach to Turn 1 and decreed that the second was severe enough to merit a penalty.
Oliver Askew backed Dennis up by completing the top five on the road in the second Andretti BMW and was then promoted to fourth by de Vries' penalty.
Sergio Sette Camara drove a heroic race for zero reward. Having qualified his Dragon Penske a stunning fourth, he briefly ran third early on after a great dive on de Vries.
Unsurprisingly he could not match the other frontrunners' energy usage though and began tumbling down the order in the closing minutes before stopping on the last lap.
Race Results
| Pos | Name | Team | Car | Laps | Laps Led | Total Time | Fastest Lap | Pitstops | Pts |
| --- | --- | --- | --- | --- | --- | --- | --- | --- | --- |
| 1 | Jake Dennis | Avalanche Andretti | BMW i FE.21 | 37 | 37 | 46m56.557s | 1m14.429s | 0 | 29 |
| 2 | Stoffel Vandoorne | Mercedes-Benz EQ | Mercedes-EQ Silver Arrow 02 | 37 | 0 | +2.223s | 1m15.149s | 0 | 18 |
| 3 | Nick Cassidy | Envision Racing | Audi e-tron FE07 | 37 | 0 | +12.663s | 1m14.887s | 0 | 15 |
| 4 | Oliver Askew | Avalanche Andretti | BMW i FE.21 | 37 | 0 | +14.904s | 1m15.526s | 0 | 12 |
| 5 | Mitch Evans | Jaguar TCS Racing | Jaguar I-Type 5 | 37 | 0 | +17.128s | 1m15.356s | 0 | 10 |
| 6 | Nyck de Vries | Mercedes-Benz EQ | Mercedes-EQ Silver Arrow 02 | 37 | 0 | +17.367s | 1m15.306s | 0 | 8 |
| 7 | António Félix da Costa | DS Techeetah | DS E-Tense FE21 | 37 | 0 | +17.733s | 1m15.42s | 0 | 6 |
| 8 | Maximilian Günther | Nissan e.Dams | Nissan IM03 | 37 | 0 | +22.067s | 1m15.595s | 0 | 4 |
| 9 | Lucas Di Grassi | ROKiT Venturi Racing | Mercedes-EQ Silver Arrow 02 | 37 | 0 | +32.139s | 1m15.177s | 0 | 2 |
| 10 | Pascal Wehrlein | TAG Heuer Porsche | Porsche 99X Electric | 37 | 0 | +34.347s | 1m15.334s | 0 | 1 |
| 11 | Sébastien Buemi | Nissan e.Dams | Nissan IM03 | 37 | 0 | +35.307s | 1m15.799s | 0 | 0 |
| 12 | André Lotterer | TAG Heuer Porsche | Porsche 99X Electric | 37 | 0 | +35.508s | 1m15.626s | 0 | 0 |
| 13 | Alexander Sims | Mahindra Racing | Mahindra M8Electro | 37 | 0 | +40.345s | 1m15.606s | 0 | 0 |
| 14 | Jean-Eric Vergne | DS Techeetah | DS E-Tense FE21 | 37 | 0 | +41.057s | 1m15.701s | 0 | 0 |
| 15 | Oliver Turvey | NIO 333 Racing | NIO 333 001 | 37 | 0 | +41.293s | 1m15.926s | 0 | 0 |
| 16 | Robin Frijns | Envision Racing | Audi e-tron FE07 | 37 | 0 | +44.023s | 1m15.822s | 0 | 0 |
| 17 | Daniel Ticktum | NIO 333 Racing | NIO 333 001 | 37 | 0 | +51.947s | 1m15.539s | 0 | 0 |
| 18 | Edoardo Mortara | ROKiT Venturi Racing | Mercedes-EQ Silver Arrow 02 | 37 | 0 | +1m28.796s | 1m15.12s | 0 | 0 |
| | Sérgio Sette Câmara | Dragon / Penske Autosport | Penske EV-5 | 37 | 0 | DNC | 1m15.348s | 0 | 0 |
| | Antonio Giovinazzi | Dragon / Penske Autosport | Penske EV-5 | 26 | 0 | DNF | 1m16.455s | 0 | 0 |
| | Oliver Rowland | Mahindra Racing | Mahindra M8Electro | 17 | 0 | DNF | 1m15.429s | 0 | 0 |
| | Sam Bird | Jaguar TCS Racing | Jaguar I-Type 5 | 0 | 0 | DNF | 0s | 0 | 0 |