Sebastien Buemi suffered hand injuries in an incident with Maximilian Guenther in the early stages of today's Sao Paulo Formula E race.
Envision Racing driver Buemi contacted the back of Guenther's Maserati DS at Turn 4 on lap three in what Buemi described as a "ridiculous accident" that he felt was triggered by Guenther.
The genesis of the accident actually began on the previous lap when Guenther shortcut the Turn 1/2 complex but failed to stop before rejoining as required by the rules. The German is believed to have been unable to slow his Maserati sufficiently due to a technical issue .
Although Guenther would not elaborate on the specific problem it is believed that it may have compromised his ability to stop the car in the run-off effectively as prescribed by race director Scot Elkins in Friday's drivers' meeting.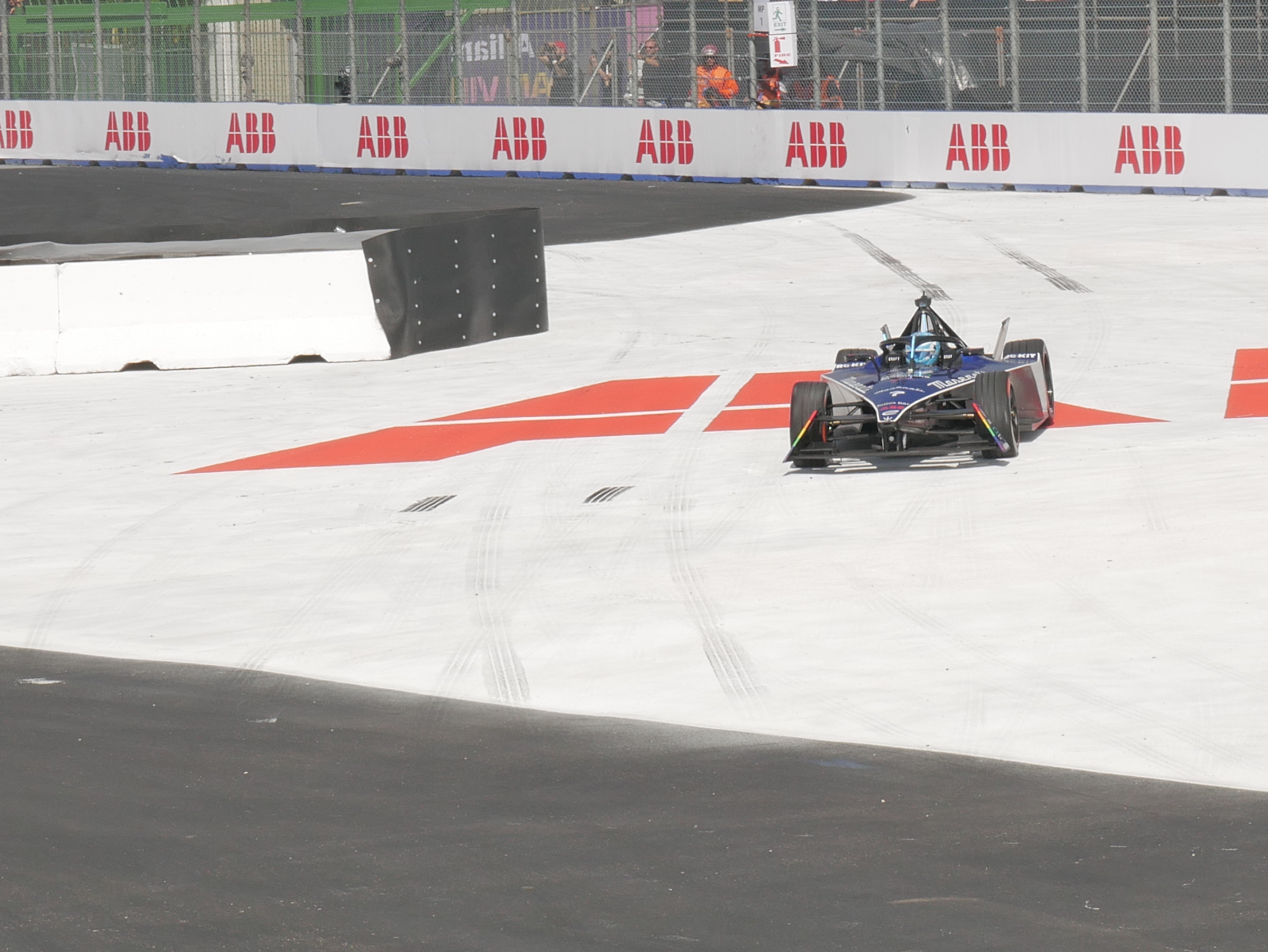 (Image courtesy of Hugo Morales)
As Guenther then made what appeared to be an attempt to cede positions having been unable to stop before rejoining, Buemi contacted the back of Guenther as the Maserati made what Buemi described to The Race as "an extreme brake, so a ridiculous accident happened".
"He cut the chicane on his own, so the rule says if you cut the chicane on your own you need to stop, and then you go again," added Buemi.
"He didn't give the position [back], and then the next corner he stopped in Turn 4. Like, just stopped.
"So, I hit him and I snapped my hand. He should not have even been there because if he had respected the rule, he would have been behind."
Buemi appeared at the post-race media pen with a heavily bandaged left hand and a huge bruise on one of his left knuckles.
He was treated by FIA doctor Bruno Franceschini after the race but will fly home immediately to get an x-ray on the injury.
"I'm going to fly home and get it x-rayed tomorrow but they can't tell me if it's broken or not. I guess we will see tomorrow," he confirmed to The Race.
"He [Franceschini] says he's not sure it is broken because if it was broken, I would struggle really to move. I can still move it a bit but it really hurts."
Guenther effectively confirmed he'd been trying to let Buemi past in the incident, saying "there's always this concertina effect into Turn 5 and I actually wanted to give position to Seb in Turn 4″.
Buemi was able to complete the race despite the injuries that were inflicted on his hand and was able to salvage a point in 10th.
But he rued the early contact from Guenther, saying that he was "convinced I would have been at least in top six today."
"The car was amazing today and I could have finished maybe fourth behind the Jaguars and Nick [Cassidy]. Just a big, missed opportunity again for me."
Guenther got 11th from a race he said "wasn't really coming towards us" as Maserati's poor results continued.
"In some areas there are some promising signs, during the race, and the others are areas that are not so comfortable and, just as a team, we need to regroup again, keep moving forwards because clearly we didn't achieve our target today," he said.
What happened to Buemi's hand is comparable to the incident that Robin Frijns suffered on the first lap of the season-opening Mexico City E-Prix in January, which kept him out of the cockpit for eight weeks.
Formula E cars do not run with power steering, and that is believed to be a contributory factor in drivers receiving injuries from low-speed accidents where both the steering wheel snaps round and drivers' hands are thrown against the side of the Gen3 car's chassis.