The shortest race in Formula 1 history featured no racing laps and just three slow laps behind the safety car as Max Verstappen was the victor of a controversial rain-soaked 2021 Belgian Grand Prix.
He along with the rest of the top 10 were awarded half points for completing such a short distance – over three hours after the initial race start time.
From the stewards using unprecedented measures to never-ending weather updates to the awarding of half points for little work, our writers give their verdict on a Belgian GP that's unlikely to be forgotten anytime soon.
Verstappen's 'victory' is a cheap one
Edd Straw
Formula 1 has had short races before thanks to conditions, but what happened at Spa was a whole new level.
Max Verstappen did a great job in qualifying to earn pole position, but through absolutely no fault of his own, his victory is the most horribly cheap in world championship history.
As he showed by calling for the race to start when the cars originally rolled round, he was keen to get out there and earn the win.
The history books will call this a race, but it wasn't. At best, it was a time trial given qualifying (and penalties) decided the finishing order, which makes it uniquely impoverished in grand prix history.
The problem is that the 'race', such as it was, was only an exercise in box-ticking. Roll the cars round, tick the box and award the trophies.
It would have been better for it never to have officially started, and understandable given the horrible conditions, rather than going through the motions so transparently and cheapening grand prix racing.
A waste of everyone's time
Glenn Freeman
All that sitting around for the cars to be sent out for just long enough for it to be declared a race. What was the point?
The two times the cars took to the track, the standing water and visibility were clearly too bad to allow for racing conditions. So this is not a declaration that the drivers should have been let loose and told to race.
But there should have been more of an attempt to keep cars out there and see if they could clear the water – perhaps at the original start time as 'winner' Max Verstappen said.
If the rain did ease up at any point, then even at safety car speeds 20 F1 cars on full wets would have a decent chance of clearing a lot of water.
The 'two laps to award points' rule is flawed. If conditions were far too extreme for the cars to run, but F1 wants to award points effectively based on qualifying, then it should just do that.
Given a race couldn't happen, it seems needless to make such an effort to declare a result. Does anyone who sat in the grandstands or watched on TV feel any more satisfied by what happened today because an official result exists for the record books?
Everyone had to wait around for hours as F1 effectively pretended that it wanted to give the race a real chance of happening. Maybe that fulfils various contractual obligations, but all it really achieved was wasting everyone's time.
We should have raced
Gary Anderson
Formula 1 races have been held in worse conditions than this and we have seen plenty of times in the past when races have been delayed and got underway. For there not even to be a proper attempt to run some green flag laps was wrong.
Unless the track has so much standing water on it it's completely impossible to drive, the best drivers in the world are capable of dealing with it as we've seen in the past. And if you attempt to start it and the conditions aren't good enough then you can red flag it or bring out the safety car.
Max Verstappen wanted to race in the low visibility but the decision was made not to. And he was the one with most to lose given he was leading. We haven't heard from all the drivers yet but I'm sure others felt the same.
I have always placed a high priority on safety in F1 and some will read this and think that's not the case. But once the cars get up to speed they clear the water quickly and I think it was important at least to try to get a proper race done for the fans both at home and on TV.
Necessary box-ticking
Mark Hughes
This was one for the statisticians only, ticking the boxes of procedure that need to be ticked within a structure that couldn't realistically have foreseen such circumstances.
That and the commercial agreements made it necessary. So within that set of circumstances, it was right to call it.
No-one's fault, but visibility was horrific. Five metres visibility – as Hamilton described it – in speeds at up to 200mph and the possibility of not seeing a stationary car would have made it totally irresponsible.
So what we had on Sunday wasn't in any way real. But qualifying absolutely was, that was as real as it gets and no-one can take that away from either Max Verstappen or, in particular, the over-achieving George Russell. Gotta feel so sorry for Lando Norris, though.
No racing was right – but handled wrongly
Scott Mitchell
This was handled clumsily at times and exposed some shortcomings with the rules themselves and the FIA's mastery of them.
The drawn-out nature of it with the delays and faux restart to get to half points and a 'race' completed was massively unfair on those attending. They sat through hell and got nothing for it.
But the actual outcome – no green-flag racing – was the only option in such awful conditions and with such clearly limited visibility.
If this race had started the risk of something going seriously wrong would have been immense. Greater than it has any business being in modern grand prix racing.
Awarding points was the right call
Valentin Khorounzhiy
I'm genuinely happy there was a 'winner', and I'm genuinely happy half-points were awarded.
I know neither of those things are much of a consolation to the viewing public – why would they be? – but it's better to have the weekend's performances up to now count for something, as opposed to just going away with no outcome and have effectively wasted everyone's time with three practice sessions and three qualifying segments.
That said, they should just award points based on qualifying. Running two laps behind the safety car makes the whole thing an easy target for mockery.
F1's biggest farce since Indy '05
Josh Suttill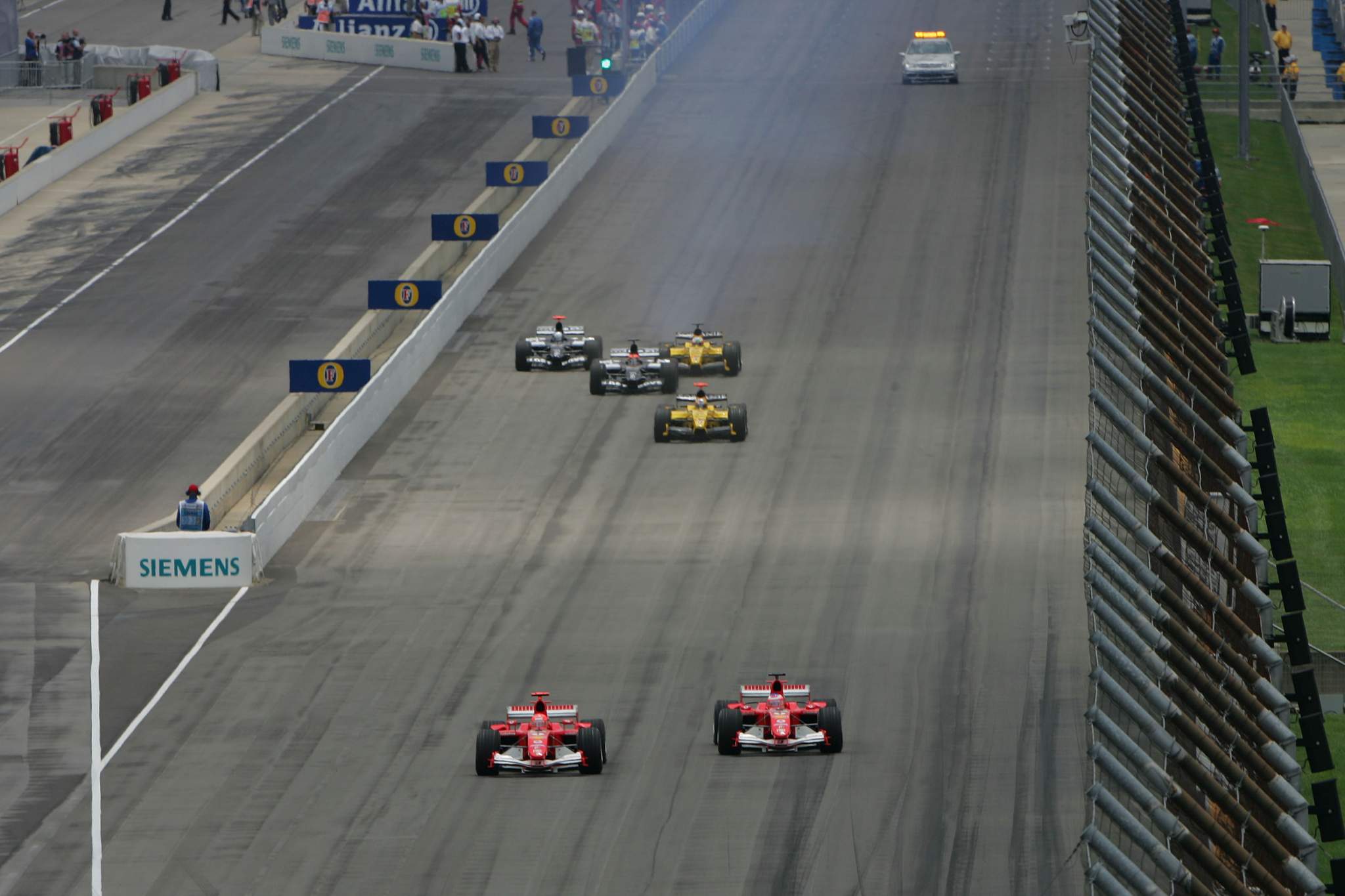 F1 is fortunate that it has the Dutch Grand Prix in less than a week because this is a ludicrous Sunday that it would quickly like to move on from.
It began with confusion over whether Sergio Perez would be allowed to take the start of the race after his crash on the way to the grid, and it ended with a farcical two-lap tour of Spa so that half points could be awarded.
The new FIA to team radio feature has been one of the best addition to F1's broadcasting package in recent years, but it's also exposed the flaws and gaps within the decision-making process.
Teams shouldn't need to be reminding the stewards of their own rules, and although today's race was truly unprecedented, it's not the first time this season that we've seen a lack of composure or clarity within the stewards' office.
This race probably won't have the long-lasting ramifications or iconic imagery of the ill-fated 2005 US Grand Prix, but the results are equally meaningless and the fans are just as deserving of a refund for the new worst definition of an F1 race in the championship's history.