Williams Formula 1 drivers George Russell and Nicholas Latifi have avoided punishment for an investigation that surprised the team during Mexican Grand Prix qualifying.
When the first part of qualifying resumed following barrier repairs after Lance Stroll's final corner shunt, there was a scramble to get track position.
Williams – situated at the end of the pitlane, closest to the pit exit – released its cars to run alongside the queue that was formed at the end of the pitlane in front of the team's garage.
Russell and Latifi ran side-by-side with the Haas drivers while exiting the pitlane, attempting to gain track position on Mick Schumacher and Nikita Mazepin.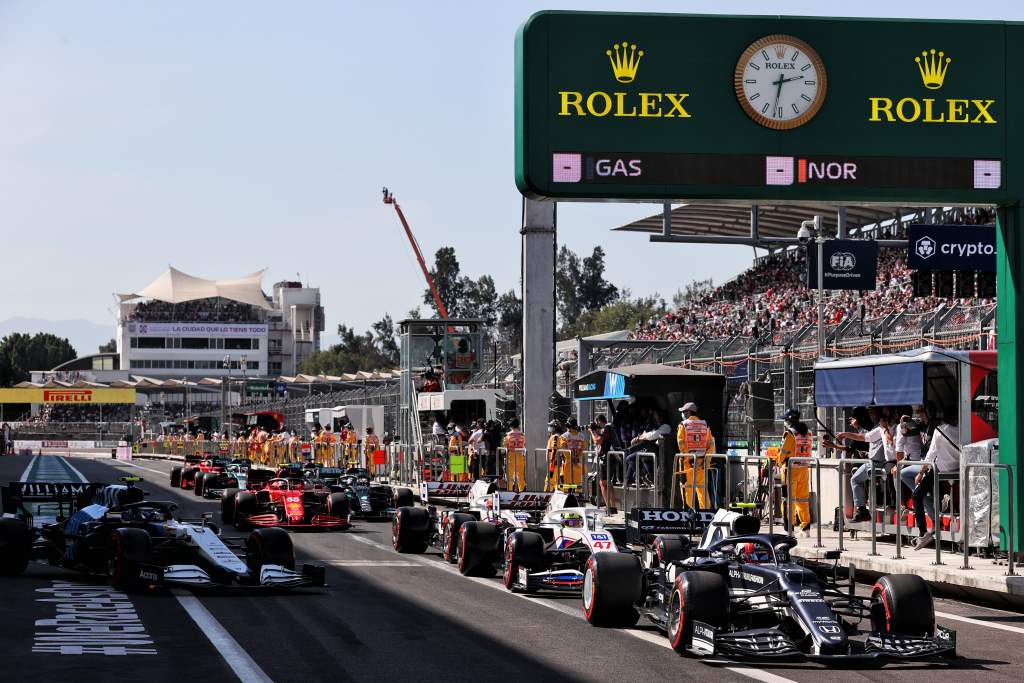 This incident was noted and investigated by the stewards after qualifying, much to the surprise of the drivers and Williams' head of vehicle performance Dave Robson.
Russell said he didn't "really know why" the FIA was investigating the duo for it and said there was enough room for two cars on the pitlane exit anyway, while Latifi said it's what often happens for the last team in the pitlane.
A similar scenario led to Russell briefly looking like he would lead the Hungarian GP after the majority of the field dashed in for slick tyres at the end of the formation lap. He quickly let the cars he had 'queue-jumped' back ahead of him under team guidance once on track.
"We're not entirely sure why it's such an issue," Robson said of today's probe.
"There was a queue in the fast lane, and they're blocking our way, it's a little bit awkward to get out.
"What we did was the best we could do and the correct thing to do so I don't think anything will come of it."
The stewards agreed with Robson, stating that they "accept the team's explanation that, unless they are first to move to the fast lane, the positioning of their garages which are located at the end of the pitlane makes it impossible for their cars to join the end of the line of cars already there.
"The stewards also accept that it is difficult for the driver, having moved out of his garage, to determine exactly where he should filter into the line of cars once they start to leave the pitlane.
"In these circumstances, and considering that no unsafe situation was caused in this instance, the stewards determine that no further action is appropriate."