The 2005 San Marino Grand Prix is top of most people's lists when thinking of classic Imola Formula 1 races in the modern era. It's no surprise that F1 itself chose to broadcast that GP on its YouTube channel this weekend in the absence of the planned 2023 Emilia Romagna GP following the severe flooding in the region earlier this week.
Given Imola 2005 was an epic duel between Fernando Alonso's Renault and Michael Schumacher's Ferrari, it might feel nearly two decades on like just another chapter in the baton-passing of the mid-2000s, as Alonso strived to surpass Schumacher as the grid's benchmark – and arguably managed to before the seven-time champion's initial retirement from racing at the end of 2006.
But this epic was actually an anomaly. Schumacher may have been the reigning world champion and fresh from winning a crushing 13 out of 18 races in 2004, but he and Ferrari were nowhere – by their standards – for most of 2005 as Alonso and McLaren's Kimi Raikkonen battled for the title.
Schumacher's only 2005 victory came when Ferrari had only fellow Bridgestone runners Jordan and Minardi for opposition at the farcical United States GP. His Imola second place was one of just five podiums all season. His general trend was to qualify in the lower half of the top 10 and scrap for minor points.
Yet at Imola he was able to surge through from 13th on the grid to relentlessly hassle Alonso for victory, spending the final 13 laps all over the back of the Renault – which had to produce a defensive masterclass to stay ahead.
How did it happen? We've explored that in two episodes of our Bring Back V10s podcast series of classic F1 tales from the 1989-2005 V8 era – initially in season one's episode on Ferrari's poor 2005 season and then in an Imola 2005 episode that you can also listen to via our YouTube channel.
WHY FERRARI WAS SO SLOW IN 2005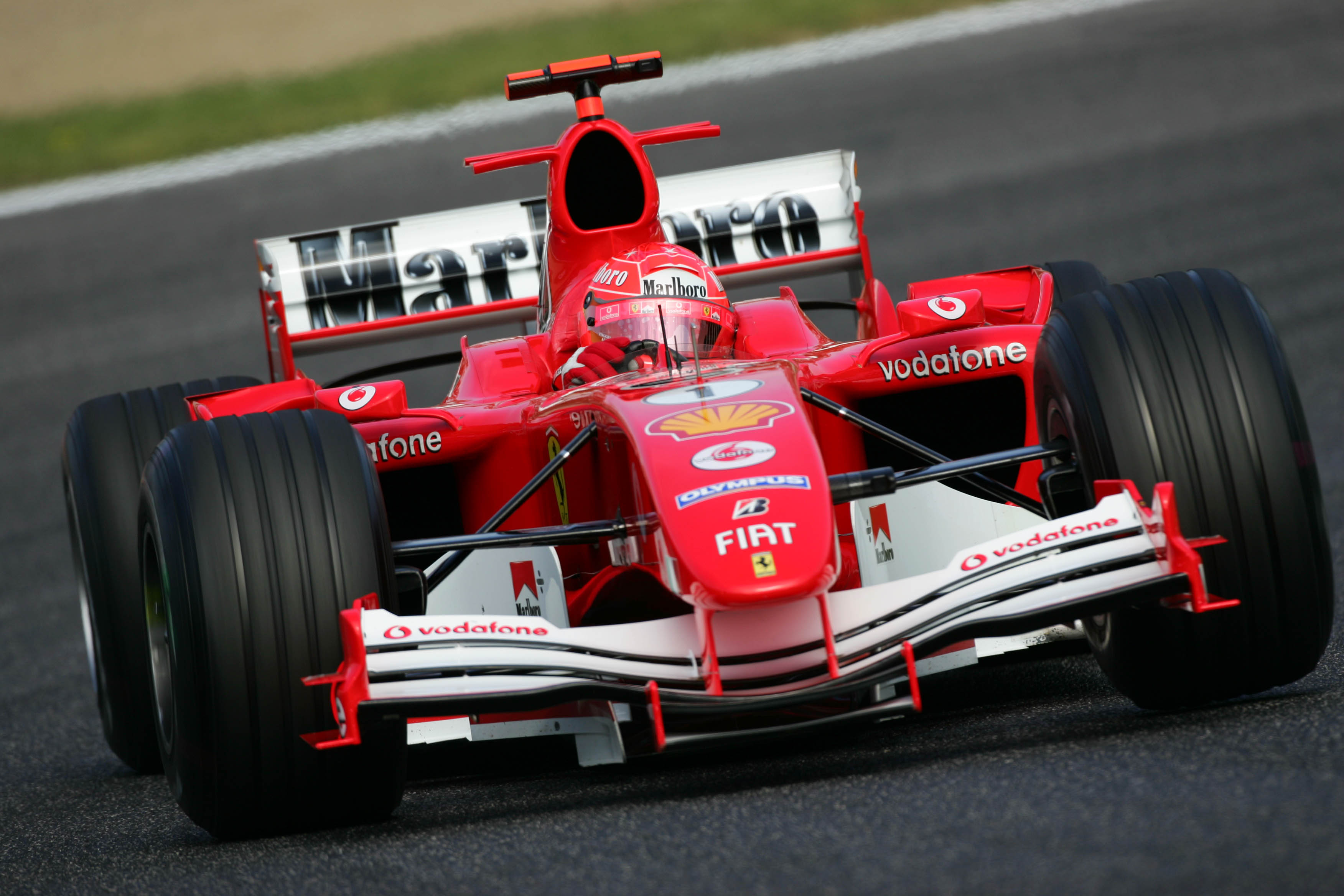 In June 2004, the World Motor Sport Council instructed F1's technical working group to come up with measures to slow the cars down for 2005.
When the TWG failed to agree anything within the two months it was given, the FIA submitted three proposals, and when the teams couldn't agree on which of those proposals to choose, the FIA was allowed to choose one for them!
The package chosen brought in aerodynamic changes, the banning of tyre changes during races, and engines having to last two race weekends.
The single-tyre rule lasted for just one season and is generally regarded as the key blow that toppled Ferrari given its ultra-close relationship with Bridgestone.
As then Ferrari technical chief Ross Brawn put it in his book: "Over several years we had developed a sprint race philosophy where we did several pitstops.
"Bridgestone were developing soft, super-grippy, short-life tyres. We were developing cars with small fuel tanks. We were optimising that approach and we were focused on three- or even four-stop races.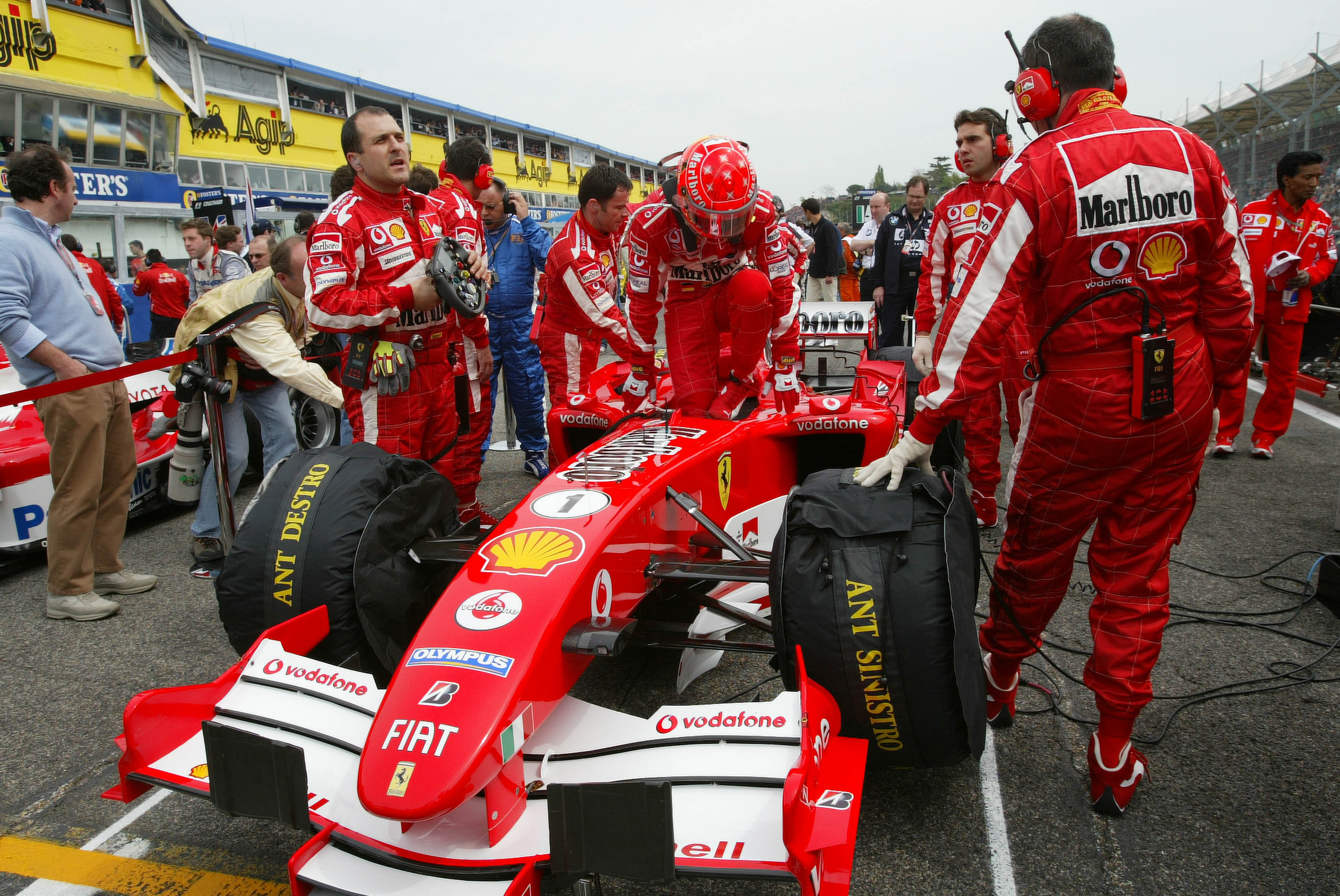 "We were completely screwed, we didn't have the knowledge of the rubber or the technology to make a one-race tyre.
"Michelin had a different approach to Bridgestone and their tyres got better as the race went on. We had a tyre that just fell apart and we couldn't make one that was strong enough."
But the aerodynamic changes – which the FIA estimated would result in a loss of "20% or more" of downforce with minimal loss of drag – hurt Ferrari too. The front wing was raised, the rear wing was brought forward, the diffuser height was reduced and the bodywork in front of the rear wheels was cut back.
"When the regulations became clear our transmission and engine package was not very good for them because, once you constrain the diffuser on the outside, the central part of the diffuser becomes much more important," Brawn wrote.
"So you have to expand the inside of the diffuser and then look at your engine and gearbox in a more extreme way. We decided we didn't have the right package, so we had to start again with the transmission."
On Bring Back V10s, Mark Hughes explained the knock-on consequences of that late transmission redesign.
"Just by chance, in the way that everybody's cars had evolved differently the 2005 regulations meant that the Ferrari gearbox was a) in the wrong place and b) too wide. It was a wide, short gearbox and you now needed a long, thin one – and other teams had developed that way anyway," said Hughes.
"So Ferrari had to spend three months designing a completely new gearbox, and had they not had to do that, they would probably have had a better integration of the rear suspension with the new diffuser, which was a particular strength of the 2005 Renault – which had completely new rear suspension which essentially merged the bottom and lower wishbone in with the flow from the diffuser."
WHERE SCHUMACHER'S IMOLA PACE CAME FROM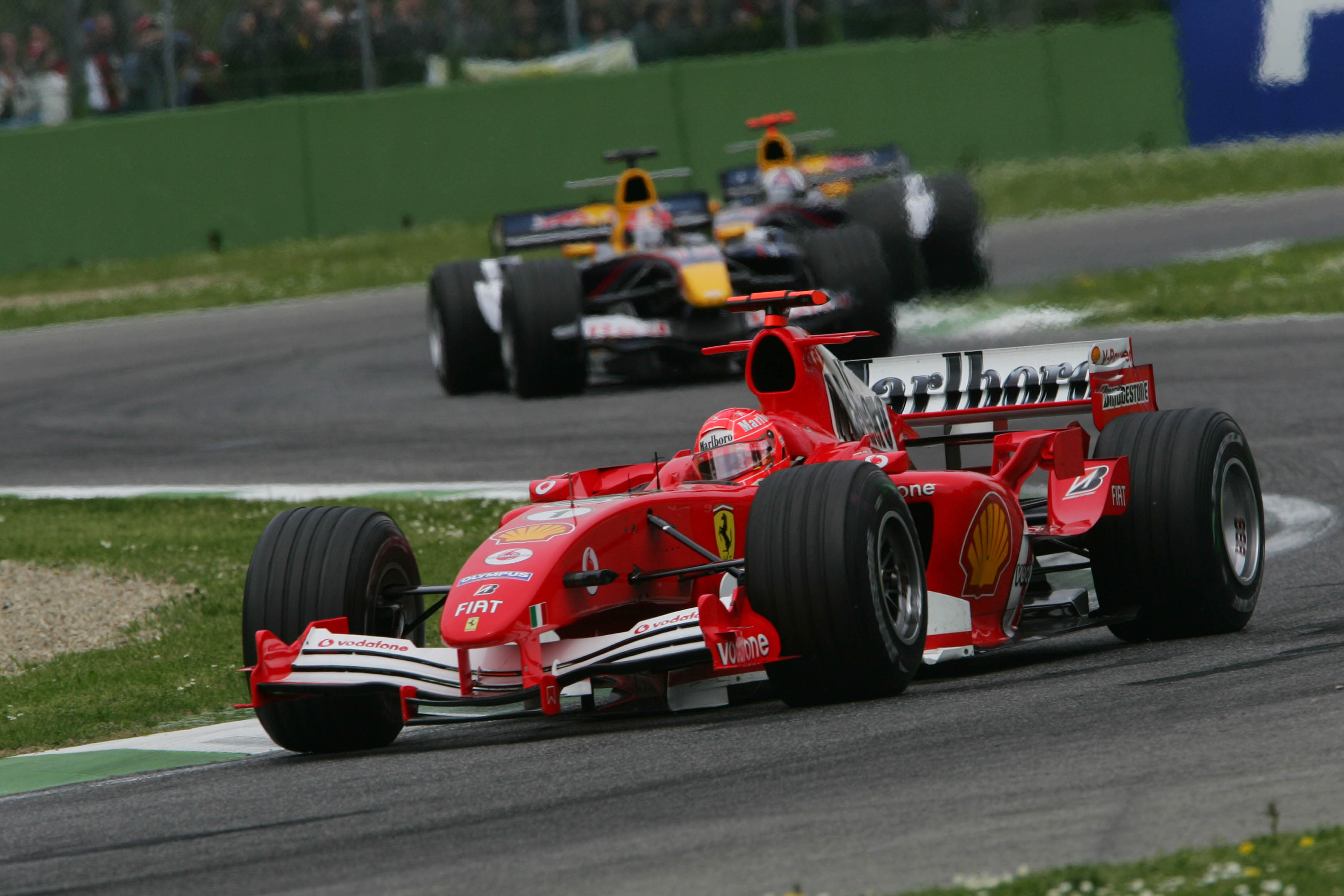 Ferrari started the season with a modified 2004 car, dubbed the F2004M. In pre-season it was clear the car was off the pace but there was an element of caution from rivals, as even winter pacesetter and eventual champion Renault expected Ferrari to be holding something back.
But after two very poor races with the interim car, Ferrari brought forward the debut of the F2005 by a couple of races to round three in Bahrain, where it was quicker than its predecessor but unreliable.
Then at Imola Schumacher went off at Rivazza in part two of the short-lived aggregate qualifying format, so started 13th.
But in the middle stint of the race, Schumacher's pace was phenomenal. After a late first stop on lap 27 of 62, he was up to third but 31 seconds behind Alonso, and 22s behind second-placed Jenson Button. But throughout the next stint he was able to lap between 1.5 and two seconds faster than anyone else on track.
Renault's Pat Symonds said afterwards this was because Schumacher suffered "no tyre degradation", and by lap 42 he was on Button's tail as they ran first and second following Alonso's second stop.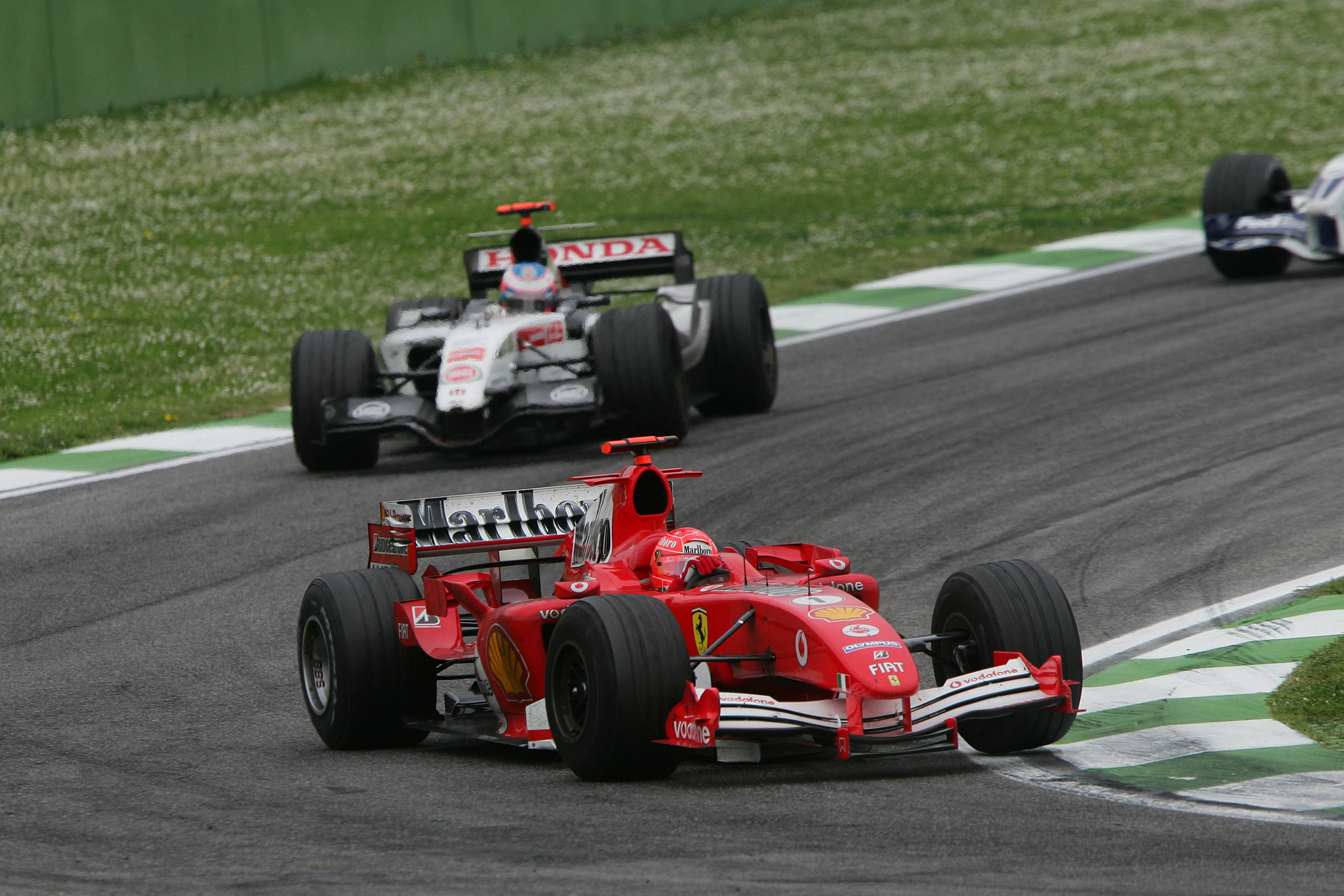 Button kept Schumacher at bay for a few laps, and Ferrari was out in the pits ready to make an early stop when Button got baulked by the two Williams drivers, and Schumacher pounced on the run to the Variante Alta chicane to take the lead.
Two laps later Button came in, and a lap after that Schumacher pitted, having been 15 seconds clear of Alonso. That proved to be just enough for Alonso to retake the lead as Schumacher appeared at the pit exit, setting up the tussle to the flag.
The flip in pace was all down to the cooler than expected conditions, as Hughes explained on Bring Back V10s it meant that on this day alone Alonso's Michelins were "always a little too cold and prone to graining, and it wasn't typical of how you raced a tyre-war [era] Michelin".
"But for the Bridgestones, this was the perfect weather because they ran hotter than the Michelins, which was usually Bridgestone's big problem because it increased the wear.
"Here, heat was exactly what you wanted. The Michelins were wearing because of the graining.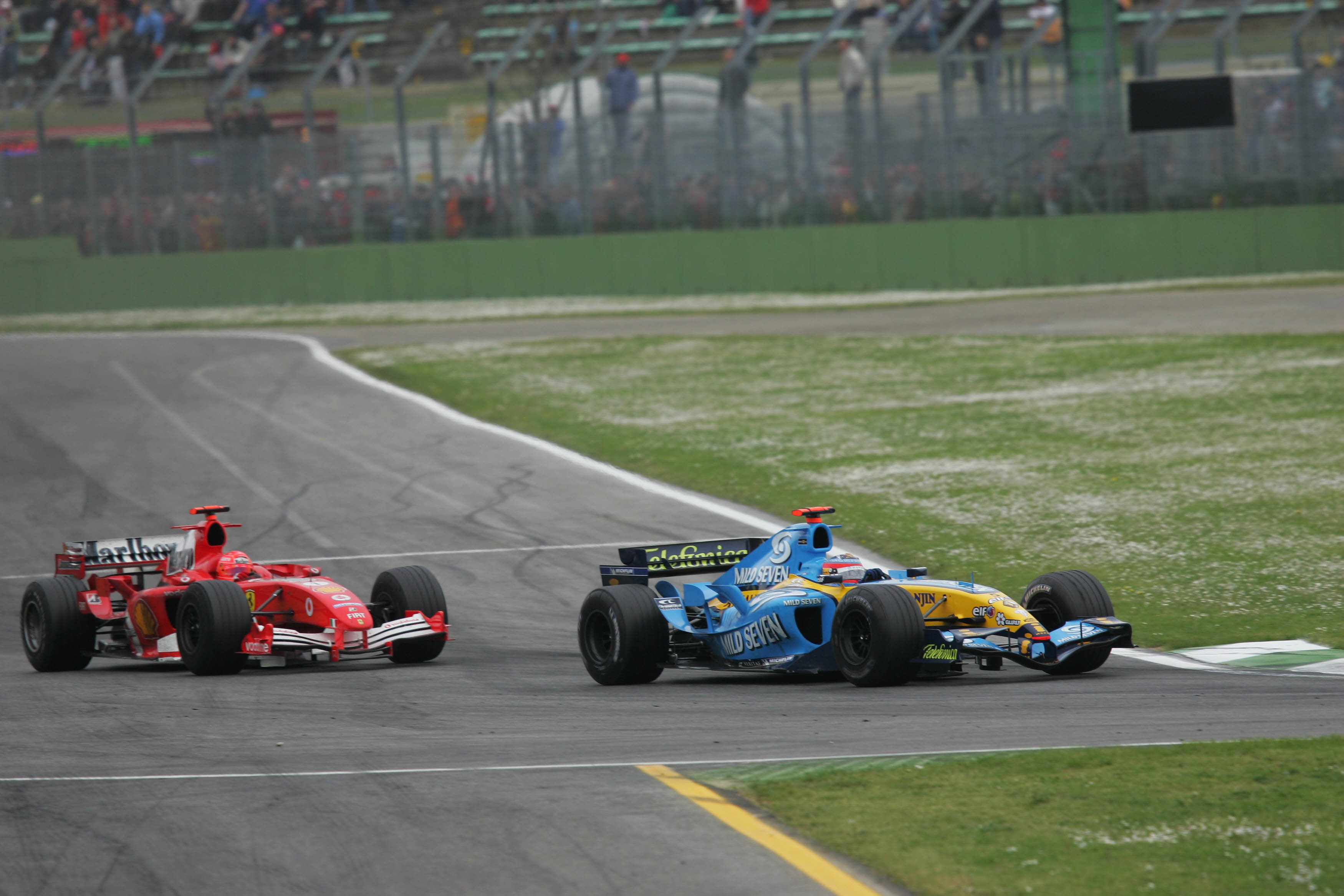 "So when Schumacher got up to second, Alonso had a real fight on his hands because the Ferrari was up to two seconds quicker.
"The pattern of that race was that there was a clear problem with the Michelins, they had huge degradation that was untypical. Although the Bridgestones were working well, the Michelins' problems in the cool weather was the likely culprit, and through the season that wasn't going to be enough to cover the Bridgestone deficit."
ALONSO WAS ALSO NURSING AN ENGINE PROBLEM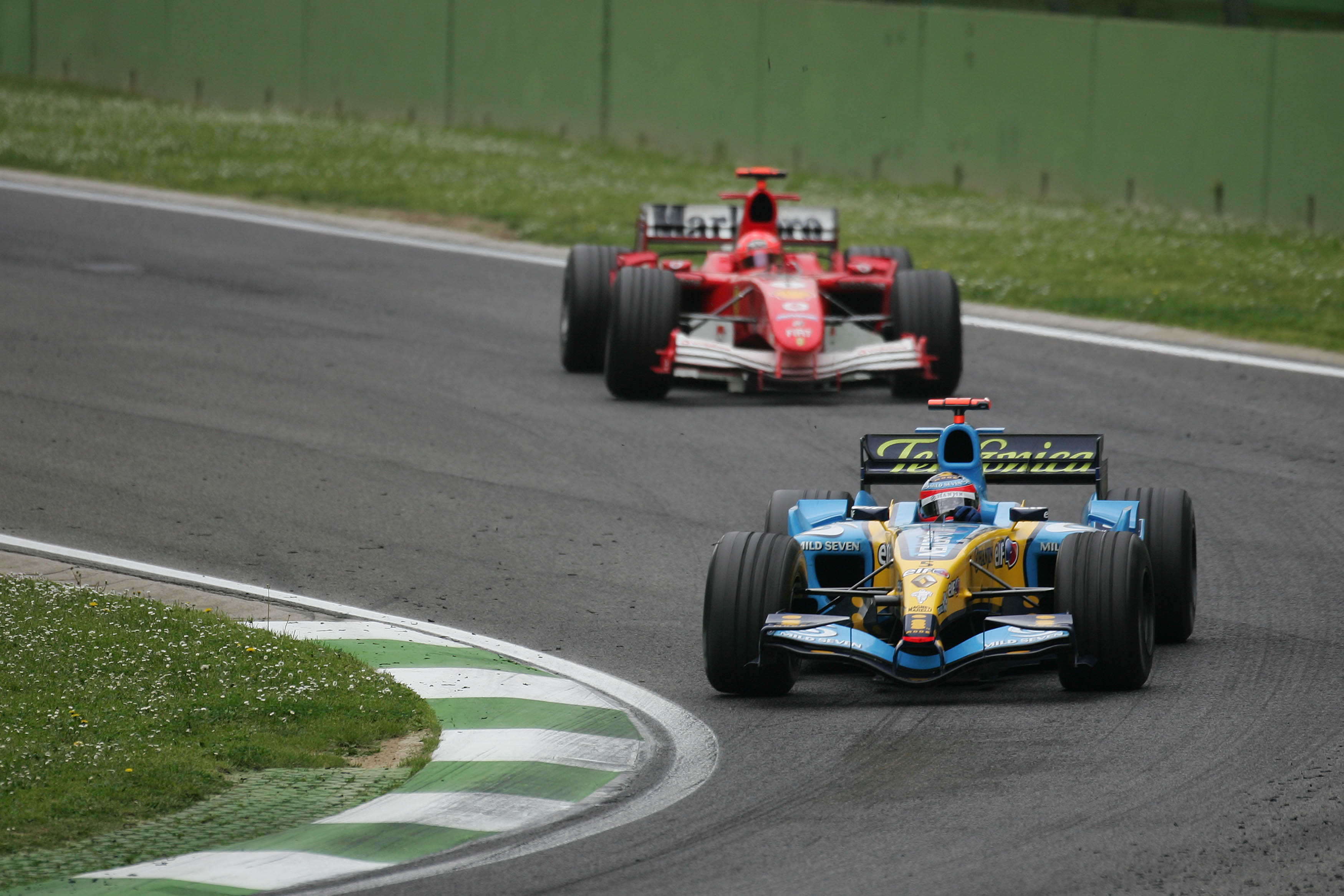 As soon as Alonso took the lead of the race, his engine performance was turned down because Renault was nursing a problem all weekend, this being as it was the first season where engines had to last two full weekends. But for the final stint Alonso said Renault gave him "whatever power was available at that point".
Hughes explained on Bring Back V10s that the problem Renault had noted on Alonso's car was the same one that had led to his team-mate Giancarlo Fisichella retiring from the preceding race in Bahrain after just four laps.
"They'd actually considered changing the engine and taking a 10-place grid drop, that's how serious it was," Hughes added.
RAIKKONEN SHOULD ACTUALLY HAVE WON THE RACE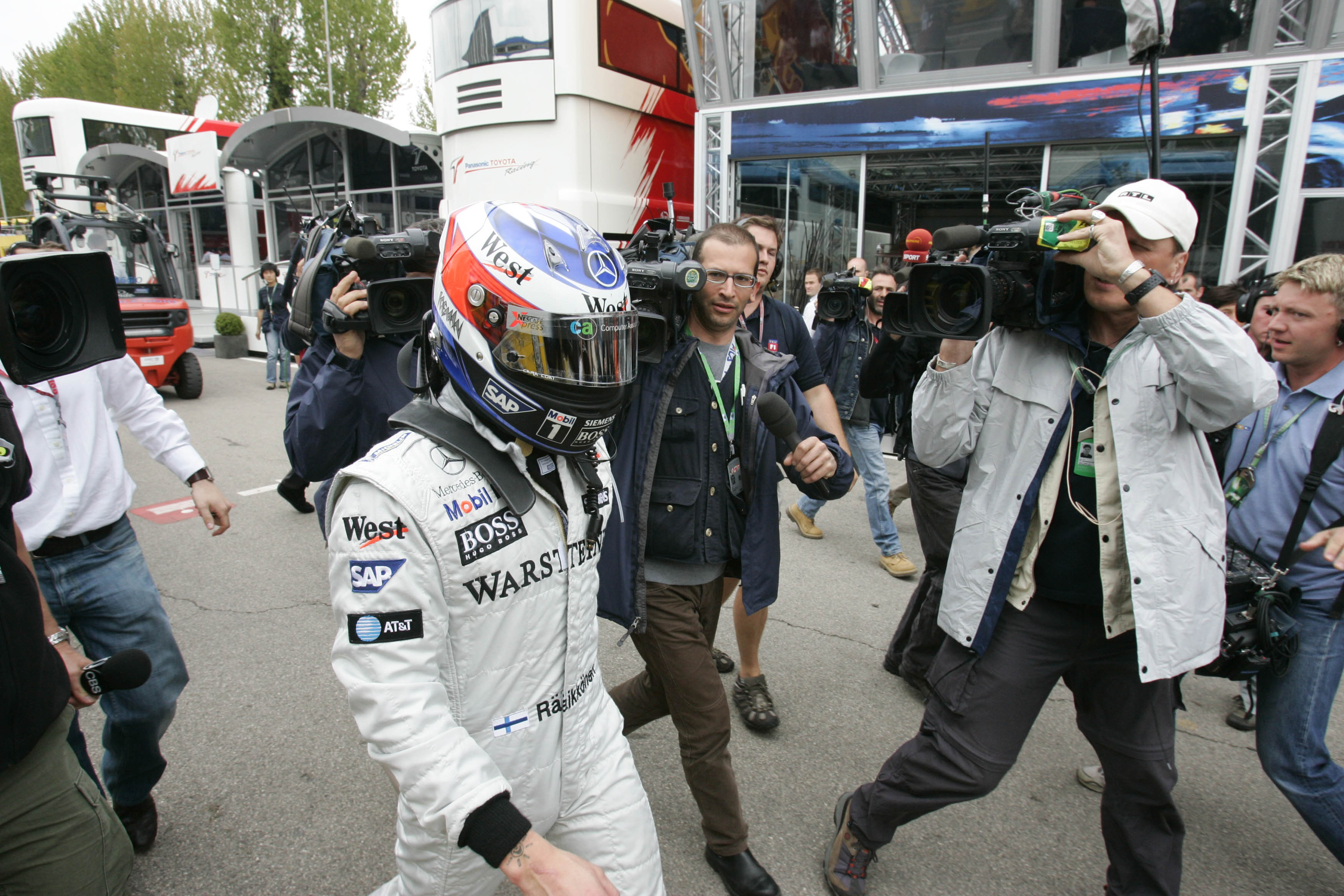 Alonso only took the lead of the race because polesitter Raikkonen retired on lap eight with a driveshaft failure while 3.5s clear of him and pulling away.
This had been Raikkonen's big chance to kickstart a season that had been quiet for McLaren up to that point. Its car designer Adrian Newey said McLaren had started to unlock the potential of the MP4-20 by evolving the set-up after struggling to extract performance from it in the opening races.
McLaren apologised to Raikkonen publicly for the driveshaft breaking, although Newey revealed years later that he felt the failure had occurred because Raikkonen "dropped the clutch with far more revs on it than he had ever done before, which overloaded the transmission system".
Newey added: "Something like that you can view one of two ways. You could say we should have made the car strong enough to take such abuse and, had we known, we would have done.
"The problem is no other driver had ever done anything like that previously, so the issue had never come up before."
THE TRULLI FACTOR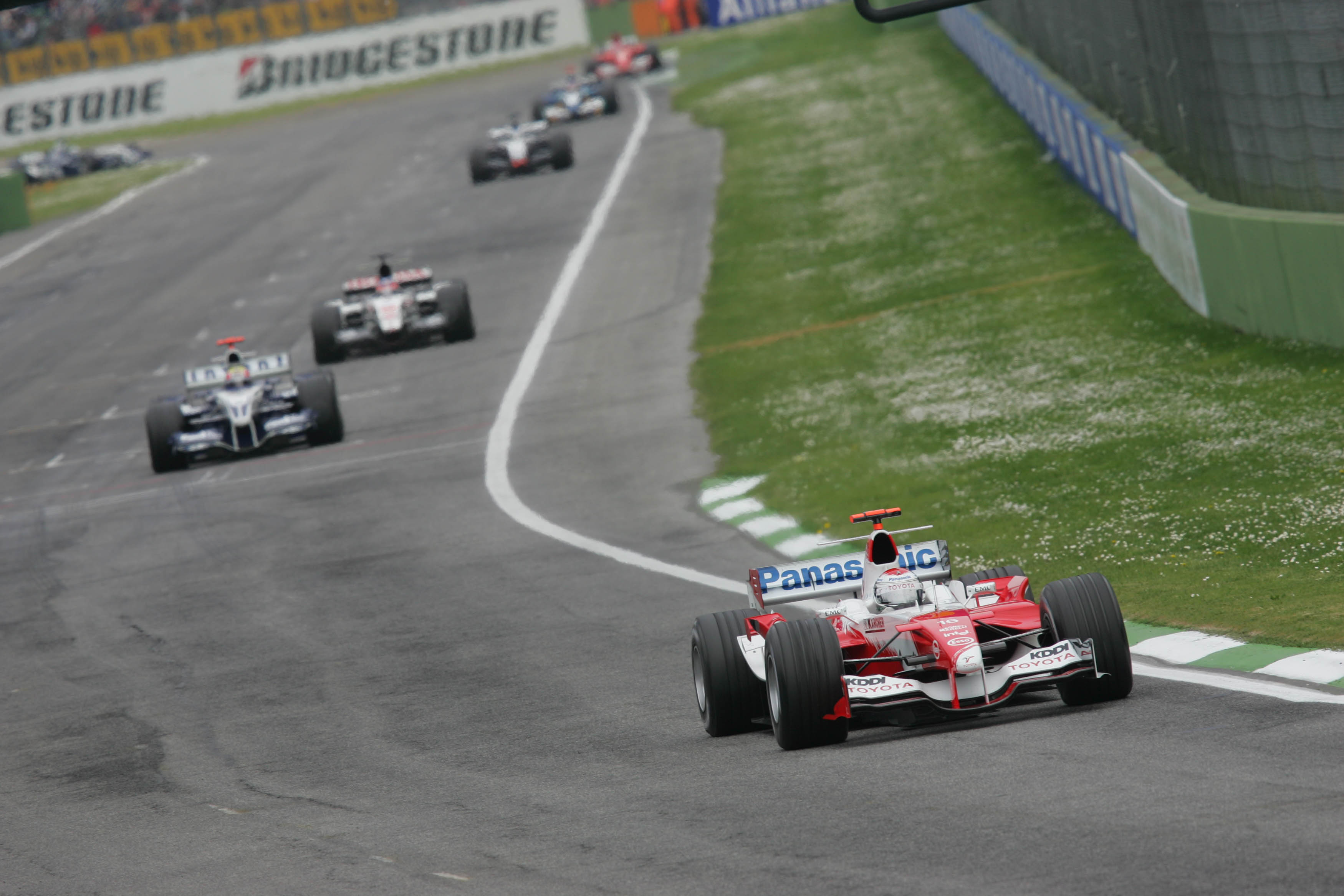 Schumacher didn't pass anyone on track in the first stint, just gaining two places from Fisichella and Raikkonen's retirements to run 11th.
But he was still in touch with the podium battle because he was the final 'carriage' in one of the era's 'Trulli trains' – a traffic jam behind a Jarno Trulli-driven car that had qualified superbly then struggled for race pace.
To be fair to Trulli, both he and Toyota had predicted they'd struggle at Imola because they didn't expect their car to get on well with the kerbs there, and he said he was surprised to qualify as high as fifth.
Through the first stint he had Mark Webber's Williams, Takuma Sato's BAR, McLaren stand-in Alex Wurz, Jacques Villeneuve's Sauber and the other Ferrari of the soon-to-retire Rubens Barrichello trapped behind him, then a very small gap to Nick Heidfeld's Williams, Ralf Schumacher's Toyota and Schumacher's Ferrari – the whole nine-car group within 8s as the pitstops approached. And Michael Schumacher stayed out latest of them all and simply unleashed his pace as cars ahead peeled off.
"The 'Trulli train' helped him out enormously," said Hughes.
"It brought cars into his reach that it would have taken ages to catch had they been spread out.
"He was able to just pass the whole lot of them at the first stops because they were so closely bunched."
HOW ALONSO HELD HIM OFF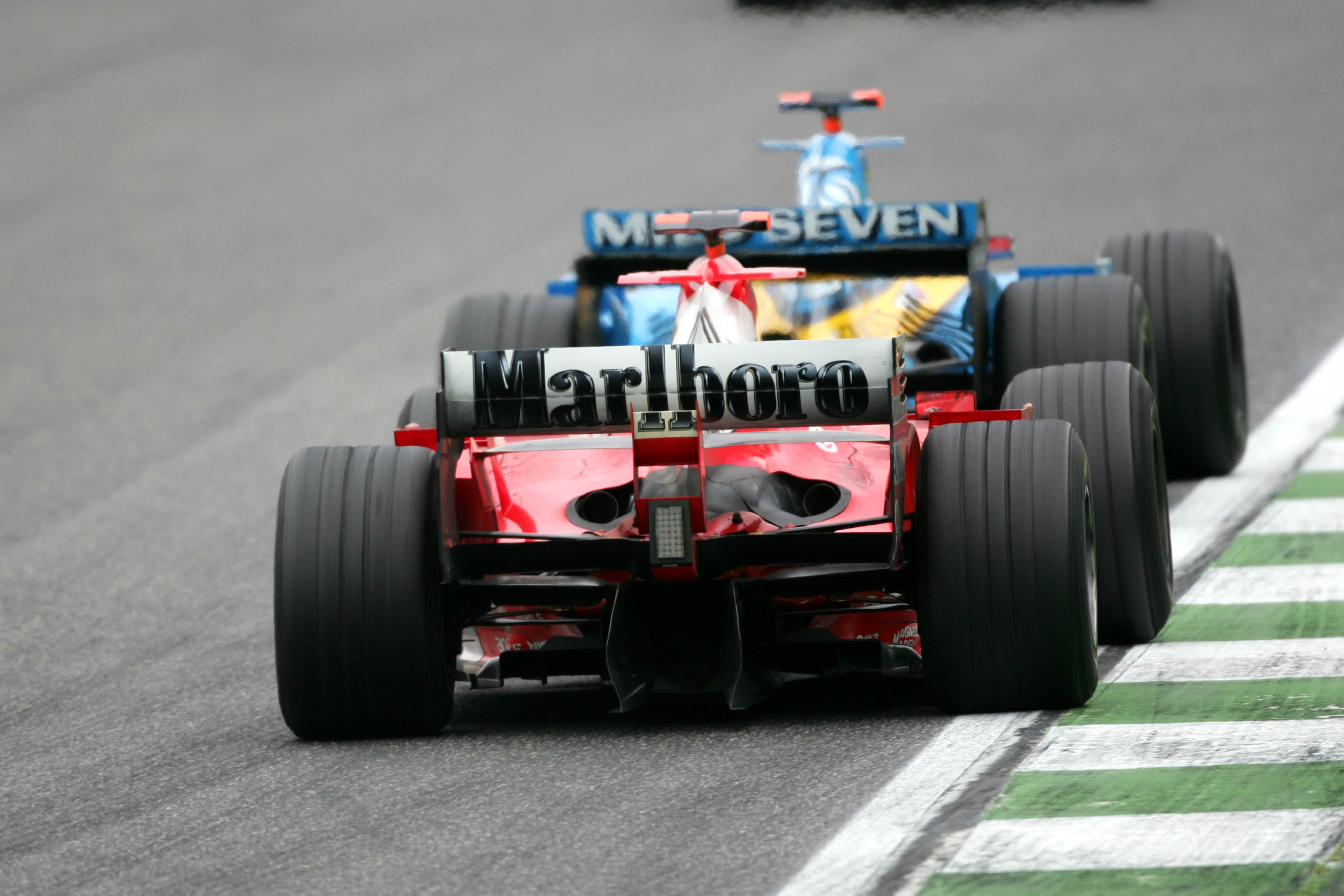 Despite that huge Ferrari pace advantage, Alonso kept Schumacher at bay.
Being able to turn his engine back up helped, as did clever use of traffic – Alonso could also see backmarkers ahead, and he was deliberately slowing down in certain parts of the track where Schumacher couldn't catch him, so they wouldn't catch the backmarkers.
But he also felt confident that the Imola track layout would help him out, as he explained in a 2021 interview for F1 TV.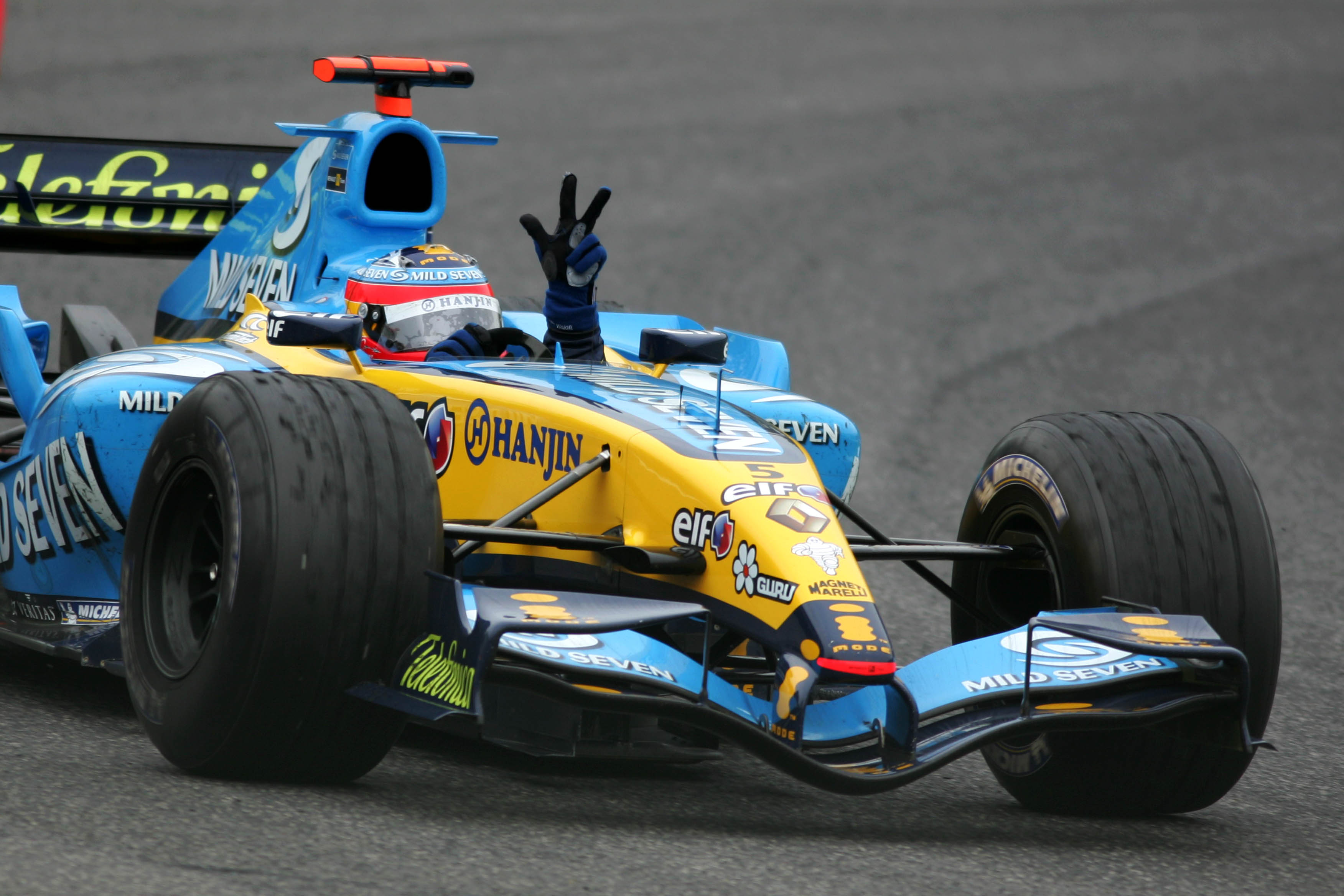 "I remember saying to the team and my family after the race that I was quite confident that it was not possible to get overtaken by Michael here at Imola," said Alonso.
"Any other circuit, it was not possible to hold that position.
"I think I was pretty sure that it was OK to keep the first position. But I know that watching from the outside it looks much closer.
"And even myself when I watch the footage, it looks much closer than what you see in the mirror. You have Michael Schumacher in your mirror so there is no way to relax. I was not calm. I was very tense in that moment.
"When you are there you are able to focus on those little things and little thoughts. Looking at the footage, you live things much more emotionally outside the car than inside the car.
"It's more a robot job, you need to do what you have been told."