The Russian Grand Prix stewards' U-turn on hitting Lewis Hamilton with two licence penalty points was because they felt it would be an "inappropriate" sanction on review.
Formula 1 world champion Hamilton moved to the brink of an automatic one-race ban after the stewards awarded him two five-second time penalties and one licence penalty point for each of those during the Sochi race.
That was because Hamilton was deemed to have performed a practice start out of position on a reconnaissance lap in the build-up.
FIA race director Michael Masi's race event notes instructed drivers to perform a practice start on the right-hand side after the pit exit lights, which Hamilton took to mean anywhere to the right in the pit exit – citing the Brazilian Grand Prix's practice start location as an example.
"It's all rubber here, can I go further round or not?" Hamilton asked race engineer Peter Bonington when he approached the designated practice start area.
When he received an affirmative response, Hamilton asked, "To the end of the pitwall?" and was told: "Yeah, copy, as long as you leave enough room for cars to pass."
However, Mercedes trackside engineering director Andrew Shovlin has admitted that "we hadn't realised quite how far he was going to go", with Hamilton referring to the full pit exit road.
Based on that exchange, the FIA stewards determined Mercedes played a significant role in the out-of-position practice start and felt fining the team was more suitable.
Stewards may not impose licence penalty points along with fines (or reprimands).
"The stewards after the race heard from the team and the driver of car 44, so Lewis and Mercedes spoke to the stewards at which point it was actually a team instruction to Lewis where he could perform the practice start," said Masi.
"On that basis the stewards have rescinded the penalty points on both those decisions because they thought it was inappropriate.
"As a result they have fined the team for that instruction.
"Lewis followed his team's instruction and, yes, it was him driving the car, however a contributing factor was his team instructed him to do so at that point.
"Therefore they saw it fit to revise their decision accordingly."
Mercedes and Hamilton said the vagueness of the event notes contributed to the uncertainty over where a practice start would be allowed.
But Shovlin admitted "we thought, 'they're not going to like that'" when the team saw where Hamilton had actually driven his car to.
"We didn't think it was dangerous given that the event's notes said that it was on the right-hand side of the pit exit," he said.
"We thought it might have been ambiguous enough that we would have just got a telling off.
"But when we saw the car position it was not a complete surprise that they didn't like it."
When asked specific if there was any ambiguity or room for interpretation in instruction for drivers to perform practice starts "to the right-hand side after the pitlane exit lights", or if it could be better phrased, Masi said: "I'd suggest that there was probably a miscommunication between the team and the driver of car 44, because Valtteri [Bottas, Hamilton's team-mate] and all the other drivers used the exact practice start location where it was immediately on the right after the pit exit lights."
Masi also defended the lack of visual identification of the practice start area, saying "generally, we don't paint a box, we just specify a location" and when asked if a painted box would help in the future, replied: "It's very much a circuit-specific element of where it is.
"Today was just a simple error from that perspective."
Mercedes felt aggrieved that Hamilton was punished in-race for a reconnaissance lap infringement. Prior rule breaches in the build-up, such as pitlane speeding, have been met with fines issued post-race.
But Masi said that was not comparable because they are "completely separate infringements" and confirmed that because Hamilton was seeking an alternative position for the start for a race-relevant preparation it was a "sporting advantage" that merited a sporting penalty.
He was also asked about the comments an irate Hamilton made to TV immediately post-race, the championship leader claiming that "they're trying to stop me".
Masi said he had nothing to say in response to that but added "if Lewis wants to raise something, as I've said to him and all the drivers numerous times, the door is always open" and then went on to say he was certain driver identity played no part in stewards' decision-making.
"From an FIA perspective, we are there as a sporting regulator to administer the regulations," he continued.
"We have the stewards as an independent judiciary to adjudicate those, and therefore there was an infringement and it doesn't matter if it was Lewis Hamilton or any of the other 19 drivers.
"If a breach has occurred in the regulations they will consider it on its merits.
"Further to that they would adjudicate it equitably and fairly taking all the elements into account."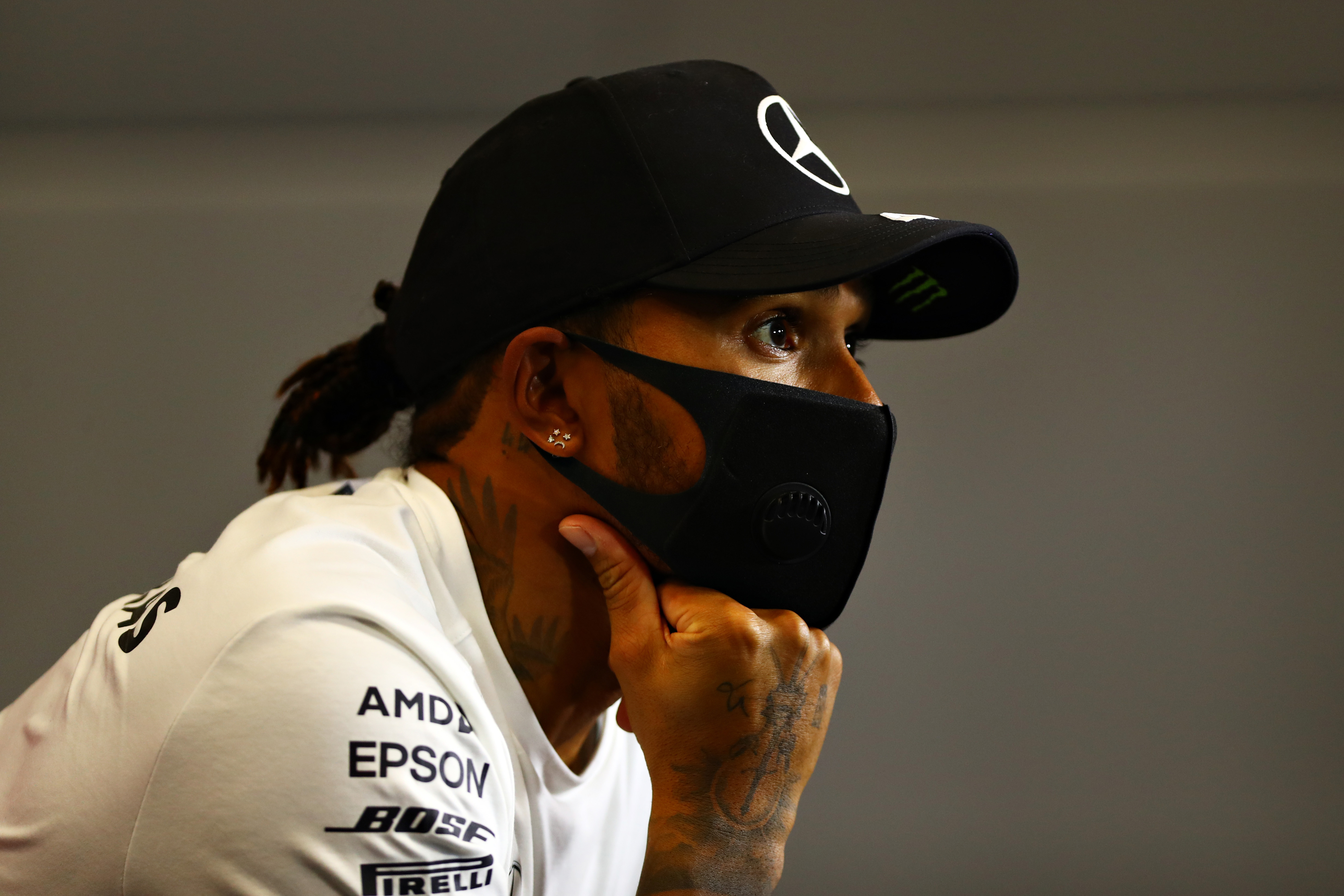 Hamilton had softened his stance in the press conference when asked if he felt targeted, saying: "I don't necessarily think that it's for me, I think whenever a team is at the front, obviously they are doing a lot of scrutiny.
"Everything we have on our car is being checked and triple-checked.
"They are changing rules, such as the engine regs [a reference to a recent engine mode directive], lots of things to get in the way to keep the racing exciting, I assume.
"I don't know if the rules – in terms of what happened today – was anything to do with it but naturally that's how it feels. It feels like you we're fighting uphill.
"But it's OK, it's not like I haven't faced adversity before. So we just keep our heads down and keep fighting and keep trying to do a better job, and be squeaky clean."