Pierre Gasly's Formula 1 redemption story is so captivating that even Lewis Hamilton, who had to lose the Italian Grand Prix for Gasly to win it, is among his admirers.
Six-time world champion Hamilton's stop-and-go penalty for entering the pitlane when it was closed paved the way for Gasly's unexpected but brilliant victory at Monza for AlphaTauri, the Faenza team's first win since it was Toro Rosso and Sebastian Vettel won at the same track 12 years ago.
It completed the ultimate turnaround for Gasly little more than 12 months after being demoted by Red Bull from its senior team – a fact not lost on Hamilton who, like most drivers, is usually quick to say his focus is mainly on the job he is doing.
But Hamilton has a lot of respect for his colleagues and is broadly aware of their situations. Few seem to have impressed like Gasly, who has also become an online video game sparring partner of sorts for the championship leader in recent months.
I really want to acknowledge @PierreGASLY for his amazing win. It is so well deserved. For me, whilst I never like to lose I am grateful for the challenge. All we can do is continue to fight and never give up. To my guys, thank you all for continuing to push. 🙌🏾 pic.twitter.com/XEvSNOS1rd

— Lewis Hamilton (@LewisHamilton) September 6, 2020
"Firstly Pierre is just a really nice guy," said Hamilton. "And I think he has a lot of talent.
"I don't think he was necessarily treated fairly at Red Bull in the end when he got demoted and I think it's not easy for a driver when that happens. So I empathise with that.
"To then build the confidence up in a necessarily not as quick team, then to come around with some really great performances he's had this year already, with that car, and then to get himself a win, I think it's not easy to do that.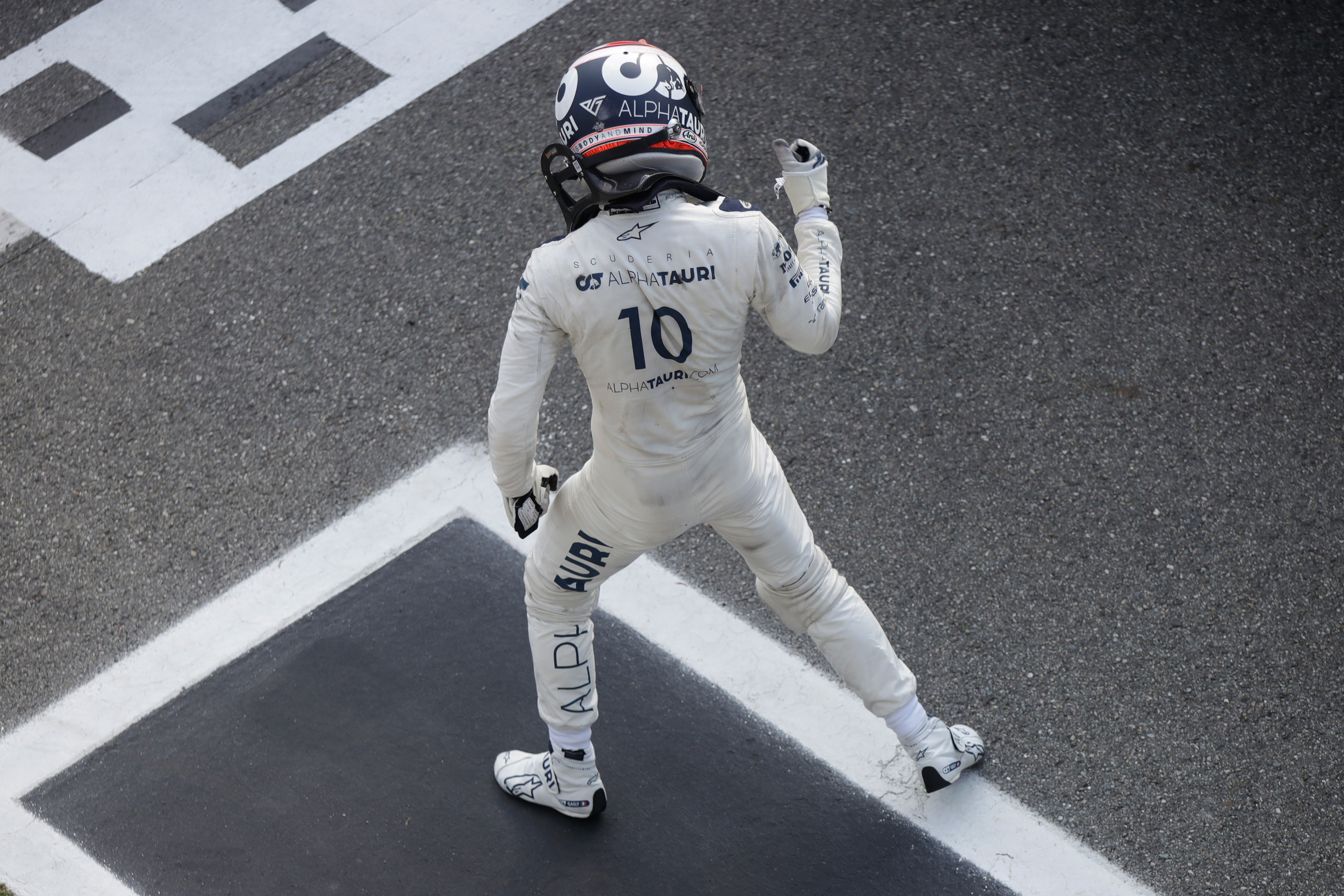 "I'm really impressed, I think he's done a fantastic job and deserves the success. Hopefully that creates an opportunity for him moving forwards.
"Also, you know, he beat the team that demoted him. So that's definitely got to hurt for them."
Gasly was left "lost for words" after his stunning underdog victory and a race that will go down in history as one of F1's most memorable, and arguably the best of the V6 turbo-hybrid era.
To win at Monza in the country he now resides, for an Italian team that he calls his "family", added the most compelling chapter yet to a fascinating story arc.
"We worked so hard, day by day, race after race," said Gasly. "After everything that happened to me in the last 18 months, I could not have hoped for a better way to get my first win."
But Gasly's incredible rise, fall and revival has its roots well beyond his turbulent 2019.
RED BULL'S LONG-RUNNING DOUBTS
Gasly's seemingly never-ending quest to prove himself to Red Bull goes back a long time, to 2012. A disappointing first year in the ultra-competitive Formula Renault Eurocup category meant Red Bull chose not to take up the option it had of bringing the then-16-year-old into its junior programme.
One year later, though, Red Bull changed its mind. He won the Eurocup title at the second attempt, beating Oliver Rowland and Esteban Ocon to do so, and became a Red Bull Junior for 2014.
Gasly never seemed to fully convince Red Bull in the years that followed. He stepped up to Formula Renault 3.5 and finished second to fellow Red Bull protege Carlos Sainz Jr, but had a winless first year that did not mirror the stellar rookie seasons of Robin Frijns and Stoffel Vandoorne quite as had been targeted.
The end of that year was dovetailed with a toe-in-the-water GP2 programme driving for the midfield Caterham Racing entry that yielded nothing in the way of results even though Gasly had the edge on regular driver Rio Haryanto.
A full season in GP2 in 2015 tested Red Bull's patience again as Gasly became a podium finisher and three-time poleman as a series rookie, but didn't win a race in a muted season for the DAMS team and was only eighth in the points.
Switching to F3 powerhouse Prema for its debut GP2 season in 2016 was the turning point, though. A mixed opening four rounds gave way to stellar form as he qualified on the front row at the remaining six events and scored all four of his wins that year in that period, to become the first Red Bull junior to win the F1 feeder series.
But it wasn't enough for Red Bull. Daniil Kvyat was kept on at Toro Rosso despite being demoted by the senior team mid-season and Gasly was shunted sideways to Japan to race in Super Formula – where he lost the title as a rookie by just half a point because the final round was cancelled.
A RAPID F1 RISE – THEN FALL
Gasly had expected to get an F1 chance in 2017 and it did come, just not in the manner expected. He was called up to Toro Rosso for five races at the end of the season in a complicated major in-season shake-up that eventually led to Kvyat's exit and Sainz being released to join Renault.
Those five races turned into a full-season drive for 2018 and Gasly had a strong season in which he was quite comfortably superior to a surprise fellow Red Bull returnee, sportscar champion Brendon Hartley.
Toro Rosso had few opportunities to shine that year but it was Gasly who gobbled up the chances: fourth, Honda's best result in F1 to that point, in Bahrain and sixth in Hungary were the high points but less-heralded efforts like top-10 finishes in Belgium and Mexico were also excellent drives.
As with his F1 debut, other circumstances created a second major opportunity for Gasly. Daniel Ricciardo's shock decision to leave Red Bull to join Renault for 2018 meant the team unexpectedly had a seat to fill alongside Max Verstappen and suddenly the driver Red Bull never really seemed completely sold on was preparing for a year with the senior team and expected to score podiums, if not wins.
Gasly never looked like coming close to doing that, though. He crashed in pre-season and struggled to gel with the car and team, including a new-to-F1 race engineer (the same one Red Bull opted to replace this season to help Gasly's eventual replacement Alex Albon).
More offs, renewed doubts by Red Bull about his temperament, and below-par performances, including being lapped by Verstappen when the Dutchman won in Austria and again in Hungary when his team-mate was second, meant Red Bull performed a shock in-season U-turn.
Having been promised a 'free' season to learn the ropes, he was dumped back to Toro Rosso for the Belgian GP to swap seats with F1 rookie Albon. As he wrestled with that disappointed over the Spa weekend, he lost childhood best friend Anthoine Hubert to a fatal crash in the supporting Formula 2 race.
THE REVIVAL
"That was a purely a tough moment last year," said Gasly after his Italian GP victory.
"I grew up with four brothers and I think as a child I had to work through quite difficult moments, which built me a pretty strong character and I always had to fight for everything I wanted.
"I always, in some way, managed to turn that negative energy into something positive and I knew last year what happened, deep inside me.
"I felt hurt and I didn't feel it was fair to myself and I really wanted to make a clear point in that moment."
Revenge, redemption, whatever you want to call it – Gasly's career revival began that weekend at Spa when he scored points straight away on his Toro Rosso return.
He'd go on to outscore Kvyat, another driver brought back into the Red Bull fold as it found its driver policy perhaps backfiring, by 32 points to 10 in their half-season together. And a big chunk of that came in the Brazilian GP, where Gasly scored his first podium in a chaotic race that ended with a drag race against Hamilton to the finish line.
At the time, that felt like Gasly had rebuilt his confidence and repaired a good part of his reputation as well. But even though he'd be staying with Red Bull again for 2020 in its junior team, rebranded as AlphaTauri, his demotion seemed to underline his impossible task of truly convincing the likes of Helmut Marko he was capable of being a leading driver.
This season has changed that, at least so far as giving Red Bull something serious to think about. He has been excellent and is now eighth in the championship, just five points behind the man who replaced him in the senior team as Albon is enduring his own difficult spell alongside Verstappen.
Victory in the Italian GP raised the inevitable question: "Could you get back in at Red Bull Racing, and is that something you want?" Gasly says he's ready but it's not up to him.
In the last 12 months Gasly has won a lot of supporters, including the most successful driver on the grid. But to have a Red Bull future he only needs a couple of people in his corner.
Any hesitancy those calling the shots may have would really be no surprise given the inherent uncertainty that seems to have followed Gasly's entire Red Bull stretch, and the extent to which the team felt he was responsible for his 2019 struggles.
It may be that the underlying feeling is Gasly stars as an underdog but shrinks in the spotlight, but his mental strength since his demotion shows he has the necessary resilience, it just needs to be tapped into.
"It's been a crazy ride in the last few months and it's just unbelievable," Gasly said at Monza. "I'm still struggling to realise what we've just achieved."
Hamilton hopes that achievement will create an opportunity for Gasly. No doubt it's put him firmly on a few radars, if his 2020 season wasn't doing that already.
If Red Bull is to rethink its position on Gasly (and it would not be the first time), it would do well not to take Gasy's career revival for granted for too long.