When it comes to the prospect of Pietro Fittipaldi receiving the opportunity to add an actual Formula 1 grand prix to his CV, there are two angles from which you can view this situation.
The first angle is that Fittipaldi is obviously no slouch – he has four car racing titles despite being just 24 – and yet it must be acknowledged that there are drivers with better junior records than his who will never get an opportunity to compete in grand prix racing.
The other side of the coin is that the affable Florida-born Brazilian clearly lives and breathes racing, having already made sure to sample every bit of machinery a young racer can hope to drive, and will find the experience extremely rewarding, which is the best you can get given the less-than-ideal circumstances in which his F1 debut will come.
Fittipaldi's meandering route to F1
Fittipaldi's four titles are as follows: NASCAR Whelen All-American Series in 2012, BARC Formula Renault in 2014, MRF Challenge in the winter of 2015-16 and Formula V8 3.5 in 2017.
The NASCAR title came in a debut regional campaign of Late Model stock car racing – an impressive show of versatility that has come to define Fittipaldi's career, though not one with a tonne of F1 relevance.
Though he may not be the fastest driver theoretically available for the job, he may just be perfect for it
The second title came in a swansong season for the British Automobile Racing Club-run UK-based Formula Renault category, secondary to the series the likes of Kimi Raikkonen and Lewis Hamilton won earlier this century.
Though by the time Fittipaldi rocked up the Protyre-branded series stood alone on the Formula Renault UK scene, the grid was far from spectacular, although nine consecutive wins en route to the title in his second season was still a considerable feat.
The off-season MRF title was more like it, with Fittipaldi outfoxing opposition that included future Renault F1 junior Max Fewtrell and part-timers like BMW Formula E signing Jake Dennis and presumptive Haas 2021 driver Mick Schumacher.
Fittipaldi did very well to never finish lower than fifth in 18 races and handily win the title – but it's hard to say he faced F1-quality opposition.
And a similar view could be taken of his title in the 3.5-litre ex-Formula Renault in what was likewise the category's final season.
Fittipaldi was fairly clearly the quickest driver on the grid (save for maybe Ganassi IndyCar newcomer Alex Palou, who shone on a part-time schedule), but he also had a great team backing him in Charouz.
And it wasn't a spectacular roster out there – with SMP-backed Russians Matevos Isaakyan and Egor Orudzhev probably representing the most credible opposition (although you're more likely to have heard of ex-Force India tester Alfonso Celis and current Williams tester Roy Nissany).
So, a familiar trend emerges there: good results against limited opposition. And when it came to more credible series, Fittipaldi's record is mixed.
He was only 16th in his sole season of European F3 (admittedly an obvious standout for an underdog Fortec team on an absurd grid which featured the likes of Charles Leclerc, George Russell, Alex Albon, Lance Stroll, Antonio Giovinazzi and many more).
He was only 10th in his first season of Formula 3.5 before his sophomore title. And, further back, while his initial foray to two-litre Formula Renault in the Alps series was credible, finishing 15th in what was then BRDC F4 was less so.
But what of the post-junior career? Well, there was an aborted foray into the World Endurance Championship which ended in a terrifying electrical issue-induced Eau Rouge shunt and two broken legs, a Super Formula campaign that was cut short as a result and six IndyCar races with Dale Coyne Racing, which yielded one top-10 start and one top-10 finish.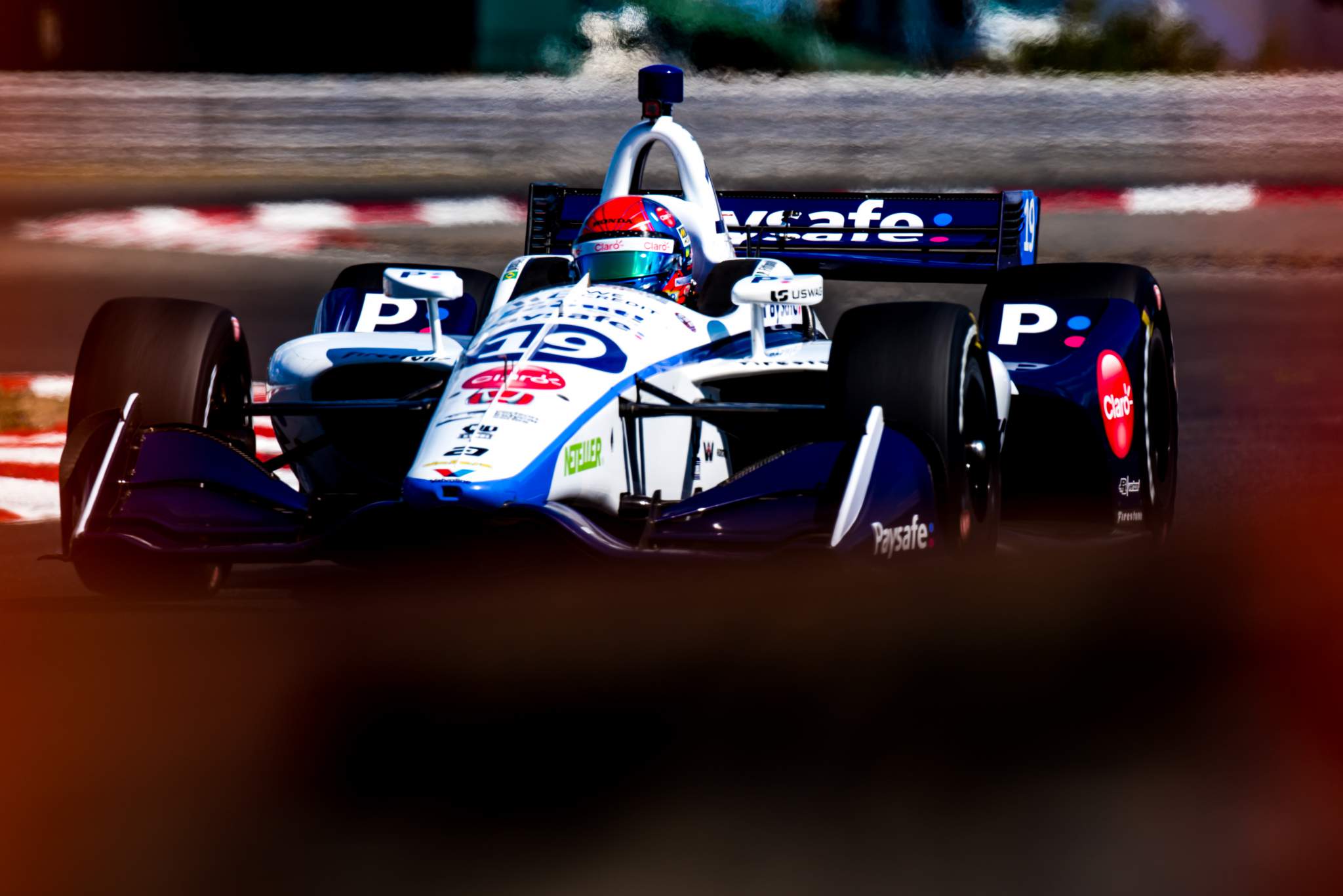 But the only full-time campaign since his 'graduation' came in the DTM last year with Audi privateer WRT – and though Fittipaldi didn't look out of his depth, he was pretty clearly playing second fiddle to team-mate Jonathan Aberdein, who secured a works BMW drive on the strength of his season.
So, a complicated record and one that doesn't necessarily scream 'F1 drive'.
Yet, on the other hand, there's something properly old-school and sophisticated about the way Fittipaldi has gone about his career. It helps when you have the money, yes, but far from every budgeted driver has pursued the kinds of opportunities he has, and there are plenty of examples of his obvious enthusiasm.
For instance, this author firmly recalls talking to a glowing Fittipaldi about his experience driving the Porsche LMP1 Hybrid in the WEC young driver test.
And in that sense, though he may not be the fastest driver theoretically available for the job, he may just be perfect for it.
You have to imagine a fair few drivers wouldn't be comfortable making their F1 debut with minimal prep at a funky new layout like Bahrain Outer – but Fittipaldi will absolutely relish it.
How Fittipaldi earned Haas's trust
The first thing Fittipaldi said in officially acknowledging his F1 race debut was that Grosjean's health is the priority and this is not the ideal situation for such an opportunity to arise.
There is a twisted irony to these circumstances, given Fittipaldi's first opportunity with Haas was derailed by his own huge accident.
It's part of that complicated backstory that explains why this supposed journeyman-at-24 was such an easy choice.
Early in his 2018 season as a jobbing driver post-FV83.5 title, Fittipaldi was making his World Endurance Championship debut at Spa.
But he had that big qualifying crash at Eau Rouge and broke his leg, ruling him out of the race and sidelining him for several months.
At the time, he was in talks with Haas over a first F1 test. Obviously that got put on hold. But by the end of 2018, Fittipaldi was announced as Haas's new test driver and would kickstart that programme with an appearance in the post-season tyre test in Abu Dhabi.
Haas always insisted Fittipaldi's opportunity started because of a relationship between Emerson and Guenther Steiner, though not because Pietro was a way to cash in on the family name. "It doesn't hurt," Steiner admitted, but the priority was to give the team an extra dimension.
Is Fittipaldi good enough to merit an F1 seat? Not if you were picking the best 20 drivers in the world
At the time it was hailed by Grosjean as an important step for Haas, because it would finally have a dedicated simulator driver who would also be able to correlate it with reality.
This proved to be more than just bluster given Fittipaldi's healthy 2019 workload.
A couple of months after his debut test, Fittipaldi had the honour of being the first to drive Haas's 2019 car, kicking off six appearances over the entire season, dovetailing that with his maiden season in the DTM touring car series.
He returned to racing single-seaters in Asian F3 over the winter, likely securing him the superlicence points he needed to fulfil an expanded role in 2020 as test and reserve driver, along with F2 racer Louis Deletraz.
That meant he became a viable stand-in, satisfying regulatory requirements as well as packing plenty of experience with the team.
He can therefore be trusted to slip into the environment well, thanks to more than 1200 miles of testing and a 2020 spent splitting his time between simulator work and working trackside at grands prix.
Is Fittipaldi good enough to merit an F1 seat? Not if you were picking the best 20 drivers in the world.
But for the situation Haas finds itself in, he is an obvious and qualified candidate.
He's a known quantity to the team, knows the car well himself, and is ready to be slotted in immediately. He's also keen, willing, and can be trusted to race without embarrassing himself or the team.
The opportunity to put that to use is unexpected and unusual. But that's in keeping with how he came to be in his role in the first place.