Lewis Hamilton and Max Verstappen will duel it out for the 2021 Formula 1 drivers' crown over the last six races of the season, but it could be their team-mates who decide the fate of the title.
For Hamilton, he's got the outgoing but on form Valtteri Bottas alongside him at Mercedes while Verstappen is enjoying a timely turnaround from his third Red Bull team-mate in as many years, Sergio Perez.
But who will make the biggest difference, will it be Bottas or Perez? Or will another driver play a bigger role? Our writers give their verdict.
Depends on which trait is required
Mark Hughes
It all depends on whether the more important requirement turns out to be going wheel-to-wheel with the opposing team's title contender (in which case Perez) or whether it's to be close enough to them in the first stint so as to be in their pit window, thus limiting their strategic options (in which case Bottas).
Perez has a real taste for wheel-to-wheel battle and doesn't give an inch in defence, as we saw as recently as Turkey against Hamilton.
Bottas can sometimes be great in defence, other times (such as at Sochi against Verstappen) ineffective.
But Perez too often qualifies behind slower cars and by the time he finds his way past them, the leaders have pulled more than a pitstop's-worth of gap over him, making him of limited use to Verstappen's race.
Bottas can usually be relied upon to outqualify the lesser cars and thereby be a useful strategic tool for Mercedes.
Bottas will play a bigger role
Scott Mitchell
We've seen so many chaotic variables in the title fight that it's naive of me, bordering on stupid, to even consider a hypothetical scenario in this way, and yet here we are.
If, IF, the next six races are straightforward, if the balance of power between the top two teams only shifts in small amounts…then we can assume the Mercedes vs Red Bull fight will be closely fought. And the top four positions on the grid will be up for grabs with a Lando Norris, Charles Leclerc or Pierre Gasly sneaking onto the second row if someone underperforms.
In all likelihood that someone underperforming will be Perez, not Bottas. Each have their strengths and weaknesses but on a normal weekend, Bottas is more of a factor from the get-go.
He's more likely to be a frontrunner in qualifying, which can disrupt the grid. That comes with the potential knock-on consequences given the chaotic nature of race starts and even if the start goes smoothly, being in the lead pack from the beginning means you're a complicating factor in terms of race strategy.
Perez has had some very strong grands prix this season but he only really becomes a factor in the second phase of races, by which time it can be too late.
I'm sure each will have a part to play during the run-in. But I expect Bottas's to be bigger.
Perez can inflict bigger damage
Edd Straw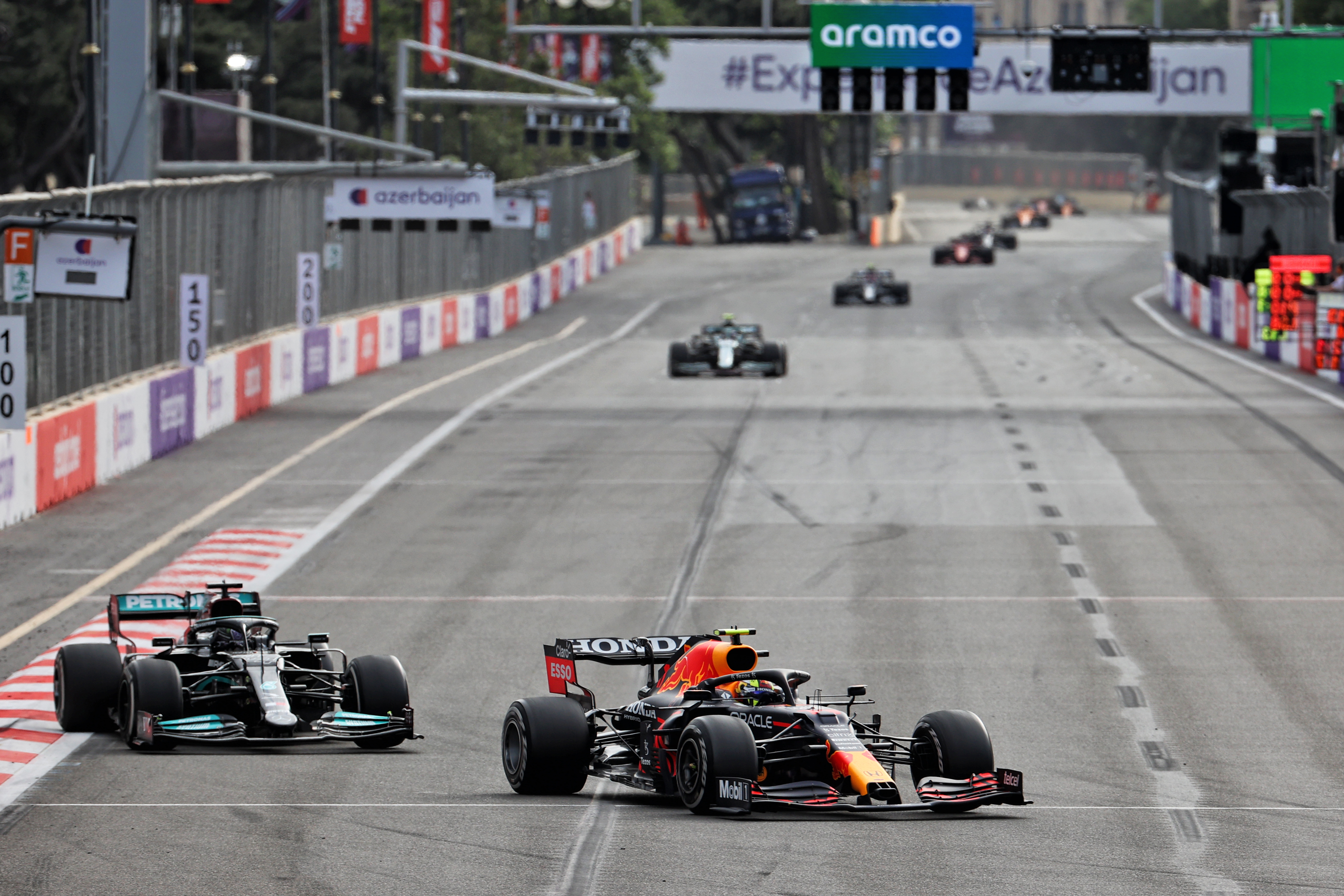 So far this season, Bottas has more often been a factor in the world championship fight between Verstappen and Hamilton. But Perez is the one who has arguably shown the potential to make bigger individual interventions.
Perez's qualifying has been a problem and it's difficult to see that changing over the remaining six races, so he's less often right at the sharp end.
But as we saw in Turkey, where he held firm in battle with Hamilton and ultimately did take points off him by finishing ahead, when he's in the right place he can stand his ground.
Compare his defence against Hamilton to Bottas's against Verstappen early in the Russian Grand Prix and it underlines the point.
Perez also played a part in Hamilton's costliest mistake of the year, albeit more an operational error than a pure driving one, when the Mercedes driver inadvertently engaged the 'brake magic' button that wound the brake bias massively forward and inevitably led to a big lock-up and a visit to the Baku escape road.
Had Perez not started that two-lap 'mini prix' at the front having run second when Verstappen suffered his blowout, Hamilton wouldn't have been contesting that first corner with a car as significant as the second Red Bull and likely wouldn't have accidentally engaged the button. By his very presence, Perez contributed to Verstappen avoiding a 25-point hit.
Perez has only occasionally been in a position to bother Hamilton, but if he is even once in the final six races, he arguably has the right toolkit to be more problematic to Hamilton than Bottas, who is more likely to be there but can sometimes be brushed aside too easily. If a big moment arises, it's Perez who is likely to be the larger threat than Bottas.
Pressure-free Bottas is best placed
Matt Beer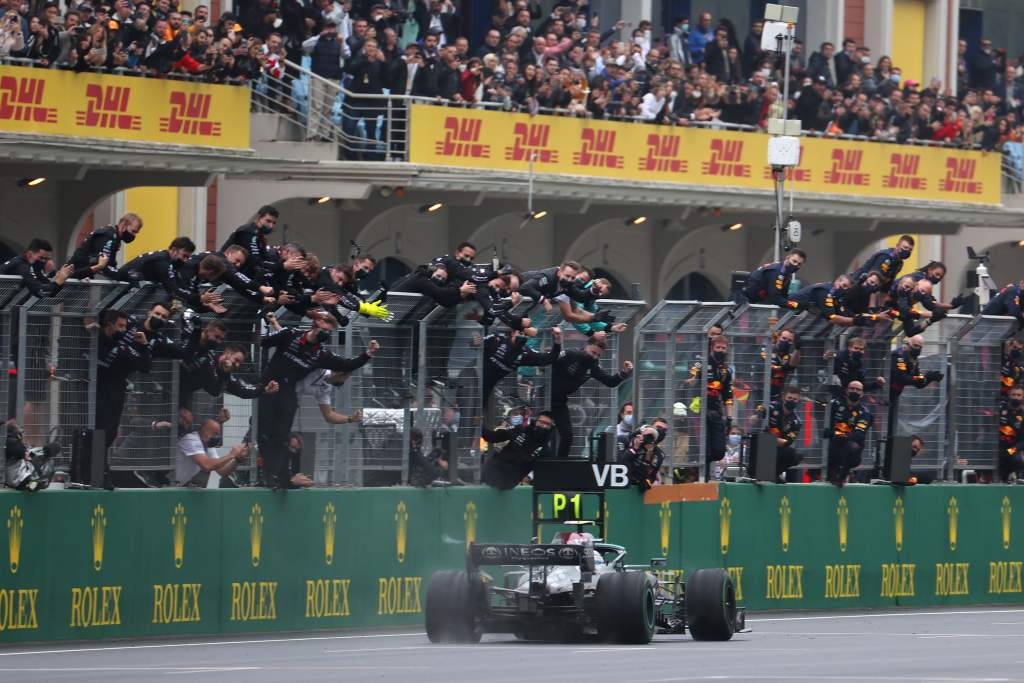 Verstappen and Hamilton are performing at such a high level and are generally so far clear of their team-mates that I can't see either Perez or Bottas becoming much of a deal-breaker in the title fight.
When I pushed myself to pick one, though, my initial gut instinct was that Perez's improvisation and racecraft gave him the better chance to suddenly appear in Hamilton's path out of the blue and do Verstappen some favours.
But to really do that effectively, Perez probably needs to qualify somewhere near Hamilton and he's showing little sign of doing that.
Perez's level is fairly predictable – a disappointing Saturday followed by a great Sunday that may or may not be enough to make up for the underachievement of Saturday depending on how odd the race circumstances are.
Whereas Bottas offers an unpredictable array of peaks and troughs.
He might fold as comprehensively as he did in Azerbaijan and Russia.
Or he might suddenly produce a beautifully-judged dominant drive in ultra-challenging conditions like he did in Turkey last weekend – a year on from one of his most embarrassing Mercedes performances of all in the 2020 event.
And while you'd ordinarily put your money on Perez being the one of the two who'd make an alternate strategy work, think back to the speed Bottas unleashed at Suzuka and Austin in 2019 as he went out of synch with Hamilton and beat his team-mate.
The pressure-free environment of the title being as good as settled seemed to help Bottas on those days. His position is even more nothing-to-lose now. It's a very good time for him to access that higher level of performance that he can on occasion.
Existing relationships will play a role
Gary Anderson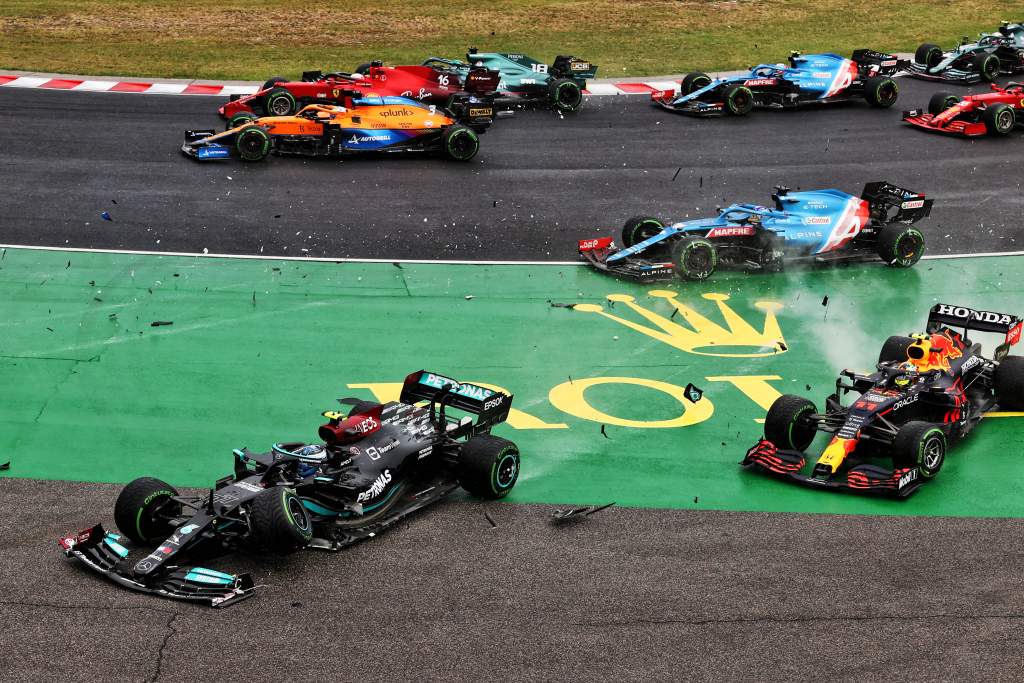 If we are simply looking at the two teams involved in the championship battle, then to state the obvious I think it will be all down to how their individual cars suit the tracks coming up.
Both Verstappen and Hamilton have the talent to lift their performance just that little bit if the car is not as good as it should be, that's why they are fighting for the championship. Perez and Bottas don't seem to have that confidence to – to coin a phrase – 'go where no man has gone before'.
Formula 1 is a team sport, isn't it? However, within that the first rule for any driver is to beat your team-mate, who then becomes your direct back-up and, like engineers, mechanics, anyone in an F1 team, doesn't like being beaten by their counterparts at other teams.
Of the seven drivers' titles that Hamilton has won, for four of these, his team-mate has finished second. The reason I am highlighting this is that if your main competition is within your own team then, as you have the same tools and the same philosophy within the team as far as strategy is concerned, it is easier than if the competition comes from outside.
When the main competition is from outside things get a little tougher. Of the three Hamilton won that weren't a direct battle with his team-mate, a Ferrari driver came second – most recently Sebastian Vettel in 2018, pictured below. These battles are a lot more difficult to predict as each team's development plan and optimisation of the car will vary at different tracks and different stages of the season.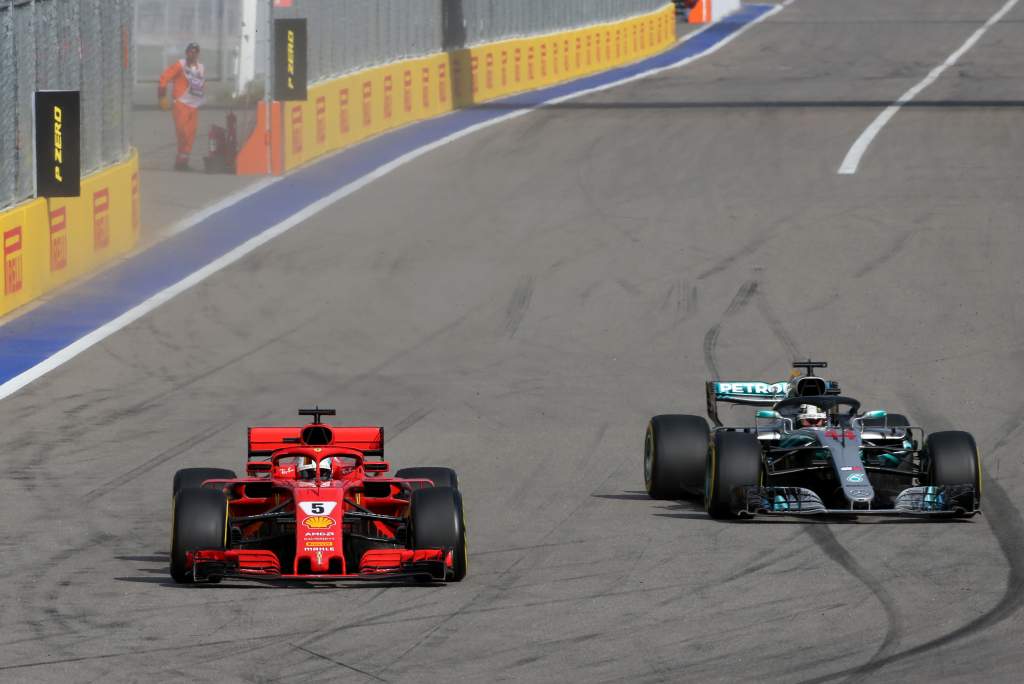 I am pretty sure others will be in a position to affect the outcome, but when the chips are down it will be about who will be Mr  Nasty and, if the occasion arises, act as a blocker as opposed to getting their own best result. That will all be down to past relationships with the two drivers involved and how the teams involved may have treated them in the past.
Of the drivers and teams that seem to have the speed for their paths to cross with the two championship contenders at some time during a race, we have Pierre Gasly, Lando Norris, Fernando Alonso, Daniel Ricciardo (perhaps), Esteban Ocon, Charles Leclerc, Carlos Sainz, and maybe on a good day a couple of others. But they will all be racing for their own results.
Red Bull might expect Gasly to get in Hamilton's way as much as possible, but you reap what you sow. Even if he drives for the sister team AlphaTauri, Red Bull hasn't exactly treated him with the respect he deserves.