McLaren's pace was "quite a long way off" in Friday practice and the team indicated it may struggle more than it expected to at Formula 1's Mexican Grand Prix.
Norris was the lead McLaren but only 12th in second practice on Friday, 1.678s off the pace but more disconcertingly seven places and six tenths behind the top Ferrari.
McLaren and Ferrari are locked in a tight battle for third in the constructors' championship and Ferrari has built strong momentum in recent races, aided by an upgraded hybrid system in its power unit.
The expectation was that Ferrari would have the edge in Mexico but Norris said after Friday practice that it was "turning out to be a bit more difficult than we were expecting coming here" and "our low-fuel pace, even high-fuel pace was quite a long way off".
When McLaren boss Andreas Seidl was asked if this was proving a harder weekend than anticipated, he said "yes and no" but suggested McLaren's was not as competitive out of the blocks as it had hoped.
With both AlphaTauris comfortably in the top 10 in practice is well, Seidl reckons getting both its cars in the points will be "a good result" and that it "will be a difficult weekend for us".
"In terms of track layout and so on we expected to struggle a bit more compared to Austin, for example," Seidl said.
"And then as always, when you come here it is a track that has extra variables with the altitude we have here, and the air being so thin.
"So you need to run a lot more cooling than you normally run to cool components of the car. You run a lot less downforce than you will normally run here despite having the maximum downforce package on the car.
"And it seems that this put us into a window today that we were not as competitive as we would have wished for."
Norris's time loss to Sainz was constant throughout the lap at the Autodromo Hermanos Rodriguez.
The Ferrari was considerably quicker all the way down the start-finish straight and in fact held a higher speed on all of the track's flat-out sections.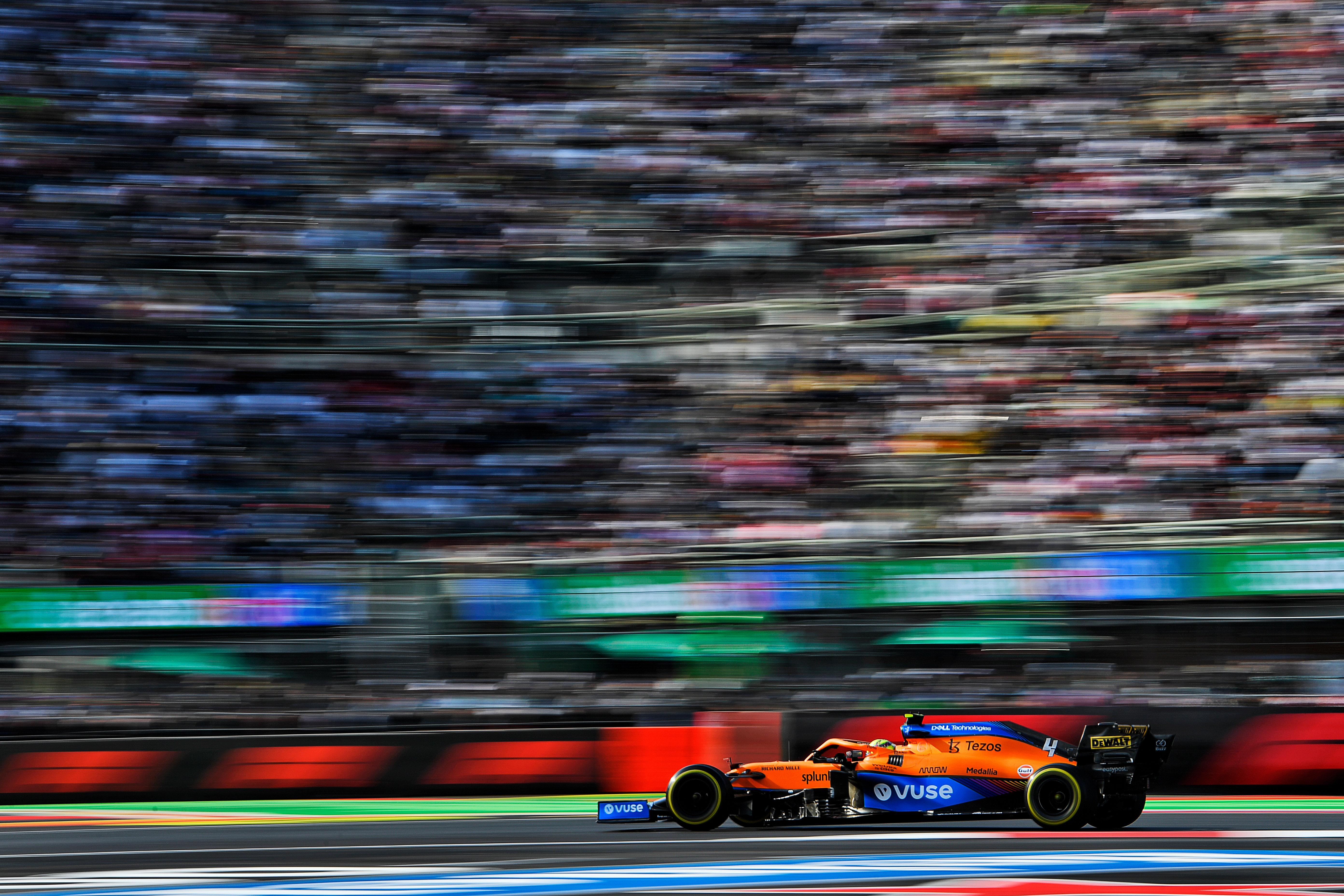 Sainz was also sharper on acceleration and needed less of a lift through the middle of the sweeps in the middle of the lap.
That added up to a deficit of almost 0.7s for Norris and as observed in Mark Hughes' Friday practice analysis, Norris was also shipping three tenths a lap on average across the two drivers' respective six-lap high-fuel runs on the medium tyre.
Some of that could be explained by fuel loads and engine modes but Norris admitted: "Considering how much time we've got to find, I hope it's not just a small thing and we can find something a bit bigger.
"But it's also not an easy thing to find a lot of laptime.
"I've got faith in my guys, we'll work hard and we'll try and find something.
"We found a good step or direction to go. We just need more of it for qualifying."