When Sergio Perez swapped to fresh medium tyres in the late Miami Grand Prix safety car period and rejoined still fourth and with all three cars ahead on very old hards, an out-of-the-blue Perez Formula 1 victory charge suddenly looked plausible.
Well, perhaps not victory: even at this early stage of the season, it's unlikely Red Bull would've wanted him passing team-mate Max Verstappen for victory.
But given the tyre advantage and Perez's traditionally feisty racecraft, the Ferraris of Carlos Sainz and Charles Leclerc just ahead certainly looked vulnerable.
The charge never came, though, and that was because Perez's engine had never returned to full strength after an early problem.
Asked if he had thought victory was on when he lined up for the restart, Perez replied: "I think with a normal engine we would have had a chance, definitely", saying he was "in a great spot".
Team principal Christian Horner admitted Perez's car came "very close" to retirement with the problem.
Perez had been pressuring Sainz for third in the first stint until the problem hit and he suddenly dropped 4s off his previous pace, amid slight comedic radio exchanges in which he insisted he had a significant problem and the team initially argued his loss of straightline speed was just due to dropping out of Sainz's slipstream before realising the real issue.
"He had an issue with a sensor on one of the cylinders, so he was lost a lot of time," Horner explained.
"The guys managed to move the sensors around but he was down probably 20kw in power as a result."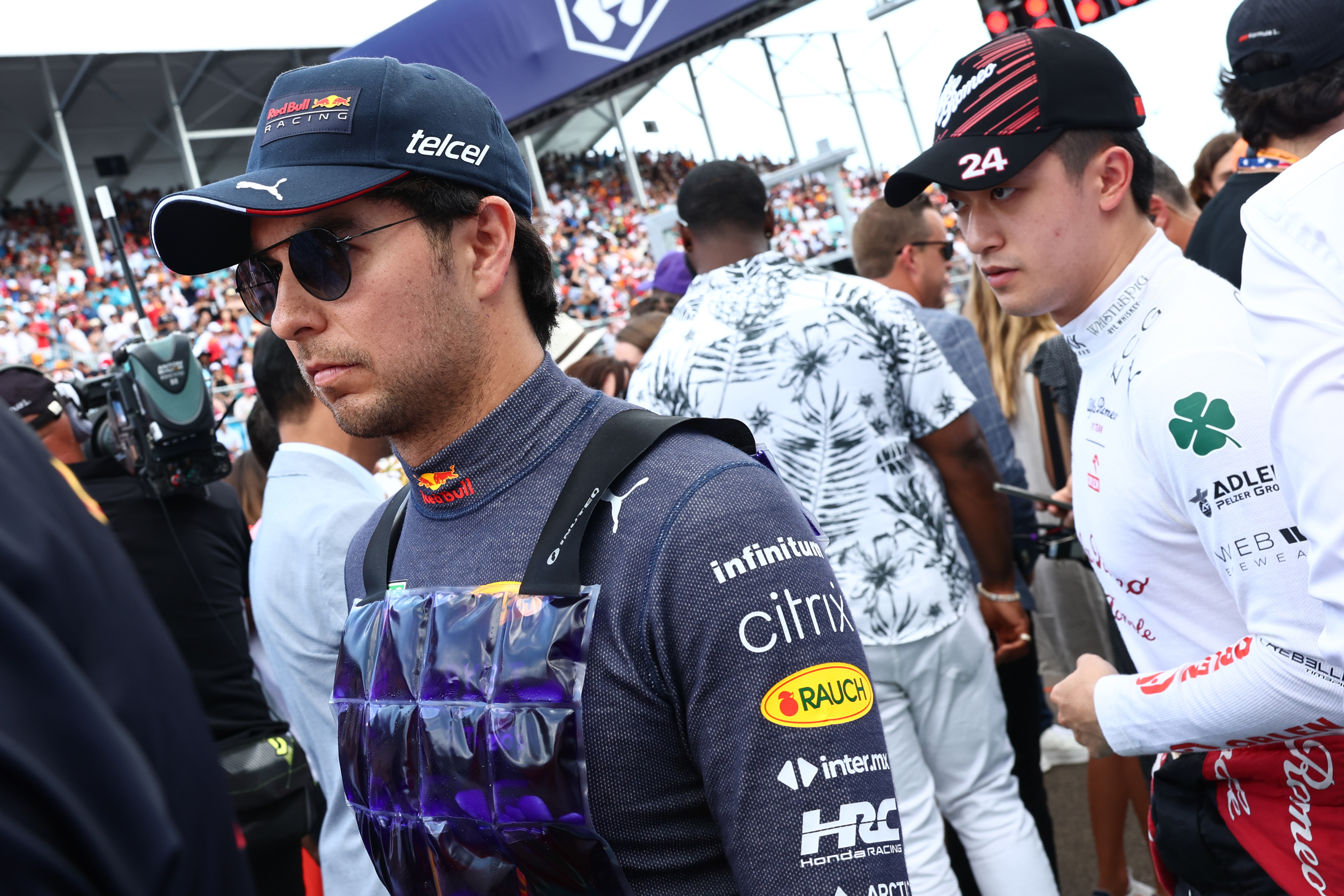 Perez agreed: "It was never the same. I was losing too much time. It was like 10km/h down on the straights."
It took a few laps for Perez's pace to stabilise after Red Bull's fix, and coupled with Sainz picking up his lap times in the same period Perez went from being within DRS range of the Ferrari to running 8s behind. That left him too far back to benefit from Sainz then having a slow pitstop.
The continued issue then gave him little to fight with when he could've been charging up the order at the end on his new tyres.
"Even with the advantage of the new tyre he had, he was probably half a second off what the car was capable of in straightline speed," said Horner.
"And I think without that, he would have probably even been P2."
Perez did briefly manage to get ahead of Sainz with a bold lunge at Turn 1, but he ran wide and lost the place again.
"Even with the DRS I couldn't get close to Carlos," Perez explained.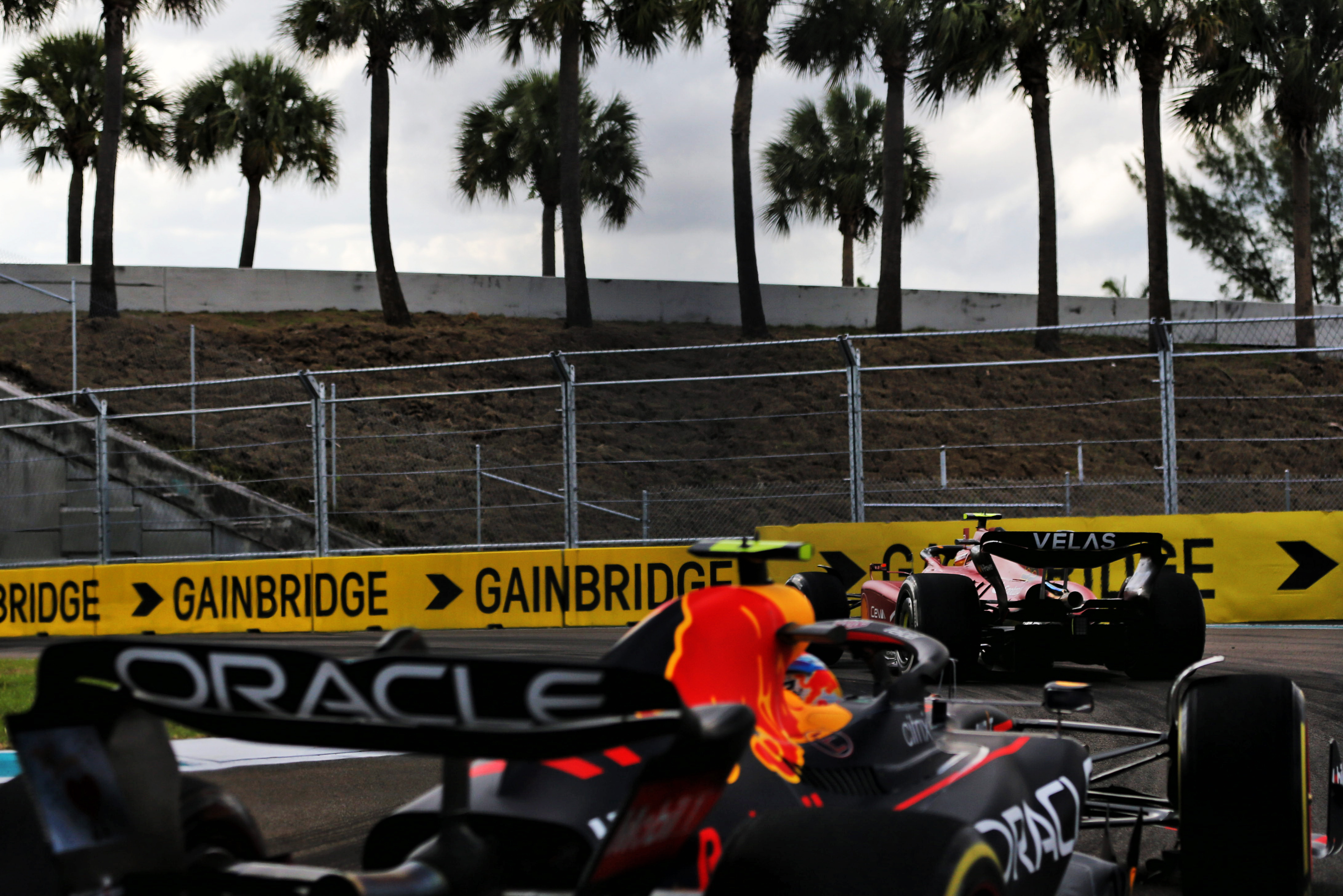 "The deficit on the straight was quite high and I was just pushing really hard to stay close to him on the corners.
"My tyres were overheating so as soon as I had a little opportunity I went for it.
"It was too dirty off-line and after that, I couldn't get close. The deficit on the straight line was big."
Reliability has continually disrupted Red Bull's 2022 season, with both cars retiring late in the Bahrain GP, Verstappen doing so again in Australia and then having multiple problems on Friday in Miami that cost him much of his practice running.
With Honda officially pulling out of F1, Red Bull has taken over responsibility for its engines but with continued maintenance support from Honda Racing Corporation in Japan.
"It's not particularly fragile, I think there have just been niggly things that you would have normally seen in pre-season testing that have only reared their head as we've gone into the season, so that's been frustrating," said Horner of the car's problems.
"But we're working closely with HRC and they're giving us great support so we'll get those ironed out."
Perez added: "We need to keep working hard because every time we find different issues and luckily we managed to finish the race.
"I think at one point it was really close to being over. To be able to finish the race is good."