George Russell has an advantage few drivers have ahead of a first Formula 1 season in what should be a frontrunning team.
He's been there before.
That famous one-off outing for Mercedes in the 2020 Sakhir Grand Prix not only gives Russell a headstart, but also gives the watching world an idea of what to expect.
Russell's call up followed Lewis Hamilton testing positive for COVID-19 after the Bahrain Grand Prix.
That left Russell little time to prepare after being parachuted in from Williams. While he had experience of testing Mercedes F1 machinery stretching back to 2017, the first time he drove the Mercedes W11 was when Sakhir GP FP1 started.
What was immediately clear was his professional approach to the weekend. Not only did he take his characteristically rigorous approach to preparing for the event and learning everything he could about the car, but he also set so high a standard for himself to hit that it almost seemed unrealistic given how difficult the scenario was.
That ensured he went into free practice at the short, sharp Bahrain Outer circuit as well-prepared as he could be. And he did so in full knowledge of – and with the pressure exerted by – knowing how important his performance could be in dictating his career path.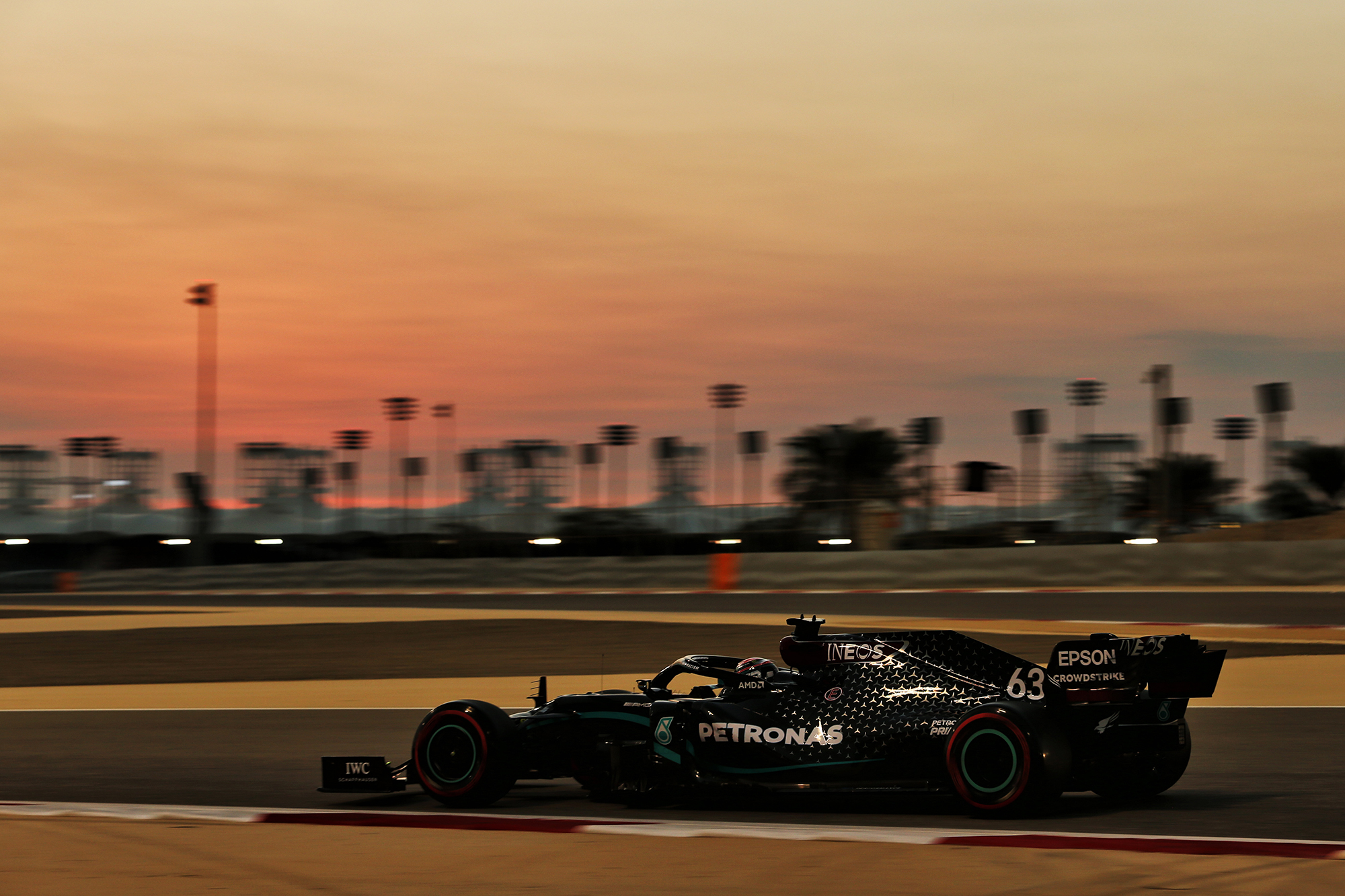 The unusual circuit was an advantage for Russell as while he hadn't driven all of it, a quick lap lasted less than 55 seconds and featured only four rear corners/complexes. That simplified his task.
Remarkably, he qualified just 0.026s off team-mate Valtteri Bottas. While it's impossible to extrapolate from that how he would have compared to Hamilton, Bottas's qualifying record was strong and he knew the car inside out after a full season of racing. But the fact Russell lost far more than 26-thousandths in the first corner showed what might have been possible had he mastered the Turn 1 entry on his best lap.
After qualifying, Russell referred to the "muscle memory" from driving that corner for Williams the previous year being difficult to overcome. But reflecting on that weekend and what he learned in a group interview participated in by The Race, he talked about his Turn 1 problems in particular.
"One big learning is that every car is different and what held me back actually with Mercedes were the limitations at Williams," said Russell.
"So in the Williams you couldn't brake late and turn the steering wheel at the same time – so that combined braking into the corner – because your car wouldn't be able to handle it.
"I'd often lock a tyre or lose a wheel so you would find yourself braking a little bit earlier to try and keep the car under control as you approach the corner.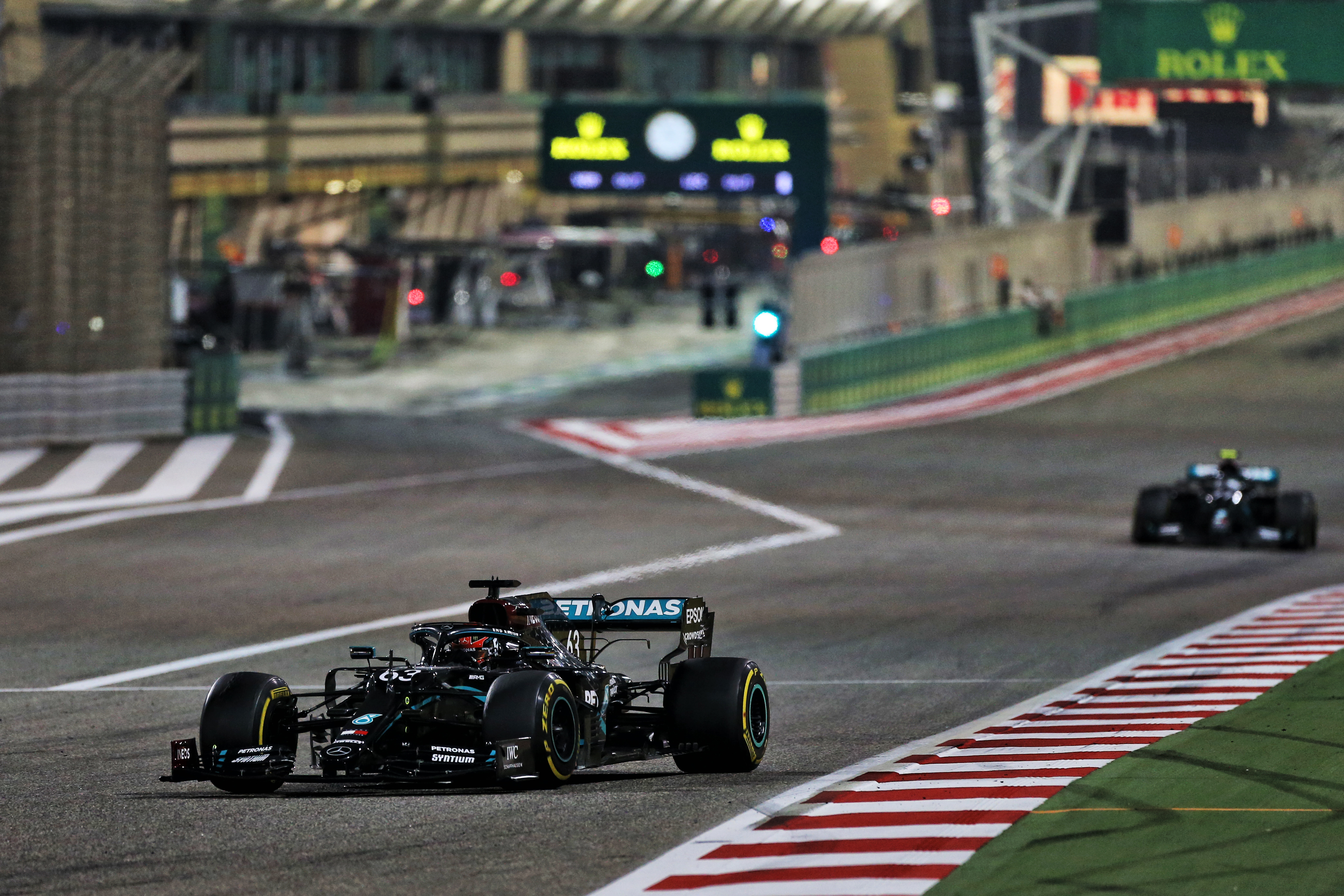 "The Mercedes was so robust you could afford to brake so late and carry your speed into the corner and be aggressive. And that took me time to understand and it was actually only maybe halfway through the race that I was able to match Valtteri at that corner. Every lap I was losing at Turn 1 because I just didn't know the car was capable of that.
"So I went back to Williams knowing that I can't drive a Williams as I drove a Mercedes. That was a really great experience [in terms of] what I can do to improve my driving – and actually learning to deal with a loss from a victory.
"That was the first time in my Formula 1 career where I felt that pain of losing out on a victory and trying to bounce back from that. I'm sure it won't be the last time."
As Russell referenced, the race itself went remarkably well. Amid questions about his ability off the line, he aced the start and jumped Bottas to take the lead.
He controlled the first stint well and completed what should have been his only pitstop without making a mistake. Any question that he might be overawed by being at the front was answered emphatically – he absolutely looked the part as a frontrunning grand prix driver.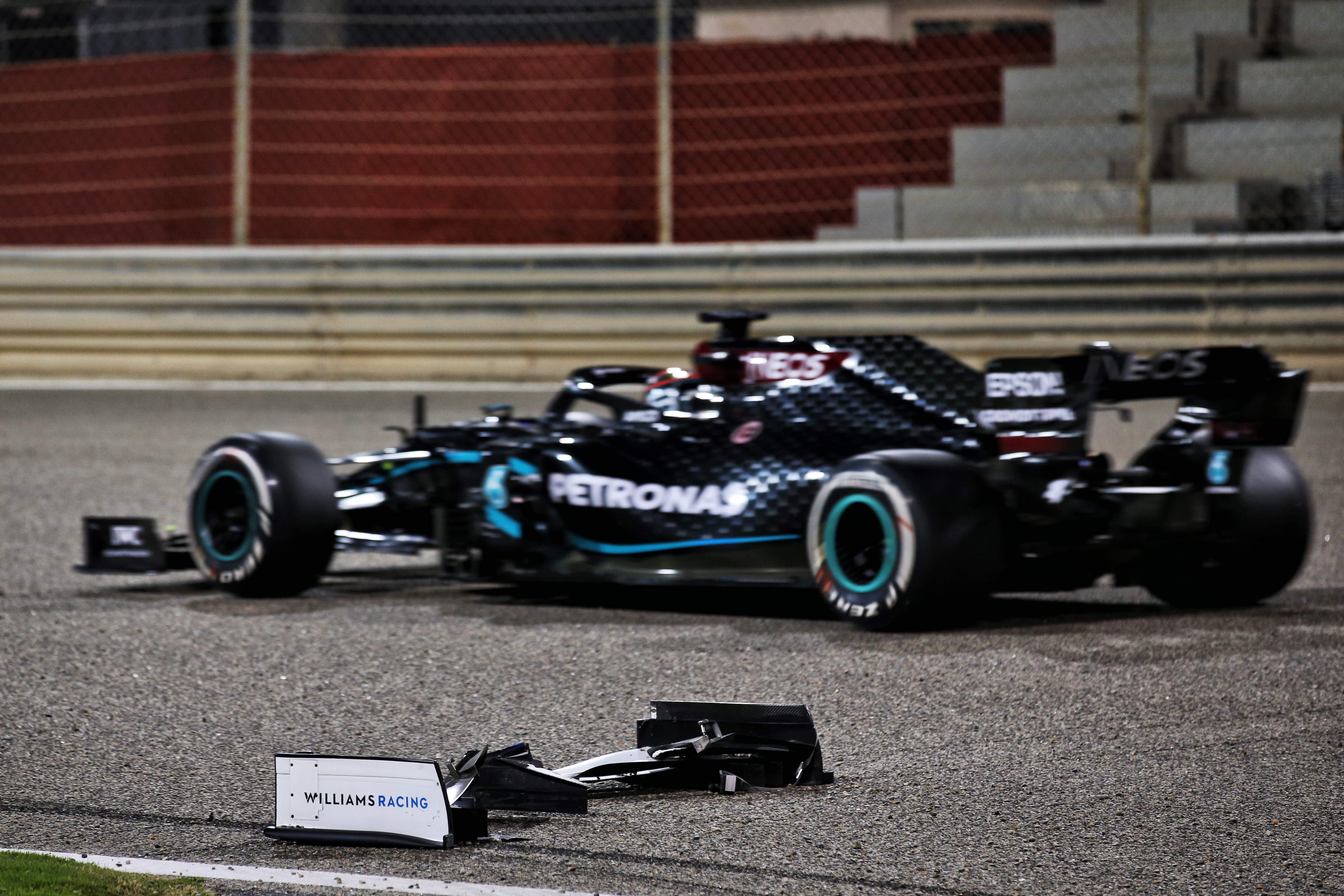 But when Jack Aitken, filling in for Russell at Williams, spun at the final corner and wiped out his front wing it resulted in the safety car being deployed. A problem with radio communications led to confusion and Russell being sent out with a set of Bottas's front tyres on his car – a mistake that also cost Bottas, who queued behind him and had to return to the race without a change.
Russell returned to the pits immediately to rectify the mistake, but took the restart in fifth behind Bottas. This was the phase of the race when he showed that he couldn't just lead from the front, but was also able to make things happen.
His pass on Bottas into the Turn 7/8 chicane was an opportunistic and brilliantly-executed one. While he did have a grip advantage over his team-mate thanks to fresh rubber, it was a big moment for Russell who will have known exactly what was at stake. An Imola 2021-style collision with Bottas would have been a disaster.
Russell climbed to second and was within sight of leader Sergio Perez's Racing Point before suffering a puncture, forcing another pitstop. He finished ninth, also taking the bonus point for fastest lap. Effectively, he had already won the race once, and was on his way potentially to doing so again when he suffered the puncture.
The Sakhir GP was just one race for Russell and you can't draw any definitive conclusions that will automatically translate into his first full season with Mercedes. But he was completely comfortable at the front and showed beyond doubt that he was already capable of winning a grand prix.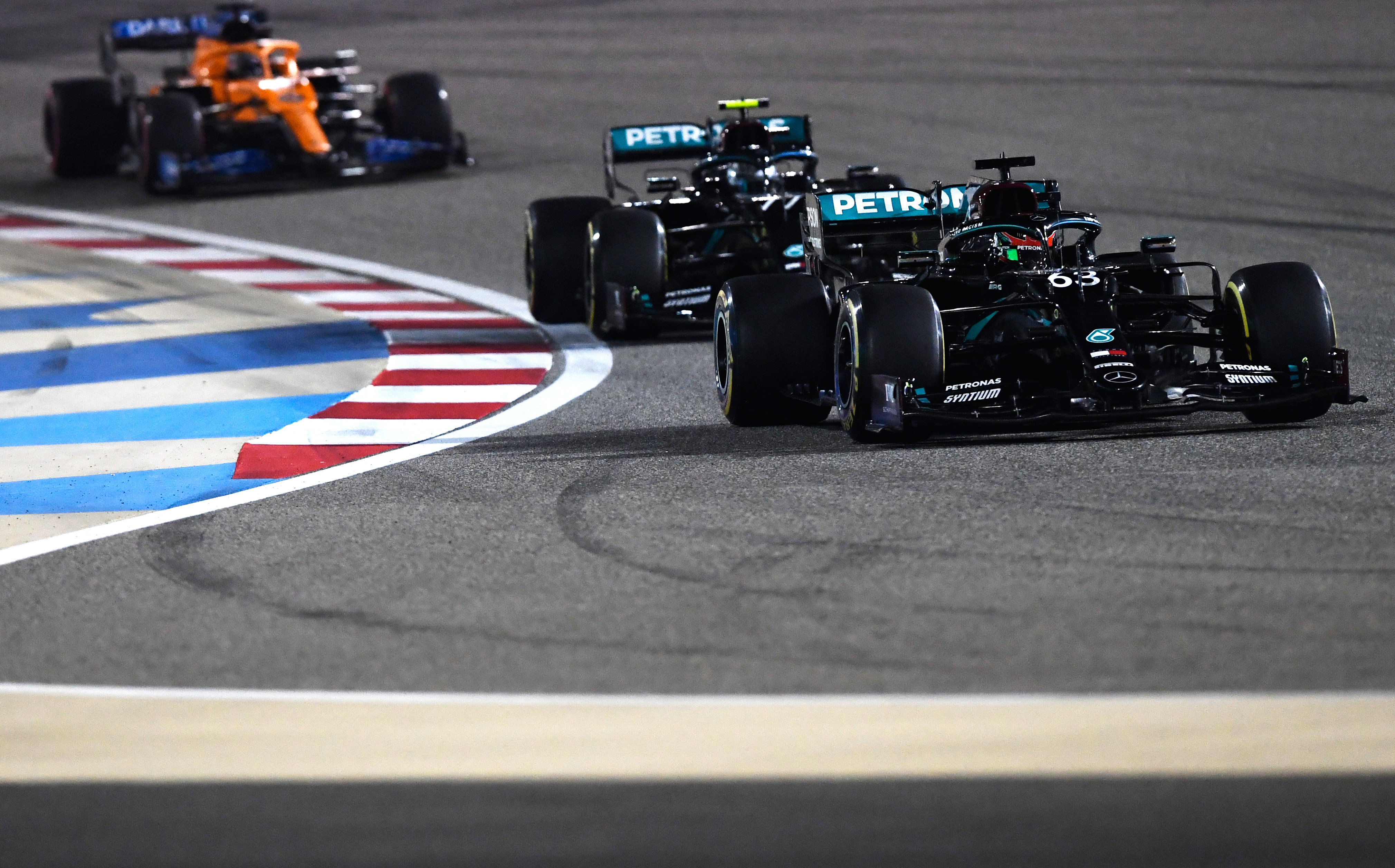 Yes, he was in the best car, but as has been shown time and time again, being dropped into an unfamiliar machine – especially one that your feet don't fit in properly – is no easy task. Crucially, that's where his off-track technical ability and willingness to learn played a part.
It was notable that during the race he was eager to soak up every piece of information from race engineer Pete 'Bono' Bonnington – even asking to be talked through the procedures under the safety car. Being able to absorb live feedback and information when in an unfamiliar environment shows his mental capacity.
That's indicative of a driver who is not only fast – something Russell has proved beyond doubt during his three seasons with Williams – but also capable of mastering the more cerebral side of grand prix racing. In fact, he relishes that aspect of the game, which will be essential with all-new cars in 2022.
"I am looking forward to being part of the development of a car that will be progressing drastically throughout a season, so working with the designers, working on the simulator, putting lots of work in to progress," said Russell.
"I am sure it won't necessarily be who is quickest at race one will win, it will be who races fastest. There will be some interesting designs out there and might be some underdogs who prevail in the opening tests or races.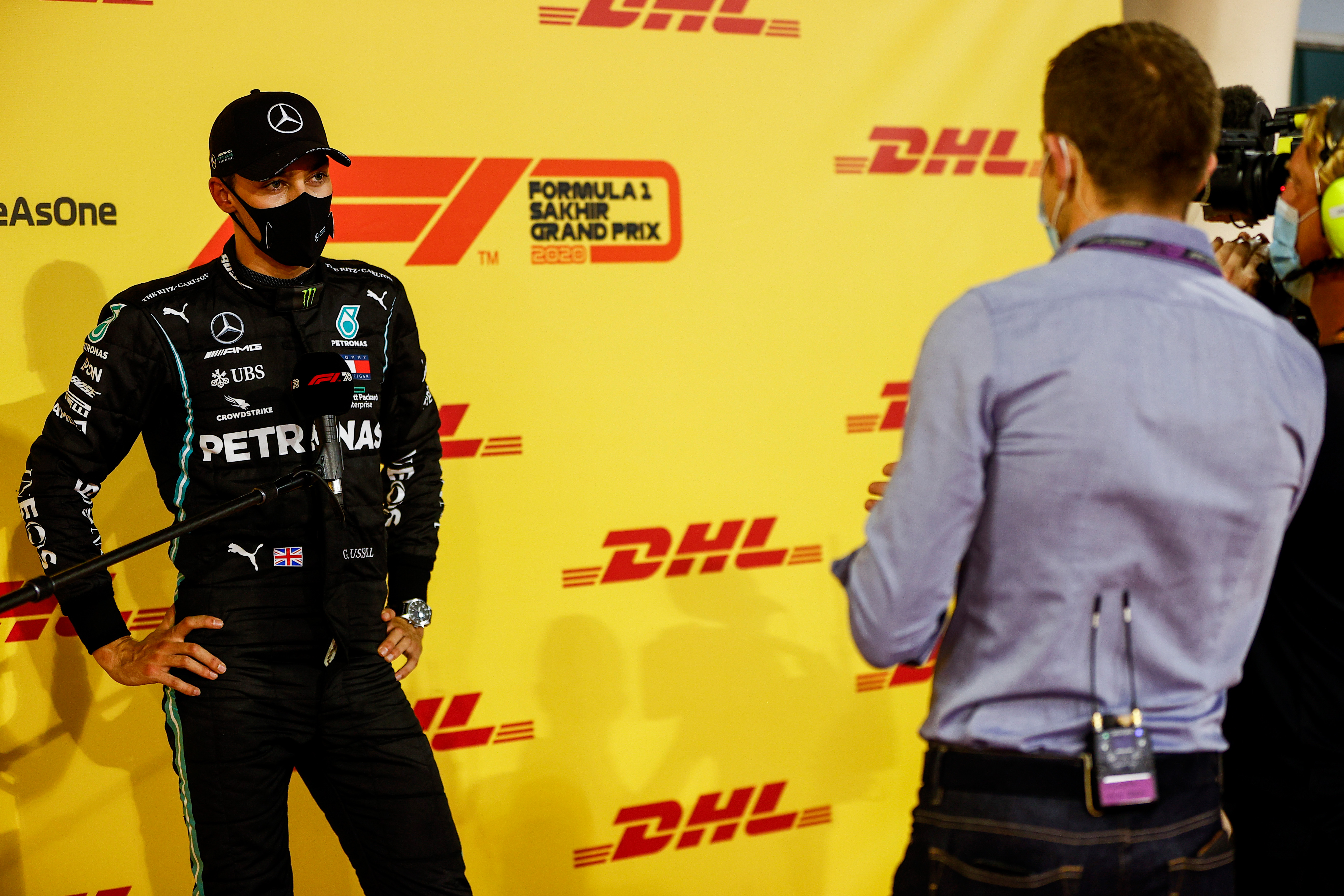 "It is whoever develops the fastest, whoever develops the best and to build those foundations for the coming years. That is a side I am really excited for from an engineering perspective.
"And then teaming up with Lewis is obviously incredibly exciting and I am in a privileged position to be in to go alongside the best ever, it is an amazing opportunity to again progress myself as a driver and see how I fare."
Taking on Hamilton over a full season amid high expectations is a different scenario and Russell goes into 2022 with his eyes open. But he's already proved beyond any doubt that he's capable of running at the front in F1 – and he's built up another season of experience in F1's midfield with Williams since that one-off outing.
The question that will be answered at least partially in the coming season is whether he can fulfil his potential and prove himself to be capable of being not just a race-winning driver, but one capable of winning a world championship.
If he picks up where he left off back in 2020, it could be a very big season for the 23-year-old.