Formula 1 2022 is offering us the first glimpse of not just one, but two potentially era-defining rivalries.
It's been all Max Verstappen versus Charles Leclerc so far, a contest that's been brewing since karting but had been paused as their F1 rises took different routes.
The Spanish Grand Prix was the first look at Verstappen versus George Russell too, another battle last seen in their karting days, when the Red Bull arrived on the Mercedes' tail after its early trip through the gravel and eventually had to change strategy to get past – thanks to the combination of Verstappen's DRS glitches and Russell's dogged defending.
Though Verstappen arrived on the F1 grid four years before Russell, he's only four and a half months older.
But whereas Verstappen made that remarkable leap into F1 as a teenager with just a single season of car racing behind him, Russell followed a more traditional path.
They both graduated from karts in 2014 but Verstappen went straight to European Formula 3 and then to F1, whereas Russell won BRDC British F4 in his first car racing season but then spent two years in European F3 before the consecutive GP3 and F2 titles that really gave him momentum, followed by three years of proving himself at the back of the F1 grid with Mercedes customer Williams.
Ironically that's probably the kind of path Mercedes had in mind for Verstappen when it was trying to woo him in 2014, when it lost out to Red Bull's offer of instant F1 gratification via Toro Rosso.
The Spanish GP wasn't really a straight Verstappen vs Russell head to head in the vein of Verstappen and Leclerc's battles so far this year. The Mercedes still isn't that competitive, and Verstappen's intermittent DRS was a significant handicap even in the 2022 rules.
But it was a tantalising hint of what should be to come.
---
The Race's verdict
Scott Mitchell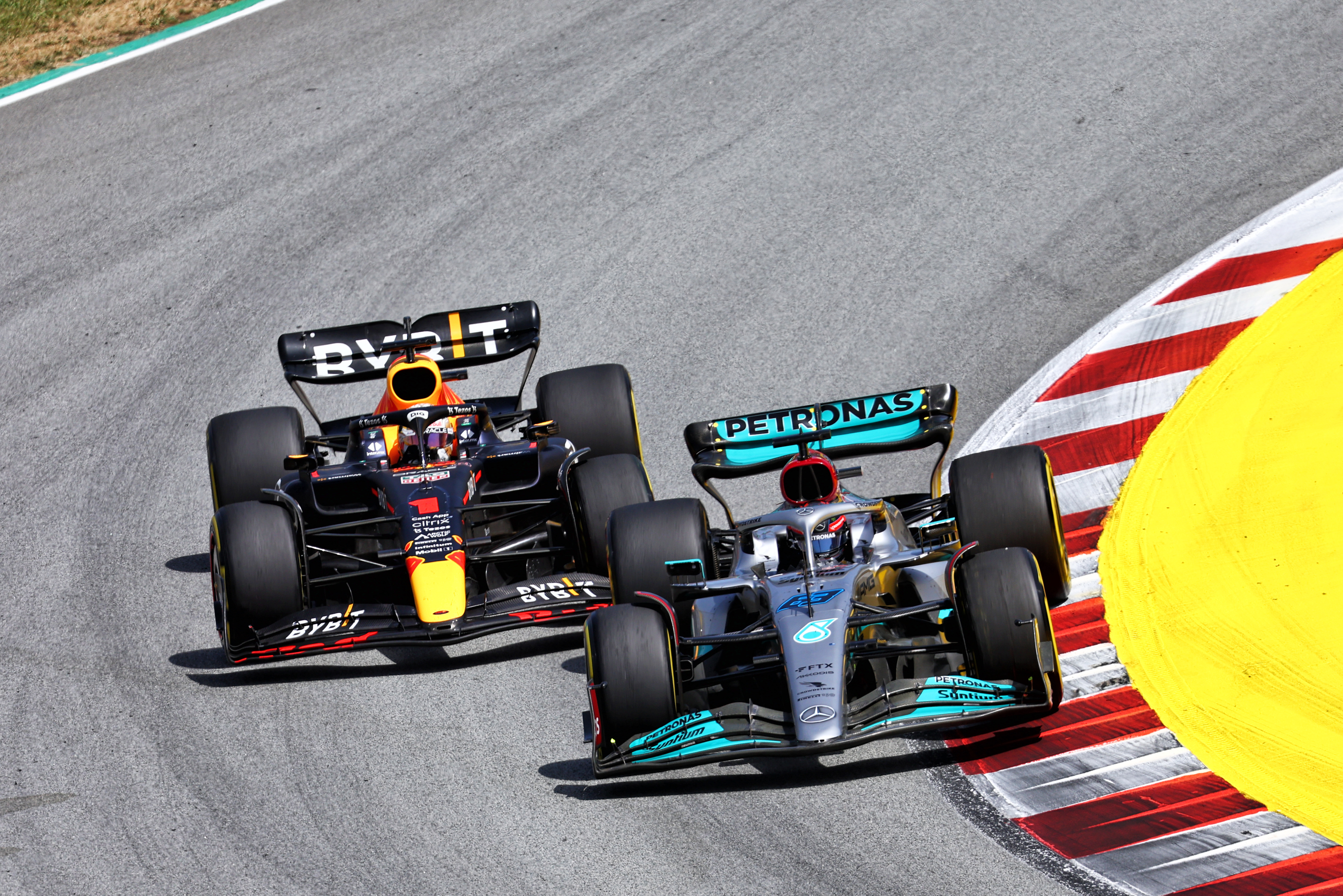 In the first five races Russell showed good maturity, consistency and opportunism to do a very good in difficult circumstances. He adapted to life at Mercedes as well as could be expected in a more challenging situation than he'd have initially hoped for.
As the car gets quicker, though, Russell's task switches from raising the basement of his and Mercedes' performance to raising the ceiling. While he seemed to lack the same race pace as Lewis Hamilton at Barcelona, Russell showed a different side of a top driver's make-up that will be crucial to him being a more consistent frontrunner than his predecessor Valtteri Bottas.
Where Bottas was too easily brushed aside in battle, Russell showed in Spain that he is up to the task and capable of going wheel to wheel with the best of them. To take on Verstappen the way he did, be aggressive and not be bullied, was fantastic.
It looked like a matter of time before Russell's defences were breached, sure, but with the way the Barcelona circuit is and Verstappen's recurring DRS problem Russell had a chance to hurt Verstappen's race and maybe, just maybe, beat a Red Bull or two.
He was a bit unfair through Turn 3 – Russell said afterwards the rules say leave a car's width and that's what he did, but he didn't really. However, there was enough room on the outside and it's fast enough with just enough grip that it's just about OK, and the stewards let it go. It was hard racing, just about fair.
What I really liked is that it was preceded by a bold move and good car positioning. There was a point in this fight, when Leclerc retired, where Russell was actually fending off Verstappen for the race lead. And he didn't looked overawed by the occasion.
Was he ever really going to win? No, probably not. But as a driver he looked absolutely capable of it.
---
What they made of the battle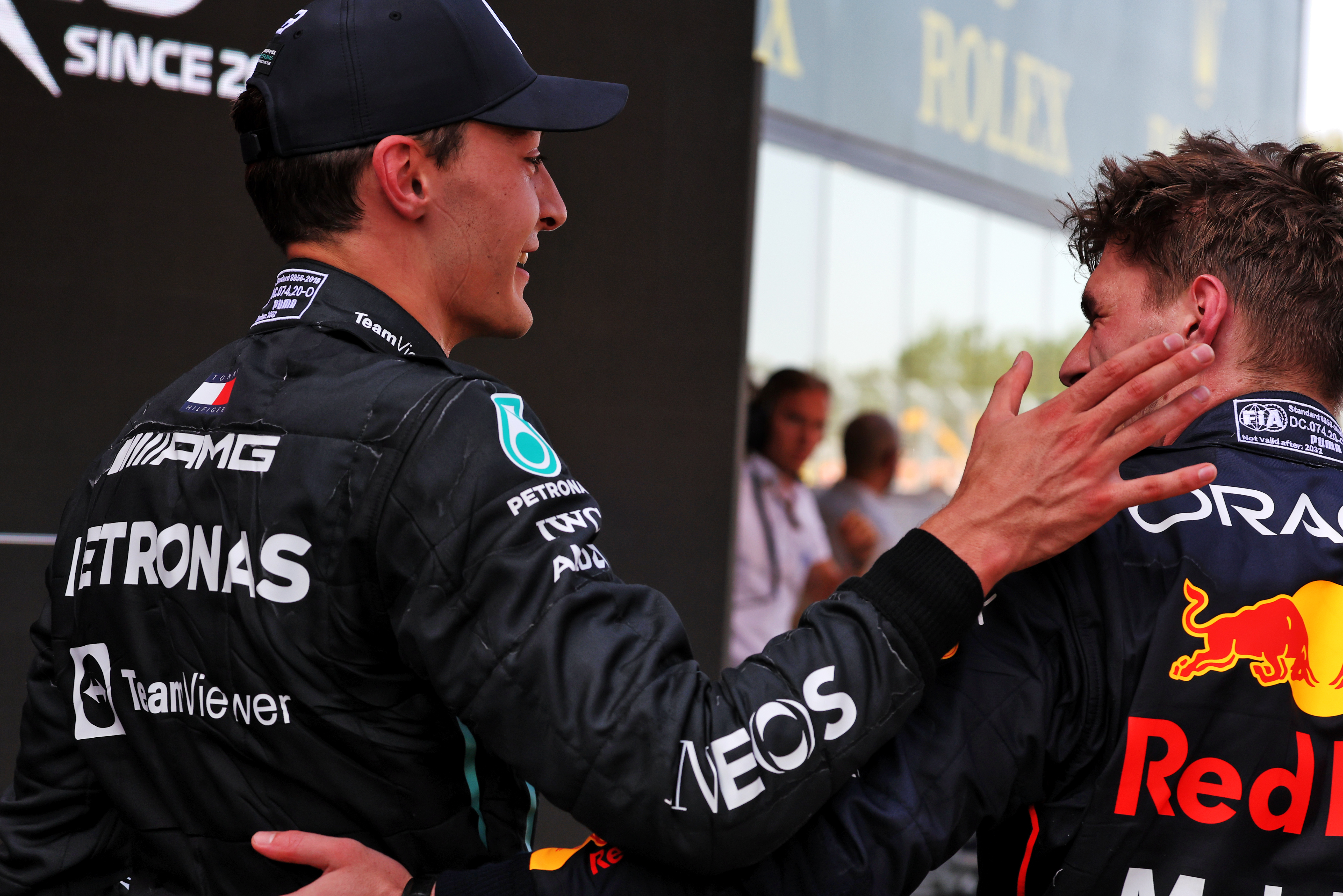 "We didn't make it easy for him, put up a bit of a fight," said Russell, who even managed to repass Verstappen around the outside of Turn 1 the only time the Red Bull did get ahead on the way into the corner.
Though Red Bull warned Verstappen to "look out for Russell, because he is moving a bit in the braking zone" and the stewards did briefly look at their closest moment, Verstappen had no complaints.
"He was defending for his position, which is fair enough," he told Sky.
"It was hard and tough, but I probably would have done the same if I'd been ahead so it's all good."
When he realised that it was the moment at Turn 3 where Russell held him out wide that might have attracted the officials' attention, Verstappen said: "Ah, Turn 3, because of leaving one car width? Yeah, luckily nothing happened. There was a bit of grip on the outside, so I'm OK with it.
"I think it was hard racing. And of course, I went around the outside but I'm also in the blind spot of George, so I think he didn't even really notice where I was exactly, right?
"Well, for sure you knew that I was there, but it's always hard to fully give a car's width there because it's a fast corner, you're drifting wide.
"So if I was in George's position, I would have probably done the same, so it's just how we are."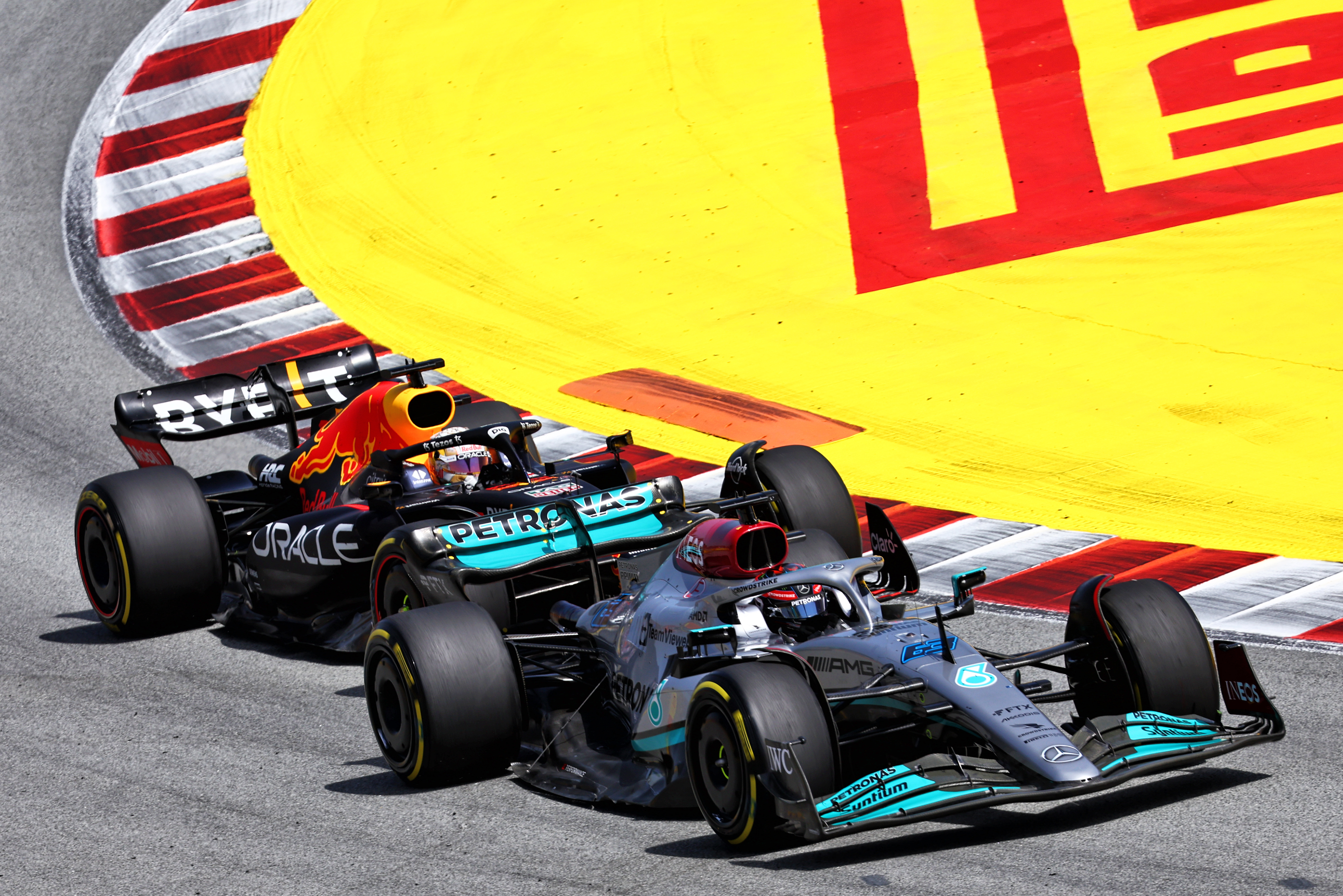 Russell felt the fact the officials even thought it was worth their attention showed that the drivers and the new FIA regime are still learning about each other.
"I think it's important that we are allowing this hard, fair racing and the rule is to give a car's width and that was what was done and I think there was still a wheel on the track from Max," he said.
"It's a little bit difficult at the moment. We've obviously got the new stewards in and it's very difficult for everybody, and trying to understand each other, what we feel like is required from the driver's side, and what they expect from us as well, and it will just need this open dialogue.
"But I wasn't even aware they were looking into it, to be honest, I thought it was hard and fair racing."