Heading back to the same track it was on the receiving end of its most comprehensive performance deficit of the Formula 1 season seems a daunting prospect for Mercedes.
Red Bull's fourth victory in a row, a comfortable win for Max Verstappen, was the conclusion to a Styrian Grand Prix weekend in which for the first time this season there looked to be clear daylight between the Red Bull and the Mercedes.
With Mercedes trailing in both championships, staying at the Red Bull Ring for a second race in a row is not the brightest outlook for the world champion team.
"It feels like two three tenths a lap," says Valtteri Bottas of the Red Bull advantage. "It's actually quite a lot.
"They have a strong power unit, they have a strong car and it feels like they are a bit better with the tyres.
"Definitely once the season goes on, we have work to do. And of course in one week, we can't make any miracles.
"But we'll try to learn from this week and hopefully we can be in at least a little bit better place."
All this in the context of a Mercedes not being developed in the same vein as the Red Bull – even though team boss Toto Wolff seemingly ruling out any more upgrades in 2021 was not quite the full story, given chief technical officer James Allison has clarified that to mean live development and that new parts that have previously been approved are set to be introduced.
Will any of those new parts be seen this weekend? We don't know. It seems unlikely as Allison just said they'll be implementing improvements soon.
So, assuming it's the same hardware in use at the same track, against the same opposition, you can see why Mercedes is facing, on paper, challenging circumstances.
No grand prix is won on paper, though. And even though Mercedes can't work miracles, it can expect the Austrian Grand Prix to be a different affair to its Styrian predecessor.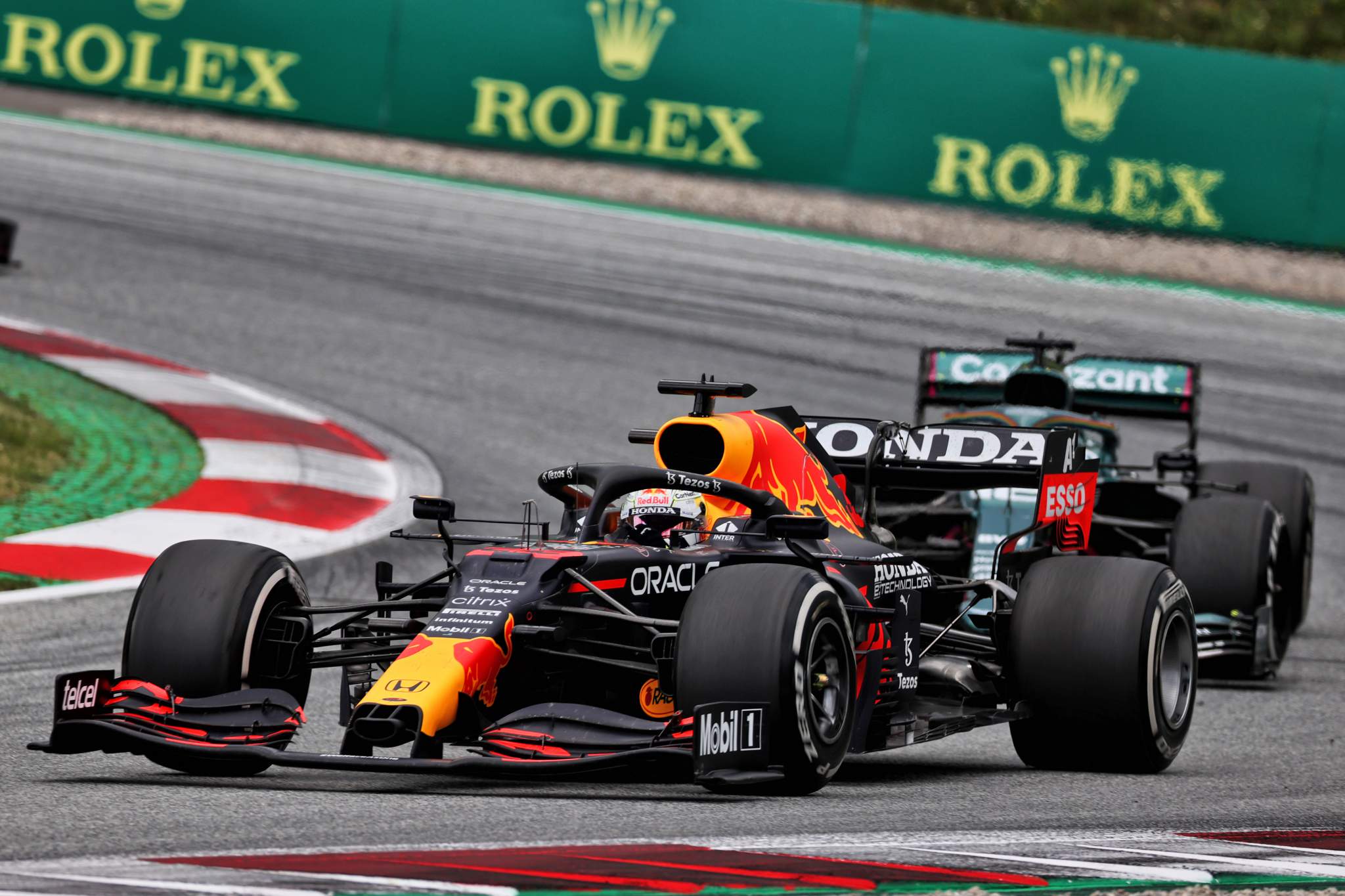 The first factor is something Verstappen himself is aware of: "People will learn from what they didn't do so well last week."
For the first Austrian weekend Mercedes tried a larger rear wing as part of what trackside engineering director Andrew Shovlin describes as a "fairly wacky direction with the set-up".
Whatever Mercedes did, it was in the interest of widening its slightly precious W12's working window. Shovlin says the team was "going further than we've ever really gone".
But he adds that it may have made the car a bit better over a single lap while inadvertently hurting its tyre degradation, given the Red Bulls had a pace advantage in qualifying but then superior management in the grand prix as well.
That is what Mercedes was seeking to establish at the start of this week – and hints at how the package may be further optimised.
So, the conclusion to its analysis may go a long way to determining Mercedes' competitiveness this weekend. And its limited Friday running time will surely be spent putting its post-Styrian GP hypotheses into practice.
"One big area is understanding the set-up departure that we've taken and whether that's made life more difficult for the rear tyres on the long run," Shovlin says.
"Some of that we can just do by data, but we'll see whether there's work that will carry into the Friday of the race weekend."
Friday is more complicated than just taking last week's car and trying a few new things, though.
There are also specific new challenges about the Austrian GP that, while making the weekend more complex, should give Mercedes greater hope of avoiding a carbon copy of last weekend.
Pirelli is bringing one step softer compounds, which is another significant variable change, and a certain amount of FP1 will have to be dedicated to trialling a new, more robust rear tyre that Pirelli wants to race from the British Grand Prix for safety reasons.
"A one-stop was possible on the two hardest compounds but that may be more challenging as we go into the Austrian Grand Prix," says Mercedes strategy chief James Vowles.
"Further to that we've got some new tyres on Friday. These tyres will come in for the Silverstone Grand Prix but this is our opportunity to evaluate them.
"It will be a complicated programme making sure we do enough work for the future, for the Silverstone grand prix whilst also completing work for the Austrian Grand Prix.
"That will pose a challenge but also it will pose an opportunity. It means that the same conditions won't be repeated as they were just one week prior to that."
In addition to factoring in its ideas to improve the car from last weekend, Mercedes will need to think on its feet and react to the realities of new variables, including the potential for considerably different weather than a few days ago.
It adds up to a few significant factors – Mercedes' set-up direction, the tyres, and the conditions – creating a different challenge.
"That's why it's fair to say that the Austrian Grand Prix may not necessarily produce the same results," says Vowles.
"There is enough difference, enough change, that opportunity can present itself."
And when the battle at the front has been as close as it has so far this season, that might be enough to swing the circumstances more towards Mercedes, potentially eradicating the Red Bull advantage. Or at least reducing it.
"We're not looking for massive margins," Shovlin says.
"We were down by a couple of tenths in the race and there was a bit of degradation but the solution to both those problems might be the same thing – trying to get the rears running a bit cooler and look after the rubber a bit better, and you may find both of those things come our way.
"So, we'll focus on those areas, and it'll just be a case of seeing if we can come back a bit stronger."
It may be that the Red Bull simply has a baked-in advantage for this track. Or that it has taken a genuine step forward that has nudged it clear of the Mercedes everywhere. The full picture will only be seen in the coming weeks and races.
However, it's clear that upgrades are not the only way Mercedes believe its car performance can be improved.
And there's enough difference in 'Austria Part 2' to believe Mercedes doesn't have to work miracles to be in victory contention – even when returning to the same track just days after a clear defeat.