When Fernando Alonso suffered his Melbourne Turn 11 hydraulics failure-induced crash in Q3, he'd just set the fastest sector two time of all, having set a very competitive first sector time.
"The gearbox was not working anymore and the engine also switched off and the power steering switched off," he explained.
"I think that's something we need to investigate when the car is back.
"It is unbelievable how unlucky we are. Twenty seconds later, maybe we were on pole. If the car stops in Turn 1 instead of Turn 11. These three races are difficult to explain."
Alonso is out of the car and appears to be okay 👍

He had just set the fastest middle sector of all, but his crash pauses the clock with seven minutes to go #AusGP #F1 pic.twitter.com/PcmbC3dOgG

— Formula 1 (@F1) April 9, 2022
Asked if the Alpine had the pace for Australian Grand Prix pole today, Alonso gave an unhesitating, "Yes."
But there's probably an element of propaganda to that.
All weekend, the slow corners of sector three have seen the car at its least convincing. Typically, it was dropping over 0.3s to the Ferrari through there. Even Alonso at his acrobatic best was unlikely to have made that up.
Sector two is the flat-out run between Turn 6 and the approach to the fast Turn 9. It's where straightline speed buys you lap time. Sector 3, once through the fast 9-10 chicane, is all slow twists and turns. Sector 1 has a mix of both. The Alpine is very quick on the straights, respectable in the corners. But it's not in reality a pole-contending car. Not yet, at least.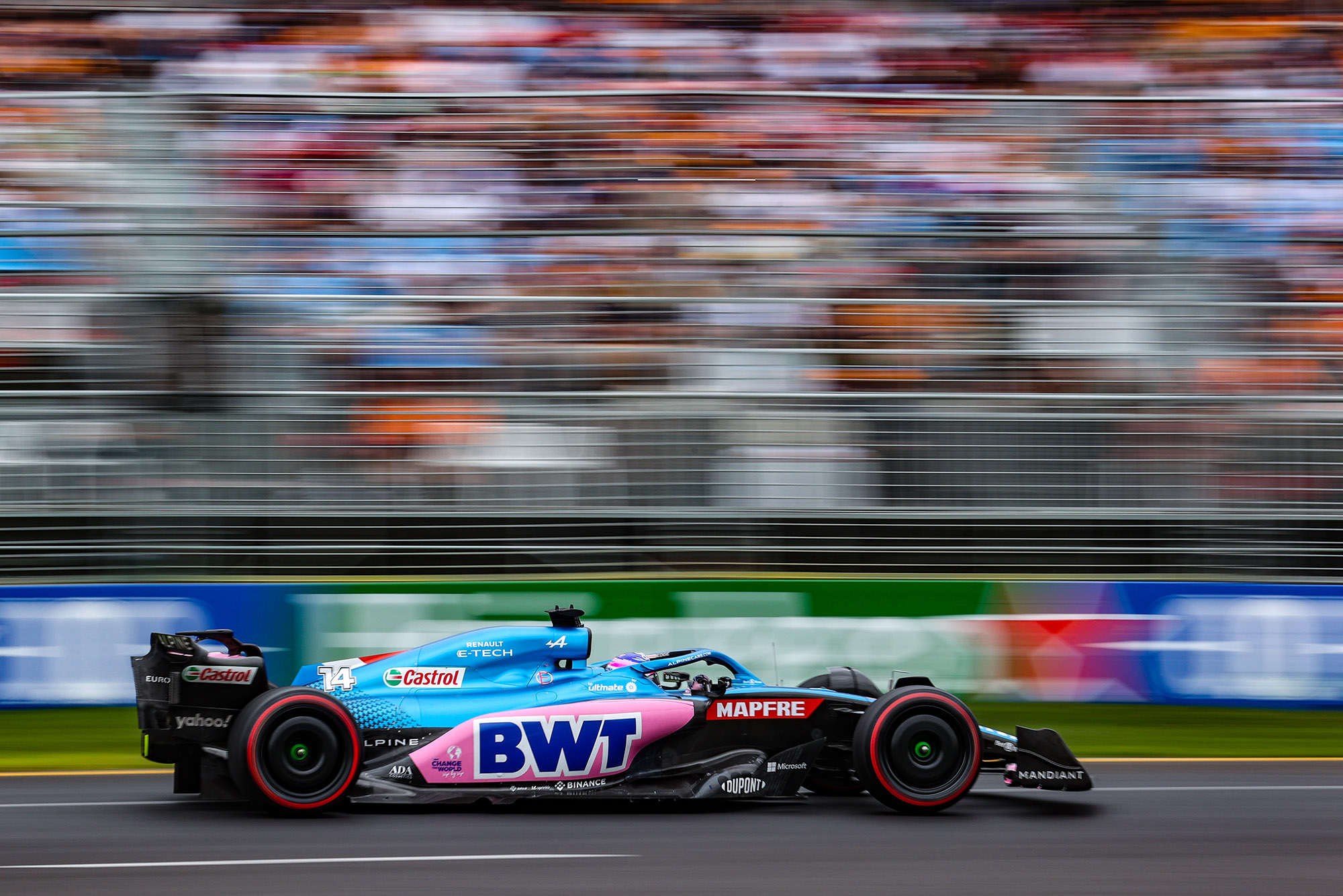 It was the first runs of Q3 when Alonso went off. Eventual polesitter Charles Leclerc's Ferrari was quickest of those who had recorded a Q3 time at that point – from the Red Bulls of Sergio Perez and Max Verstappen. Carlos Sainz didn't get to complete his lap because of the red flag Alonso had created.
Here's how Alonso's lap up to the end of sector 2 compared with those frontrunners:
| | | | |
| --- | --- | --- | --- |
| | S1 | S2 | Total to end of S2 |
| Verstappen | 26.762s | 17.782s | 44.544s |
| Alonso | 26.856s | 17.752s | 44.608s |
| Sainz | 26.929s | 17.753s | 44.682s |
| Leclerc | 26.838s | 17.988s | 44.826s |
| Perez | 26.999s | 17.886s | 44.885s* |
* 2nd lap of run still to come
As can be seen, he was second quickest by the end of sector two but with the proviso that Perez was on a two-lap run and had only completed the first of them and so would have been giving time away on that first lap because of the heavier fuel load.
But of more significance was the sector which was to come: where the Ferrari's stunning speed, in Turn 13 in particular, was allowing Leclerc and Sainz to take huge chunks out of everyone, including even the Red Bulls and especially over the Alpine. This was where the Ferrari's relatively high wing level paid back spectacularly well.
How far off did the Ferrari did Alpine look in sector 3? In Q2 the answer to that question was 0.333s. Had Alonso not had his hydraulics failure and had completed that lap with the same sector 3 deficit as in Q2, he'd have set a 1m18.354s.
OK, he may have squeezed closer to the Ferraris through there than he'd managed in Q2. Leclerc had just set a 1m18.239s, but that was with a relatively poor second sector. Had Sainz completed his lap it looked likely to have been around a 1m18.0/18.1s.
With Verstappen having set a below-par 1m18.399s at this stage and Perez staying out for a second flyer, Alonso would likely have been third or fourth fastest after the first runs. But at over 0.3s off the Ferraris and with the final runs still to come.
Alonso's pole-contending claims don't really stack up, but it's clear the team is making good progress and the car is better than it initially looked, even allowing for the fact that the last two tracks have probably played to its strengths.
Team boss Otmar Szafnauer was quite realistic about where Alpine is at.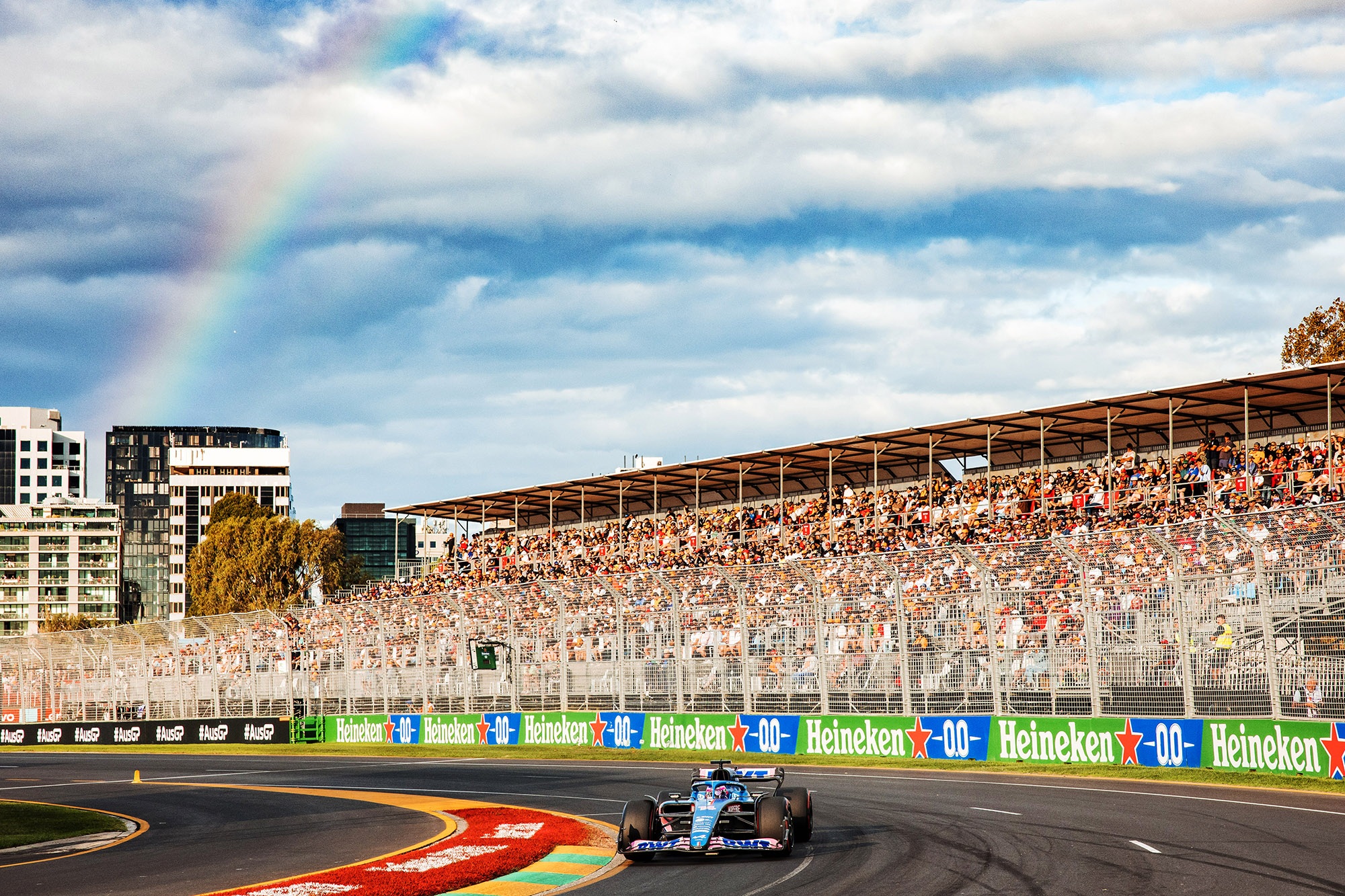 "When we look at it, ultimately we'd have been either third or fourth on the grid," he said. "Fernando thinks third, I think fourth.
"But we have a quick car. We are improving it all the time but there's so much more time to come from pretty much every team and we've just got to keep the improvements coming."
For the Australian race the stream of development work back at the Enstone base was very evident. Changes to the floor fences at the front and new more fully enclosed rear brake fin endplates to improve the airflow between wheel and diffuser had a generally positive effect.
It's fair to say that the car's pace was pretty well disguised pre-season, particularly at Barcelona for a variety of reasons which trace back to a somewhat rushed and scrappy preparation. But the trajectory is good enough to believe good things could be in store.
"The car is getting better and better," Alonso said. "We feel more confident.
"The team is working hard and maybe a surprise to fight for pole, but not a surprise to be closer and closer to the leaders.
"It has been the best weekend for years for me. It is so frustrating not to execute it at the end.
"We seem to like these very smooth circuits, Jeddah, this new Melbourne. Fast circuits, because in Bahrain with the slow-speed corners we were not as competitive as the last two events so we'll keep figuring out what are our weaknesses and what are our strengths and the same for our competitors. We need more races."
If this trajectory can be maintained Alonso is surely poised to play the role to which he is so brilliantly suited: the great disruptor.