The 2021 Formula 1 season was one of the most dramatic and closely-fought in years, inevitably meaning that the 21 drivers who competed were stretched to their limits to make their mark.
The Race's trio of F1 journalists – Scott Mitchell, Mark Hughes and Edd Straw – has combined to create their ranking of the top 10 drivers of the season.
This was generated by each creating their own top 10 ranking unaware of the others', with the lists combined to create the final order.
To decide on this, F1's points system was used with 25 points awarded for first place, 18 for second etc. In the case of drivers being on equal points, a tie-break system was used based on countback to best individual placing across the three lists.
The objective is not to rank the best 10 drivers in order based on how good we believe they are, but to rank them purely on their performance level over the course of the season.
This takes into consideration myriad factors related to their 2021 performance – pace in qualifying and the race, consistency, rate of mistakes, how they did in pressure points, how they progressed through the season and many more.
10 VALTTERI BOTTAS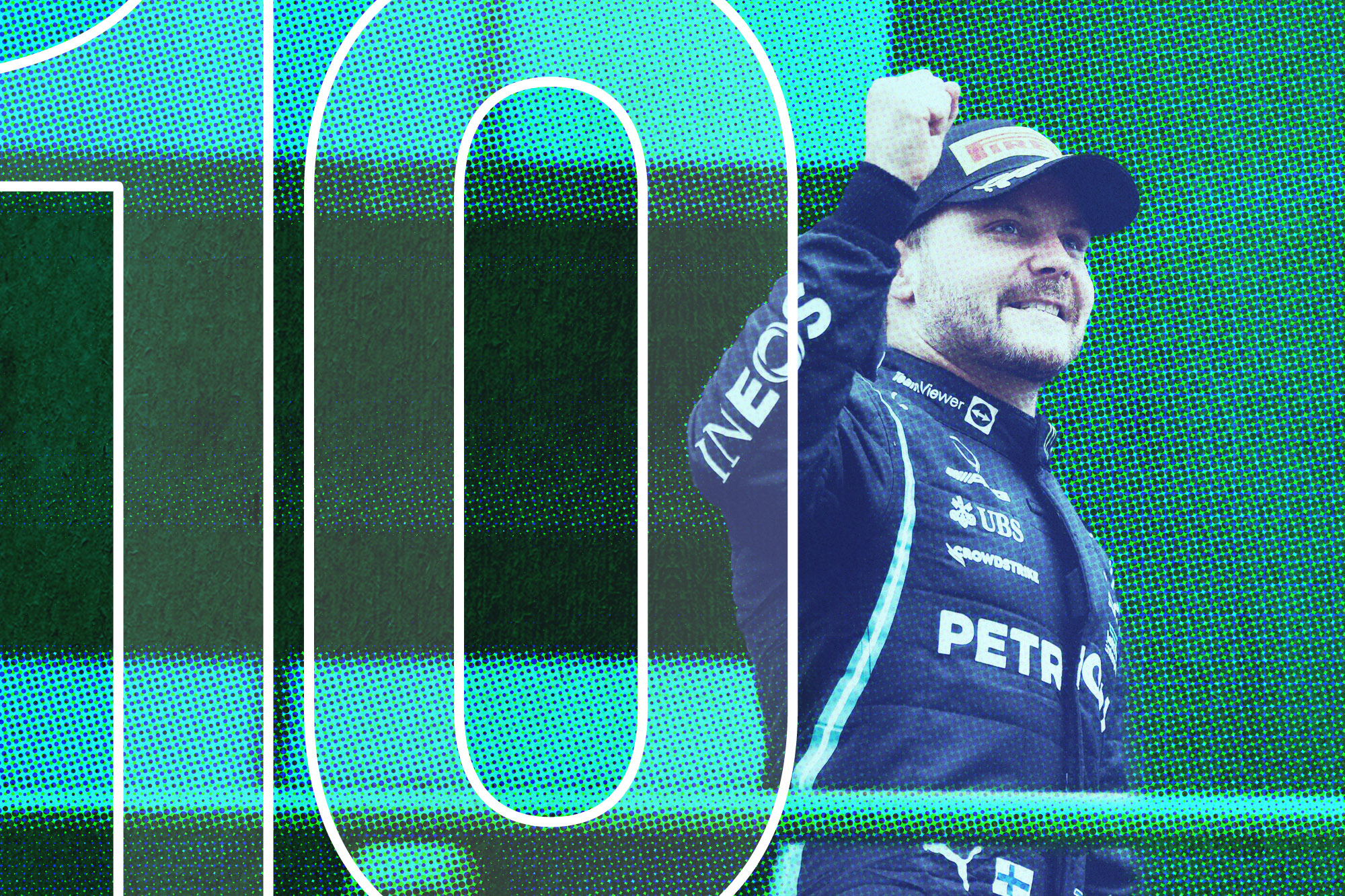 Bottas signed off his five-year Mercedes stint by helping it to another constructors' championship, taking four pole positions (and what should have been pole at Monza) and third in the championship.
Mark Hughes: There were three Bottas in 2021; the eternally hopeful and determined guy at the start of the season, only narrowly being outperformed by Hamilton in qualifying but then that cascading further back through the race.
He might have won at Portugal after setting pole, but was too afflicted by the balance change in the windy conditions.
Then there was the dispirited mid-season guy who seemed to lose confidence and fade.
Then, coinciding with confirmation of his being dropped by Mercedes but taking a multi-year contract at Alfa Romeo, the rejuvenated Bottas, feisty and fast and much more effective support to Lewis Hamilton's title bid than Sergio Perez could be to Max Verstappen's.
He's a quality driver with high peaks being measured against greatness. This season just confirmed that yet again.
Edd Straw: Bottas was the difference-maker for Mercedes in winning the constructors' championship and produced his usual season of mixed-bag performance.
While the victory in Turkey was his crowning glory, Monza – significantly coming after his move to Alfa Romeo was set – was his standout weekend as he set the pace in qualifying, won the sprint race and came from the back to third in the race.
Bottas at his best was stunningly good, particularly in qualifying. But his travails in the middle stages of the season count against him, while his usual difficulties of not being as adaptable as Hamilton in race situations meant he was too often not a factor in the battle at the front.
He made the odd mistake, the start at Hungary being the most embarrassing one, but he played his wingman role well and produced a good season.
Scott Mitchell: Bottas's peaks have never been the problem and he proved that on plenty of occasions this year. That's not the reason he's moving on from Mercedes now.
It's the ultimate lack of consistency that is Bottas's downfall and that's why he fell so quickly away from Hamilton and Verstappen this year.
As usual, rotten luck is never that far away from VB. He should have scored a podium in Monaco, was hit by Daniel Ricciardo in Mexico, and had the lion's share of Mercedes' reliability issues.
But he was also bafflingly ineffective in Azerbaijan, blundered in Hungary, and got stuck in races like Russia.
On balance, this was a very Bottas season. But it was still a good one. He deserved to finish third and prove – with an established driver like Perez in the equivalent position at Red Bull – that being a very good wingman is not an easy task.
9 ESTEBAN OCON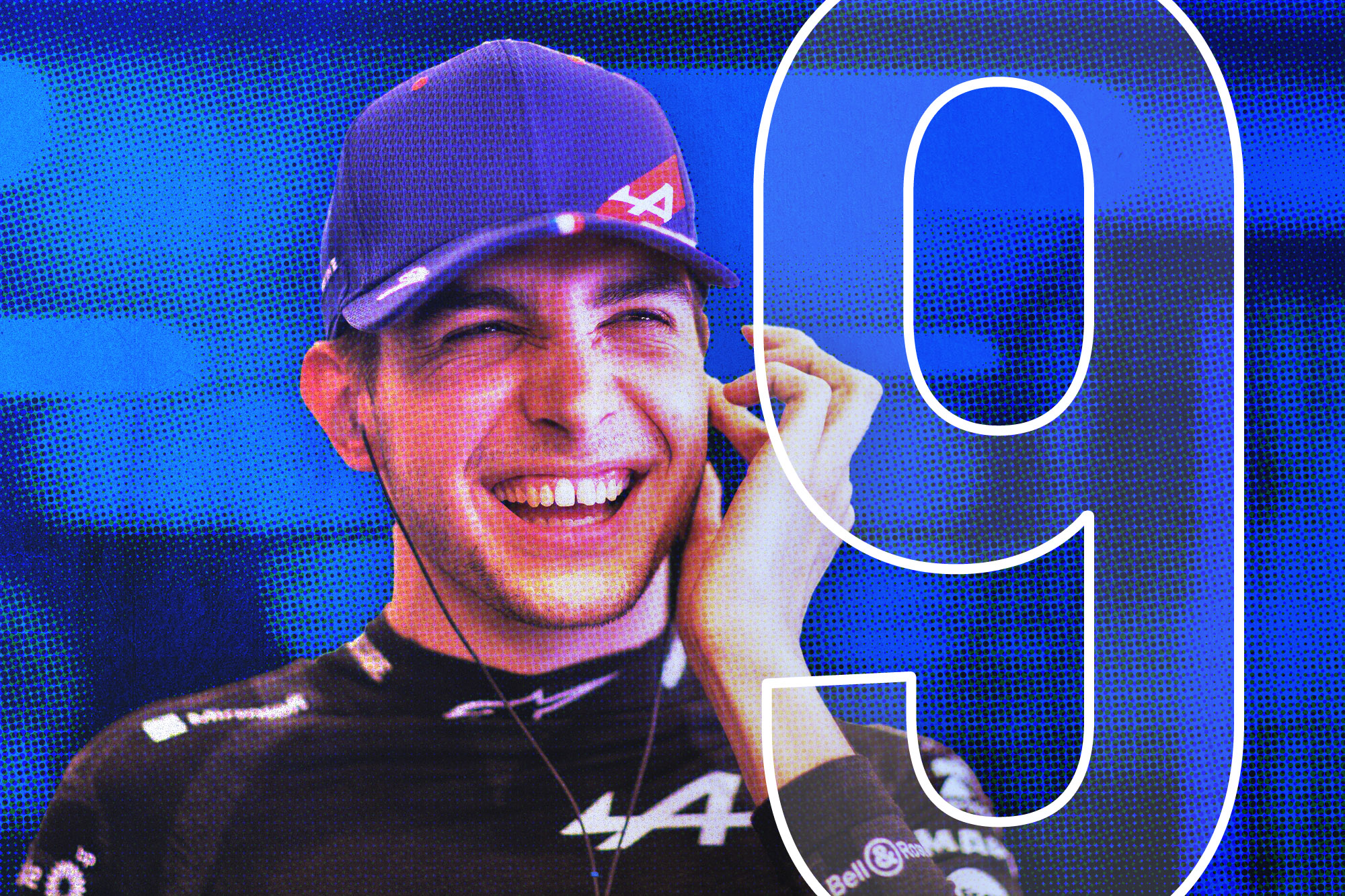 Fourteen points finishes and a breakthrough victory at the Hungaroring earned Ocon 11th in the world championship, just seven points behind Alpine team-mate Fernando Alonso.
SM: It's very easy to underestimate the job Ocon's done this season. The excellently-judged victory in shock circumstances in Hungary stands out as a real anomaly and looks like it flatters an otherwise mediocre campaign.
Alpine's not been anywhere near consistent enough to expect anything other than peaks and troughs from its two drivers, though. With a car that's sixth fastest over the course of the season, on average there are always 10 quicker drivers that should fill the points positions.
Yet Ocon has scored points more often than not. The early strong run that earned him a new multi-year contract fell away but that seemed to be explained by some mechanical issues, as his form was revived as soon as that was addressed.
He hasn't been as impressive overall as Alonso, but he has run him close. And that's a very high standard to try to meet.
ES: While Ocon was the second-best Alpine driver, it was by a slender margin. Given few go up alongside Alonso as team-mates and live to tell the tale – metaphorically speaking – it was a reminder of the qualities that once made Ocon a possible future Mercedes driver.
But now, he's committed to Alpine for the long haul, earning a new three-year deal this season even before that unexpected maiden win at the Hungaroring – a victory rooted in a combination of fortune and great execution that meant he almost felt it was easy.
But it was the work Ocon did in the cut and thrust of the midfield in a car that was often a marginal Q3 machine that really impressed. Aside from a few minor wobbles, he was extremely consistent and built to a crescendo with strong performances in each of the final four race weekends.
This was a make or break year for Ocon, and at a time when there were fears his F1 career might be sliding away from him, he re-established himself as a high-quality performer.
MPH: After his difficult season against Ricciardo last year. Esteban began the season on a mission not to fall into the shadow of the returning Alonso – and he didn't.
But as the season went on, it was Alonso who established himself as the faster driver. Not by much, but still. In between times Ocon jumped fully onto the opportunity provided by the first corner chaos at Hungary to win his first grand prix.
It was a faultless performance delivered under pressure the whole way. He hasn't established himself as a superstar but he's quick, consistent and competitive.
8 PIERRE GASLY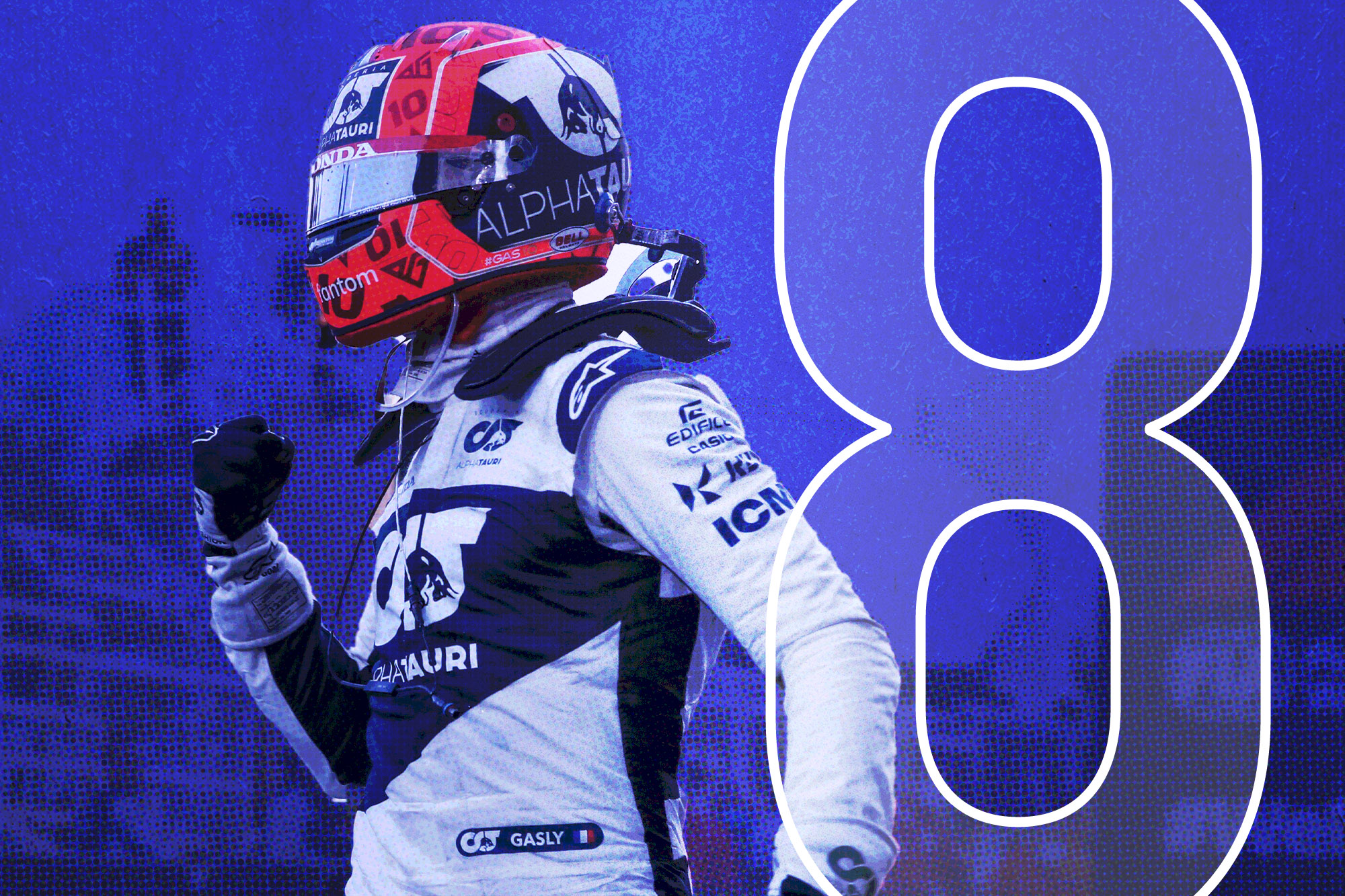 Rated this as his best season in Formula 1, and it's difficult to dispute that given he was in the top six in qualifying 16 times and racked up 110 points. Third in Baku was the highlight, with a further four top-five finishes showing how regularly he cropped up at the head of the midfield pack.
ES: Gasly regularly joined the Mclaren/Ferrari party at the front of the midfield on Saturdays. It wasn't until the Abu Dhabi finale that Yuki Tsunoda finally outqualified him, denying him a 100% record over his team-mate.
There were a few errors in races, notably clipping the back of Ricciardo in Bahrain and at Monza – on both occasions costing himself a potential strong result – and occasions, such as Qatar, Abu Dhabi – where he struggled to turn things round when they started to go wrong. But generally, he was a dependable performer who made the most of the AlphaTauri.
He also had a little bad luck, notably being delayed by the Hungaroring first-corner chaos and missing out on a podium shot, but despite that produced consistently good race results in what he justifiably reckoned was his best season in F1 yet.
He's always been an attacking, confident driver, but he's fortified that with formidable determination, growing experience and impressive assuredness. And he's only getting better.
MPH: Committed and fast, he just keeps pressing on relentlessly and the way he has bounced back from the bruising time at the Red Bull senior team shows a real strength of character.
He has got the little AlphaTauri team completely focused around him as Tsunoda finds his feet and that only seems to have made him better.
He knows how to win and he can feel justifiably annoyed that his chance to follow up on that Monza victory of last year was denied him in Hungary. Taking to the run off to avoid the lap one chaos put him at the back while the race was fought out between two guys who'd qualified well adrift of him.
SM: There's no doubt Gasly has established himself as one of the leading midfield performers in F1, as he continues to thrive in the AlphaTauri environment that gets the best out of him.
Gasly qualified on the front three rows of the grid more often than not in 2021, indicating AlphaTauri had a very quick car and a driver capable of getting impressive one-lap pace out of it.
While the race returns have been better than before – this is Gasly and AlphaTauri's best season in F1 – they have not reflected the ultimate performance potential of this package.
Missed opportunities have usually been down to AlphaTauri's weaknesses but Gasly has had slip-ups too – for example, making the same mistakes in Bahrain and Italy (in the sprint race) where he broke his front wing hitting Ricciardo's McLaren.
So as impressive as Gasly continues to be as a team leader in a friendlier environment, there's still evidence of areas he needs to improve.
7 FERNANDO ALONSO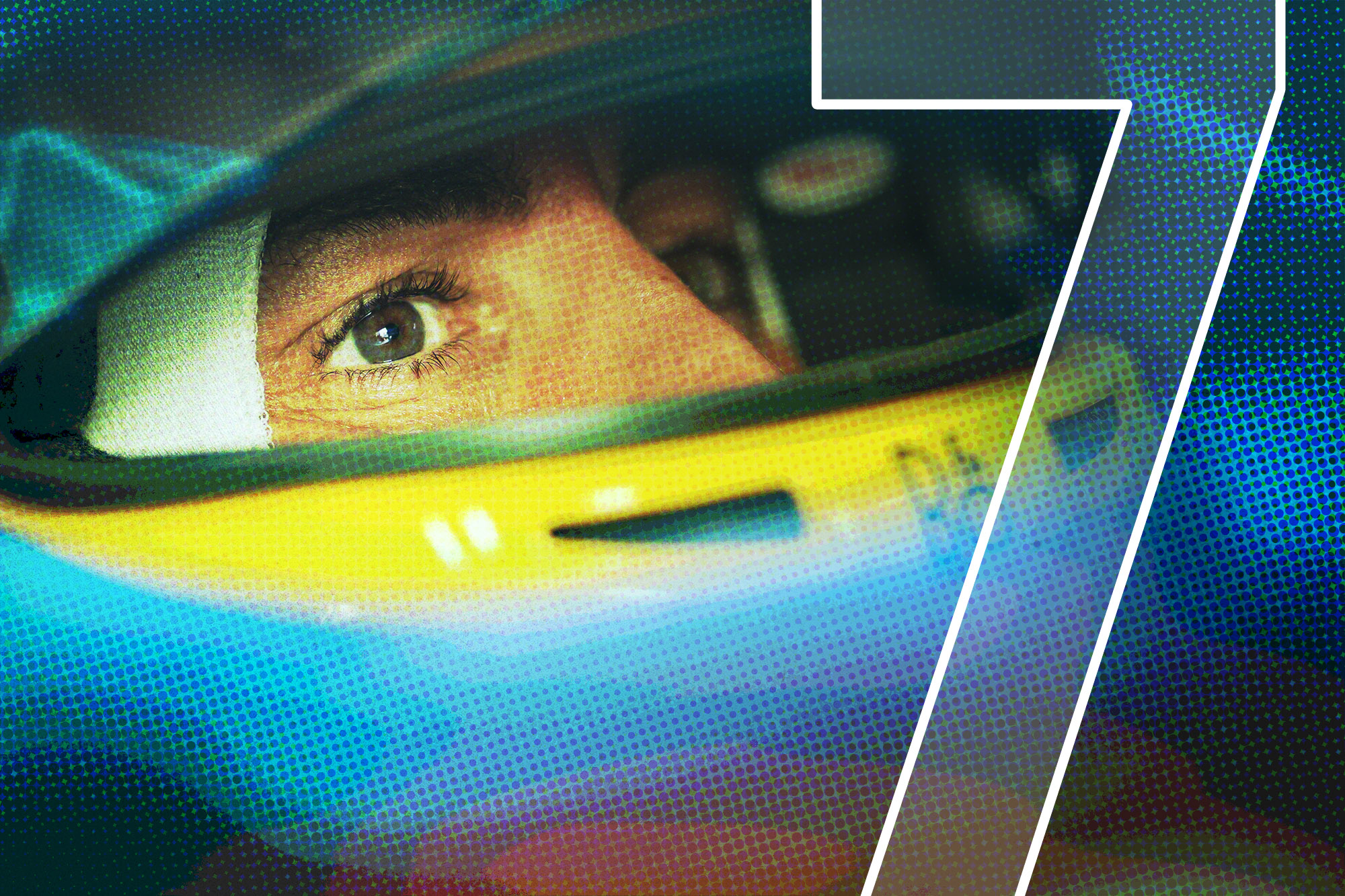 Returned to Formula 1 and finished 10th in the world championship, picking up 15 points finishes with a first podium finish since Hungary 2014 in Qatar.
MPH: He's back. At 40 years old and two years away it was the same tough, smart, street-fighting – and fast – Alonso.
Once he had around six races under his belt and had got a more fine-honed feel for where the last couple of tenths were, he became the cutting edge of the team even with a young driver of the quality of Ocon in the other car.
He did it, what's more, as a fully productive and inspiring member of the team. His racecraft – never more apparent than when he enlisted Hamilton in battle for 11 laps at the Hungaroring to keep him off the back of Ocon – was masterly.
The Qatar podium was richly deserved and built upon a great qualifying lap, a stunning bit of committed racing on Gasly in the first couple of corners and the old uncanny ability to read what the tyres were telling him.
SM: A combination of his pre-season cycling accident and the short amount of running in Bahrain testing meant Alonso probably started the year slower than he expected. Once he got going, any questions about his enduring performance level were quickly extinguished.
He's been a fantastic returning member of the F1 circus, producing some superb moments on-track and reminding everybody of his ability to generate soundbites off-track.
As I said earlier this year, I judged Alonso's comeback incorrectly. I was worried it wouldn't add much. I couldn't have been more wrong.
ES: It took Alonso a few races to play himself in, but from the moment he picked up an opportunistic sixth place in the two-lap 'Mini Prix' at Baku after the red flag he produced the formidable drives he's famous for.
His qualifying performances were good but it was in the races where he excelled. His team-mate may have taken the breakthrough Alpine win in Hungary, but it was only thanks to Alonso holding up Hamilton for 11 crucial laps that secured it.
His racing intelligence, particularly on opening laps, also shone through. Time and again he picked the right spot, with his move when he cut Sochi's Turn 2 to allow himself to position his car approaching the corner for maximum gain a typical case of Alonso playing the rules to his advantage – and making a point about questionable policing of runoff.
He's showing no sign of his age and proved to be a consistent and incisive force on his F1 return.
6 GEORGE RUSSELL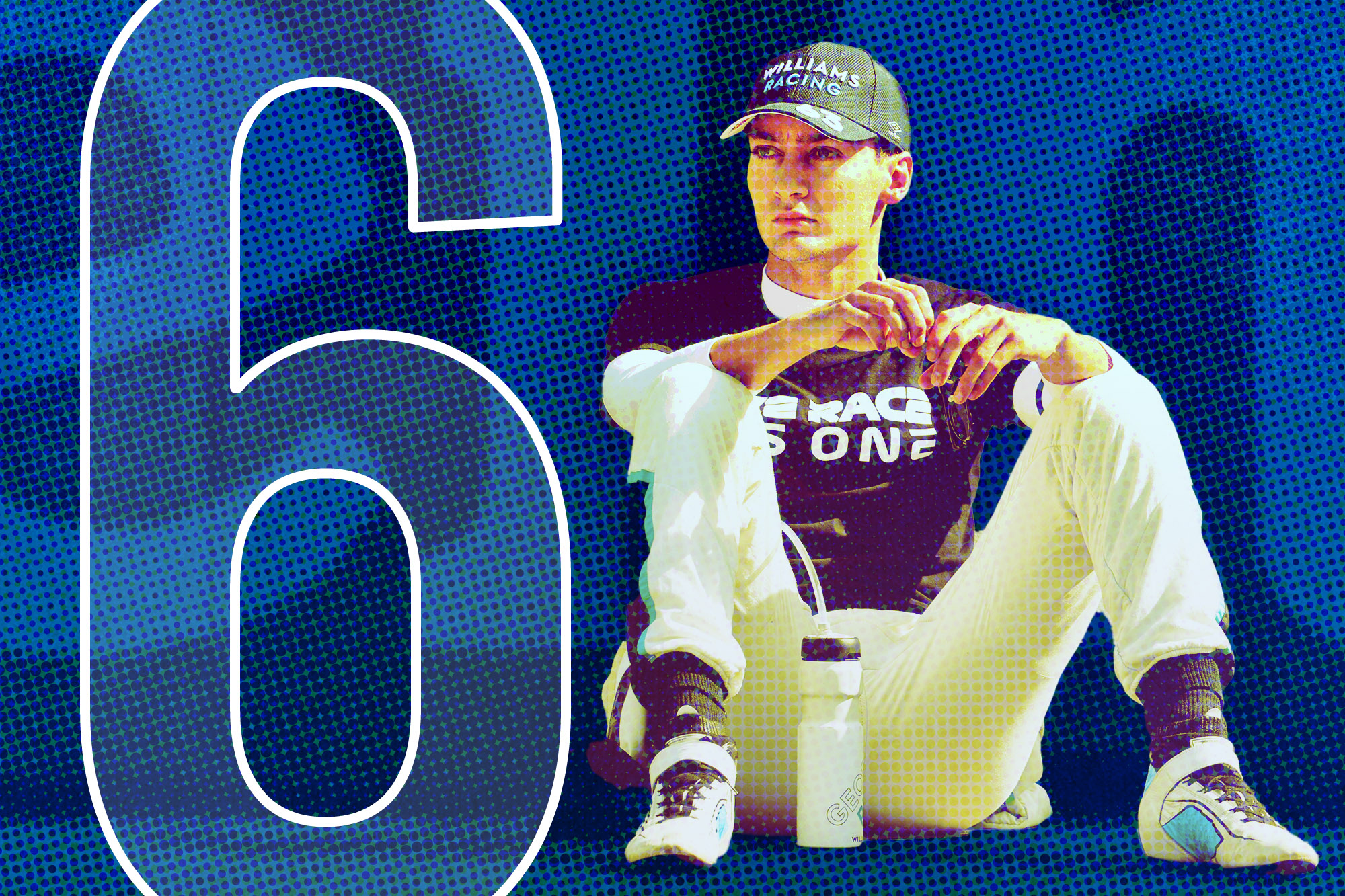 A five-race "golden spell", as he called it, mid-season yielded all of Russell's haul of 23 points – and included second place in the farcical Belgian Grand Prix that was owed to his brilliant qualifying performance. Even before he started scoring points, his performances were good enough to earn his 2022 Mercedes chance.
SM: The easiest parts of Russell's season to judge are where the Williams looked like a guaranteed Q2 car and (in Russell's hands) a marginal Q3 one.
While the performance of the FW43B has swung through the year Russell has invariably got the best from it. Whether that's been good enough for Q1, Q2 or Q3 has depending on exactly where the car's settled into the pecking order, and just as importantly how many opponents have underachieved.
But we needn't really look past that spell of three points finishes in four grands prix and the front row qualifying result in awful conditions in Belgium for proof of Russell's quality.
He has often gone above and beyond at Williams and never been rewarded for it. The circumstances that led to those results, and the controversial podium at Spa, finally offered due recompense.
MPH: I'm of the same opinion as last year about George – in that I believe he's already operating at the level of a world champion calibre of driver, but in the ninth-fastest of the 10 cars.
Yet when the peaky Williams got conditions which didn't punish it unduly, George delivered some out of this world performances, never more so than in wet qualifying at Spa where he was second only to Verstappen's Red Bull and faster than both Mercedes!
He was third on the grid at Sochi, delivered the most beautiful all-or-nothing, perfectly constructed lap in front of his home crowd at Silverstone to make Q3.
He's doing all this while accepting the responsibility of leading the team, of being its talisman and representing it – almost as if he was a world champion already.
For me, he's already a top three or four driver and the world titles await.
ES: Russell turned in some of the most remarkable performances of the whole 2021 season, most unexpectedly his second in qualifying at Spa. Saddled with a limited car, he was consistently in Q2 largely thanks to his ability to get closer to the maximum potential of his package than those around him.
That Russell did this so often was remarkable given a peaky car that even on circuits where it worked reasonably well would still need to be hung onto in trickier corners.
Once in a while, his aggressive approach backfired – notably with a qualifying off at Zandvoort and spinning into Bottas at Imola, but usually he made it work.
Russell also brings an intelligence, rigour and quiet determination that shows he has the makings of a genuinely great grand prix driver.
5 CARLOS SAINZ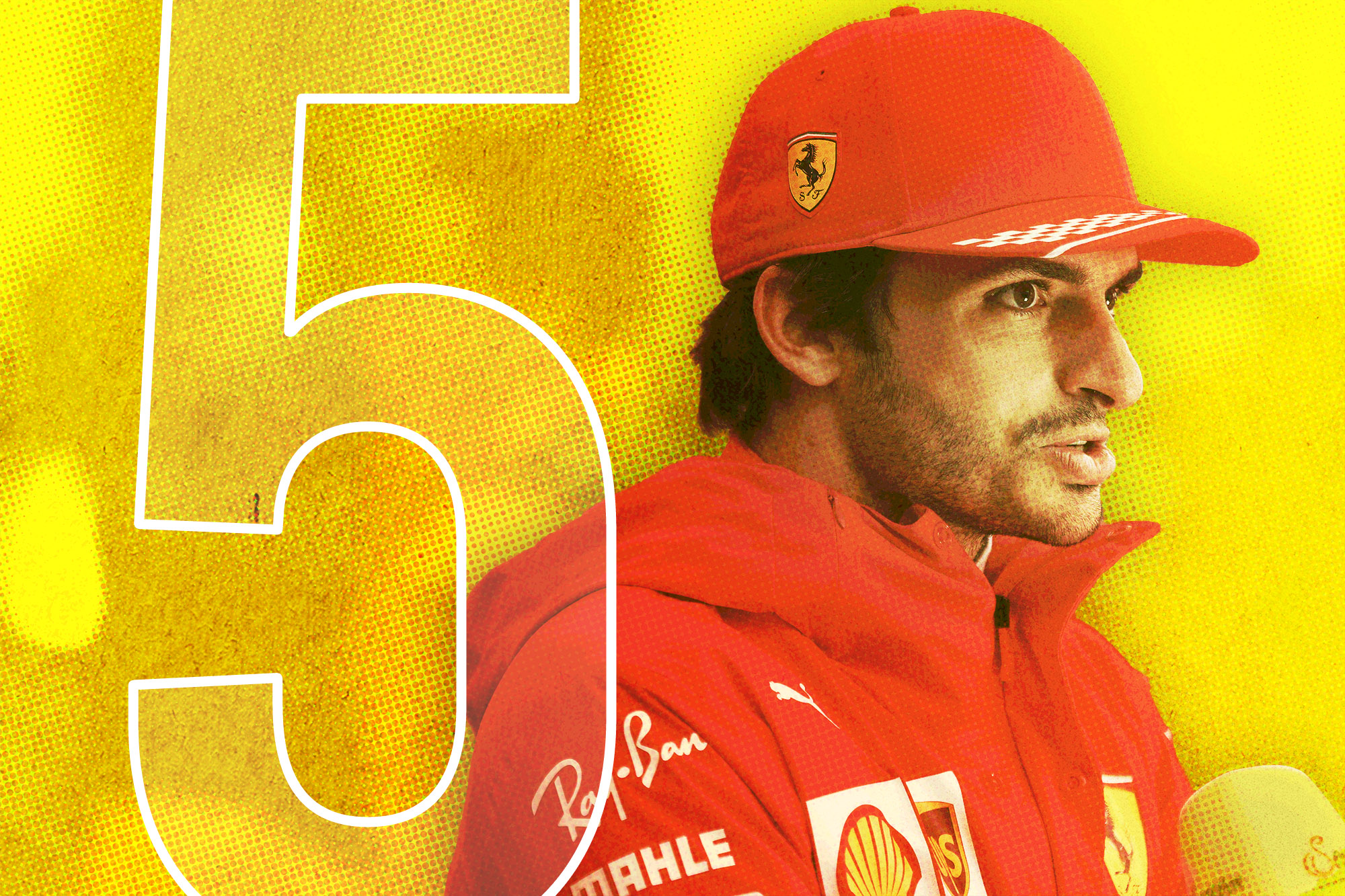 Bagged fifth in the championship in the season-ending Abu Dhabi Grand Prix, capping a superb first season with Ferrari. He took four podium finishes along the way, peaking with second in Monaco, and only failed to score twice.
SM: Sainz has had a marginal deficit to Charles Leclerc over the course of the season but has been at the upper end of my expectations in terms of race results and fared better in qualifying than I imagined.
It's no exaggeration to say Sainz has one of the fastest drivers in F1 alongside him and maybe the best qualifier, such is Leclerc's prowess for pulling out an absurdly good lap.
But Sainz has held his own. He worked very hard pre-season to adjust to Ferrari as quickly as possible and has reaped the rewards. There have been some bumps along the way – he has seemed particularly vulnerable to the Ferrari's mid-corner rear instability at medium and high speed, hence a few crashes.
That's never really knocked him back, though. And I think it all adds up to a season that's better than Ferrari could probably have hoped for from its new driver.
MPH: Carlos' combination of talent, intelligence and competitiveness makes him a formidable package and it's taken a while for the world at large to catch on to just how formidable.
Coming into Ferrari cold with one of the very fastest guys on the grid as a team-mate was never going to be an easy task but he's measured up. Furthermore, he was still getting quicker as the season progressed, as he got a fuller understanding of the nuances of the team.
There were a few accidents as he pushed on in the practices as he's never one to shy away from finding the limits by going over them, but it's in a controlled way and is then dialled back for the race where he's invariably highly polished.
He's found his own way with the car too and quite often has found a better solution than Leclerc on a given day. This and his sheer hard work out of the car has ensured he's an equal number one within the team.
ES: Were it to be judged on the second half of the season, you would probably rank Sainz just ahead of his team-mate, such was the progress he made on his move to Ferrari.
From the start, his known strengths shone through – intelligent, rigorous and able to chip away at any relative weaknesses. But he also built on other aspects of his game, raising his qualifying game another step, which is no mean feat when measured against Leclerc.
He was determined coming into this season to be far more than the support act that Ferrari originally thought it had signed and has established himself as far more than a support act to his highly-rated team-mate.
Sainz is going to get even better next year as he continues to sharpen his game, and will have designs on being more than just joint team leader alongside Leclerc.
4 CHARLES LECLERC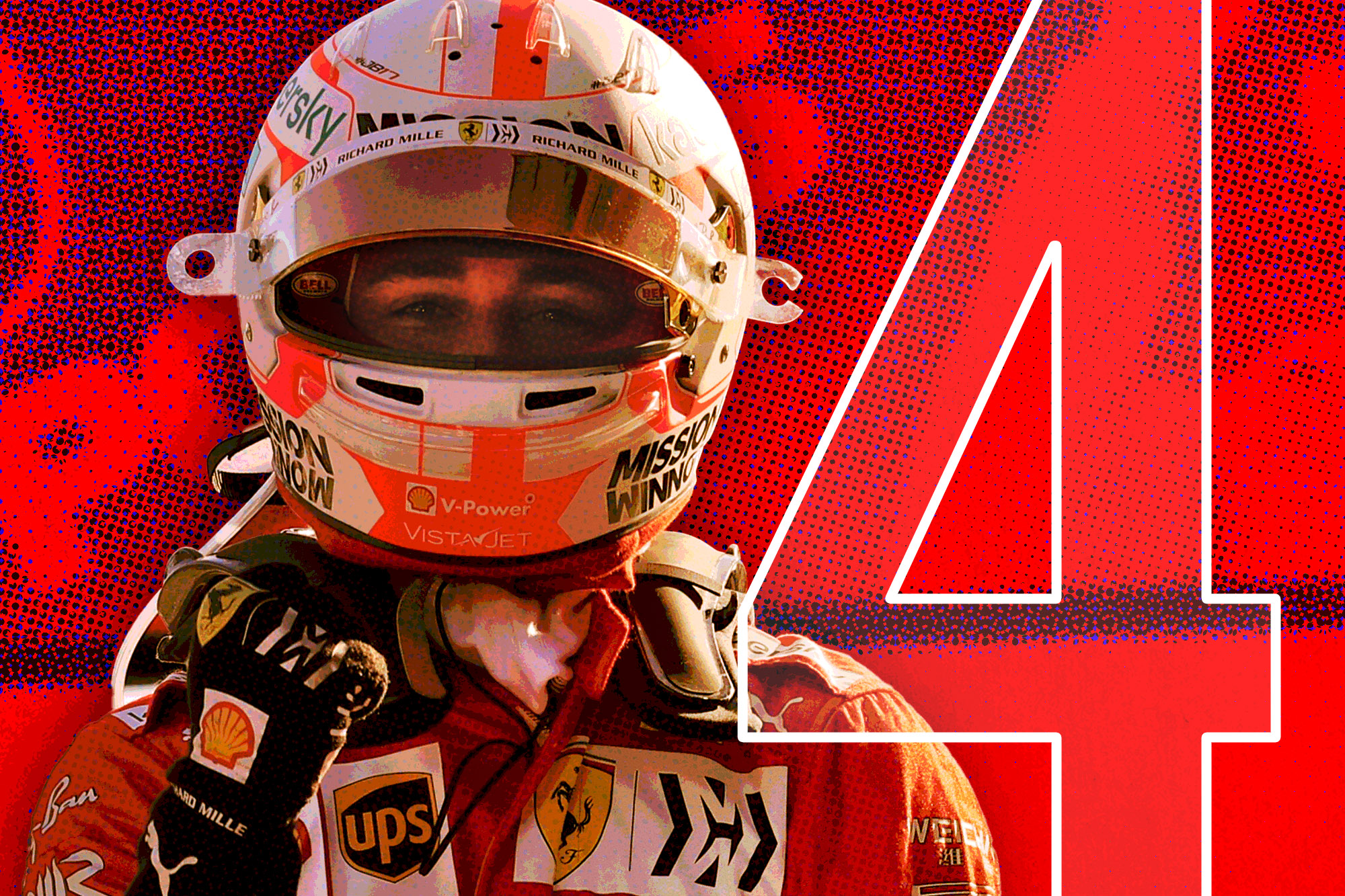 Dropped from fifth to seventh in the championship on the last day of the season, picking up 18 points finishes but just one podium finish with second at Silverstone.
ES: Leclerc on a qualifying lap remains one of the most spectacular sights in F1, but he backs that up with an ever-improving capacity to deliver outstanding race drives – exemplified by his near-win at Silverstone.
He still makes the odd mistake through pushing that bit too hard, infamously crashing on his final Q3 lap in Monaco and sustaining the undetected damage that prevented him taking up pole position, but despite that he usually blends his extreme speed with consistency.
That means a season full of high-quality performances, often ones not rewarded by headline-grabbing results such as his fourth places at Imola, Barcelona, Monza, Turkey and Austin.
He retained a small but decisive performance advantage over Sainz for much of the season, meaning he was the lead Ferrari driver 16 times. But that advantage was whittled away by the end of 2021, which means the pressure is on for 2021.
SM: After vanquishing Sebastian Vettel so emphatically across two years as team-mates, some might have expected Leclerc to have an easier ride against Sainz. That wasn't the case at all.
Leclerc's raised his game in response to his new team-mate. He's still ferociously quick and the mega race drivers are nothing new.
But Sainz has been almost as fast and almost as effective week in, week out, plus very committed behind-the-scenes and articulate in how he tried to engage in Ferrari's problem-solving exercises when it comes to set-up.
That's given Leclerc a relentless internal adversary and one he has taken on extremely well.
MPH: Leclerc remained a sometimes astonishing qualifier and could occasionally use this as the platform to pull a better result from the car than it deserved.
But he does push things to the very edge and there are still quite a lot of incidents, usually during practice.
Given a great car he just might be unbeatable such is his raw speed, but in a less than fully competitive one, the results were a little more patchy than might be expected.
But this in combination with Sainz's analytical approach and a similar work ethos makes them the most wonderfully matched line-up.
3 LANDO NORRIS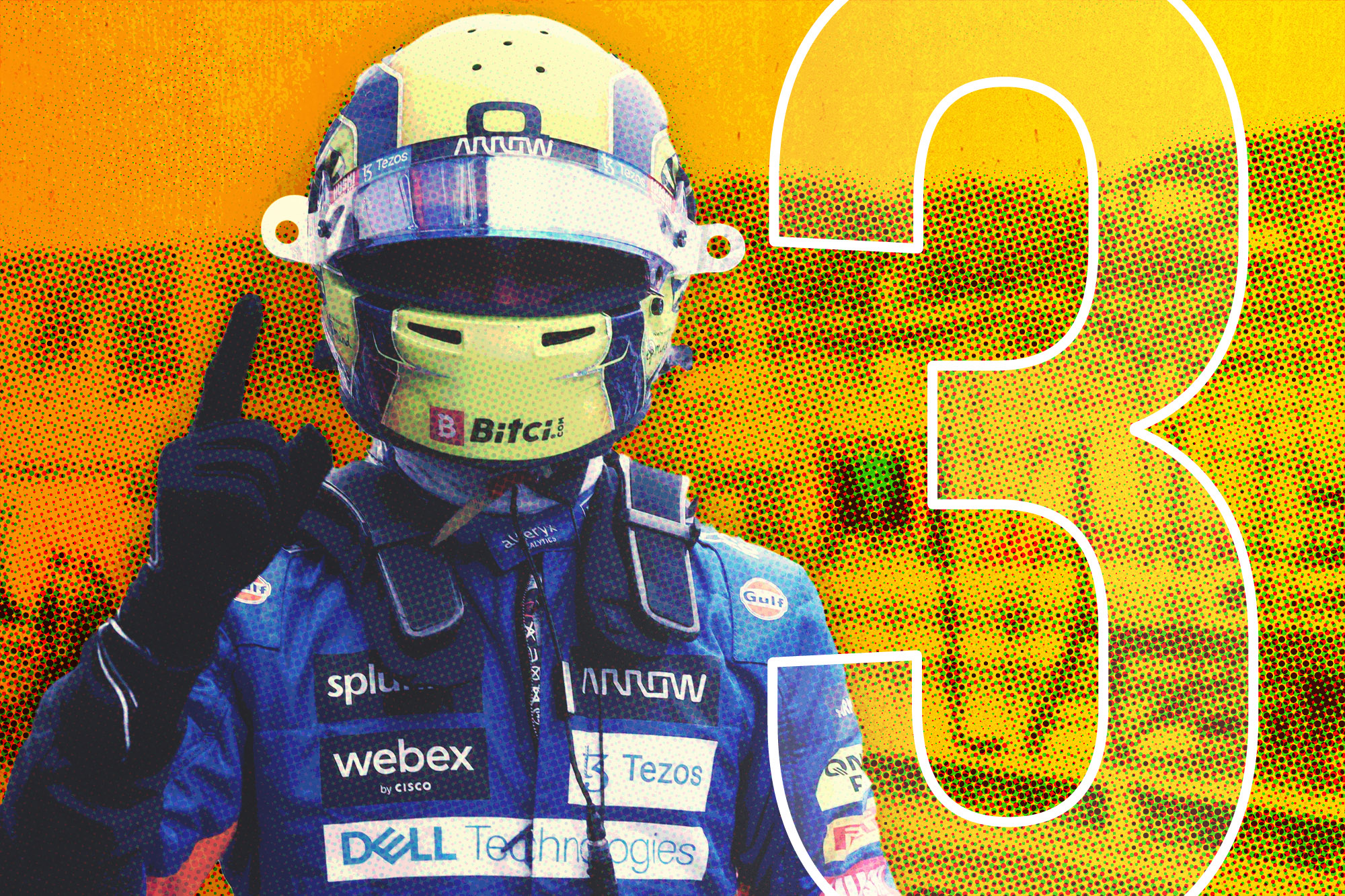 Had a stellar first half of the year in terms of results, picking up three podium finishes. While his season trailed off in terms of results, the performance level didn't and he was unfortunate to lose fifth in the drivers' championship.
ES: Norris took another step in his third season, producing a string of strong results in the first half of the year and doing everything but winning a race.
He damn-near did that too and was on course to win the Russian Grand Prix from pole position, with his failure to do so more down to McLaren not spotting the second bank of rain coming than his own decisions.
Hard work over the winter allowed him to chip away at his weaknesses and while there was the odd mistake – notably crashing heavily in Spa qualifying, hitting Sainz at the start at Interlagos – he was consistently operating at a high level.
By eclipsing new team-mate Daniel Ricciardo, he was McLaren's spearhead and despite results dropping off over the second half of the year, he was still operating at a high level = just in a car that wasn't quite as competitive and not blessed by good fortune.
And don't be fooled by his late-season results, which were – aside from Brazil – largely down to bad luck.
MPH: His talent is absolutely from the top drawer and that was never more apparent than during his brilliant qualifying lap in the second Austria race. It wasn't just that he got within hundredths of Verstappen's Red Bull, it was how he did it, the seemingly impossible cocktail of car control and commitment in how he used the menacing kerbs of the penultimate corner in particular. He was using their evil-looking contours designed to punish to actually help correct the slide he'd induced by his entry speed.
Yes, he was on pole at Sochi, looked very comfortable controlling a chasing Hamilton in a faster car and would surely have won there but for the agonising call the weather placed upon him in the closing stages.
SM: The late-season dip doesn't do justice to Norris's overall campaign. If anything it unfairly feeds a theory that he starts well and tails off as he can't sustain that form throughout a season.
This season was a continuation of how Norris had improved throughout 2020 and ended that campaign on a high note. He is more consistent, he's more comfortable and confident in himself and his environment as he builds experience, and capable of eye-catching qualifying laps.
In the ultra-tight midfield, few drivers have dominated that little Class B fight in certain races. Norris is one who has. His peaks in 2021 have been as high as anybody's.
2 LEWIS HAMILTON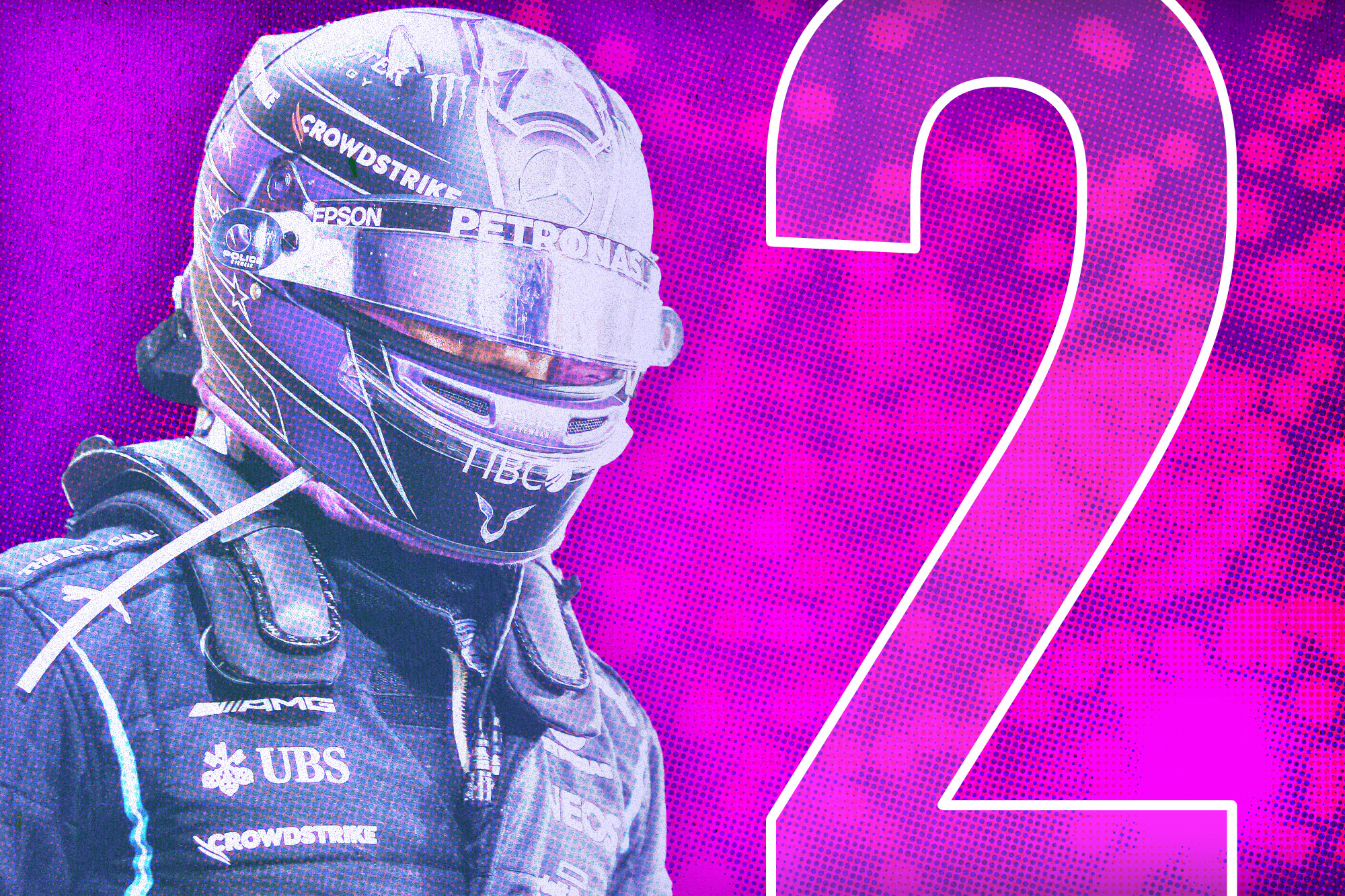 Eight wins and second in the world championship was a disappointing season by Hamilton's sky-high standards. But he came within a lap of an eighth world championship.
SM: There have been more mistakes than we're used to and he has required some fortune at times not to be punished further – the Imola error and fumbling the restart in Baku stand out as uncharacteristically sloppy moments from an all-time great.
But those mistakes were still surrounded by drives like Bahrain and Spain, where he produced fantastic victories. So the underlying quality had clearly not diminished. And Hamilton has settled as the season progressed.
There was a mid-season suggestion – when Hamilton looked so exhausted in Hungary – that Hamilton may have had some lingering 'long COVID' symptoms after getting the virus late last year. To blame some of his lapses on that would be too generous. But it's potentially relevant in how Hamilton's upped his game at crunch time.
He says he ended the year in better physical shape than ever and clearly his mental game had gone up a level too, as his motivation and focus was clear.
Ultimately, this has to go down as his best Mercedes season.
MPH: Hamilton's brooding presence as F1's standard bearer has remained very much intact even as his status as king of the pride has been challenged on track by Verstappen. Mercedes' technical dominance disappeared this year and together with the strides made by Red Bull and Honda it saw Hamilton facing the relentless pressure from the cutting edge of the new generation.
He'd seen it coming in snap shots over the years, knew what sort of fight he'd have with him once they were in equal cars but it became perhaps even more intense than expected.
Hamilton was much more multi-dimensional in how he approached the wheel-to-wheel situations than Verstappen or every race could have ended like Silverstone or Monza. He was quite nuanced in how he dealt with his adversary and watching them both stretch each other was one of the most fascinating aspects of the season.
Yes, there were occasional errors – most notably Imola – but his performance once the team fully extracted the potential of the Silverstone upgrade was as astounding as any of his best stuff over the years. The way he used that to force himself back into the hunt, from last to victory in Brazil, just when the pressure was at its maximum, was the stuff of greatness.
ES: Faced with the toughest title battle of his career given he was up against a true equal in Verstappen, there were moments in the first half of the season where you wondered if Hamilton might not quite have the sharpness he needed given a couple of big errors.
But amidst that, he was still capable of delivering scintillating drives.
When the season came down to the business end, he produced some stunning performances – the Mansell-esque charge at Interlagos being the highlight – to prove he was revelling in taking on Verstappen.
At 36, he showed he was as good as – probably better than – ever and the years of wrapping up the title with races to spare had not blunted his edge. In doing so, he absolutely played his part in this battle for the ages.
He may not have won the title, and came within a lap of doing so before the absurd denouement in Abu Dhabi, but even in defeat the Hamilton legend was enhanced.
1 MAX VERSTAPPEN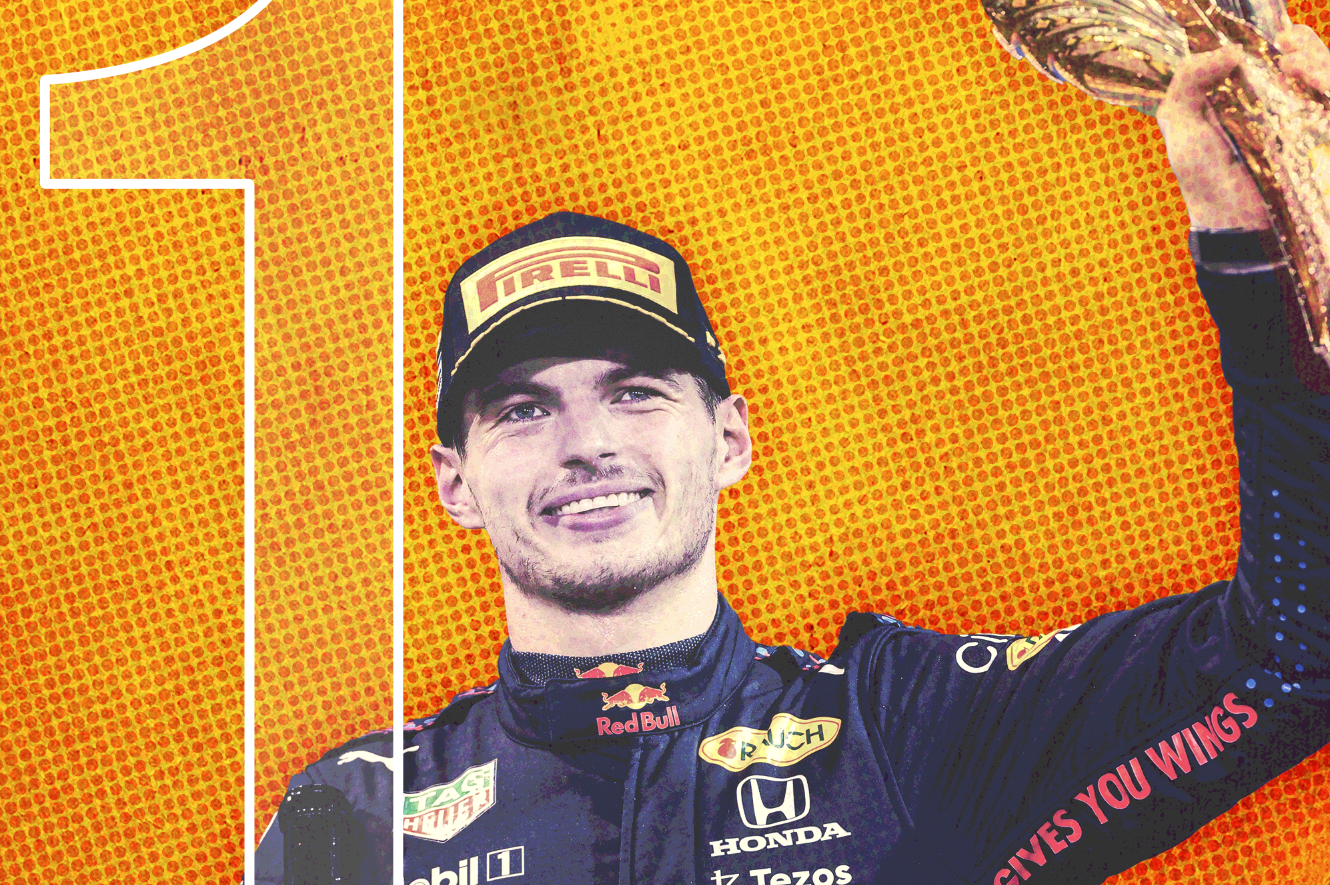 Won his first world championship with a last-lap pass in the controversial and mishandled Abu Dhabi Grand Prix, but racked up 10 wins over the season.
MH: He was never not going to be fighting Hamilton for a championship as soon as Red Bull and Honda delivered the goods – and the fearless attacking style with which he would launch that challenge was always going to make it thrilling.
His combative stance in that contest after years of domination by one driver has been central to F1 being on fire this year. The storyline is irresistible.
There's no room for grey in his approach, everything is pushed to the edge – and usually rescued from there. But that includes an approach at close quarters which makes him almost unraceable and operating under different terms of combat, which seems a pity, for he is so sensationally good in every other way.
SM: The most consistent driver of 2021 and probably the fastest, too. Verstappen's been on an exceptional level from start to finish.
He slipped seamlessly into the role of championship contender, confirming his long-held belief that a title-challenging car would only make his job easier.
Verstappen reckons he's either achieved the maximum or overachieved this season. A record of finishing no lower than second in races that didn't contain an incident – whether he was to blame or not – gives serious weight to that claim.
In the heat of the moment, things have got controversial. Verstappen has crossed a line drawn by other people on several occasions but never, it seems, his own.
That cost him points at Silverstone and at Monza. But it helped win him plenty of points elsewhere and made life harder for Hamilton than it otherwise would have been.
Has he done everything possible to win this championship? Yes. Has that always been to everybody's approval? No. But that shouldn't taint the overall quality of a remarkably good season.
ES: What really stood out about Verstappen's season was that he was not just stunningly fast, but relentlessly so. Off days didn't exist and he made few significant errors, meaning that over the balance of the season it's difficult to disagree with Alonso's claim that he's "one step ahead of everyone".
His aggressive approach generally paid off and it was only really in Saudi Arabia, where he attacked at every opportunity, that he could be accused of perhaps being too trigger-happy in launching moves and not maximising his own chances.
He also had a few rough edges early in the year, not absorbing and capitalising on the track limits rules laid out in Bahrain, producing a scruffy qualifying at Imola and costing himself with a couple of track limit violations in Portugal. But generally, it worked for him.
He was undoubtedly the more unlucky of the title contenders given the points lost at Baku, Silverstone and the Hungaroring, but was always strong in the races whether the Red Bull was the quicker car or the Mercedes setting the pace.
He stood up to the pressures and rigours of this relentless title fight brilliantly. Perhaps the most terrifying prospect for the opposition is that he's only going to get better off the back of his experiences in 2022.