George Russell didn't just have to adapt to the characteristics of a completely different car on his way to qualifying second for the Sakhir Grand Prix by lapping just 0.026s off Valtteri Bottas, he has also had to dial himself out of a different driving style that worked in his usual Williams last weekend.
This version of the Bahrain circuit is identical from Turns 1 to the entry of Turn 4, with what is technically the final two corners but really treated as one last corner also in common. This meant Russell headed into the weekend with very clear "muscle memory" established based on how to get the best out of the Williams.
This proved most difficult to adapt to in Turn 1, thanks to what is one of the major strengths of the Mercedes. Turn 1 is the second-gear right-hander that leads immediately into the left-hander of Turn 2.
This was the corner that ultimately ensured Russell ended up slower than Bottas as his pace in the second and third sectors of his final Q3 lap was better than his team-mate. But it was not enough to recover the 0.089s he lost in the first sector.
"I've been really struggling at Turn 1 all weekend," said Russell.
"Oddly, last week that was my strongest corner. This weekend, I've been really weak compared to Valtteri, he's been taking loads of time out of me. That was my weak point.
"I don't know what it was, I just couldn't get on the throttle".
A comparison of Bottas's pole position lap, set on his second run of Q3, and Russell's on his third and final run supports what Russell says.
While Bottas was able to come off the right-hander feeding in the power without it unsettling the car, the rear momentarily stepped out on Russell and forced a correction. This inevitably compromised his ability to get down the power and cost him time through Turn 2-3 and on the run to Turn 4.
"I was just struggling with a lot of understeer at the apex, which meant when I picked up the power I was just getting a snap of oversteer," said Russell when asked by The Race to explain his struggle in Turn 1.
"The driving style I was doing in the Williams last week, where I was strong, was not working. And it was very different to Valtteri, very different to what Lewis [Hamilton] was doing.
"The Mercedes just has so much more grip and so much more front end on the entry phase that could allow me to carry a bit more speed, but it was difficult. It's just a very different way to drive the car."
One thing that's worth noting is that Russell isn't approaching the corner at significantly higher speed in the Mercedes compared to the Williams. In fact, the Williams has been the quicker car in the main speed trap 158 metres before Turn 1 on both weekends.
But with everyone running lower downforce levels for the second Bahrain event, the speeds are higher in the trap across the board. This means Russell is just 3.3km/h faster approaching Turn 1 in the Mercedes compared to his Williams last weekend. That's trivial for an F1 driver to deal with.
What is clear is that the time loss starts in the braking phase, with Russell starting to slow the car fractionally earlier and seemingly not rotating the car as aggressively as Bottas in the initial turn-in phase.
This is an area where the Mercedes excels, particularly with Hamilton at the wheel and he has driven the team to improve the rotation of the car in such corners for some time.
But the Williams does not offer the same levels of rear grip. Bottas appears to be able to brake fractionally later, load up the front end and get the car turned in positively right at the start of the turn-in phase, a style that would likely lead to a big moment if attempted in the Williams.
Comparing Russell's best lap in the Williams last weekend through this section with Bottas, he does not have the car rotated as much as the Mercedes. This means there's more turning still to do coming out of the corner, but this appears to have been the most effective way to drive the Williams FW43.
But this weekend, Russell appears to have slightly more rotation of the car still to achieve than Bottas. The combination of the extra lock and putting on the power creates the oversteer moment, with the sudden shift from an understeer balance adding to that as he attempts to pull the car to the right to open up the entry to Turn 2 and carry the speed through it.
It's a minor detail, but a significant one and adds up to a 0.089s difference in Bottas's favour in Sector 1 – more than three times the final gap between the two.
"Arguably, I probably would have been better off if I just came in with an open mind and not raced this circuit – or at least half of this circuit – last week," said Russell.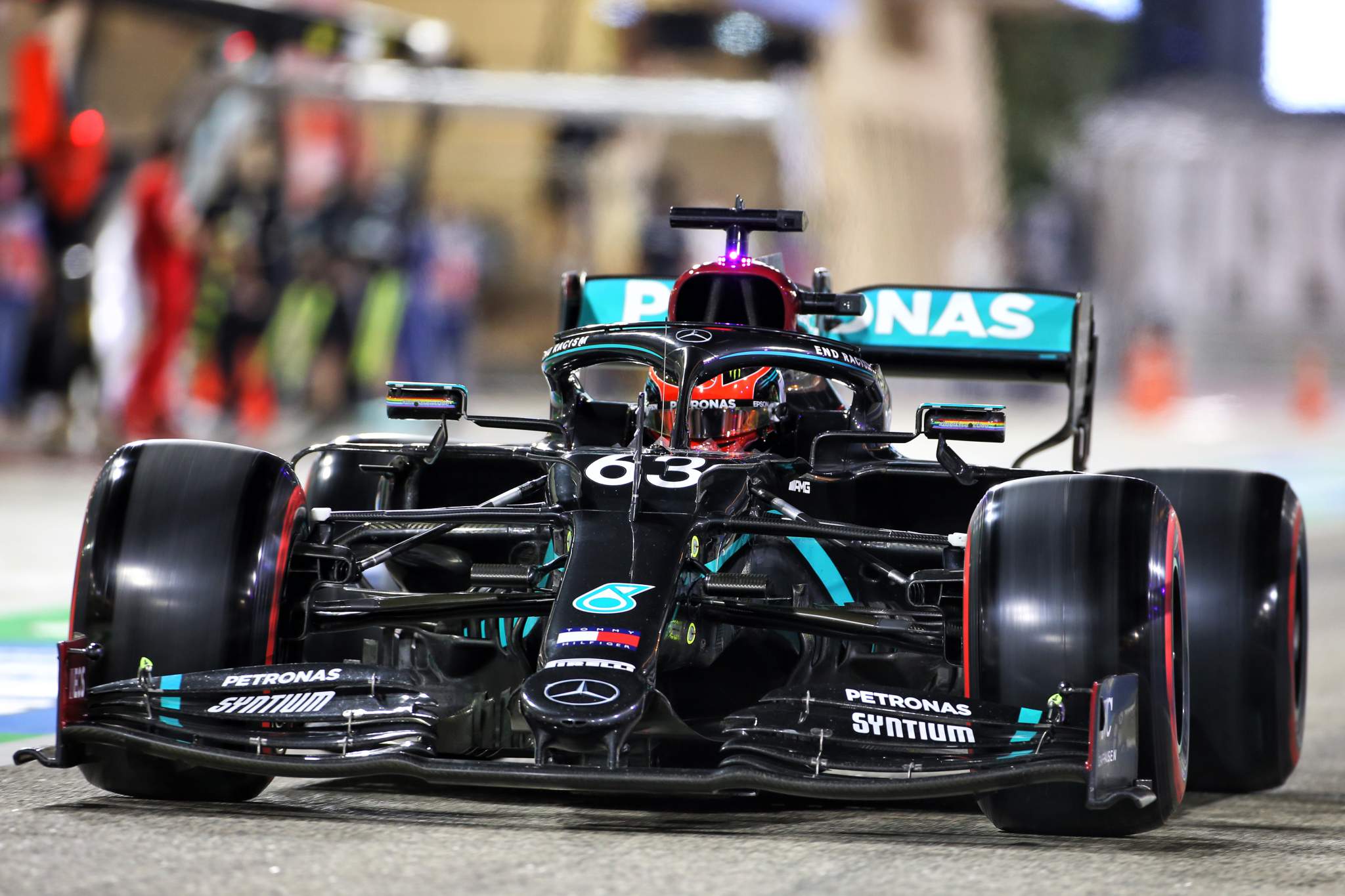 "I spent all last week braking at this point, turning at this point at Turn 1 and doing this, doing that. This car is completely different.
"Then all the procedures, learning new procedures, learning new buttons. FP1 was a mess, pressing wrong buttons here and there and even in qualifying, I pressed neutral at one point instead of something else. It's difficult when you're in such a routine.
"Down at Williams, you don't even think about these things; it just naturally happens. [We're] trying to modify as much as is physically possible, just to make things easier for me.
"It's been a lot of work and it still takes a bit of time. It takes a couple of races just to understand all of that so Toto [Wolff, Mercedes F1 boss], a few more races please and I'll be there!"
The struggle to adapt in Turn 1 is an example of how precisely-attuned to their cars the best F1 drivers are and how tiny differences can require time to adapt to.
If Russell continues in the car for next weekend's Abu Dhabi Grand Prix weekend, the track configuration there will give him plenty of opportunity either to chip away at what he called his weak point – or continue to struggle with it.