A dominant Formula 1 champion, the constructors' title sewn up with three races to spare, a rival that started well but faded and controversy engulfing a big team.
The similarities between Max Verstappen and Red Bull's 2022 season and Sebastian Vettel's all-conquering 2013 campaign for the team are clear.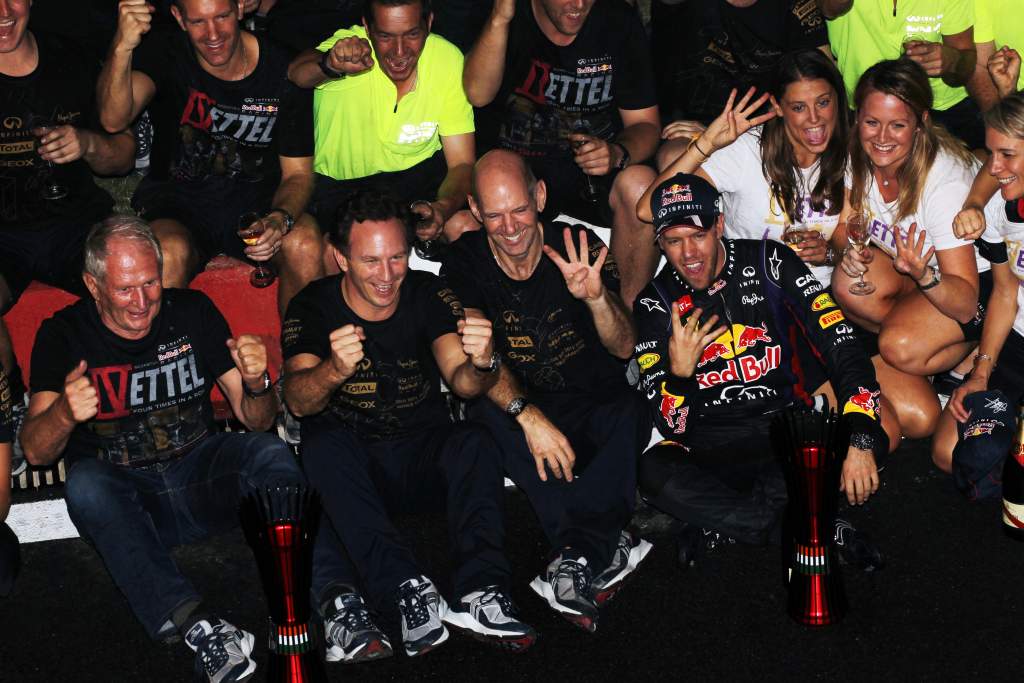 The 2013 success was the fourth consecutive world championship double for Red Bull, spearheaded by Vettel. That proved to be the end of an era, whereas what's happening this year could perhaps be the early stages of one given Red Bull's strong start to F1's return to ground-effect-dependent cars.
But although the Red Bull of today has grown dramatically since 2013, annexing more and more of the Milton Keynes industrial estate it resides on over the years, it's still recognisably the same team. Adrian Newey is still the conceptual inspiration, part of a far larger design group populated by exceptional personnel. Many of the engineering team have carried over, and there are also familiar faces working on the cars in the garages.
And then, just as now, Red Bull was a team that relentlessly pushed the boundaries in F1. That's the exact phrase team principal Christian Horner used after Red Bull bagged its personal-best 16th victory of the season at Suzuka when asked how proud he was of the team having won all but four of 2022's 20 races to date.
"It's something that the team can be incredibly proud of," said Horner. "There are a lot of people sitting around the engineering office and the garage and obviously back in the factory that are all the same people that did that with Sebastian and are doing it again with Max.
"The DNA of our team is that we're a race team. We're a team of racers, we push the boundaries, we're aggressive in the way that we go racing and we follow our passion that is to go out there and do our very, very best.
"I guess there were risks today with the strategy that we took with the soft and maybe they could have run out of tyre. But we are following Dietrich [Mateschitz]'s mantra of 'no risk, no fun'."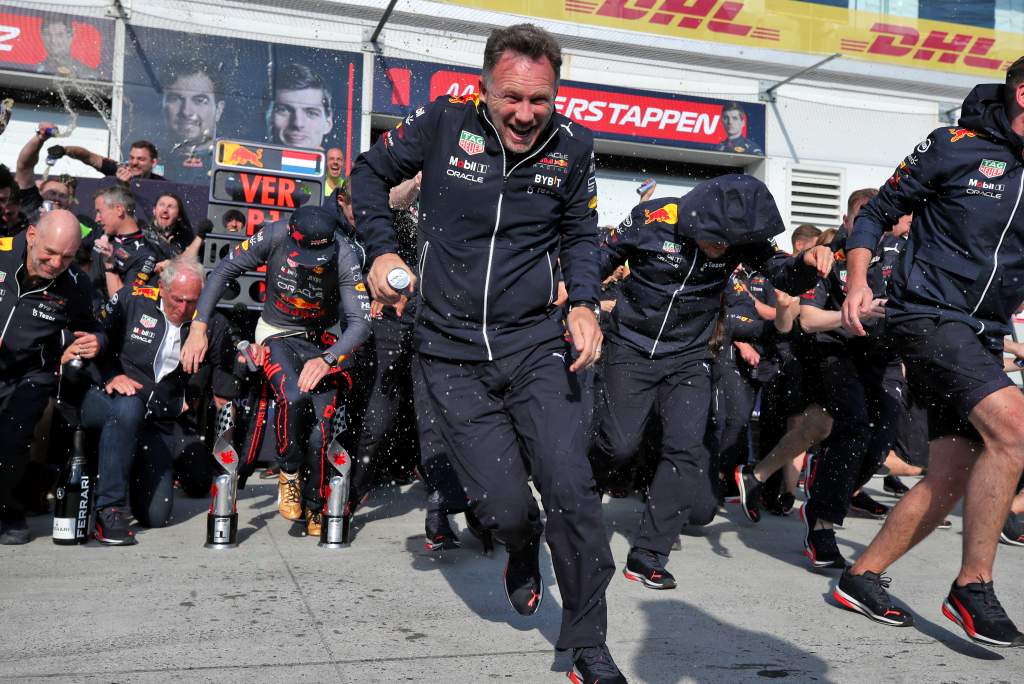 This has certainly been an increasingly enjoyable season on-track for Red Bull. As the year has progressed, it has become more and more dominant. This year, that's been at the expense of Ferrari, which won two of the first three races with Charles Leclerc but has only added two victories since. In 2013, that role was played by Mercedes.
Then, Mercedes had yet to become the powerhouse F1 force it became in the hybrid era. The Silver Arrows claimed its first F1 victory since 1955 the previous season with Nico Rosberg and started 2013 strongly.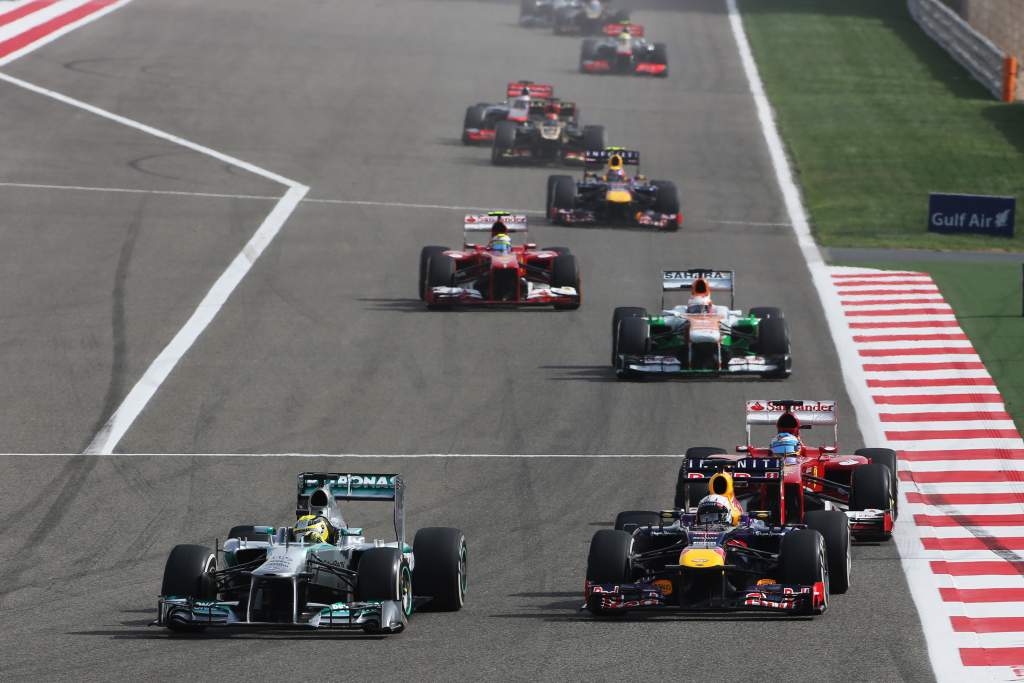 Eight times in the first 11 races, Mercedes took pole position – five of those for new arrival Lewis Hamilton, the other three for Rosberg – although victories were a little harder to come by. Rosberg won in Monaco and Germany, with Hamilton triumphing in Hungary. But the iconic moment was Hamilton's tyre shredding in Britain while leading, prompting Pirelli to revert to the more robust 2012 tyres.
That coincided with Red Bull really hitting its stride. Of course, the Red Bull RB9 was strong from the start, but it only got better as the season progressed. Vettel won all nine races after the August break, a run Red Bull could repeat this year across the same number of races. The only difference is that Sergio Perez's win in Singapore means it's not been Verstappen all the way.
While Mercedes felt quietly encouraged that Red Bull pushed on to the end of the 2013 season given the imminent regulation change to hybrid engines, one that required significant changes to the cars that are often overlooked, it fell back. Late on, it was Lotus – in particular Romain Grosjean – who provided the most serious, if fleeting competition to Red Bull.
The Mercedes W04, the first overseen by Mike Elliott – now Mercedes technical director, then head of aero – was quick but rear tyre degradation was a problem. It was also a car Hamilton struggled to get the feel for, meaning he faced a tough challenge from incumbent Rosberg. But it was quick, it just wasn't as quick as the Red Bull.
The pattern is not dissimilar to that of 2022. Talk then was of a Mercedes title push in the first half of the year, an idea that later seemed risible. The same could be said of Ferrari's challenge this year, which it now seems absurd to have taken seriously.
Vettel also performed stunningly well in 2013. At one with team and car, hard-working and capable of extracting tremendous pace from a car that produced more underfloor downforce than others without any of the downsides of the high-rake concept. He also continued to benefit from exhaust blowing, albeit in reduced form thanks to a series of rule changes that had gradually eroded its benefit.
Like for Verstappen, Vettel victories became inevitable. Whether leading from the front and keeping the competition just out of reach, jumping ahead as other cars hit tyre trouble or even battling up the order, as he did in India, he was superb. Of course, there was also the 'Multi 21' controversy in Malaysia when he overtook team-mate Mark Webber against team orders, such was his ruthless desire to win.
Verstappen has done nothing like that this year, but that near-desperation to keep racking up the victories is a factor both share. Verstappen shows no signs of easing off, didn't even entertain the idea of potentially helping team-mate Perez win the Mexican Grand Prix and likely won't be happy unless he adds wins number 15 and 16 to the tally in Brazil and Abu Dhabi.
He's also had to be even more versatile than Vettel in the way he has chased victories. Ferrari has more consistently started on pole position this year than the Mercedes did in 2013 and only five of Verstappen's wins so far have come from first on the grid. One (Spa) came from 14th.
As for the off-track controversy, in 2013 that engulfed Mercedes. It participated in an infamous 'secret' tyre test at Barcelona.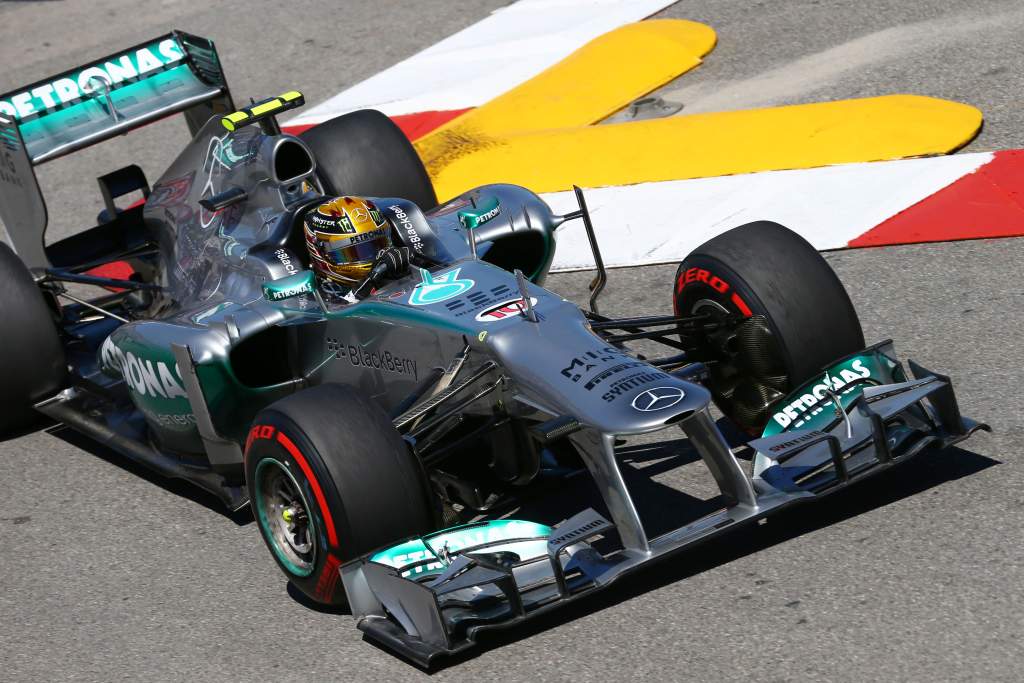 News of this test emerged during the Monaco Grand Prix weekend. Testing with the current year's cars was banned, but Pirelli wanted to run with a representative car after early-season tyre problems. Mercedes was set up to run at Barcelona as a result with FIA approval, but rival teams were not informed.
Red Bull lodged a protest, with the stewards referring the test to an FIA tribunal. This reprimanded Mercedes and banned it from that season's three-day young driver test because this track testing being carried out "without the knowledge, consent or participation" of other teams. Pirelli was also reprimanded for "conduct prejudicial to the championship" and the secrecy of the test, which race drivers Hamilton and Rosberg participated in.
While perhaps not on the same scale, the similarities to this year's cost cap controversy are clear. It was certainly a huge talking point.
What is most striking about Red Bull's 2013 and Red Bull's 2022 is that on both occasions it was a team and driver very much at one, supported by a capable number two driver, producing a rare level of dominance.
Such seasons may be criticised as boring or too easy. But while they may be too predictable and lack the intensity of the title fights that preceded them both in 2012 (Vettel vs Alonso) and 2021 (Verstappen vs Hamilton), they are far from easy to achieve.
What we don't know is what follows. But while looming rule changes meant Red Bull's 2013 dominance was always potentially going to be interrupted the following season, there's no reason why Red Bull can't be just as strong next year.
And just as in 2013, whether or not intrigue will be restored likely relies on one of Mercedes or Ferrari upping their game.