This Monday will mark 20 years to the day since George Harrison died in Los Angeles surrounded by his family.
Millions of music fans around the world mourned his passing at the age of 58 but the concept of death was simply a part of his life itself for the Beatle, in the sense that, as he said in a 1987 interview, "there's this thing inside which isn't this person or that person, it's just a potentially pure soul that's trying to get out".
Harrison's life was a whirlwind of love affairs. One of those was with motorsport. It began in the mid-1950s when he visited the Aintree circuit around half an hour away from his family home in Speke.
This new intoxicating passion was largely forced to endure a decade long break throughout the 1960s when his 'day job' of the time got busy.
But by the early 1970s, a period many in the music business consider his creative zenith with a canon of work that included his classic 'All Things Must Pass' album, Harrison was re-engaging with a variety of interests, one of them being racing.
He had visited the Monaco Grand Prix in 1966 with his new wife Patti Boyd, hanging out in the pitlane with Jim Clark, Graham Hill, and Jackie Stewart (who Harrison is pictured with below, some 33 years later).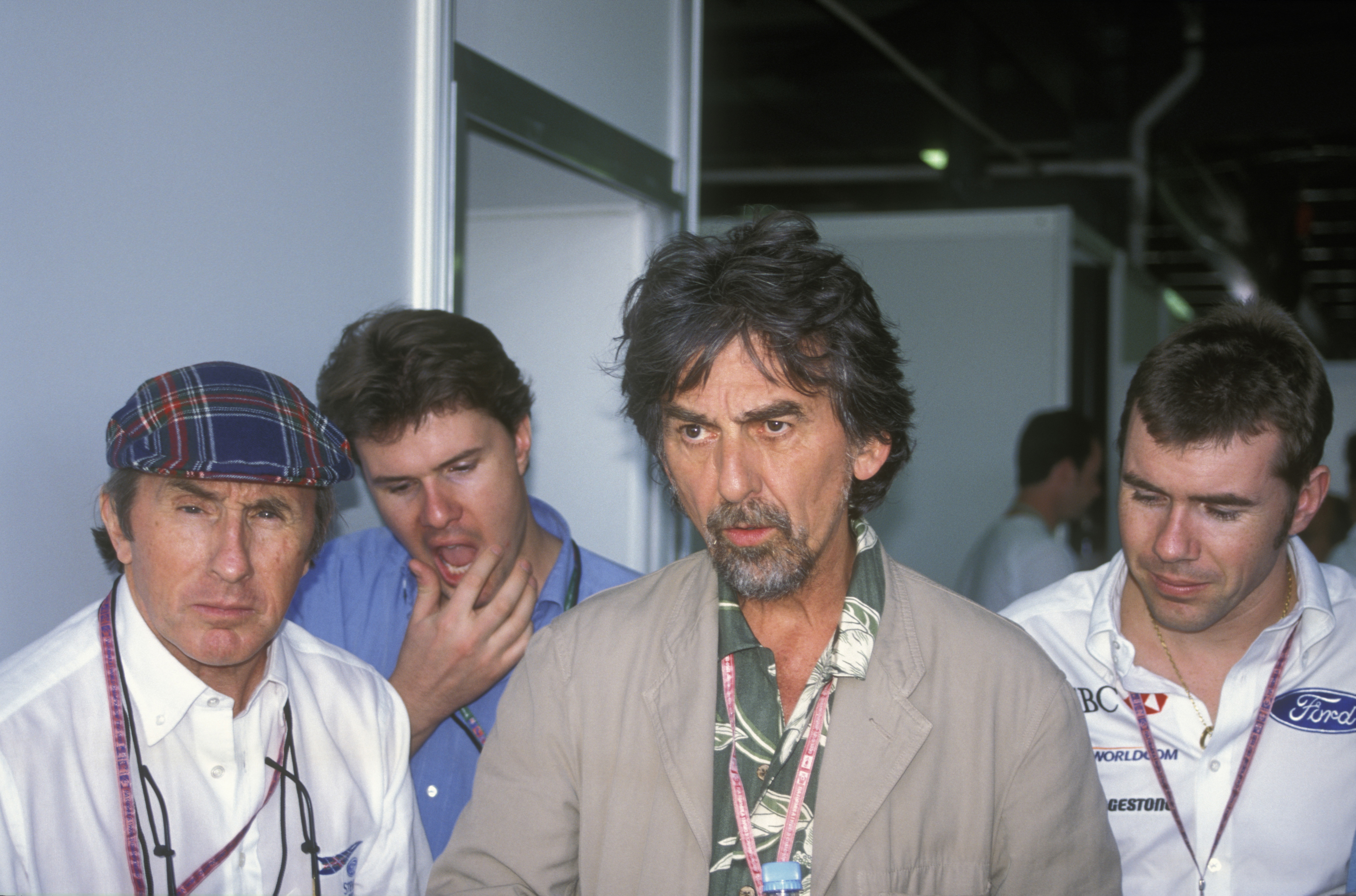 Stewart in particular became a close friend and remembers Harrison as "one of the most impressive people I've ever met".
"That sounds pretty over the top, but he had a mind far beyond what I believe most people would expect or even understand," Stewart told The Race on recalling his friend.
"He consumed information fantastically well. Of course, he was very creative, and his thinking processes were fantastic, he was kind of otherworldly but also quite down to earth at the same time, simply a very unique person."
Harrison's fascination with motorsport went much further than simply being attracted to the glamour and danger, aspects of the sport that were more enhanced intoxicants back then.
Alongside his interests in Buddhism, music, and horticulture, he studied racing through the prism of sheer competition, and while the mechanical aspects were of interest, it was the human complexities of sheer competitiveness and natural skill that so appeared to fascinate him.
"He was extremely knowledgeable of the sport, and when you think of the swinging 60s and even the 70s, everybody had a tremendous appreciation of the Beatles, so it seemed to many he was just there to be there," says Stewart.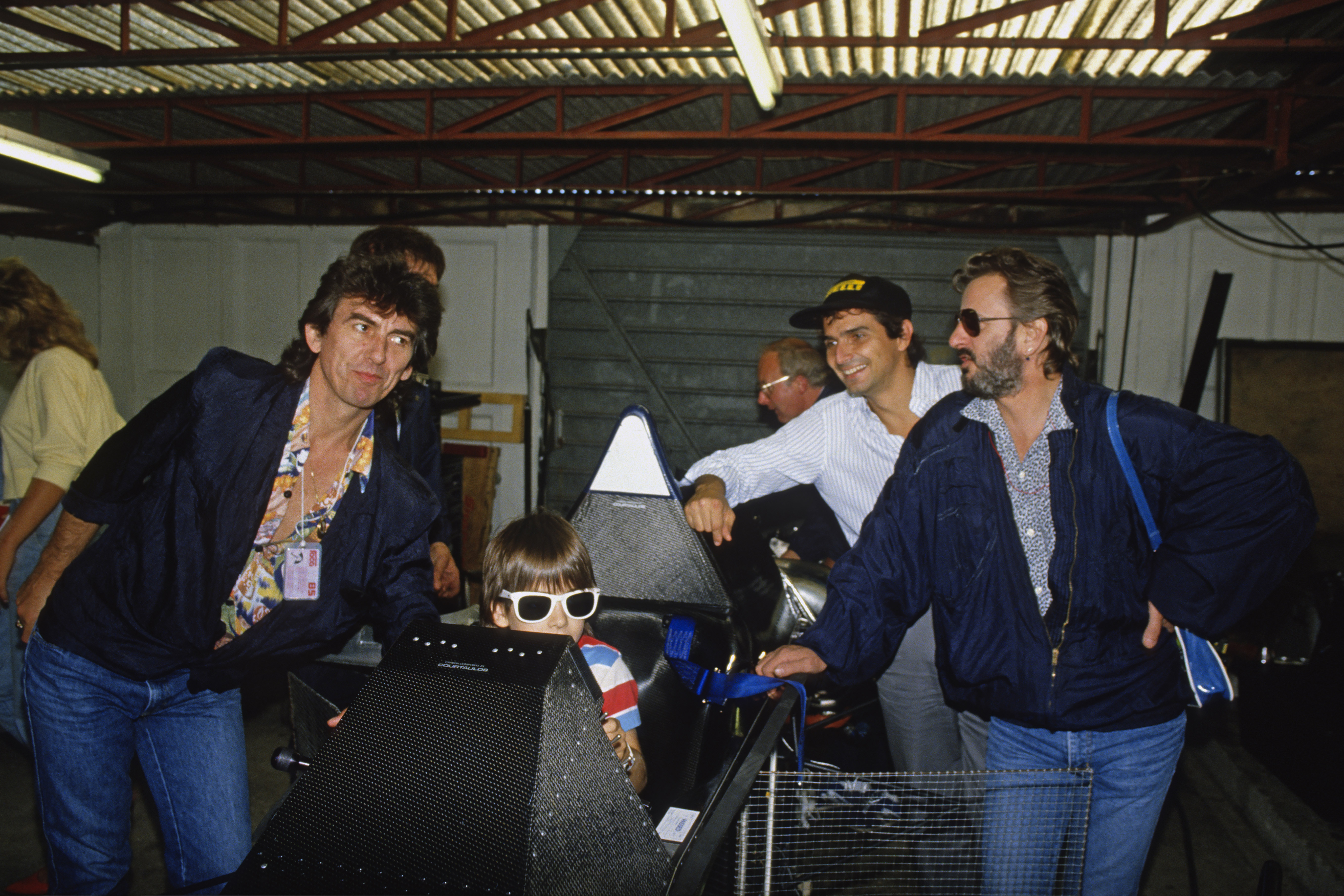 "But he wasn't, he really understood racing and he met all the interesting people that he wanted to be around. He was very friendly with Jody Scheckter, Emerson Fittipaldi, and many others.
"We had a very special relationship, and when I was on the road as much as I was in those days, Helen, Paul, and Mark [Stewart's wife and sons] would go to Friar Park [Harrison's legendary estate] and spent a lot of time with George and his family."
Stewart occasionally interviewed Harrison at grands prix in the 70s and on one memorable occasion in 1979, he managed to grab half of the Beatles for a rare post-Beatles chat for the ABC World Wide of Sports programme that Stewart anchored.
Ringo Starr, then living in Monaco, joined Harrison on the grid and as the grainy Youtube clips attests, he appeared to be rather refreshed prior to the start of the race.
When quizzed by Stewart, on who he fancied to win the grand prix, Starr replied: "As far as I'm concerned, it's Fangio again for me."
Fangio, then the most successful driver ever to have graced the sport, appeared to hold a childhood fascination for Harrison ever since he saw the Argentine's legendary battle with Mercedes team-mate and protege Stirling Moss at the 1955 British Grand Prix at Aintree, when he was just a 12-year-old.
"He genuinely had a love of the historical aspects of grand prix motor racing," recalls Stewart.
"George would ask me about the drivers I raced against and even before that, who I was competing against too. He definitely revered Stirling and Fangio, those two in particular I would say."
Harrison's philanthropic nature also poured forth in the 1970s.
His involvement with Monty Python saw the Handmade Films company born from which the Life of Brian came and was followed by other iconic films like The Long Good Friday and Withnail and I.
In racing too, Harrison was benevolent, but as his friend and former motorcycling charge Steve Parrish recalls, he was as low-key in this activity as he could be.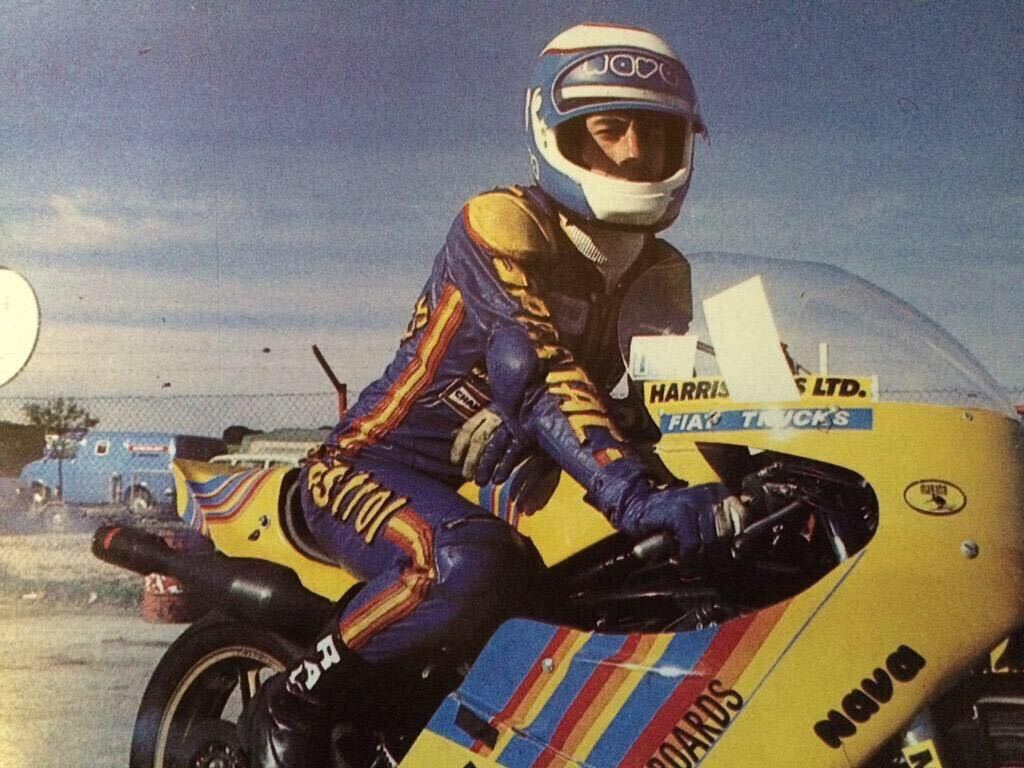 Parrish's great friend and rival Barry Sheene had introduced him to Harrison at Paul Ricard over the course of the French motorcycle Grand Prix in 1977, a weekend that Parrish has indelibly seared into his mind.
"It was a bit surreal really because I was this 24-year-old kid who was chasing a dream and then all of a sudden I'm kind of in one," he remembers.
"We were sat in Barry's Rolls Royce with George and Stephanie [Sheene] and pootling along the French country roads listening to The Eagles' Hotel California, which had just come out.
"I remember looking at the sunset and just thinking 'is this all really happening?' Looking back, you couldn't really get more 1970s, could you?"
While Parrish may well have been living the dream, he was also practically skint. This was despite the best efforts of himself and Sheene to keep him on the 500cc grid for 1978 and beyond.
At the end of '77 Parrish was left disappointed after a strong season in which he finished fifth in the world championship went unrewarded when Suzuki decided to controversially cut its budget.
"George was really pissed off because he thought it was unfair that I got let go by Suzuki that way," recalls Parrish.
"I remember he said, 'don't worry, our Stavros, I'll shout you some petrol and a few tyres, OK.' Well, that gesture equated to something like £40,000. In fact, he arguably funded most of the team in 1978.
"I went to his offices in London, which was DarkHorse records, and this woman gave me my cheque and said, 'I think this is the third cheque we've given out this week' so, it was obviously funding a few other things."
Those other things included The Life of Brian, the script of which was written in 1978 and filmed later that year in Tunisia.
A year after his season was backed directly by Harrison, Parrish was also involved in the Gunnar Nilsson charity campaign that future Leyton House and Jordan F1 team manager, Ian Phillips, set up after the 1977 Belgian Grand Prix winner died from cancer.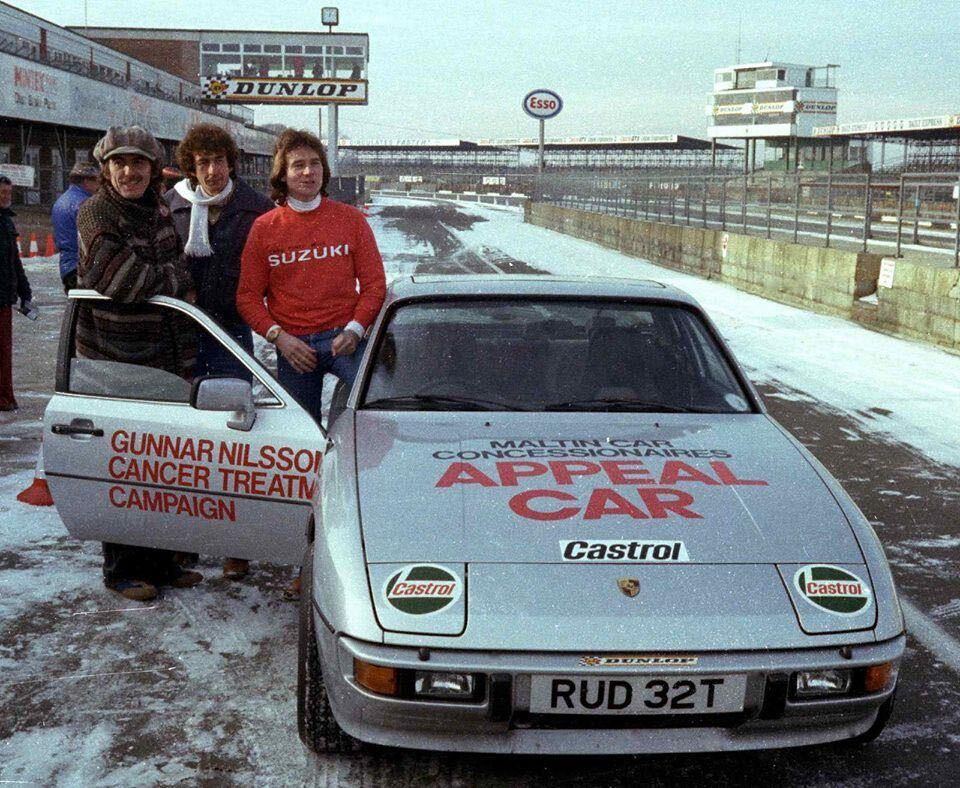 "That was actually probably one of the longest periods of time I spent with George, that whole great Gunnar Nilsson campaign we did at Silverstone when we were driving these Porsche 924's," says Parrish.
"That was fun as we had Kenny Lynch [singer and actor] was with us, who was such a great character.
"It's funny, we all looked up at George and he looked up at us, you know.
"He couldn't believe we could do what we did, so it was nice, like a mutual respect. But essentially, he was just a bloke who loved racing. It was a pure thing with George, he just loved being around bikes and cars, and being at the track."
The time and effort Harrison put into the Gunnar Nilsson campaign gained him additional respect in the motorsport community, and his support has never been forgotten by Phillips.
"He was a kind spirit, George," Phillips tells The Race.
"The time he gave to us and to the memory of Gunnar, who he knew and liked, was brilliant really.
"We shared one of the most memorable nights of my whole life when Fangio arrived in London for the event at Donington in 1979,"
"David Mason, who was the sort of overall boss of the Gunnar Nilsson campaign, organised to dinner at the Ritz. It was Fangio, Tony Brooks, Stirling Moss, George and also Gene Hackman [star of hit movies The French Connection and The Conversation].
"You are not going to forget that kind of company in a hurry, really. It was quite astonishing for me just being in that orbit, and we have a great, fun evening."
Phillips, who was the circuit manager at then recently opened track, recalls what turned out to be Harrison's second run in an F1 car (see below the first).
"He drove the Rob Walker Cooper made famous by Stirling's win at Monaco in 1961 and Jackie Stewart drove the 1973 Tyrrell.
"George was more than capable in the thing too, as I seem to recall. Even though it was a parade really, he was just enjoying it."
Harrison continued being a regular at Grand Prixs throughout the remainder of his life, usually either supporting Damon Hill in the 1990s or with the Stewart Grand Prix team in its mercurial three years between 1997-1999.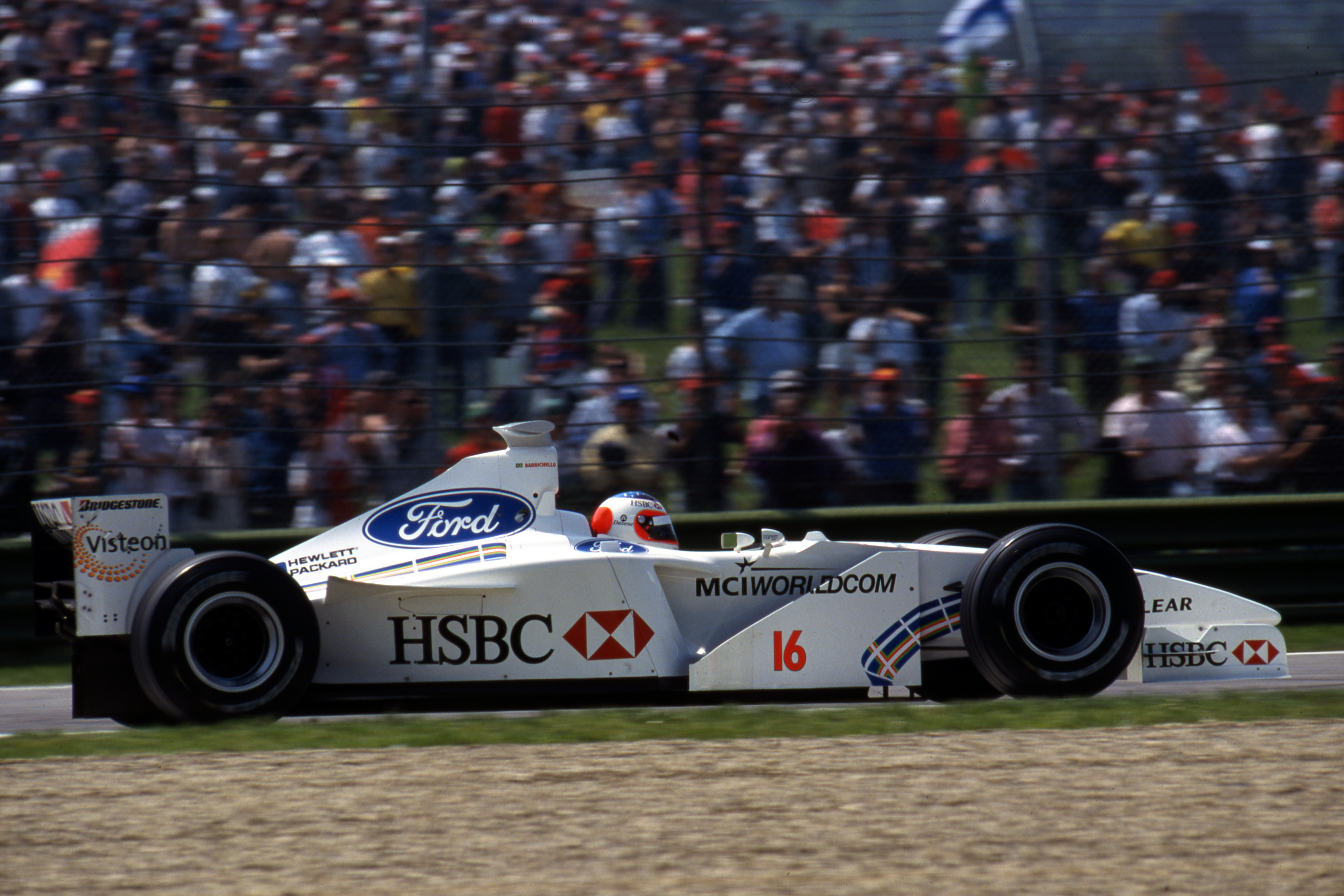 A few years after Harrison's death, his son Dhani continued the racing connections as he worked for McLaren Automotive for a period as a designer before deciding to follow his father's footsteps in the music business, becoming one third of the Fistful of Mercy band with Ben Harper and Joseph Harper.
"He was one of the key people in my life really," remembers Sir Jackie Stewart, recalling his friendship with Harrison.
"He had one of the best brains I've ever been around, which sounds crazy to say when you consider the major multinationals I've been involved with, but George had one of the most creative minds that I've ever experienced.
"Most of all though, he was a good friend, who just really loved his racing."
The Day George Harrison Drove a Contemporary F1 Car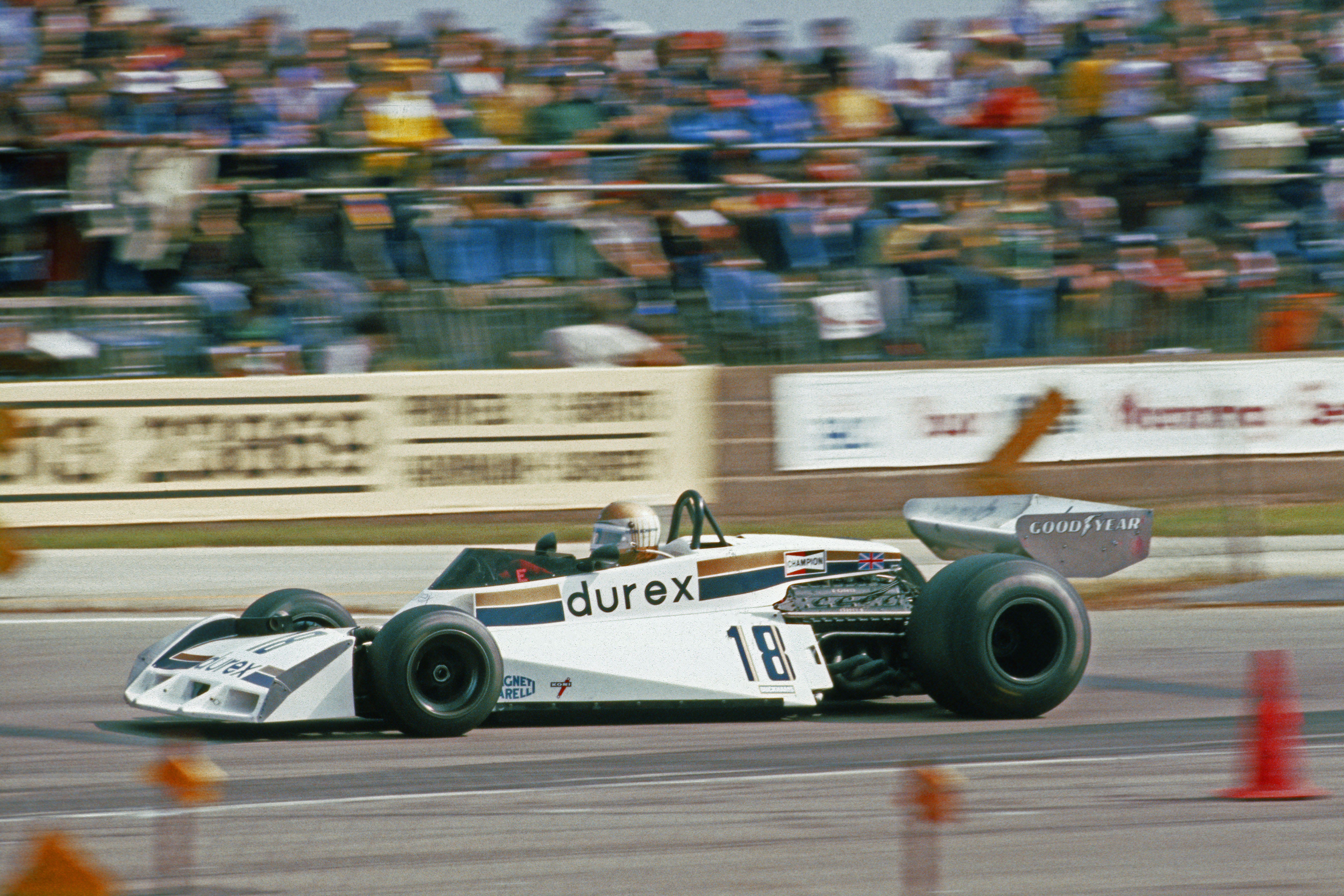 On the 25th of April 1978, a handful of people gathered in the old back paddock at Brands Hatch.
It was a highly select group including then-F1 entrant, and still the only person to win both world motorcycling and F1 championships, John Surtees.
The scene was informal as a spare Surtees TS19 F1 car (pictured above in the hands of Vern Schuppan at Silverstone the year before) was readied for reigning 500cc champion Barry Sheene to enjoy his first ever formal laps in F1 machinery.
The casual atmosphere completely belied the moment as Sheene stepped into the cockpit of the plain white car, which had its Durex livery unsheathed from its bodywork.
Remarkably though this was not the most significant aspect of the day at all, for spectating from the pit wall that afternoon was one-quarter of the Fab Four, Harrison himself.
A close friend of Sheene's, Harrison was a familiar face in an F1 paddock, yet certainly not in an F1 car.
All that changed after Sheene completed his 70 laps that spring afternoon, which in turn came after the hands-on Surtees had set the car up.
Among the very small and select eyewitnesses that day was Nigel Steer, then a junior mechanic with the team reporting to team manager and future Edenbridge Racing founder Peter Briggs.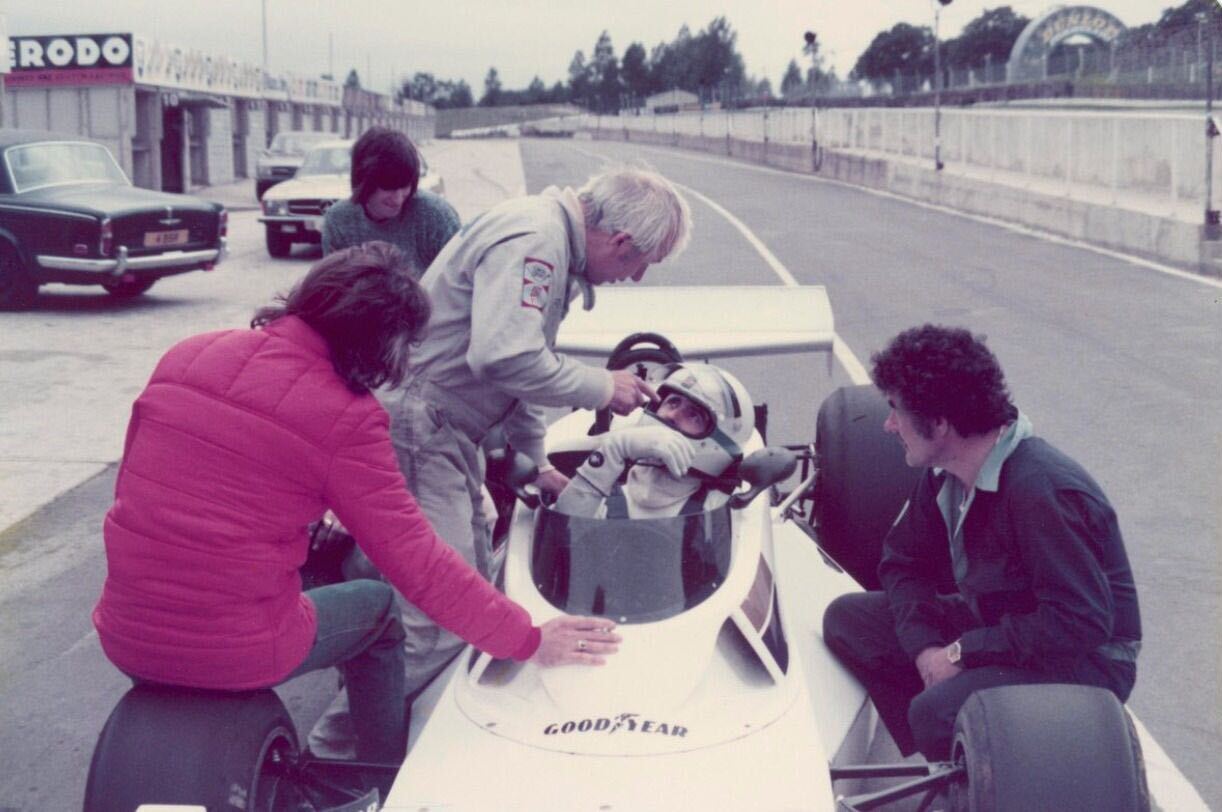 Steer himself went on to have a long career, mostly with Tyrrell, and continues to work in F1 to this day, now with the AlphaTauri team where he is based at its Faenza headquarters.
"Barry spent pretty much most of the day in the car and then George got it in later on, towards the evening time," Steer recalled to The Race, 43 years on from strapping Harrison into a then contemporary F1 car.
"I can't remember how many laps he did, it was probably only five or six, but he definitely had a go that day. George took quite an interest in what was going on, but I don't think there was anything organised for him to drive the car at first.
"I'm pretty sure it was quite spontaneous, and it was probably a case of John just saying, 'go on, you can have a go now George'.
After the brief run Steer joined Surtees, Sheene and Harrison to a legendary Brands hostelry.
"We went to the Kentagon for a good few hours afterwards," remembers Steer.
"I recall it being good fun with those two telling stories for a while.
"I suppose today it would be a big thing with TV and photographers everywhere but then it was just a few of us having a drink after a fun day at the track.
"I reckon the barmaids probably didn't even know there was a Beatle and a couple of world champions in the place. Different times."