With Charles Leclerc's Formula 1 world title challenge at risk of being derailed by the unreliability of his Ferrari F1-75, there is a danger he could suffer the same fate as Kimi Raikkonen in 2005.
Raikkonen was at his swashbuckling best that year but, despite his brilliance behind the wheel and the speed of the McLaren MP4-20, the world championship eluded him.
Unlike Leclerc, Raikkonen had already had a taste of an F1 title bid before. But though he came within two points of beating Michael Schumacher to the 2003 title, that was very much an against-the-odds effort in an odd year – with Raikkonen in what was effectively the previous season's design for most of the campaign and winning just once.
Deposing Schumacher in that circumstance would've been extraordinary, and there was no shame in Raikkonen and McLaren narrowly failing to do so.
But 2005 was a different matter. Unlike Leclerc and Ferrari, who have started very strongly and then stumbled, Raikkonen and McLaren took a little time to show what they were going to be capable of in '05. But when they got going, they were unstoppable on pure pace.
The spectacular MP4-20 was the culmination of work Adrian Newey had started with the radical but failed MP4-18 project from 2003.
McLaren was able to go even more aggressive with the sidepod undercut Newey had come up with for its B-spec 2004 car, and it reacted to rule changes that raised the front wing for 2005 by raising the lower wishbone of the front suspension, which allowed the airflow to pass freely from the front wing to the bargeboard area.
The MP4-20 also featured the introduction of a seamless shift gearbox, which McLaren estimated was worth at least three tenths of a second per lap as there was no loss of acceleration during the gear-change process.
It was a phenomenal car with a driver hitting his peak in F1, but the combination would come up short in 2005.
While Raikkonen matched champion Fernando Alonso's seven grand prix wins that year, his tally could have been more.
The season started badly when stalling ahead of the formation lap meant Raikkonen had to start from the pitlane in Australia. He could only climb to eighth as Alonso finished third.
Then in Malaysia, while McLaren was struggling to unlock the MP4-20's potential, a tyre valve failure ultimately cost Raikkonen a decent finish, while Alonso cantered to victory.
Raikkonen got off the mark with third in Bahrain, but it was next time out at the San Marino GP that it really became clear how strong the McLaren package was – and when the frustration really started too.
Imola: A forgotten lost win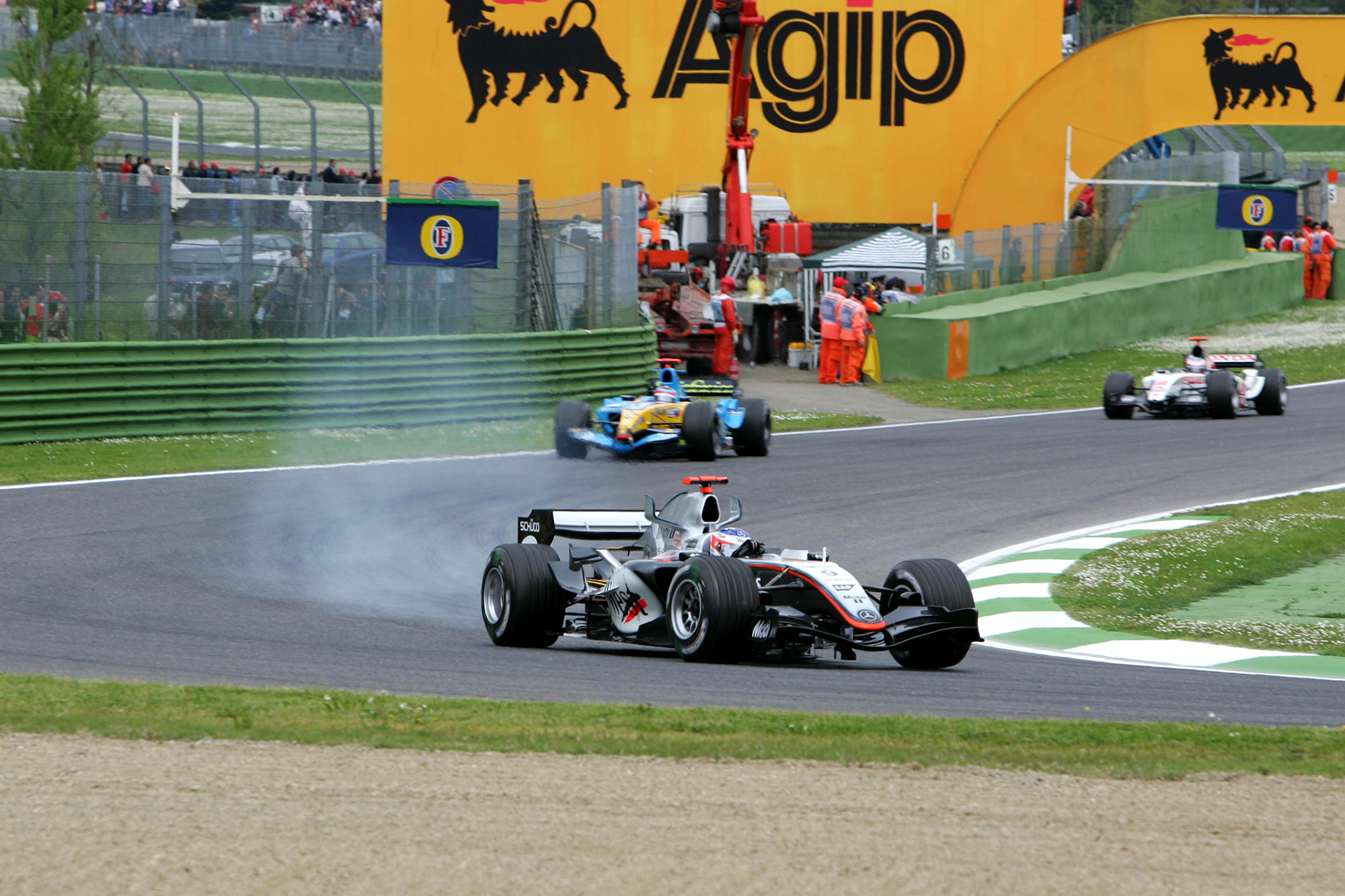 This race is famous for Alonso and Schumacher's tense victory battle – but it should've all unfolded in Raikkonen's wake.
McLaren had found its feet with the MP4-20 and Raikkonen led the race from pole position. He looked comfortable out front, pulling out an early 3.5s lead, only for a driveshaft failure to force him out of the race after just nine laps.
Alonso went on to win for a third straight race, putting Raikkonen 29 points adrift already.
Nurburgring: Tyre gamble dramatically fails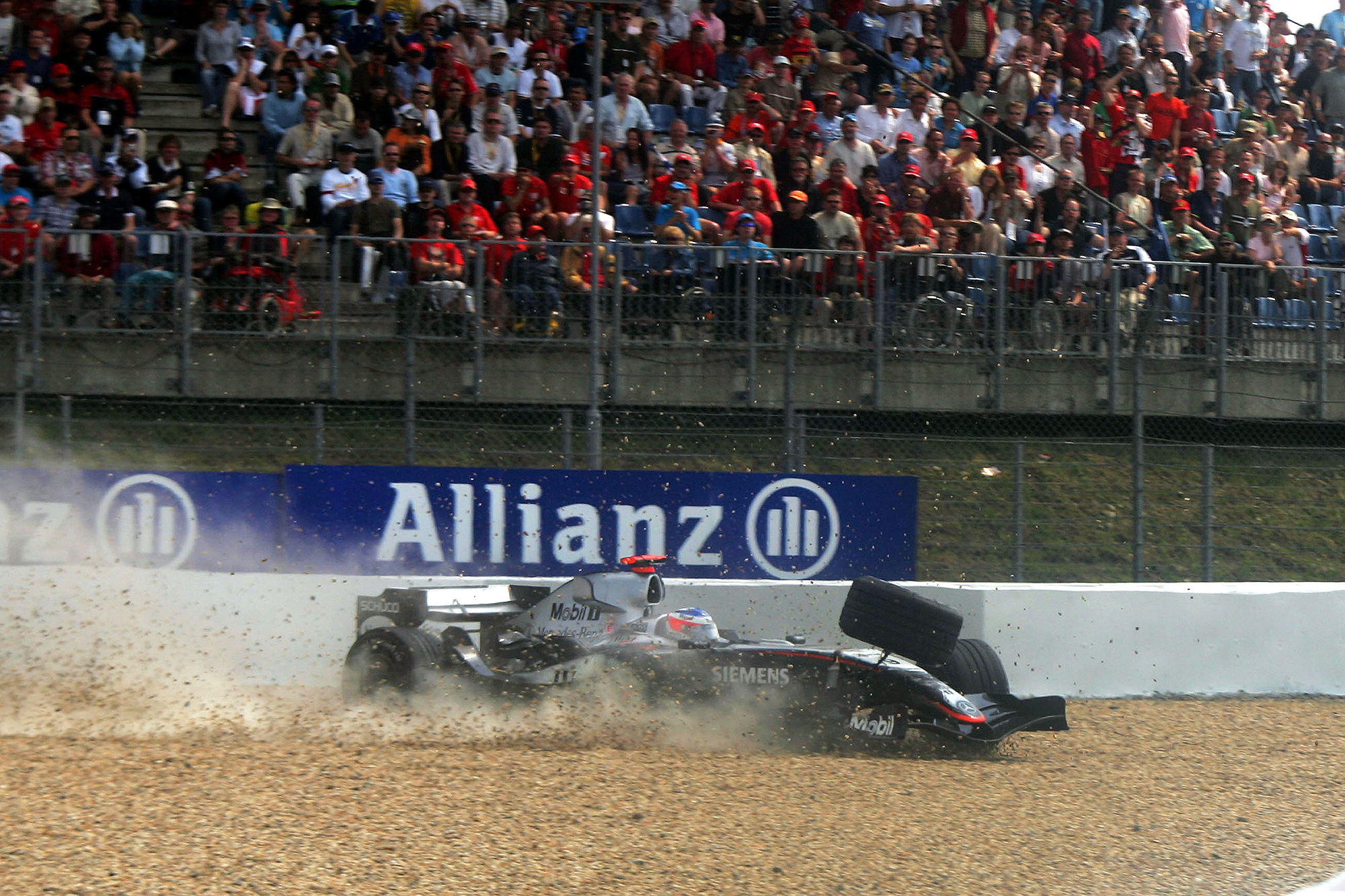 Back-to-back wins for Raikkonen in Spain and Monaco brought the gap down to 22 points heading to the Nurburgring.
Despite an error at Turn 5 briefly costing him the lead to three-stopping polesitter Nick Heidfeld, Raikkonen had the race under control until he developed a nasty flat spot on his right-front tyre after locking up when lapping Jacques Villeneuve's Sauber.
With ground to make up in the championship, McLaren decided to take the risk of staying out with the damaged tyre, which shook the suspension to pieces at the start of the final lap.
Raikkonen was out in dramatic circumstances, and Alonso inherited the win. Instead of bringing the gap down to 20 points, it was now up to 32.
Indianapolis: Would Raikkonen have walked it?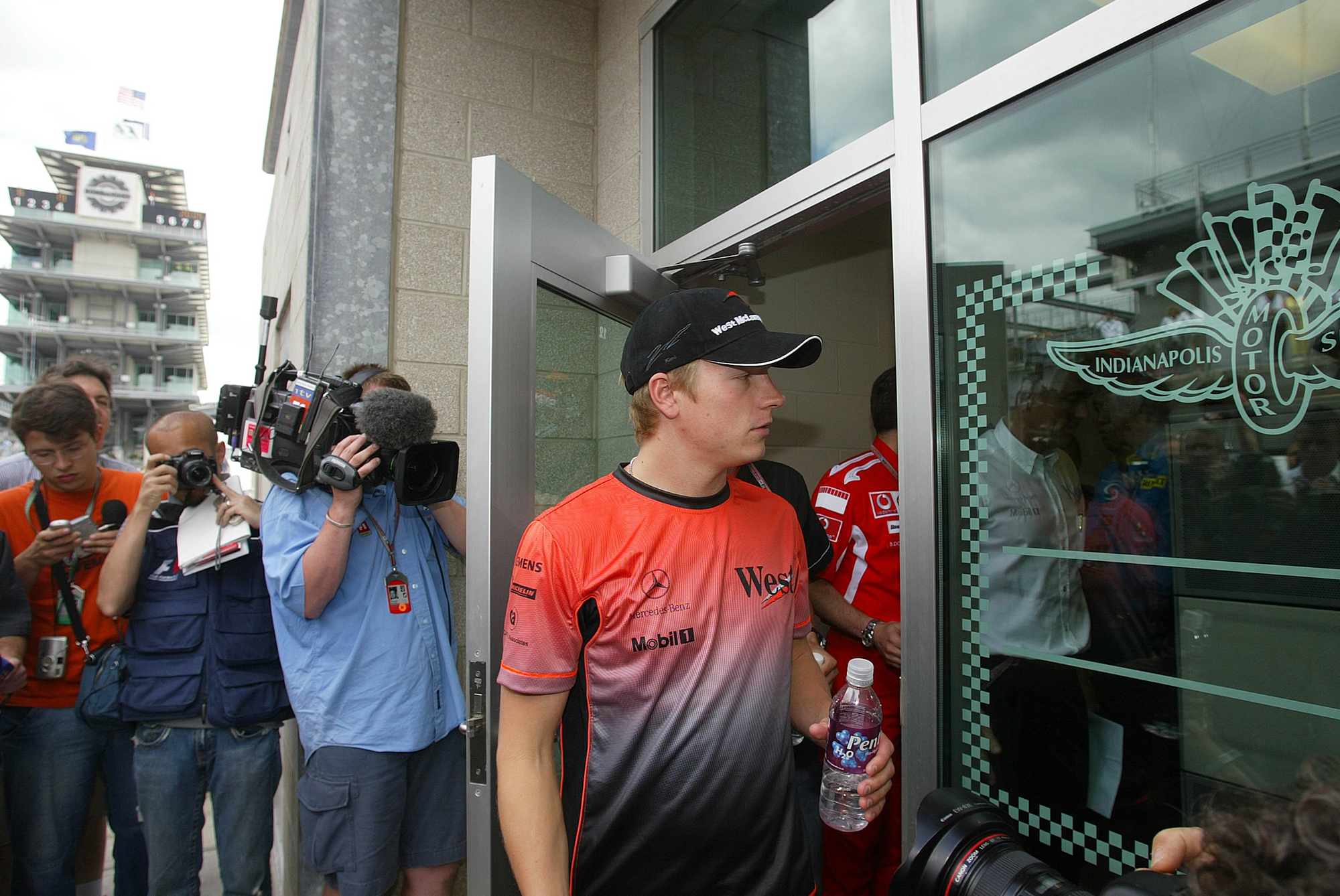 You could argue this race didn't cost Raikkonen anything, as both he and Alonso non-scored due to all the Michelin teams withdrawing on a dark day for Formula 1.
But, after Raikkonen had clawed back 10 points by winning in Canada while Alonso crashed out, it was a lost chance for his title bid to gather momentum.
Raikkonen qualified on the front row alongside a very light-fuelled Toyota of Jarno Trulli, with Alonso sixth.
Had the race gone ahead in a way that worked for Michelin, there's every chance Raikkonen would have won it, giving him the opportunity to at least get the gap down to 20 points, even if Alonso finished second.
Raikkonen was furious when team boss Ron Dennis told him 10 minutes before the start that he wouldn't be racing. As they argued about it Raikkonen said he wanted go ahead with it and the others could go home if they didn't want to drive. His engineer at the time Marc Priestley describes Raikkonen's reaction in colourful detail in the Indy 2005 episode of our Bring Back V10s podcast series.
The Michelin-shod drivers were supposed to stay in their cars when they pulled into the pits on the off chance a last-second resolution could be found, but after ranting on the radio Raikkonen climbed out of his car before it was even pushed back into the garage.
Magny-Cours: Engine penalty woe begins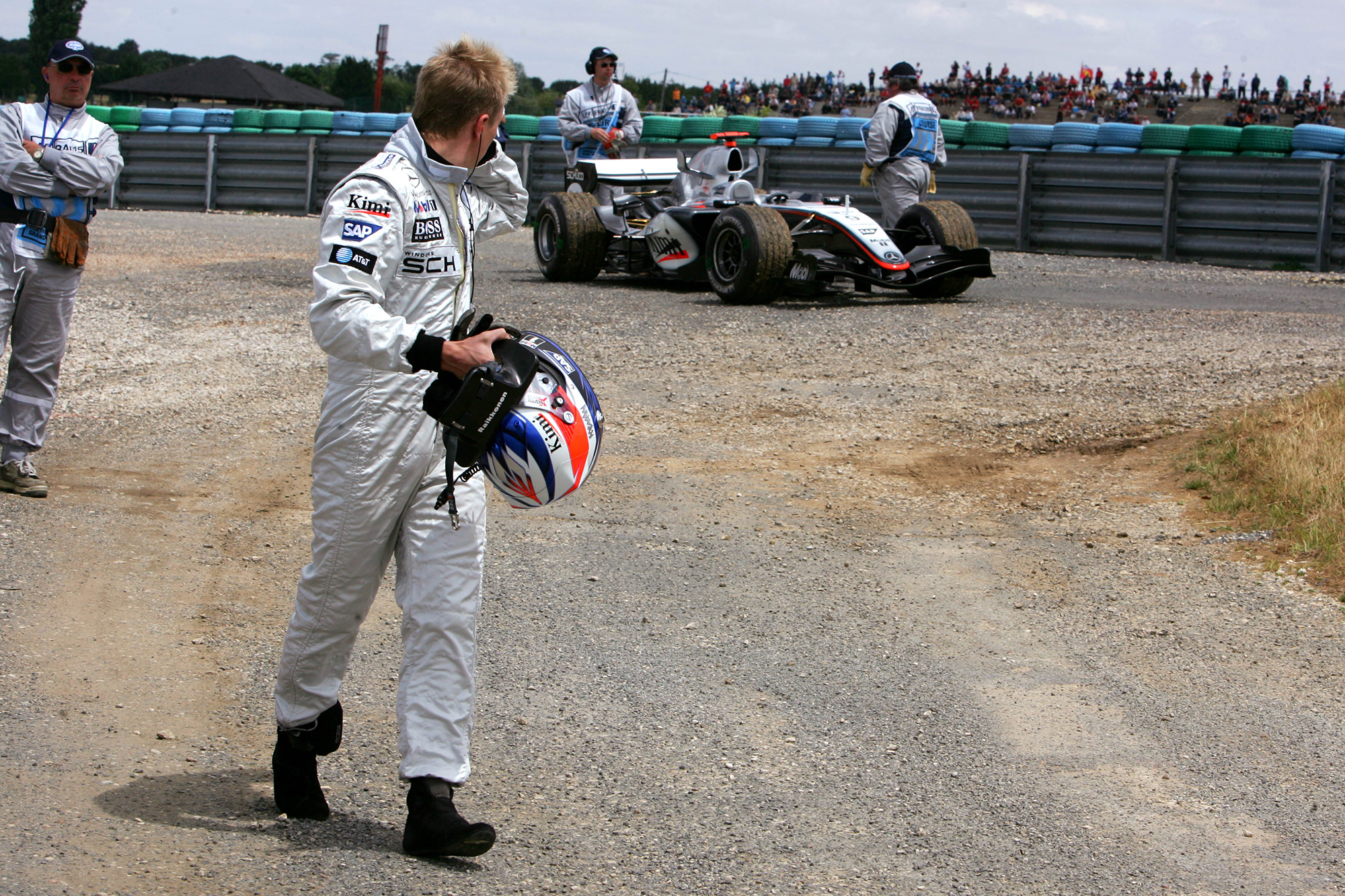 McLaren's Mercedes engines also had a poor reliability record in 2005, and in France Raikkonen took the first of his grid penalties for engine changes following a failure in practice.
Starting with a heavy fuel load he was able to charge through from 13th to second, but crucially Alonso won the race, extending his championship lead to 24 points.
Silverstone: And another one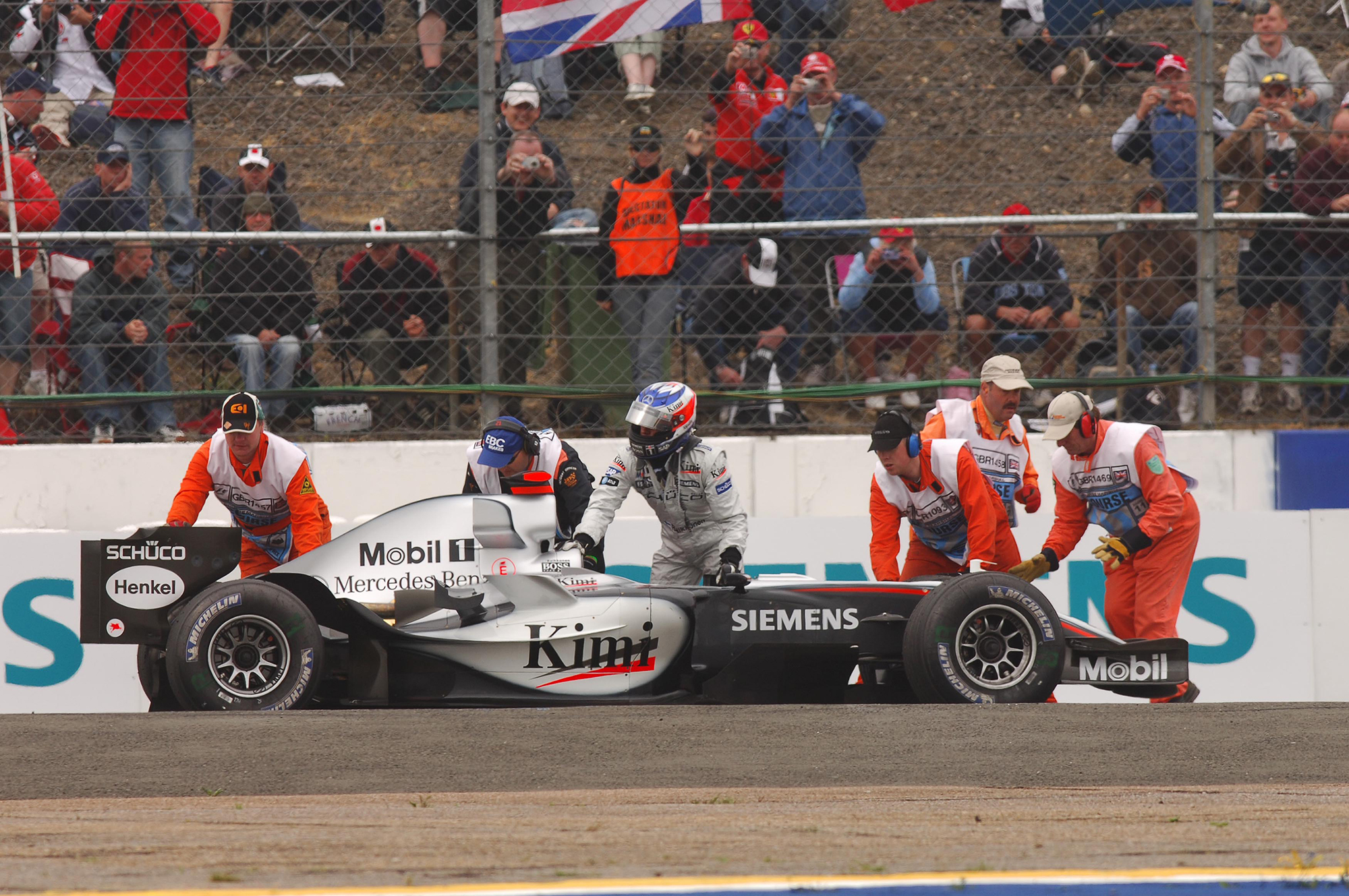 It was more of the same next time out at Silverstone, as another engine change turned second on the grid into 12th for Raikkonen.
McLaren team-mate Juan Pablo Montoya stopped Alonso from taking another win, but the Renault driver gained another two points on Raikkonen, whose charge to third was helped by Alonso's team-mate Giancarlo Fisichella stalling at a pitstop.
Hockenheim: Out when leading again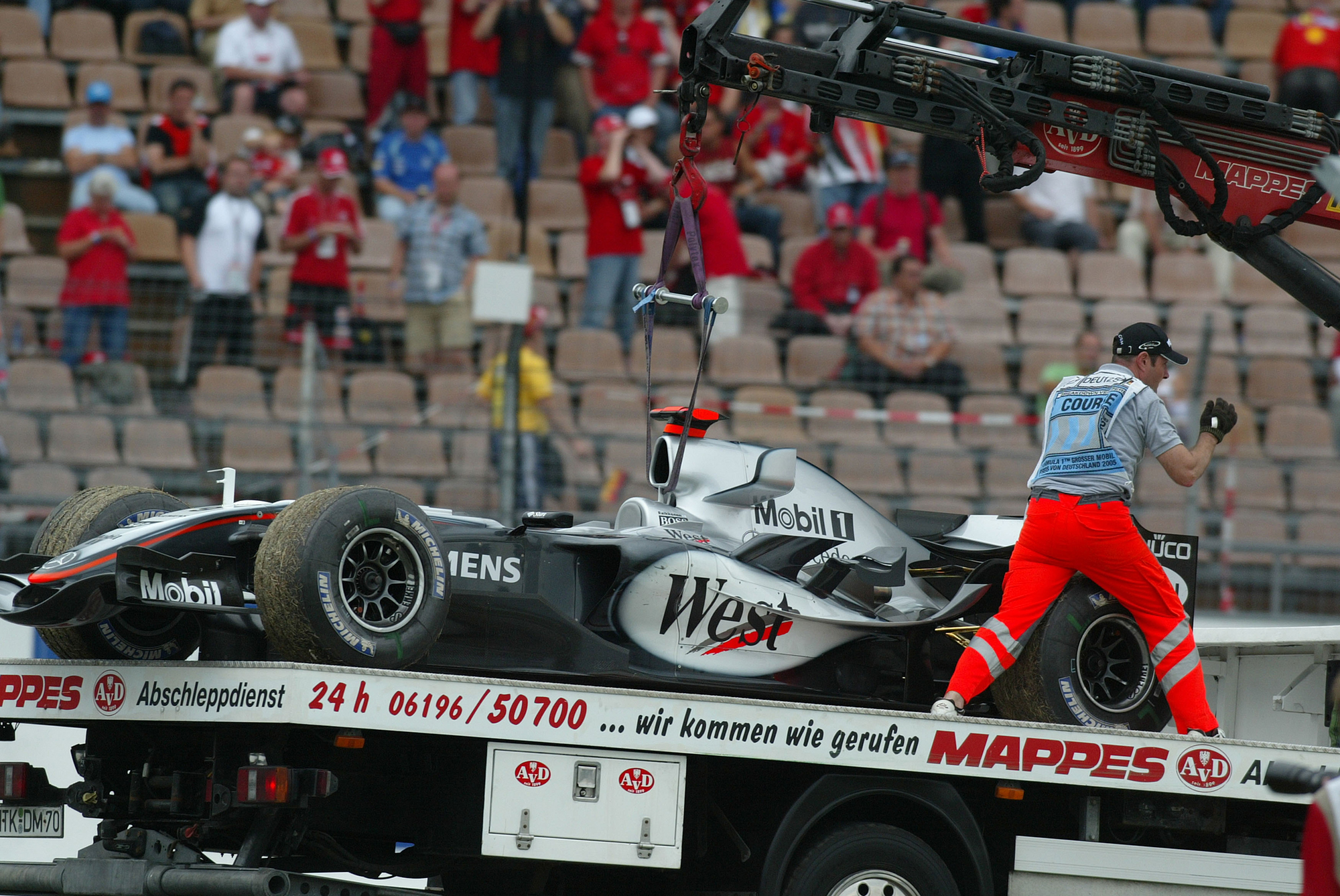 Raikkonen led the German Grand Prix at Hockenheim from pole position for 36 laps before a hydraulics failure put him out, handing the win to Alonso and turning a likely two-point gain into a 10-point loss.
Dennis said the failure was caused by 'finger trouble' leaving a bleed nipple loose in the gearbox.
Montoya wasn't in a position to limit the damage this time, having crashed in qualifying when he'd been on course to join Raikkonen on the front row.
Monza: Penalty and messy recovery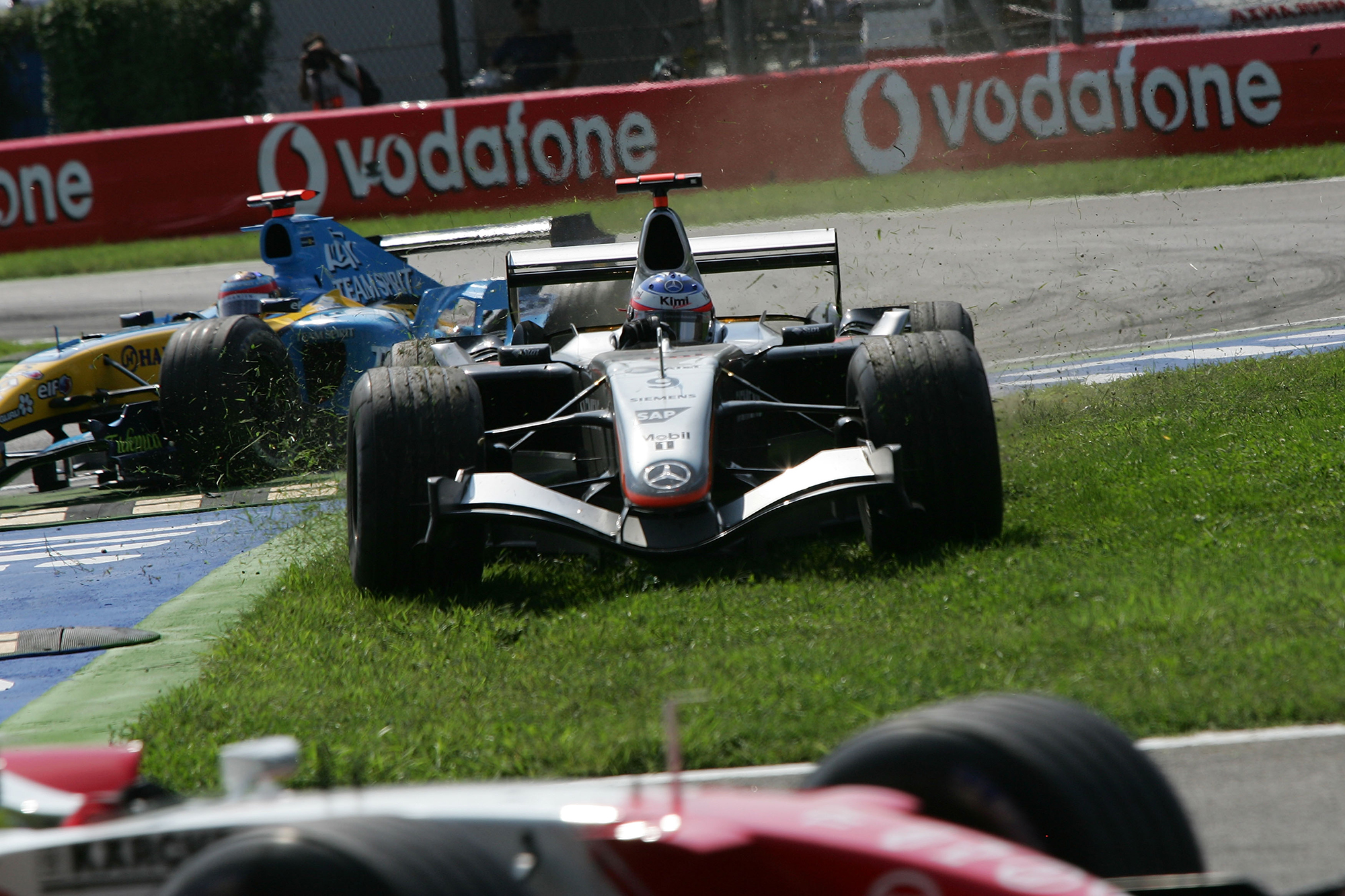 Back-to-back wins in Hungary and Turkey repaired some of the damage after Germany, leaving the deficit at 24 points, but Raikkonen took another engine-change penalty at Monza, costing him a pole position.
Montoya prevented Alonso from taking victory, but this time Raikkonen only came through to fourth, having to make an extra pitstop to replace a damaged left-rear tyre, and having a spin at the second chicane.
Had Raikkonen led Montoya home for a McLaren 1-2 he could have gained four points on Alonso and brought the gap down to 20. Instead, Alonso increased his lead by another three, taking it up to 27.
What it all cost him
Across these seven races where technical problems with the chassis, engine or tyres cost Raikkonen, Alonso outscored him by 37 points.
At times through the year, Alonso admitted that Renault was struggling to find an answer to McLaren's pace, but his relentless consistency didn't give Raikkonen a way back into the title fight.
Even on Raikkonen's good days, things behind him played into Alonso's hands. In Turkey, Raikkonen thought he'd led home a McLaren 1-2, only to be told on the radio on the slowing down lap that Montoya – who'd been hit earlier in the race by the lapped Jordan of Tiago Monteiro – had gone off in the closing stages and allowed Alonso through to second.
Alonso inherited another second place at Spa when Montoya was taken out by the lapped Williams of Antonio Pizzonia, and next time out in Brazil he followed the McLarens home to claim his first world championship.
Raikkonen was left to remind everyone of his brilliance with his phenomenal charge in Japan to win from 17th on the grid with a last lap pass on Fisichella. But 2005 was a year of what might have been.
There remains a long way to go in the 2022 title fight but there are emerging parallels between Leclerc's plight and Raikkonen's 2005 season.
Then, McLaren was playing catch-up after its disastrous start, often forcing it to take further risks. Now, while Leclerc initially built an advantage over Max Verstappen this year, his recent run of results arguably puts Ferrari in a similar position.
Leclerc has yet to face the grid penalties he will inevitably suffer later this season. Raikkonen actually minimised the impact of his remarkably well, but it wasn't enough to stop him from losing out to the relentlessness of his opposition. And Verstappen and Red Bull seem like even faster opponents for Leclerc than Alonso and Renault were for Raikkonen.
Raikkonen did, of course, become world champion two years later. But it would be his only title and he had to leave McLaren (which in the mid-2000s seemed like a natural long-term fit for him) for Ferrari to get it.