Yuki Tsunoda's reaction after becoming the first driver since Stoffel Vandoorne in 2016 to score points on his Formula 1 race debut was telling. His first response to race engineer Mattia Spini telling him "you did a fantastic race, we're going to have fun this year" after crossing the line to finish ninth in Bahrain Grand Prix was to apologise for a poor first lap.
All that had happened on the opening lap was that Tsunoda hadn't made a great start and made some minor errors in car positioning that resulted in him dropping from 13th to 15th.
That's hardly inexcusable for a rookie, even if he did make life difficult for himself at the aborted first start when he overshot his grid slot significantly and had to reverse. But it does showcase the key trait integral to hopes that he might have the potential to become Japan's first F1 race winner.
Tsunoda's speed is well-established, but he has the ability to identify weaknesses and work on them rather than either making excuses or considering what he's done to be enough. That determination will stand him in good stead.
Even once he'd returned to the paddock, Tsunoda was quick to point to the losses on the opening lap that likely cost him an even better result given the pace of the AlphaTauri.
"Happy but also a bit disappointed, especially the first lap," he said. "I lost too many positions on the first lap.
"I had to put all of my effort and time to recover these positions. Other [than that], happy to get points in the first race for the team. I learned a lot of things, just to do better in Imola next time."
Tsunoda's start was certainly lively. He stressed that he wanted to be cautious to avoid picking up damage, but was critical of his car positioning. Considering at this point he had yet to have an opportunity to view a replay, it showed had had absorbed what happened well.
He bogged down on the line, then picked up wheelspin when he did get going. This meant he was passed by George Russell, Kimi Raikkonen and Esteban Ocon by Turn 1, which left him 16th.
But in attempting to repass Ocon at the Turn 4, the rear stepped out at the exit of the corner. With Ocon then getting ahead of Russell, Tsunoda was able to sweep around the outside of the Williams at Turn 7 to hold 15th when the safety car was deployed.
He was then caught out by Ocon braking for the Turn 8 right-hander, locking up as he darted right to avoid contact then being passed by Sebastian Vettel's Aston Martin out of the corner. Fortunately, the flatspot on the right-front wasn't a bad one.
By the time the safety car was deployed on the first lap, Tsunoda held 15th place. That became 16th at the restart when Russell passed him into Turn 1, before Sergio Perez, who started from the pitlane, passed him at Turn 10. That left Tsunoda at his lowest point, in 17th place.
This was doubly disappointing for Tsunoda given what had happened in qualifying. While AlphaTauri team-mate Pierre Gasly made it to Q3 using the medium-compound Pirellis, Tsunoda failed to do so on his two runs. Again, speaking immediately after his elimination, he made no excuses even when give the opportunity to blame the tyre strategy.
The 0.767s deficit to team-mate Pierre Gasly was unrepresentative of Tsunoda's outright pace and he had been second fastest in Q1 using the softs. But having caught the eye with his pace through testing, practice and qualifying, it was a big disappointment only to be 13th fastest.
"I still don't know what's happened there, not acceptable for me," said Tsunoda.
"I lose completely the grip, especially with the C3 compared to the C4. It's a different compound, less grip, but not that much difference.
"There was not enough grip and I just have to see what's happened, calculate the data and prepare for tomorrow."
Tsunoda will have learned a huge amount from his first live qualifying session in F1 and it would be a surprise if he didn't have a more representative Saturday result next time out at Imola.
Even immediately after qualifying, he was able to look at ways he could perhaps improve, including being better at getting the medium Pirellis in the right temperature window to start the lap.
"Today, there was a lot of traffic before the lap, I had to wait quite a lot in the last corner, I had a lot of snaps when I accelerate from the last corner," said Tsunoda.
"Maybe I'll have to see for the traffic management and also how to adapt more to the C3 [soft] tyres from C4."
Having failed to make up for the qualifying shortfall immediately, it would have been easy for Tsunoda to let his head drop. But he knew he had a competitive car under him and began to make progress.
During his short opening stint on mediums, Tsunoda efficiently picked off Russell, Vettel and Ocon to run 13th thanks to an extra placed gained when Gasly suffered front wing damage.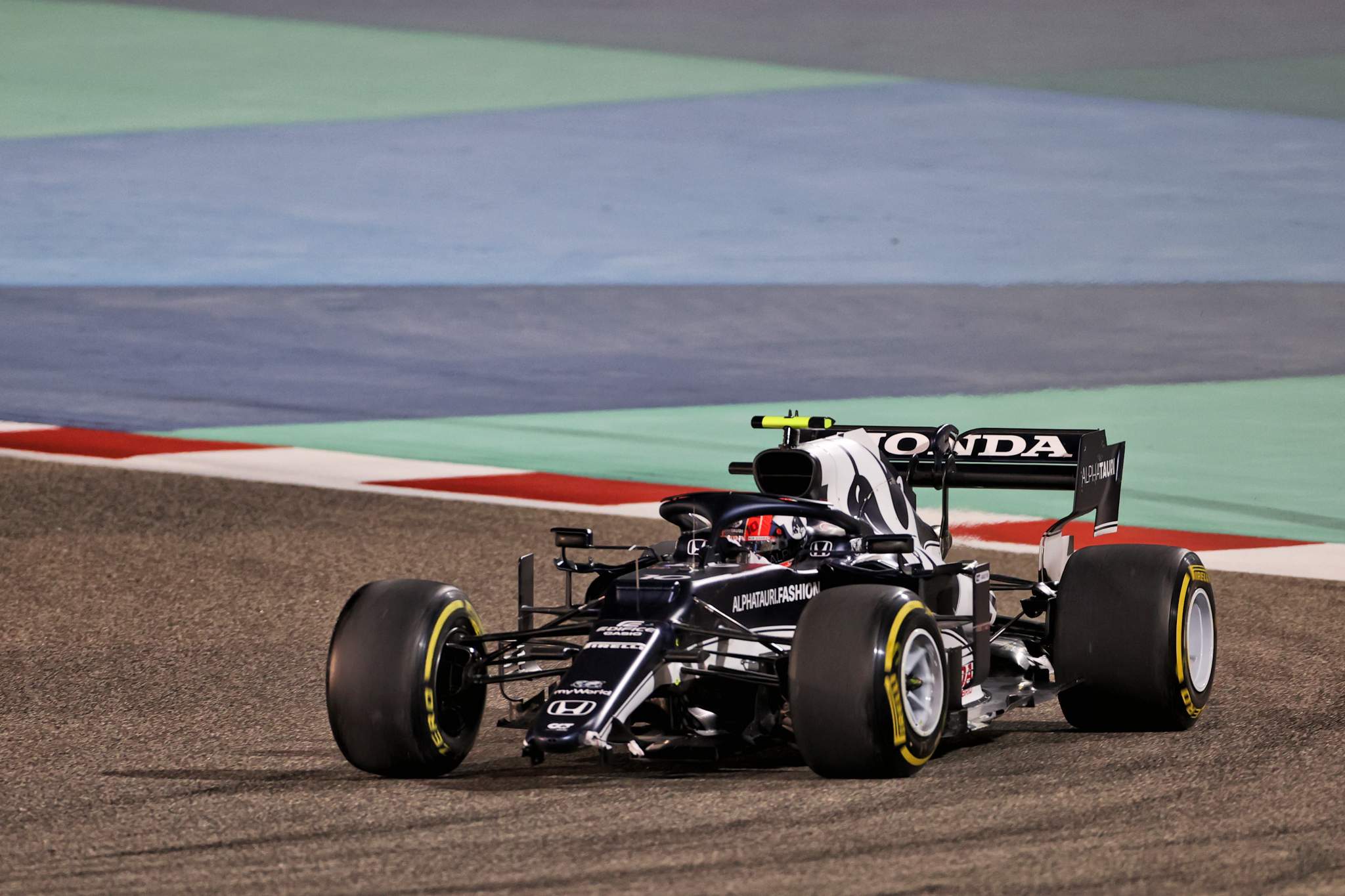 Having switched to hard Pirellis when he stopped at the end of lap 15, Tsunoda again started to make progress. Although his first attempt to pass Ocon fell short, albeit with the Alpine driver exceeding track limits out of Turn 4 to stay ahead, on the following lap he made the move stick into Turn1.
After dispatching easily Vettel, who had yet to stop, he then started to close on the other Alpine of Fernando Alonso. Tsunoda reported understeer but good traction, although during this phase he showed consistent pace with few signs of the overly-aggressive driving style he is often credited with. In fact, while he certainly doesn't hold back and has a relatively attacking style, he's far from monstering the car in a counter-productive way, even on push laps.
Tsunoda passed Alonso later in that stint, which produced a brief shout of delight later that lap, which put him into 11th place. That stint ended with another stop on lap 33, again taking hards for the run to the finish.
He emerged behind Vettel, but quickly picked him and Russell off to run 11th, on the brink of the points positions. Raikkonen was just over a second up the road, with Lance Stroll's Aston Martin a further 12s to the good.
Tsunoda soon closed on Raikkonen and dispatched him around the outside of Turn 4. He then set about closing the 13-second gap to Stroll. The Aston Martin had stopped for hards five laps earlier and Stroll was struggling for grip, meaning Tsunoda was on him and attacking with four laps remaining.
His first two attempts to make the pass fell short and having spent the penultimate lap recharging the battery, Tsunoda made the move into Turn 1 on the last lap to take ninth.
"The last stint was the best tyre management, it was good pace compared to the other stints," said Tsunoda when asked by The Race about the final stint.
"I got past Stroll on the last lap, first corner – it was a really late lunge. I decided that if I couldn't overtake him, I can't sleep whole night tonight.
"I struggled last two laps, especially in the dirty air I made quite a lot of mistakes also. I was really glad to pass him in last lap."
Those mistakes were asking a little too much of the front tyres on several occasions, as well as a few over-enthusiastic moments on the throttle. But having composed himself on the penultimate lap, what mattered was he made the move stick when it counted and time was about to run out.
Another important observation from the race is that there was little of the over-excited radio communication that Tsunoda has a reputation for. As well as his moment of enjoyment shortly after passing Alonso, he did give a short and loud response to the team during the chase of Stroll that appeared to indicate he wanted to be left in peace. But other than that, he was calm and collected, responding to instructions to change settings and managing the tyres sensibly.
Tsunoda's swearing outburst over the radio during Friday practice had gained some publicity and he admitted later that day his desire to curb such responses. His style of communication had made quite an impression on the team after his early test outings last year.
"I try to be more calm every session, I guess this is like my weakest point also, on the mentality side I was swearing a lot and losing my focus," he admitted.
Yuki's already giving it everything 💪 @yukitsunoda07 #BahrainGP 🇧🇭 pic.twitter.com/KxihmdjGMG

— Formula 1 (@F1) March 26, 2021
"I'm trying to train like this to not swear a lot but yeah, I [was] a little bit too emotional in FP1. This session there wasn't any swearing so a good step from FP1."
So this is another aspect where Tsunoda is showing signs of learning rapidly. For a driver who has moved through the ranks quickly since moving to Europe, with a single season In Formula 3 in 2019 then Formula 2 last year, this is an encouraging sign.
"His speed was not in doubt from F2," said AlphaTauri technical director Jody Egginton. He deserves his shot.
"He's on a very steep learning curve as any young driver is coming into the Formula 1 world, but he's taking it step by step. He's absorbing a lot of information and he's communicating well, and we're understanding what he wants from the car and he's working well with his engineering team.
"He's a quick learner and we've had a few ups and downs this weekend. He's been very quick but we had a few little issues with the car [on Friday], and he's taken that in his stride."
Overall, Tsunoda made a positive impression on his first grand prix weekend. But you get a strong sense from him that ninth place in a car as competitive as the AlphaTauri simply isn't good enough for him.
While others might have patted themselves on the back, he's driving himself on and doubtless expecting a better finish next time out at Imola.
"Yeah, maybe I'm aiming too high before the race but for me, my team-mate was doing a better job in qualifying and I was aiming for there [Q3], so of course, I'm not 100% happy," said Tsunoda when asked by The Race about the high standards he sets himself.
"But I'm happy to get points in the first race. It does really positive things for the team, so I'm not really disappointed.
"But I would say, I learned a lot of things in the race."
Given his underlying speed, that capacity to learn should allow Tsunoda to sharpen his skills rapidly in what should prove to be a strong rookie campaign.