Kimi Raikkonen's 2007 world championship victory might seem a long way in the past, but despite his Alfa Romeo team's struggles so far this year he is at least on top of one kind of points table this year – the unofficial Class C battle.
The term 'Class B' has regularly been used to describe the battle behind an utterly out-of-reach Mercedes, Ferrari and Red Bull top six in recent F1 seasons.
Now Ferrari's slump and Racing Point's rise have skewed that picture somewhat.
But further back a clear 'Class C' has formed comprising Alfa Romeo, Williams and Haas.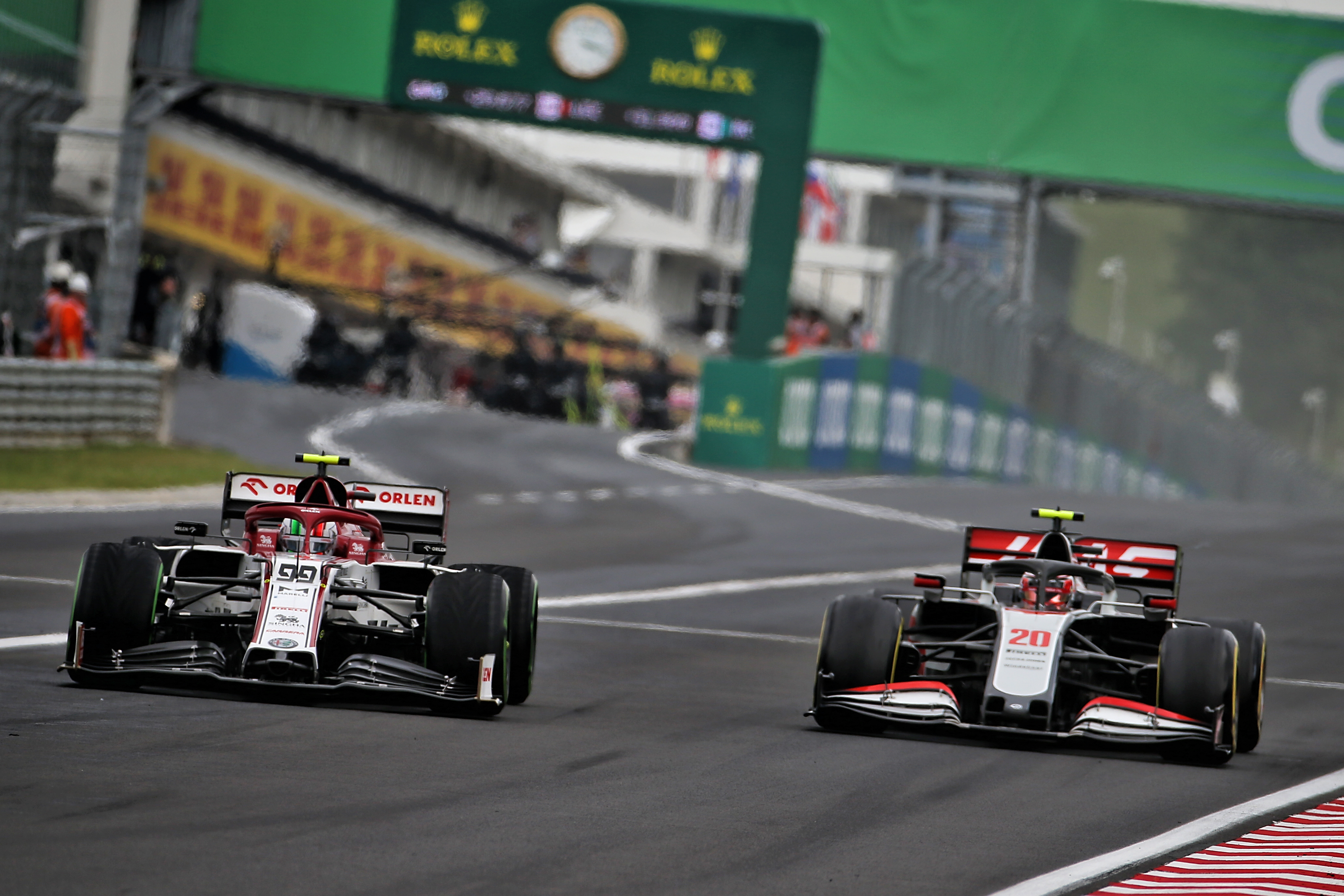 Usually, they are found struggling simply to get out of Q1 – something they have collectively only achieved nine times in six races – and racing outside the top 10.
The three teams have scored just three 'actual' points between them – two for Antonio Giovinazzi's attrition-assisted ninth place in the Austrian Grand Prix and one for Haas driver Kevin Magnussen's outstanding drive in Hungary.
But re-cast the results only with these teams, awarding 25 points for each 'win' and including the fastest lap bonus, gives a more accurate read of the battle at the back that makes interesting reading for Raikkonen.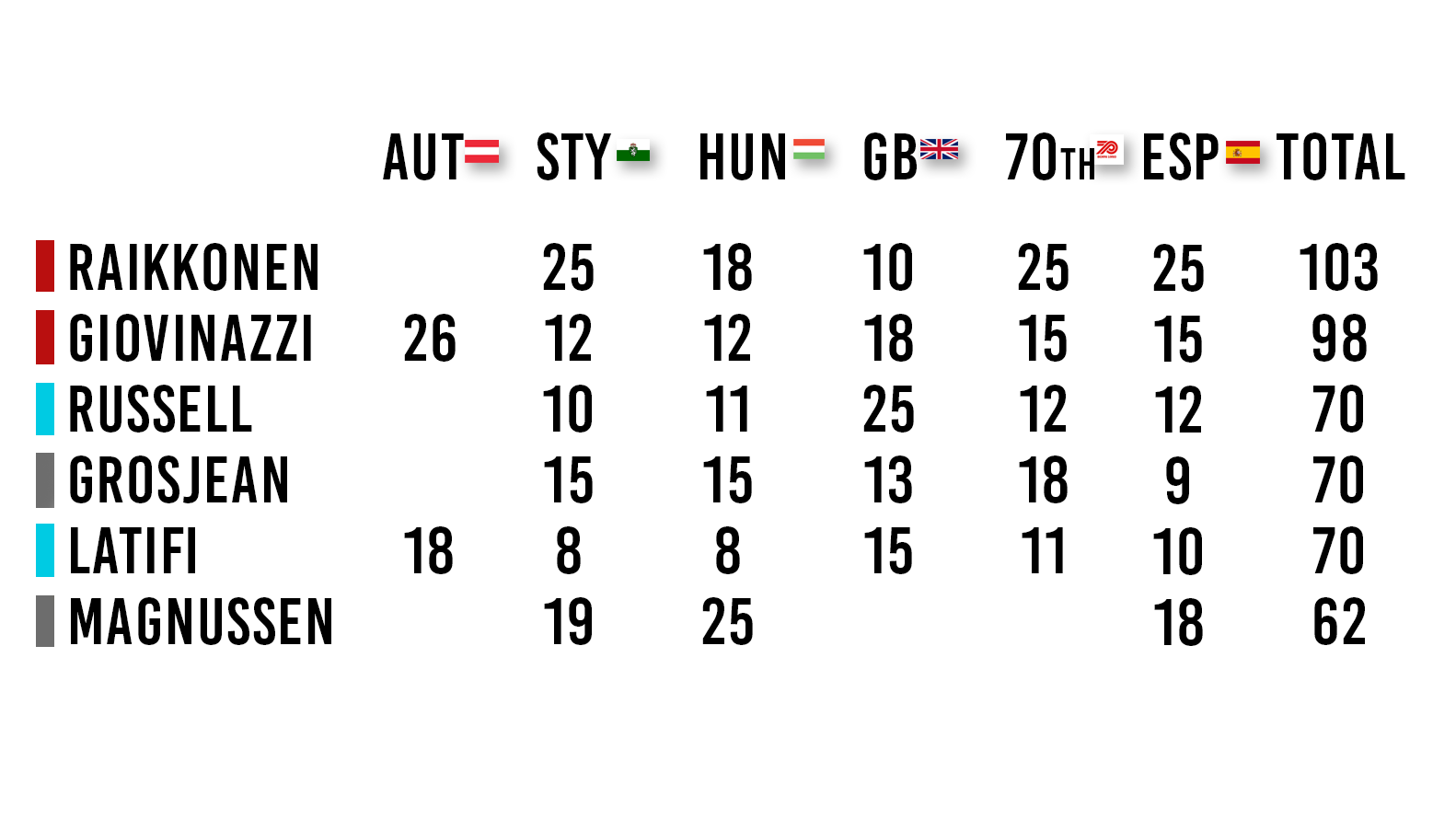 With only six races complete, the table is distorted by retirements – Haas driver Magnussen is last despite finishing either first or second on the three occasions he has reached the end of a race.
But Raikkonen is on top, showing he is still a dependable performer even though, aside from last weekend's Spanish Grand Prix, his qualifying performances have been underwhelming.
And this battle, while frustrating to be in, is one that the three teams are very aware of. Although they are gunning for points finishes and often this leads to strategic gambles that might ultimately disadvantage them against their immediate opposition, Class C is still an effective measure of the success of the weekend for the three teams.
"Haas and the Alfa, they probably still just have the legs on us, but they are really within striking distance" :: George Russell
This is particularly the case for Williams, which was in a Class C all of its own last year yet has proved far more competitive this year.
George Russell has reached Q2 four times in six attempts, with team-mate Nicholas Latifi also making it in Hungary, making it the strongest Class C team on Saturdays even though race pace doesn't match up.
"It adds motivation for all of us," says Russell of this battle.
"We don't want to be fighting for the latter positions, but the fact we are on par with the Haas and the Alfa – they probably still just have the legs on us, but they are really within striking distance.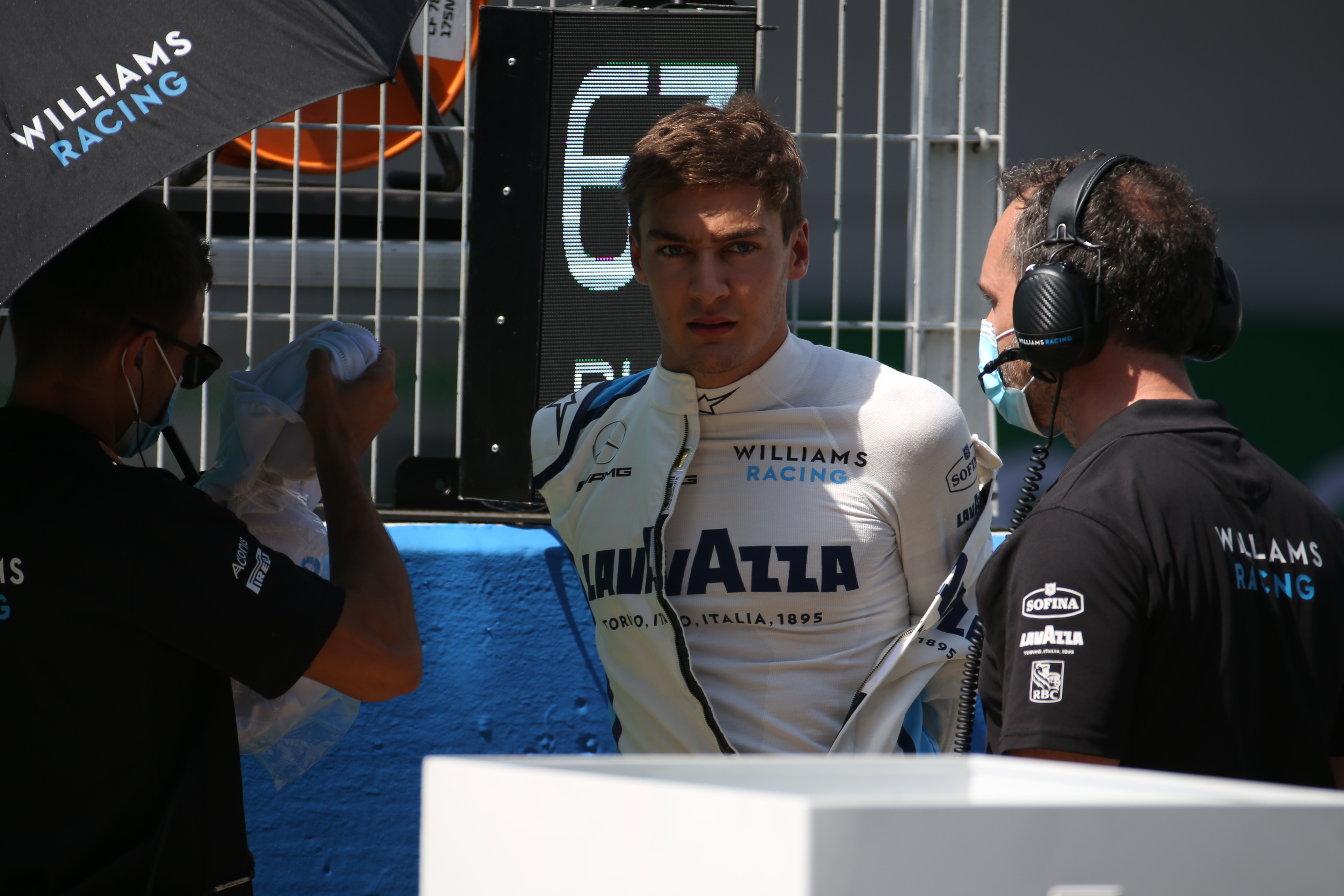 "It adds that extra motivation for me as a driver and the team to really get everything out of it.
"It's going to keep allowing everybody to push further to try and get us back into the B-class category. At the moment we are in the C-class with Haas and Alfa."
Here's how the season has played out so far, with the top three qualifiers and finishers listed for each race weekend.
THE CLASS C SEASON SO FAR
AUSTRIA
Qualifying: 1 Grosjean; 2 Magnussen, +0.473; 3 Russell, +0.476s
Race: 1 Giovinazzi; 2 Latifi, +10.504s, no other finishers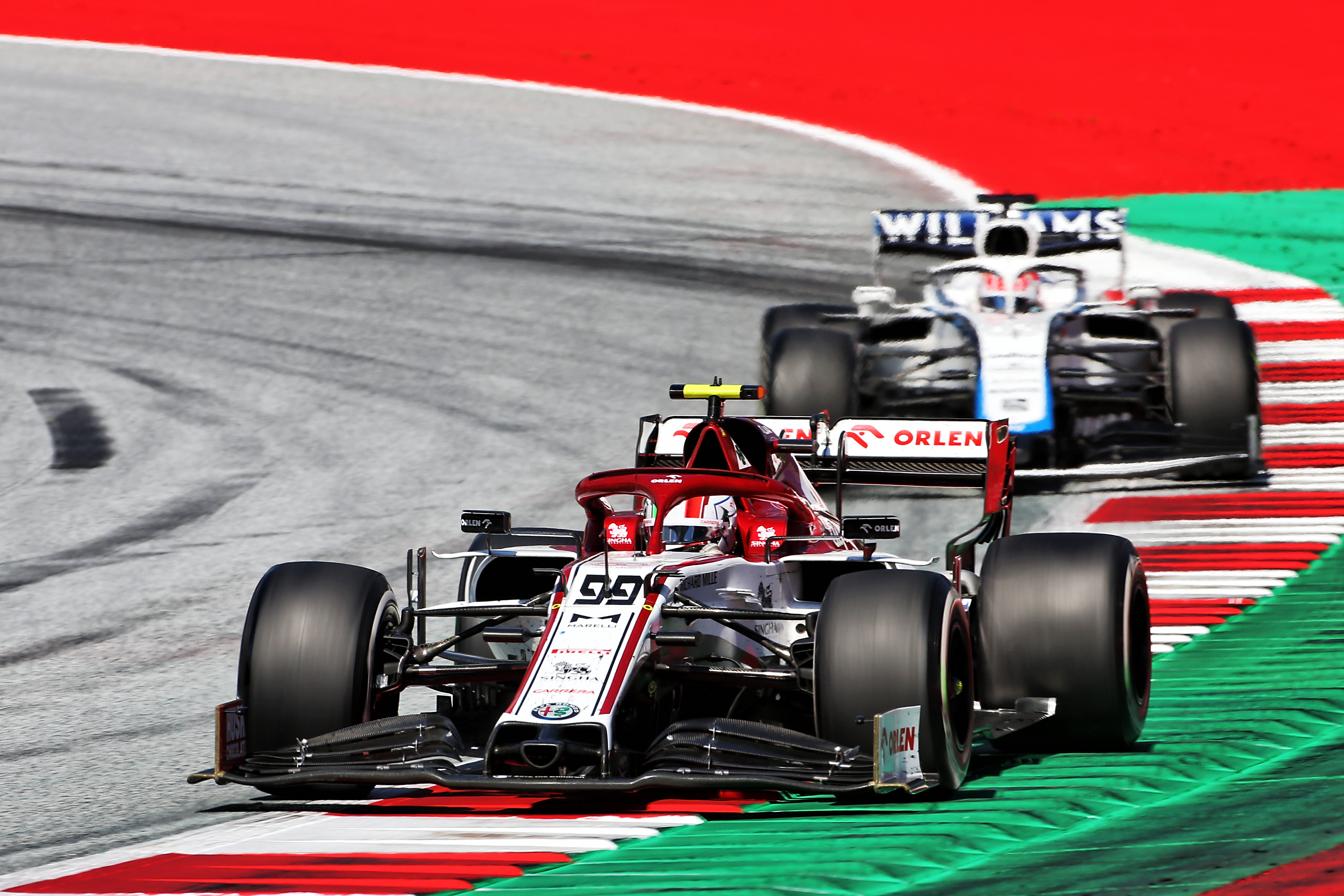 Magnussen made a flying start to leap ahead of Grosjean and was in charge of the race until being eliminated by a brake failure. Grosjean slipped to fourth on the opening lap and was battling braking problems that eventually put him out, and this gave Giovinazzi control.
Team-mate Raikkonen passed Russell to take second shortly before the Williams retired with an engine problem. Then at a restart with 20 laps remaining Raikkonen shed a right-rear wheelnut and retired, elevating Latifi to second.
STYRIA
Qualifying: 1 Russell; 2 Magnussen, +0.575s; 3 Raikkonen, +1.736s
Race: 1 Raikkonen; 2 Magnussen, +0.271s; 3 Grosjean, +0.816s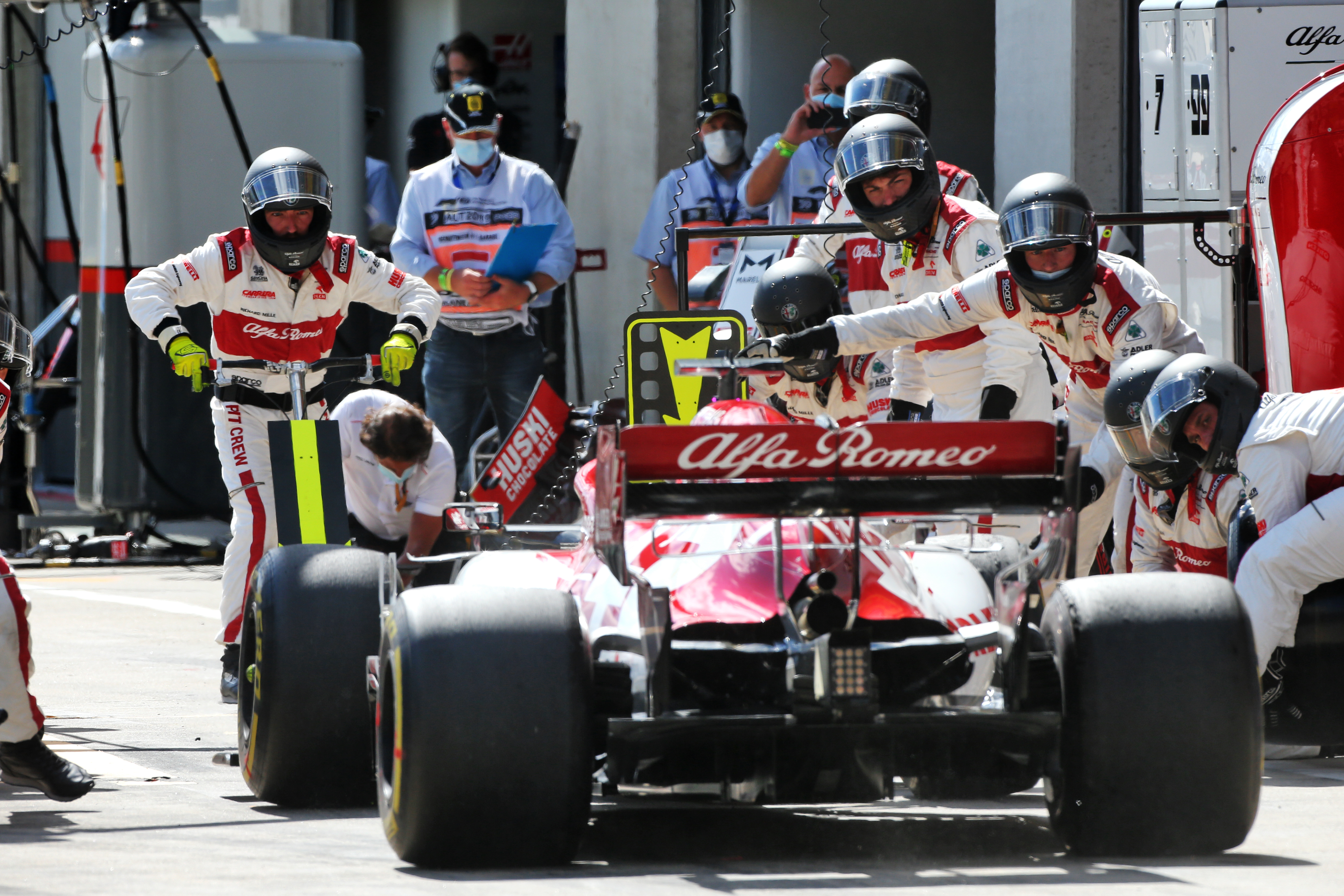 Russell held the lead at the start but, after a brief safety car period, had a trip through the gravel at Turn 6 while trying to hang on around the outside of Magnussen and dropped to the back.
Haas pairing Magnussen and Grosjean ran 1-2, but started to struggle on their softs and with brake management, which allowed Raikkonen, who had dropped to last after being delayed by the colliding Ferraris on lap one, to pass both.
In a one-stop race, Raikkonen ran all the way to lap 44 on his mediums before taking softs and rejoined in third behind leader Giovinazzi and Magnussen. He soon passed Magnussen and then, with the assistance of team orders, Giovinazzi, who then faded to fourth behind the Haas drivers.
HUNGARY
Qualifying: 1 Russell; 2 Magnussen, +0.454s; 3 Grosjean, +0.709s
Race: 1 Magnussen; 2 Raikkonen, +23.682s; 3 Grosjean, +32.501s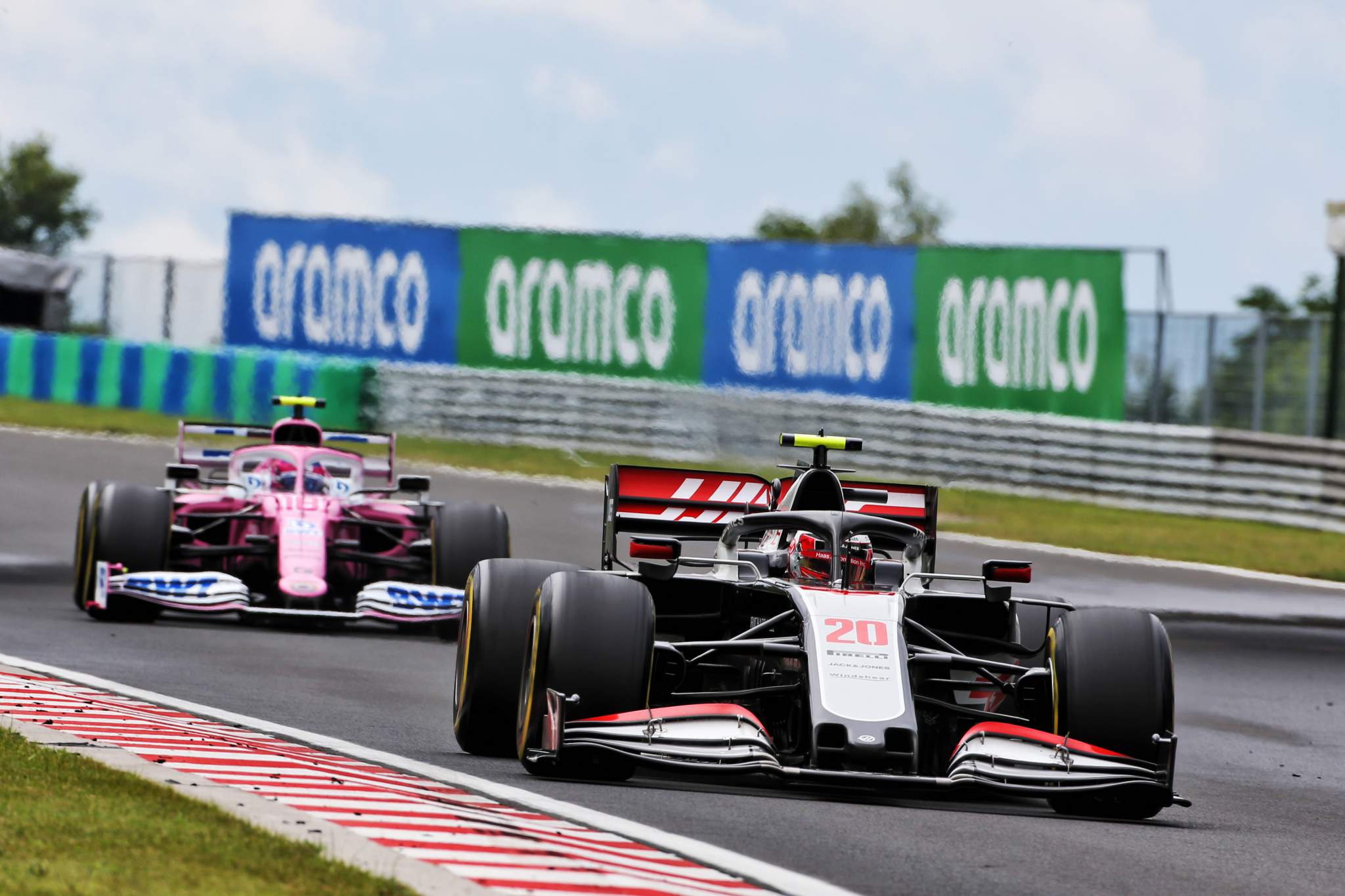 An inspired call to bring the two Haas cars in on the formation lap to take slicks set up Magnussen's victory.
Both Haas drivers were hit with 10-second penalties for the illegal radio assistance, but the track-position advantage outweighed that.
While Magnussen converted his position into a dominant class win and 10th overall, Grosjean dropped back after picking up damage in a clash with Alex Albon and was passed by Raikkonen – who had served a five-second penalty for starting outside of his grid box.
Giovinazzi took fourth ahead of the two Williams drivers after a bad tyre choice at his first stop to take softs cost him, although he did later undercut his way past Russell.
BRITAIN
Qualifying: 1 Magnussen; 2 Giovinazzi, +0.006s; 3 Raikkonen, +0.208s
Race: 1 Russell; 2 Giovinazzi, +2.201s; 3 Latifi, +2.545s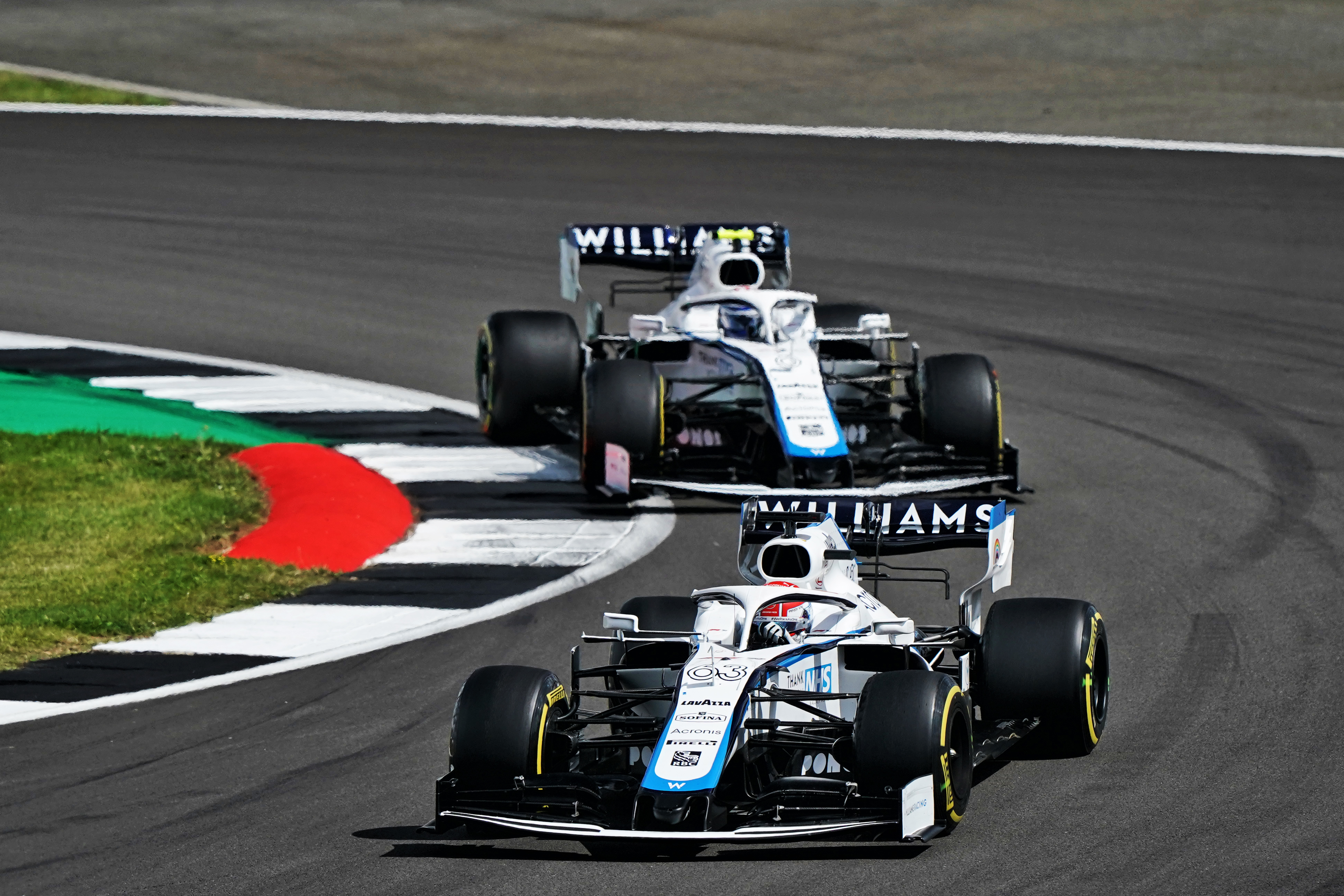 Magnussen led from pole, only to be turfed out of the race in a clash with Albon at the end of the first lap.
This handed the initiative to Giovinazzi, who crossed the line first on-the-road but slipped to second behind Russell when a five-second penalty was applied for speeding under the safety car.
Grosjean's hopes were hit by staying out under the safety car to gain track position in a strategic gamble that didn't pay off.
70th ANNIVERSARY
Qualifying: 1 Grosjean; 2 Russell, +0.201s; 3 Magnussen, +0.982s
Race: 1 Raikkonen, 2 Grosjean, +2.170s; 3 Giovinazzi, +7.970s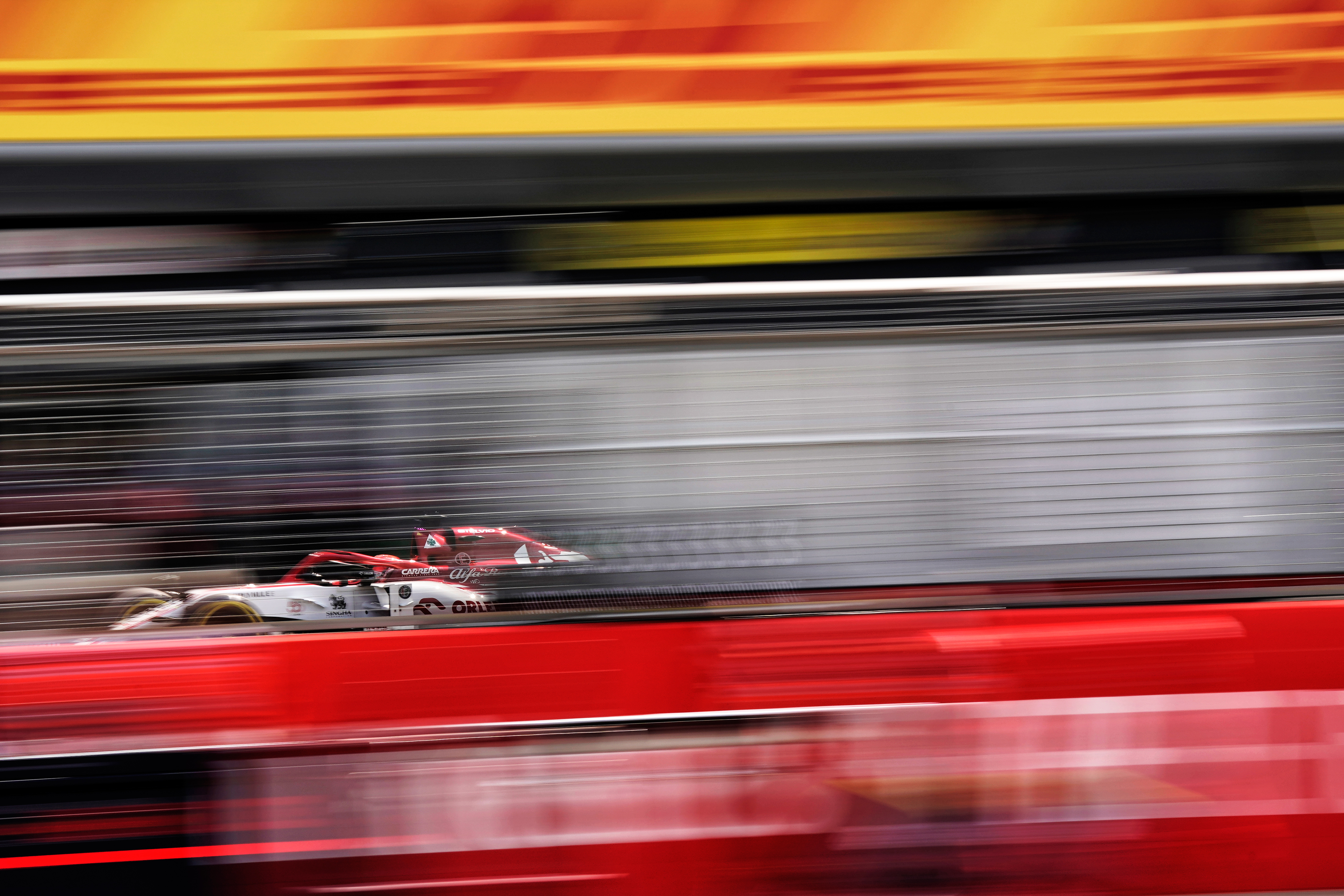 Grosjean turned in a superb qualifying lap on Saturday, then slipped to third behind Raikkonen and Giovinazzi with a slow start.
But on a day of tyre trouble, Raikkonen made a one-stopper work to take victory ahead of Grosjean, who had been leading by 2.8s when he was forced to pit for a second time having originally hoped to get to the end. The Williams drivers were hit badly by tyre troubles.
SPAIN
Qualifying: 1 Raikkonen; 2 Magnussen, +.0552s; 3 Grosjean, +0.703s
Race: 1 Raikkonen; 2 Magnussen, +7.688s; 3 Giovinazzi, +8.387s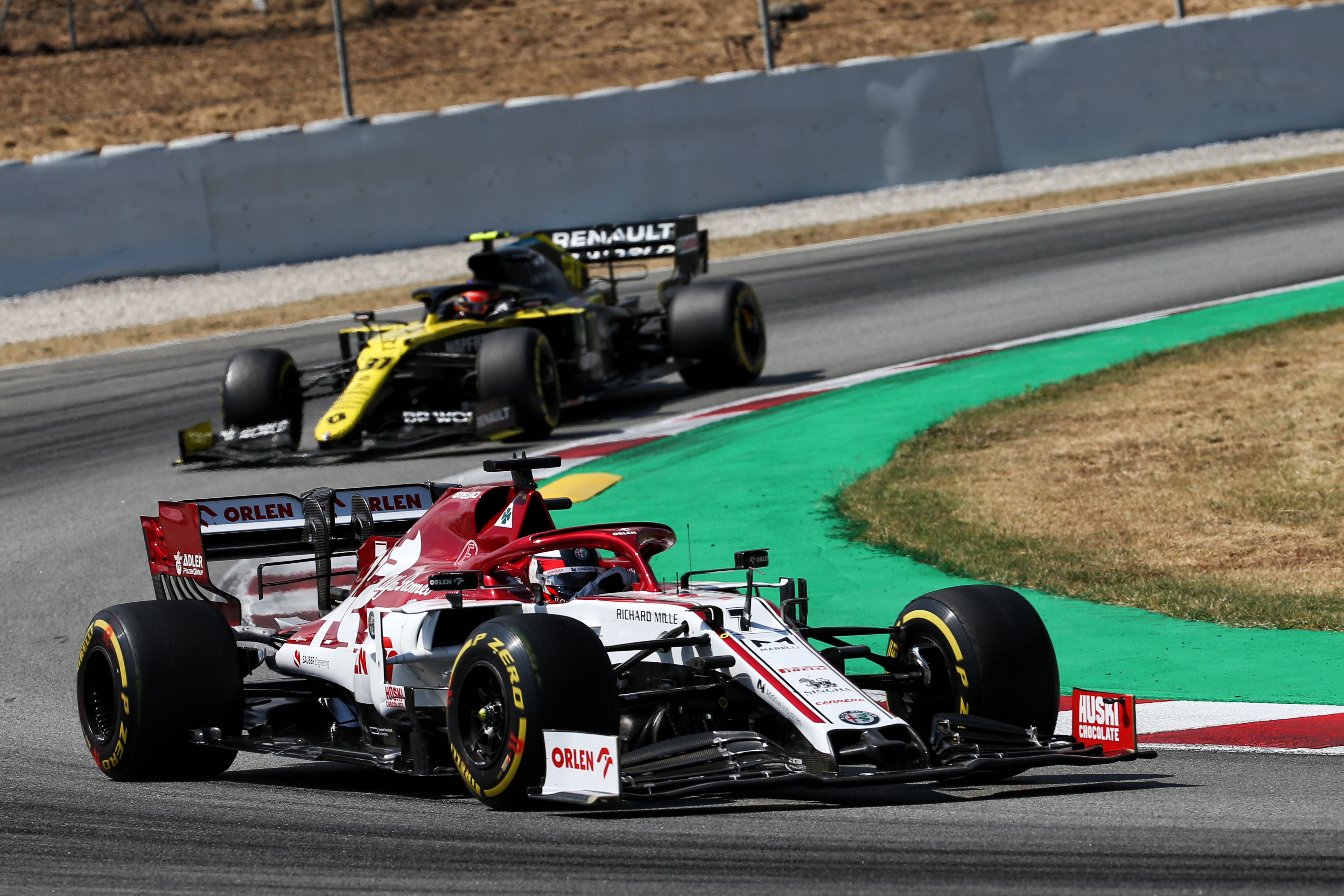 Raikkonen held the lead at the start, but a big moment at Turn 7 allowed Magnussen to pass him on the run to Campsa. Raikkonen made his first stop on lap 20 and undercut his way back past Magnussen, but the Alfa Romeos were the only team planning a two-stopper at this stage.
This meant soft-shod Raikkonen had to pass Latifi, Grosjean, Russell and Magnussen after his second stop with Giovinazzi following him through, surviving contact with Grosjean, and taking third, just behind Magnussen.