There are two great Carlos Sainz traits you need to look beyond the black-and-white results of his Formula 1 career to understand.
The first is his racing personality. OK, we're cheating and classing this as one thing, when it's really a mix of his intelligence, work ethic, love of driving and affability. But his personality is the sum of those parts (and more).
The second is his adaptability. Sainz's wet-weather prowess and feel in low-grip conditions is extraordinary at times and that makes him a great contender to pull something special out the bag when things get tricky.
Perhaps none of that should be particularly surprising for the son of a rally legend and, to this day, the consummate motorsport professional.
"It's inevitable that I'm gonna end up being a very similar kind of driver and character to my dad because we spend so much time together in my racing career, and I've been so long with him and he's been my mentor and my advisor all my career," Sainz says when asked by The Race about their shared characteristics on-track and off it.
"Inevitably, I'm going to tend to have a philosophy of racing and a philosophy of life, relatively similar to him.
"Obviously as I grew older, I also have my own character. Which actually is a bit more similar to my mum's than to him!"
That's probably the laid-back side of Sainz away from racing. Where he so closely mirrors his father is very much as the rounded racing professional.
Sharing a name was always going to tie Carlos to… Carlos. Being his father's son always gave him a fighting chance of reflecting his best attributes as well.
But the contrasting fortunes of the litter of second (and third!) generation drivers over the last few decades shows that the apple doesn't always fall so close to the tree.
In the case of the Sainz, father and son are two of a kind: talented and hard-working men, who are likeable characters, and who are very, very good at making relationships because they never underestimate someone's value.
Underpinning all of that is simply that they love to drive.
"He's always told me that he's enjoyed racing a lot in his career," says Sainz of his 59-year-old, two-time World Rally champion father who is still so competitive he won last year's Dakar Rally.
"That is what is keeping him also racing at nearly the age of 60.
"You can imagine that you must like a lot racing, and you must like a lot rallying or the Dakar rally, to keep risking your life – with everything you've done in life and still at 60 years of age, you still go to the Dakar and try and win it, no?
"I guess he transmits to me very well that passion for motorsport. And I say motorsport because I also loved rallying, I loved driving on ice. I love everything that has a steering wheel and two pedals.
"I'm just the first one to jump in and try and be as fast or faster than him."
Sainz once told a story of how his father came home one day to see his two-year-old son doing Scandinavian flicks in a battery-powered toy car.
And later, as a young teenager, he followed his father to an ice-driving experience in Porsches and was getting close to his times after several laps of the course – only for Carlos Sr to then declare they'd do the course in reverse. In rallying, after all, you don't have the benefit of so many consecutive laps…
Such experiences aren't available to every young driver and Sainz knows that. He's very grateful for it. Because this wasn't just a case of father-and-son hooning around together and the younger Sainz becoming a better driver by chance. Once he made it clear he was keen to go down that path his father was the perfect guide.
"I was always trying to adapt to whatever he has given me," says Sainz.
"I have been very lucky in the past to be able to drive rally cars since a very young age. I have been very lucky to always be on top of a go-kart or anything else.
"He was always challenging me to change my style, to change my way of driving, to be good at rallying and then going back to karting, always forcing me to go out on slicks in the wet, and making sure I tried doing a lap on slicks in the wet – then put the rain tyres and go, try different tyre pressures, try different set-ups.
"That's where you will win a race, and you will surprise everyone."
Perhaps what's so interesting about this particular father-and-son dynamic is there's an awful lot of privilege and opportunity but practically zero sign of the nasty side-effects that usually come with that: no sense of entitlement, no air of 'you're not worth my time'.
There's a very quiet and respectful way about the Sainzes that sets them apart. Where other drivers – and their fathers! – can easily seem arrogant and in your face, these are miles from that.
Sainz's time alongside Max Verstappen at Toro Rosso is a case in point. Those close to the situation say both parents were as bad as each other in terms of trying to help their son. Yet it's only Jos Verstappen who has a reputation for being meddling. Carlos has always been just as involved; he just has a smoother touch.
His son has inherited the knack of being intense and determined without compromising his relationships or being viewed as disruptive. Not for nothing does Sainz still get on so well with
Max Verstappen, had such a great rapport with Lando Norris and McLaren, and has struck a chord with Leclerc at Ferrari.
"I would say this has been my way of going racing," says Sainz. "What I mean is, I don't go into teams with prejudice or bad feelings. I go in very open-minded.
"I am a guy that recently has tried to change the approach towards trying to enjoy Formula 1 and trying to enjoy the F1 weekends as much as possible because I feel like if I am enjoying myself at a race weekend and if I am enjoying myself in Formula 1, my performance on a Formula 1 car is better.
"Why not just get on well with my team-mate? Have a few jokes, laugh a bit about your good qualis, your bad qualis, have a bit of a cheeky relationship with him and find a productive, good full team integration where we are both working in the same direction that makes the team atmosphere better and makes me enjoy going racing more.
"If I am enjoying myself and if I have a good relationship with everyone in the team, it is always gonna make me a faster driver and a better driver.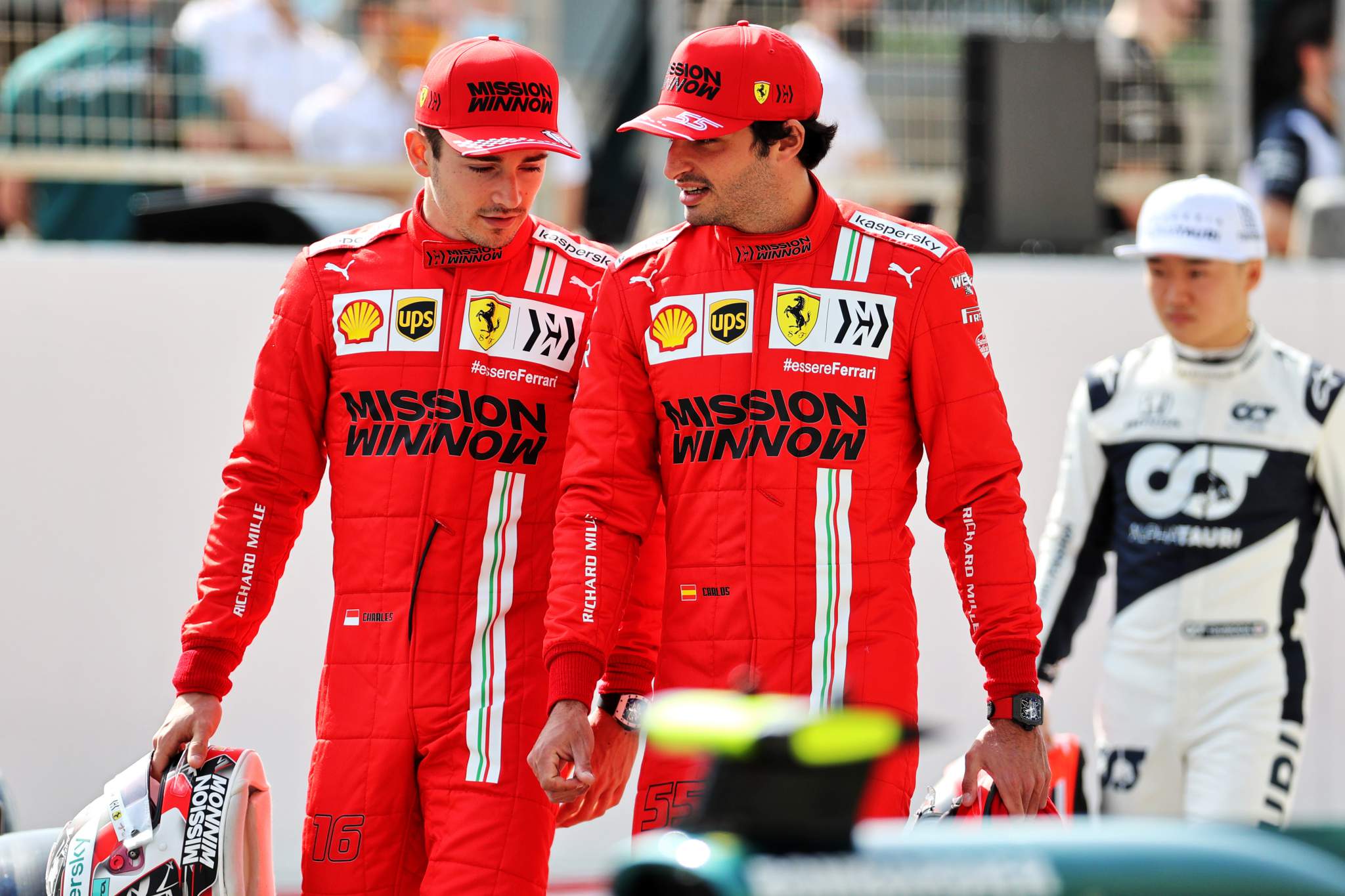 "And if that coincides with the guy next to me in the garage being a cool guy like Charles, and he's a guy that outside of the car has very similar interests to me, I can have a good conversation here with him and we can do all sorts of sports together. And inside of the car he's a great talented guy that is also respectful to his team-mate.
"I see no reason why I should not get on well with him. In the end we are both very similar kinds of guys with the same objective and we are both trying to be successful in Formula 1."
When Ferrari signed Sainz for 2021, we reflected on 10 reasons it might have done so. Many were Sainz's on-track qualities but some were found off-track. He has been moulded into a superb all-round, modern-day professional. He gets everyone onside, he's a dream out of the car and better than he gets credit for in it.
Sainz has blossomed since leaving the Red Bull family – a very 'Sainz' thing to do, taking his destiny into his own hands – and while his junior career never had the rocket-like ascent of someone like Verstappen or Leclerc, he has shown himself a driver who just gets better and better.
Combining his natural intuition with his capacity to knuckle down and embrace a challenge can't be hurting Sainz in his adaptation at Ferrari either. It's a bigger-picture process than learning a track or adjusting to conditions but it's broadly analogous.
And it's surely not coincidence that Sainz – who matched Verstappen so closely at Toro Rosso, who took a bit of time to get on top of a finicky Renault but did get there, who became 'best-of-the-rest' in an ultra-tight midfield at McLaren – is doing the best job of those who changed teams for 2021, and is comparing very well with his highly-rated team-mate Leclerc at Ferrari.
"I've always been quite an adaptable driver," Sainz says. "Since I'm a teenager or a kid, every time I was going into a new category, different car, I always enjoyed the process of having to be quick straight away with that car. And I was kind of taking it as a challenge.
"It's been in my DNA that it's been something that I've always enjoyed and I've always been decently good at it. But I guess also with the experience I've got better. I've changed teams now three or four times in Formula 1. And I know how big of a challenge it is."
The challenge faced by Sainz's successor at McLaren, Daniel Ricciardo, is testament to the fact that driving ability isn't enough on its own. Racing, especially in F1, is a much more complicated business than it can look from the outside.
Sainz is well-aware of that. Of course he is. The influence of his father is clear in much of what Sainz says and does. Emotionally as a person and technically as a driver, "he's always been educating me".
It's hard to imagine a more rounded form of schooling than learning from someone like Carlos Sainz. It's also hard to imagine a more devoted student than his son.
Sharing a famous name, while his father was still competing, was admittedly not the best way for Sainz to stand out on his own.
Sharing his attributes, though, is why he is looking increasingly capable of doing exactly that.