George Russell accidentally disconnected his drinks system while checking for damage to his Williams Formula 1 car during the opening lap of the Mexican Grand Prix.
Russell had to pick his way through the Turn 1 chaos on the opening lap that was triggered by Daniel Ricciardo tipping poleman Valtteri Bottas into a spin.
The chain reaction caused Esteban Ocon to be clobbered by both Mick Schumacher and Yuki Tsunoda, while everybody else successfully took avoiding action.
Russell, who started from 16th after serving a five-place grid penalty for an unscheduled gearbox change, vaulted up to ninth place as the safety car was deployed to recover the stricken cars of Schumacher and Tsunoda but had contact with Ricciardo further around the lap.
While running behind the safety car, Russell took the opportunity to try to check his front wing after believing he'd sustained damage, but inadvertently disconnected his drinks supply when he slightly loosened his belts in an attempt to get a better view of the front of his car.
"Under the safety car I peered over the cockpit to check the front wing, but in doing so I pulled my drinks tube out, so I lost the drinks tube on the first lap," Russell explained.
He admitted it left him a "bit thirsty" and joked that "Checo [Sergio Perez] was making a big deal out of it" in Austin when the Red Bull driver lost his drinks system on route to a third place finish that left him visibly exhausted.
Disconnected drinks bottle aside, it was a tough race for Russell who was easily passed by world champions Kimi Raikkonen and Fernando Alonso on successive laps to fall outside of the points by lap 10.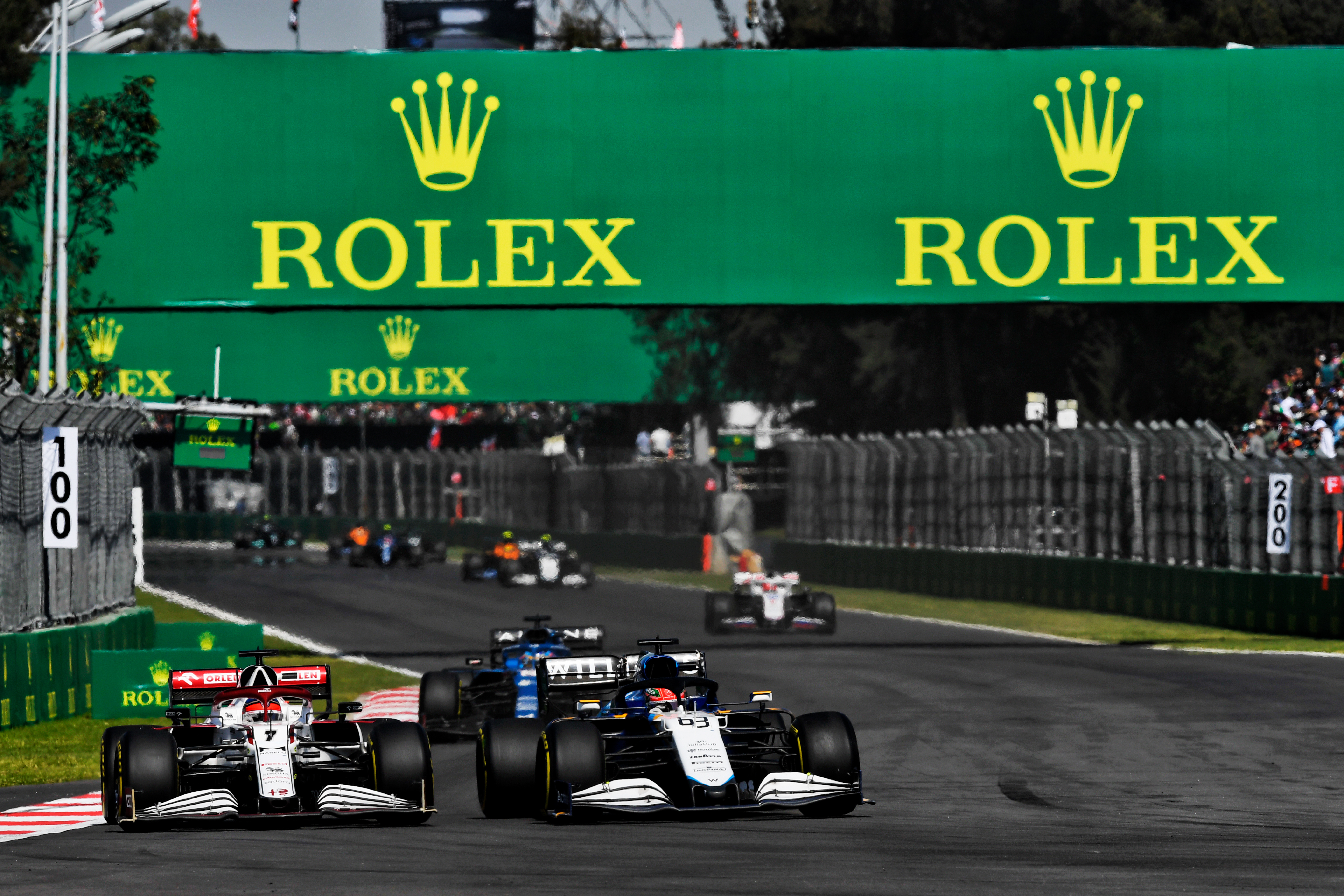 He wouldn't threaten the top 10 thereafter and came home in a lowly 16th place, only ahead of his Williams team-mate Nicholas Latifi and the Haas of Nikita Mazepin.
"Got up to P9, but we had absolutely no pace," Russell admitted.
"Probably our toughest race of the year. Sometimes like that when we have to do a lot of management, the car doesn't react or come alive as it does when you're [at] max attack.
"It's something we need to try and improve because races like this, where management is key, the car just feels pretty lazy and slow to react, doesn't feel racey."
Russell urged his Williams team to understand how he ended up a lap down on both Alfa Romeo drivers. Thanks to Raikkonen's eighth place finish Alfa was able to nibble four points off the gap to Williams' eighth place in the constructors' championship.
The deficit still stands at 12 points with four races to go, and it's Russell's main focus for the remainder of the 2021 season, rather than any early preparation for his switch to Mercedes in 2022.
"I think it's unprofessional if I start thinking too far ahead too quickly," Russell added. "I'm putting as much effort into the rest of this season as I ever have."