Red Bull Formula 1 boss Christian Horner has labelled Mercedes' attempt to trigger a review of the Max Verstappen/Lewis Hamilton incident from Brazil "a little bit spurious".
The stewards from last weekend's race have decided not to proceed with a review of the incident because they felt the new evidence presented by Mercedes – Verstappen's forward-facing onboard and 360-degree camera – was new and relevant, but not significant.
Horner was participating in the Friday FIA press conference alongside Mercedes counterpart Toto Wolff when the review decision was revealed.
Before that was known, he said he would have been "surprised and disappointed" if the stewards allowed a review as he felt Mercedes' case was not even as strong as Red Bull's failed petition for a review from earlier this year, following the British Grand Prix.
"We've been through it at Silverstone where we felt that there were strong circumstances to look at and the consequences of an incident like that were obviously serious with the retirement, the destruction of the car and the loss of an engine, and so on," said Horner.
"With this one, it feels a little bit spurious because the key questions to ask yourself are: Is it new? Potentially. Is it relevant? One could potentially argue that as well. Is it significant? Absolutely not.
"There's been enough camera angles for the stewards to make the decisions.
"We've seen numerous incidents, both in the sprint race and during the grand prix, indeed on the first lap of the Grand Prix, with Valtteri taking almost an identical line.
"It's just frustrating it's taken this long."
To determine Mercedes' right of review the stewards considered four things about the presented evidence, namely that it is new, significant, relevant and unavailable at the time of the original decision.
Mercedes' case satisfied three of these four things. In Red Bull's case following the Hamilton/Verstappen clash at Silverstone, the stewards' criteria was slightly different and Red Bull's case – despite Horner claiming it was stronger than Mercedes – was quite clearly insufficient.
In that situation, the stewards sought to judge whether Red Bull had provided a new element, whether it was significant and relevant, and whether it was unavailable at the time of the decision – but also scrutinised whether it was "discovered as opposed to created".
That's because a large part of Red Bull's case was data from a reconstruction it performed with Alex Albon a few days after the British GP, in an old car.
Red Bull's evidence was deemed to satisfy no element of the necessary criteria.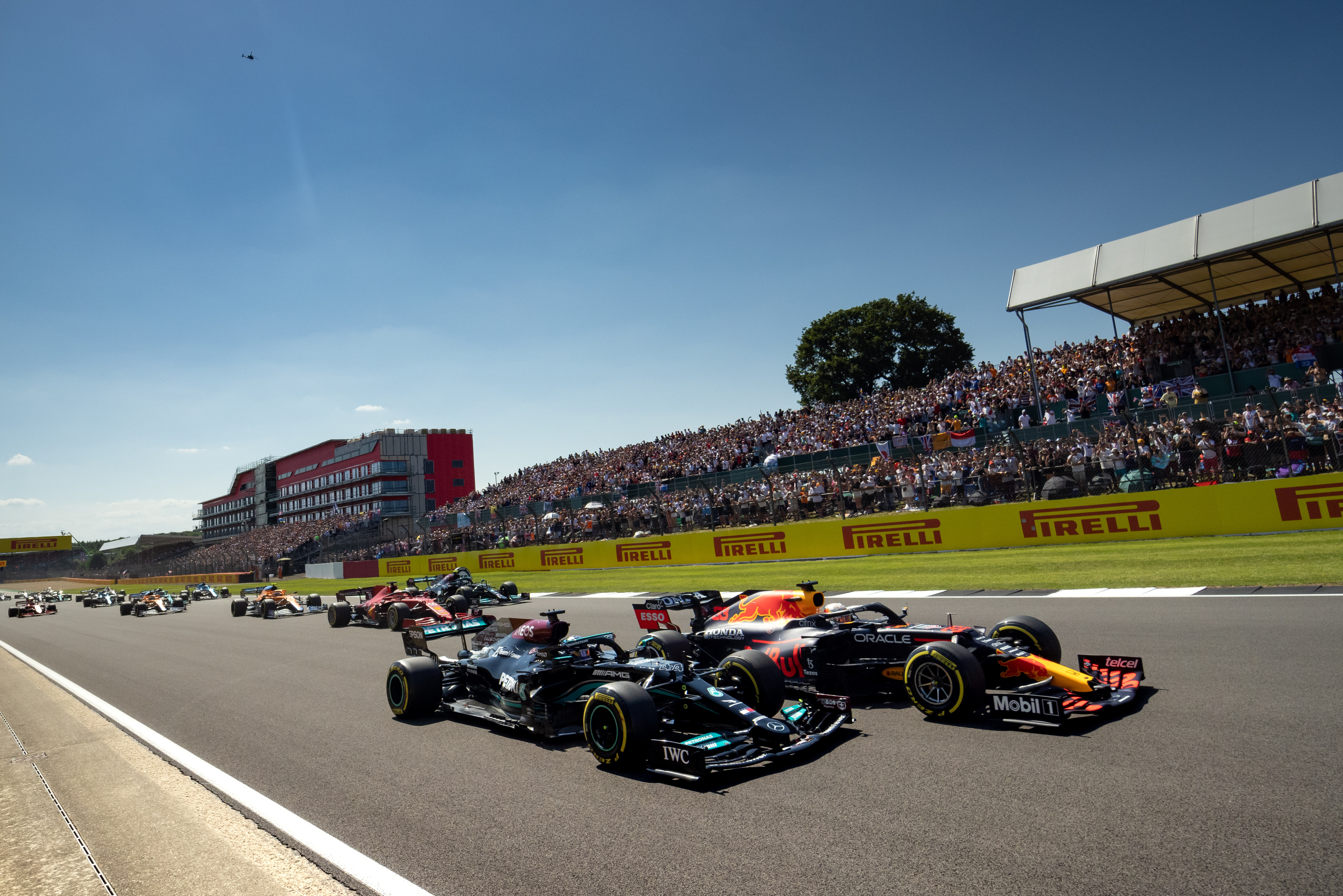 A separate comparison to what happened at Silverstone has been made since Brazil, pertaining to the on-track conduct of the two drivers rather than the off-track review process.
Hamilton received a penalty at Silverstone for causing the collision with Verstappen and part of that judgement was that Hamilton was wide of the apex at Copse.
In Brazil, where they avoided contact because Hamilton took to the run-off as well as Verstappen, there was no action taken.
Horner dismissed the comparison, though, stating: "I don't think it is a contradiction because you've got two different corners, two different circumstances, two different car positionings and at Silverstone you've got a gravel trap and a wall. And the overspeed that was at Silverstone is incomparable with what there was at Interlagos.
"Both drivers have braked late, they've arguably outbraked each other but at no point was Lewis to turn into the corner as Max was at Silverstone.
"And of course the difference at Silverstone was we had a driver end up in hospital, we had a car destroyed, we had an engine destroyed and a driver eliminated from the race.
"This was a racing incident Lewis won the grand prix, he was the quicker driver in the quicker car on the day. There was no consequence.
"The two incidents you cannot compare because then we can go back to numerous other instances. You have to treat each one in isolation, different circuits, different circumstances, different conditions, different layouts, different surfaces, different kerbs, different runoff.
"They're incomparable."
Wolff replied: "The outcome from Silverstone was a much more severe one. Nobody liked the pictures, but the philosophic question remains the same.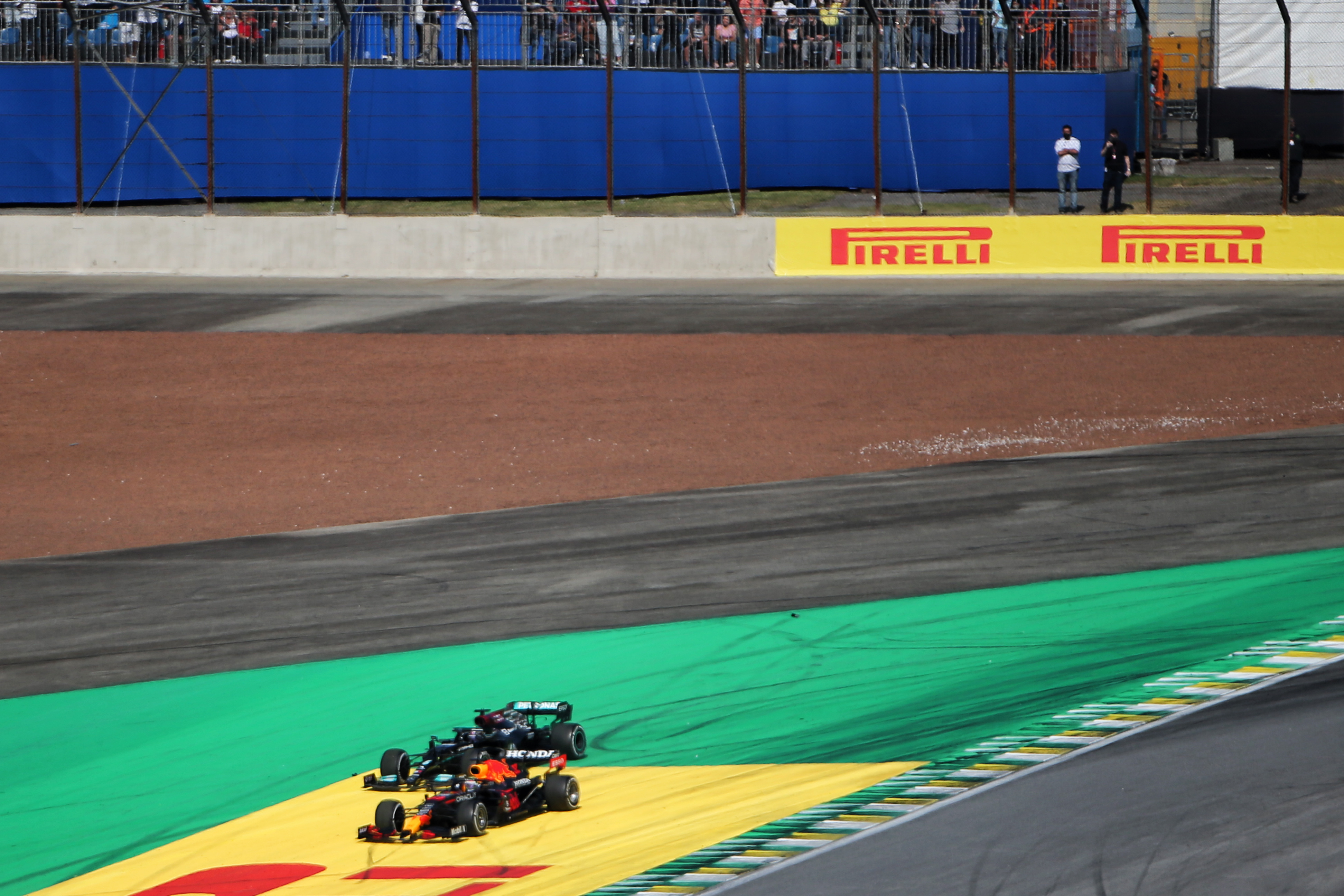 "If the outside driver doesn't cede room then they collide. And they would have collided in Turn 4 in Interlagos if Lewis wouldn't have opened up and run even wider.
"So the regulation that can be applied is the same."