Sergio Perez claimed his third Formula 1 victory in a rain-affected Monaco Grand Prix after holding off a late charge from Carlos Sainz.
The closing laps of the race featured the top four drivers – Perez, Sainz, Max Verstappen and Charles Leclerc – covered by a handful of seconds with Perez under immense pressure from Sainz who was going in search of his first F1 grand prix win.
Sainz had a couple of half-looks into the Nouvelle Chicane but wasn't able to prevent Perez from taking his first victory since he won the Azerbaijan GP last year.
Perez held the third place he qualified in during the opening stages of the grand prix which didn't start until an hour later than scheduled after rain began to fall.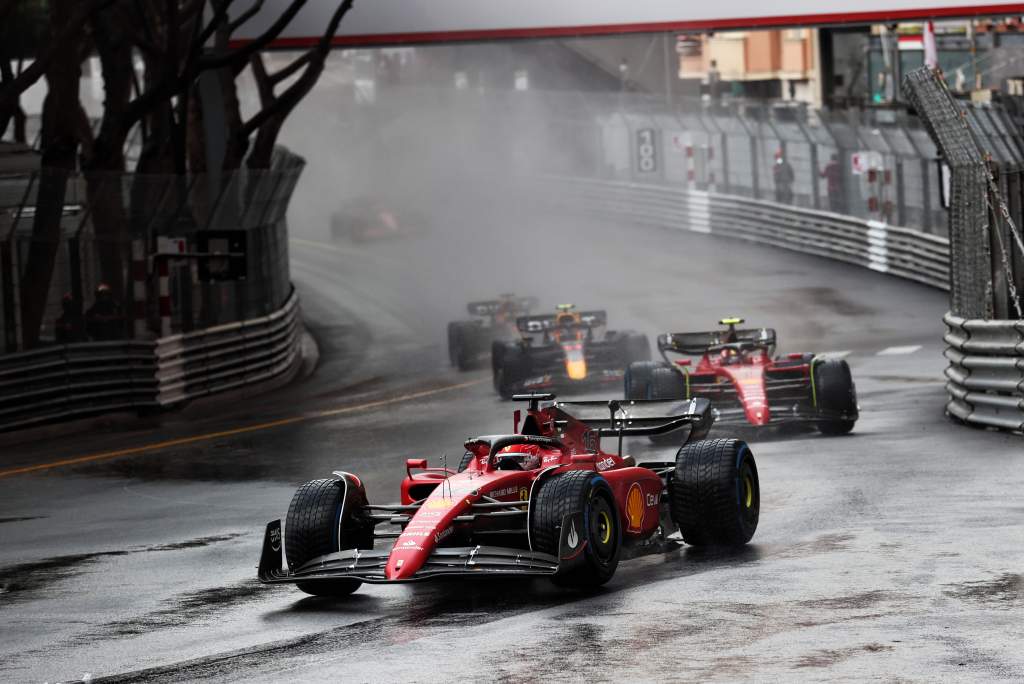 After the race finally started, Leclerc led his Ferrari team-mate Sainz, Perez and Verstappen who has been firmly the second-best Red Bull this weekend.
Perez was the first of the frontrunners to pull the trigger and switch from the full wets to the intermediates on lap 16, some 14 laps later than the first drivers to make the change.
Leclerc and Verstappen pitted two laps later but both came out behind Perez, while Sainz overruled his team's initial request for him to pit shortly after Perez.
Instead, Sainz switched straight from the wet tyres to the slicks three laps later and Ferrari decided to double-stack Leclerc at the same time – a decision it attempted to reverse too late, radioing Leclerc when he was already heading for the pitlane.
Verstappen pitted for slicks one lap later and managed to jump Leclerc for third place behind Sainz and new race leader Perez.
Just as the new leading order settled into place, Mick Schumacher lost control of his Haas into the Swimming Pool section and caused a red flag period.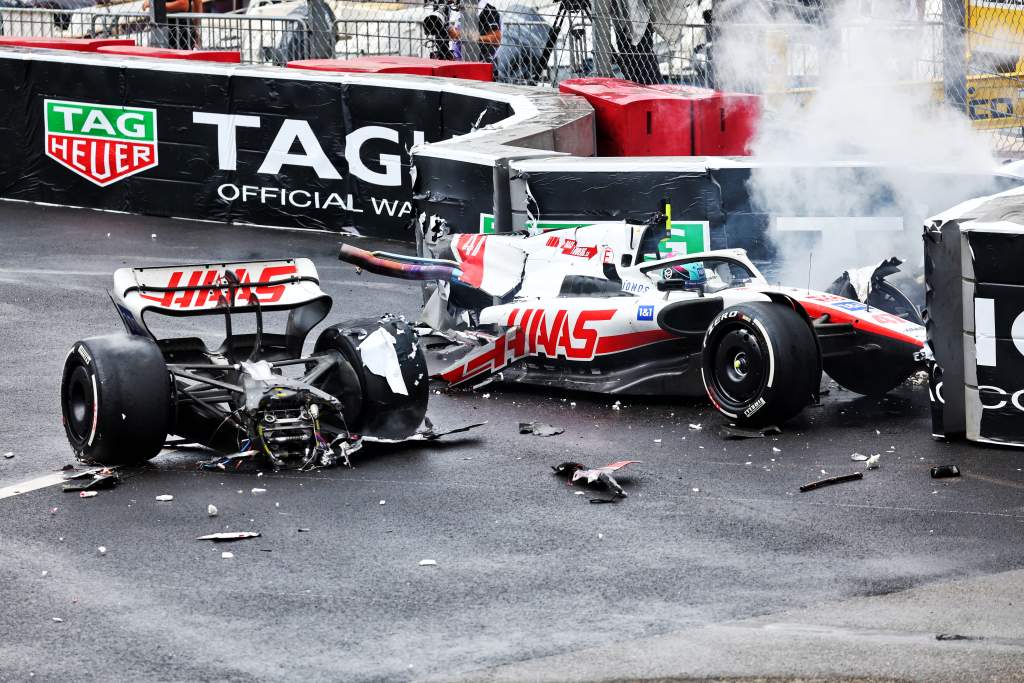 When the race resumed, the Red Bulls bolted on fresh mediums while the Ferraris in second and fourth opted for used hard tyres – setting up that tense four-way fight in the final laps.
Perez hung on for the victory ahead of Sainz and Verstappen, who completes the podium and extends his championship lead by a further three points with a despondent Leclerc in fourth place.
Leclerc expressed his frustration with Ferrari's strategy over the team radio as his woeful record on home soil continues – although he does finish a race in Monaco for the first time in his career.
"No words, no words, we cannot do that," Leclerc told his team after the race.
George Russell followed Sainz in switching straight to the slicks tyres from the wets and he was able to jump Lando Norris to claim fifth place.
Norris, who is recovering from tonsillitis, picked up sixth for McLaren ahead of Fernando Alonso (Alpine).
Lewis Hamilton spent the majority of the race looking at the back of an Alpine. First, it was the Alpine of Esteban Ocon who he collided with into Ste Devote.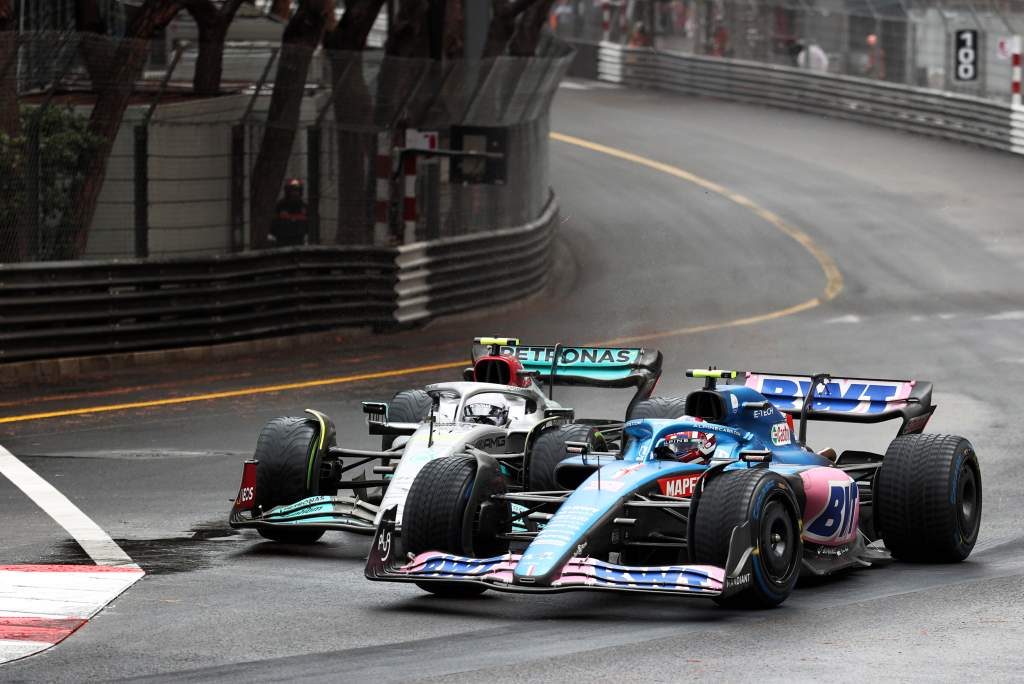 Hamilton picked up wing damage that his Mercedes team was able to repair during the red flag period while Ocon picked up a five-second penalty for causing the collision.
After the red flag, Hamilton was stuck behind Alonso and had to settle for eighth place ahead of Valtteri Bottas, who moved from 12th on the grid to ninth place.
Ocon's penalty promoted Bottas to ninth and gave Sebastian Vettel the final point in 10th place for Aston Martin.
AlphaTauri's Pierre Gasly looked on for points from 17th on the grid after strong early pace on the intermediates but ultimately came home in 12th place, behind Ocon and ahead of Daniel Ricciardo and Lance Stroll.
Along with Schumacher, his team-mate Kevin Magnussen and Alexander Albon were the retirees.
Race Results
| Pos | Name | Car | Laps | Laps Led | Total Time | Fastest Lap | Pitstops | Pts |
| --- | --- | --- | --- | --- | --- | --- | --- | --- |
| 1 | Sergio Pérez | Red Bull | 64 | 44 | 1h56m30.265s | 1m16.028s | 3 | 25 |
| 2 | Carlos Sainz Jr. | Ferrari | 64 | 3 | +1.154s | 1m16.421s | 2 | 18 |
| 3 | Max Verstappen | Red Bull | 64 | 17 | +1.491s | 1m16.052s | 3 | 15 |
| 4 | Charles Leclerc | Ferrari | 64 | 0 | +2.922s | 1m16.249s | 3 | 12 |
| 5 | George Russell | Mercedes | 64 | 0 | +11.968s | 1m16.83s | 2 | 10 |
| 6 | Lando Norris | McLaren-Mercedes | 64 | 0 | +12.231s | 1m14.693s | 4 | 9 |
| 7 | Fernando Alonso | Alpine-Renault | 64 | 0 | +46.358s | 1m15.882s | 2 | 6 |
| 8 | Lewis Hamilton | Mercedes | 64 | 0 | +50.388s | 1m17.203s | 3 | 4 |
| 9 | Valtteri Bottas | Alfa Romeo-Ferrari | 64 | 0 | +52.525s | 1m17.6s | 2 | 2 |
| 10 | Sebastian Vettel | Aston Martin-Mercedes | 64 | 0 | +53.536s | 1m17.558s | 3 | 1 |
| 11 | Pierre Gasly | AlphaTauri-Red Bull | 64 | 0 | +54.289s | 1m17.344s | 3 | 0 |
| 12 | Esteban Ocon | Alpine-Renault | 64 | 0 | +55.655s | 1m17.571s | 2 | 0 |
| 13 | Daniel Ricciardo | McLaren-Mercedes | 64 | 0 | +57.635s | 1m17.532s | 2 | 0 |
| 14 | Lance Stroll | Aston Martin-Mercedes | 64 | 0 | +1m0.802s | 1m17.672s | 4 | 0 |
| 15 | Nicholas Latifi | Williams-Mercedes | 63 | 0 | +1 lap | 1m18.579s | 4 | 0 |
| 16 | Guanyu Zhou | Alfa Romeo-Ferrari | 63 | 0 | +1 lap | 1m18.2s | 2 | 0 |
| 17 | Yuki Tsunoda | AlphaTauri-Red Bull | 63 | 0 | +1 lap | 1m15.334s | 4 | 0 |
| | Alex Albon | Williams-Mercedes | 48 | 0 | DNF | 1m18.023s | 4 | 0 |
| | Mick Schumacher | Haas-Ferrari | 24 | 0 | DNF | 1m24.778s | 2 | 0 |
| | Kevin Magnussen | Haas-Ferrari | 24 | 0 | DNF | 1m33.754s | 1 | 0 |