While it's not universally popular and hasn't always produced the greatest racing, Formula 1's Australian Grand Prix venue Melbourne has a superb record for generating surprises.
As F1 prepares to race there for the first time since 2019, our writers have picked their personal favourite Melbourne shocks.
ALONSO SHINES ON FIRST RENAULT START
Mark Hughes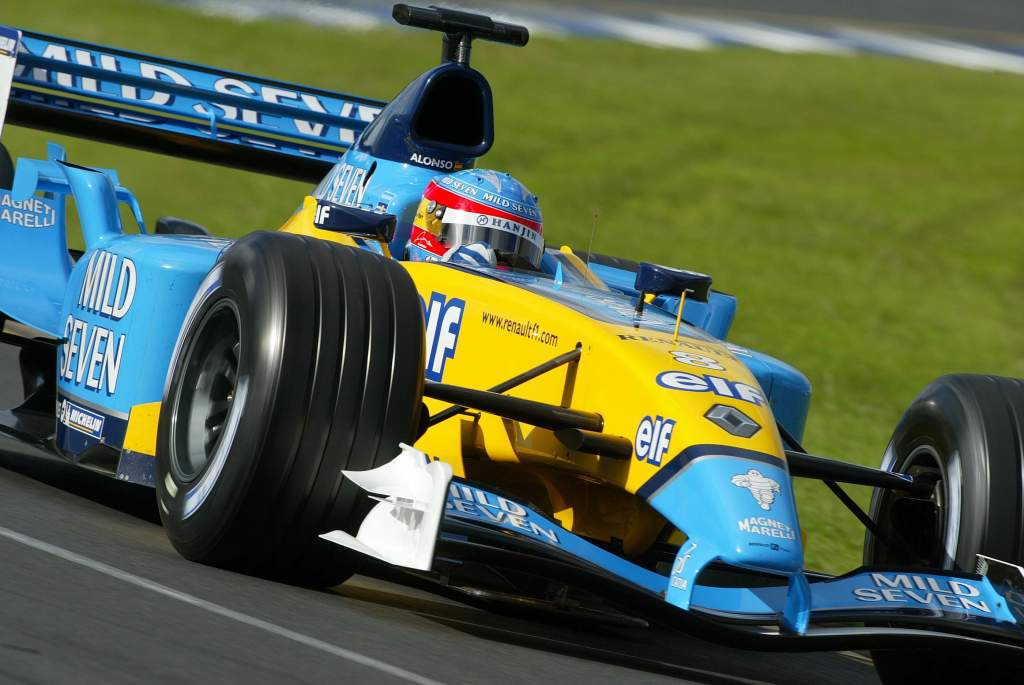 I'd been a big fan of Fernando Alonso in his debut season with Minardi, 2001. He was obviously a superstar in waiting. I was completely convinced – and remain so – that had he stepped straight into a top car instead of a Minardi, he'd have been fighting for the title right away.
Anyway, he did his year in Renault test driver solitude then came back in full flight in 2003 and the first race was Melbourne. I recall watching him from the now-deleted Turn 9-10 chicane and the way he had the car teetering on the edge between turn-in and apex, wrestling it with hands and feet, was so unlike what anyone else was doing it was impossible not to be excited. The sun was bright that day and behind the cars so it bled the colours out. I wrote a piece referencing a phrase the journalist who'd popularised Bruce Springsteen had used, saying I'd just seen the future, I just wasn't sure what colour it was.
In the race he was brought in during a safety car and refuelled heavily and rejoined last. Watching him make his way through the field was like seeing an ambulance through rush hour traffic. His times, combined with the fuel load calculation, suggested that had he been on a conventional strategy he could have won the race. People were surprised. They shouldn't have been.
HAMILTON'S RECORD
Gary Anderson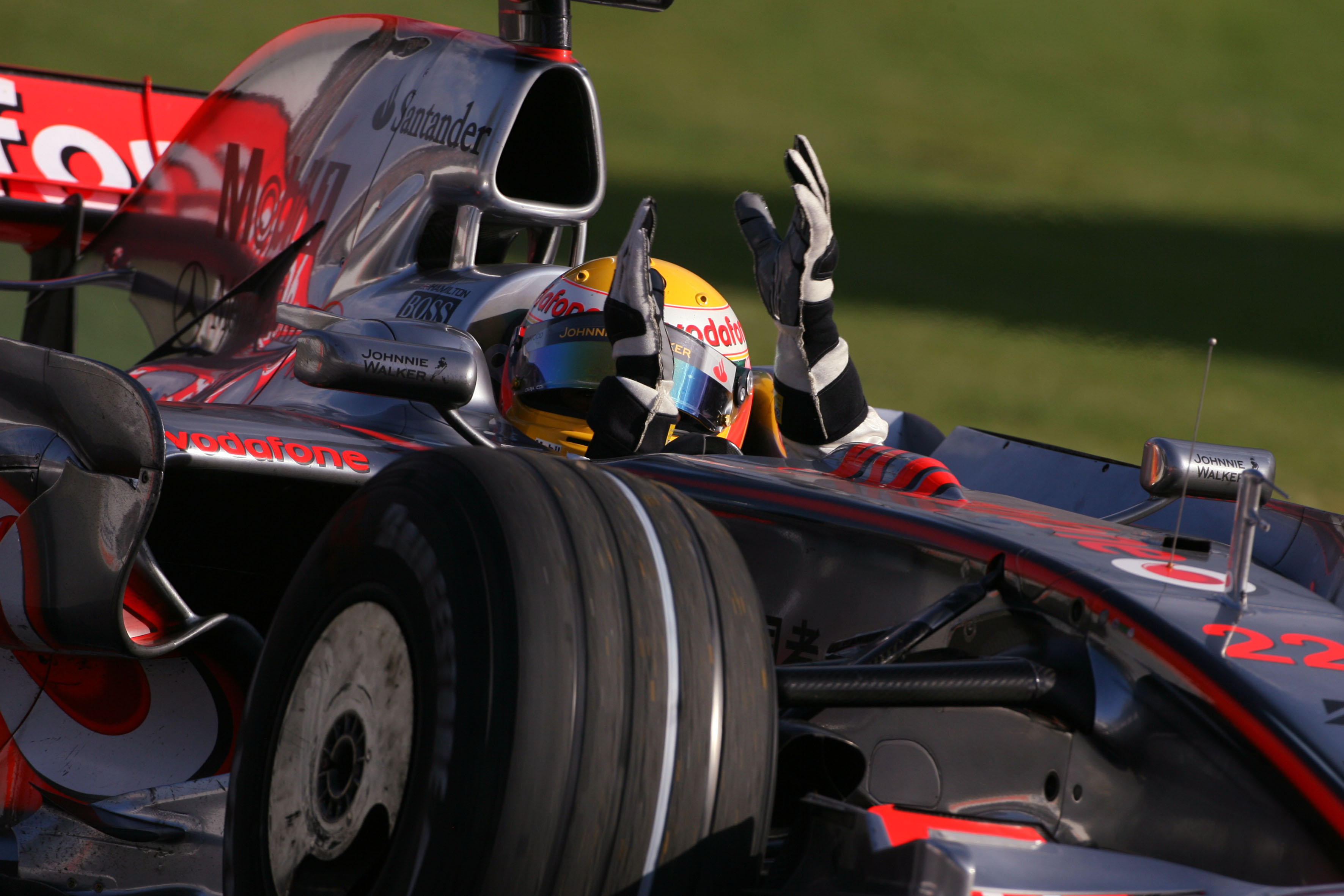 There have been plenty of surprise results in Australia, not least because reliability problems often strike given it's an early-season race. But what surprises me most of all is not a specific race, but Lewis Hamilton's record there.
He has competed in this race 13 times – from 2007-2012 in a McLaren and 2013-2019 in a Mercedes. But he has only won twice.
Hamilton's career vs Australia record
| | | |
| --- | --- | --- |
| | CAREER | MELBOURNE |
| Races | 290 | 13 |
| Poles | 103 (35%) | 8 (61%) |
| Wins | 103 (35%) | 2 (15%) |
When you consider that in 2007/2008 he was in the McLaren, which at that time was as good as any other car, pole and a win in 2008 showed that Hamilton was going to be a force to be reckoned with. But it took until 2012 to get another pole and in 2010 and 2012 he was beaten by McLaren team-mate Button, who won both races. In terms of wins, Hamliton's strike rate in Melbourne is far lower than his career total. And while he's only won twice, his team-mates have five wins – Jenson Button twice, Nico Rosberg twice and Valtteri Bottas once.
Hamilton's move to Mercedes in 2013 ahead of the hybrid era starting the following year meant that he usually had the best car – and he took six more pole positions. But in that period, he won just once with his team-mate winning three times.
There are all sorts of different reasons for failing to convert those pole positions into wins, but it's clear that Hamilton has some unfinished business in Australia. But I'm not convinced he is going to change his percentage hit rates for the better this year.
BRAWN'S ABSURDLY BRILLIANT START
Scott Mitchell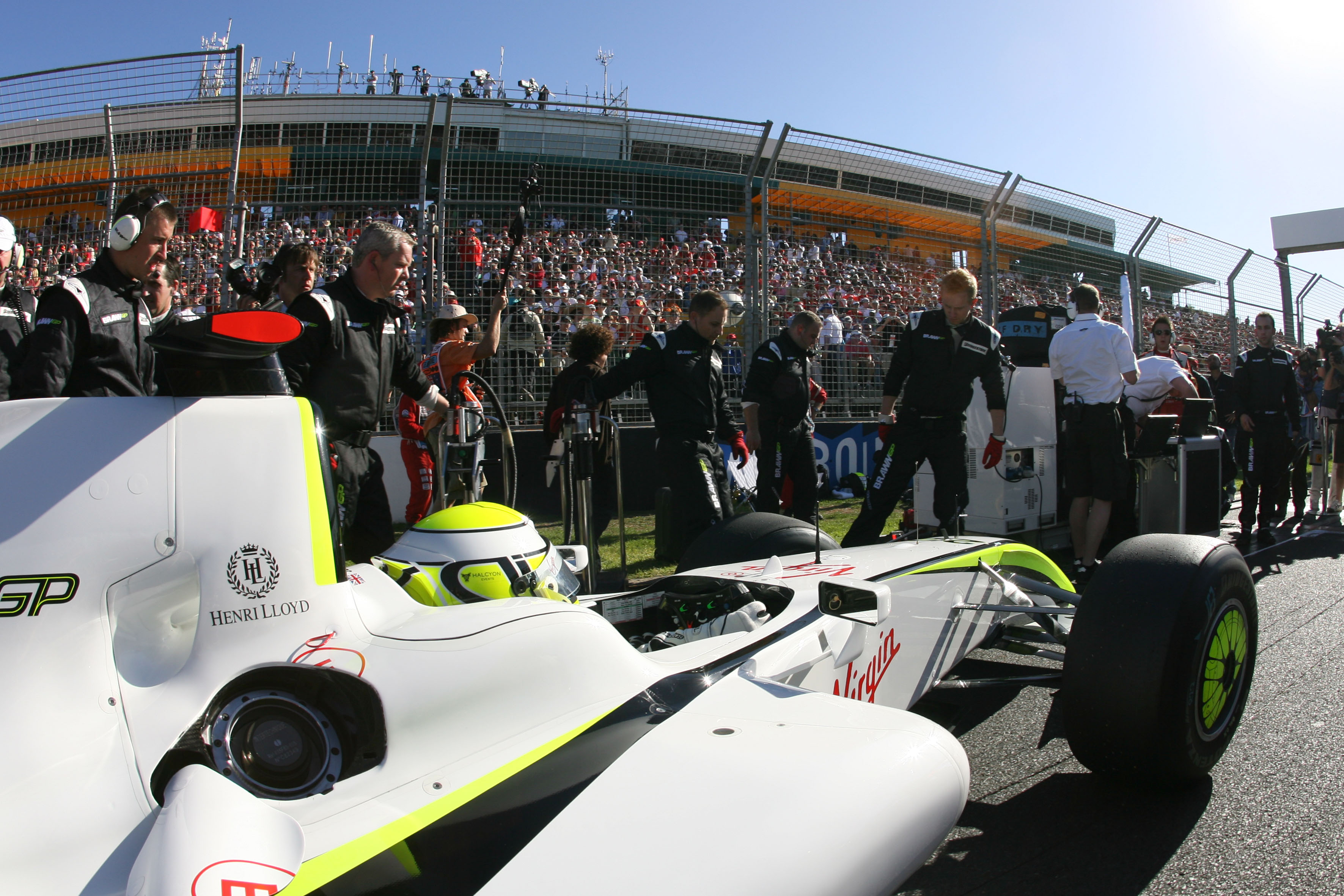 How can it be anything else? That pre-season was a rollercoaster as a Jenson Button fan, lurching from the fear he'd be out of F1 altogether, to worrying what kind of shed would be pieced together from the remains of Honda, to reading about its first test and refusing to believe it.
This couldn't be real. The team didn't seem real (it certainly didn't have a proper name). It didn't have a real livery. Its pace must be flattered.
But it was real. All of it. Absurdly so. And then Button and Rubens Barrichello had the audacity to lock out the front row and score a one-two, with Button winning.
It made no sense as a fan and even now, with all the facts of the situation understood, it's still an astonishing set of circumstances.
That's one of the great stories in F1 history. No image comes to mind more clearly than the two cars lining up on the front row in Melbourne.
McLAREN ENDS ITS DROUGHT
Glenn Freeman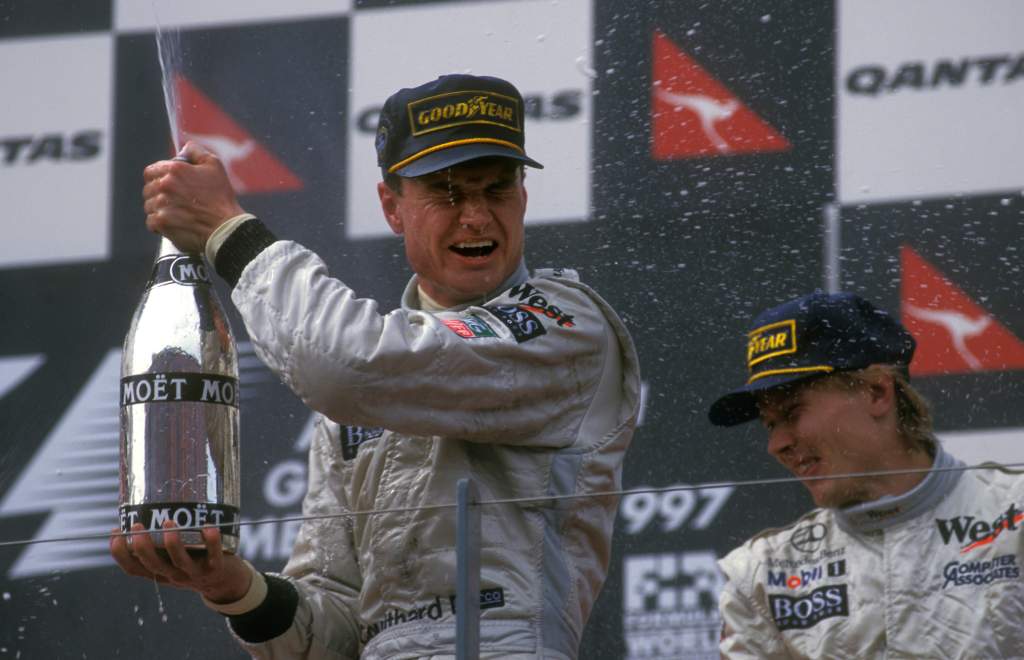 McLaren's victory drought from 1993 to 1997 looks like a minor blip compared to the 2012-2021 chasm it ended at last year's Italian Grand Prix, but back then its post-Senna dip felt hugely significant.
As painful as it was for a Jacques Villeneuve fan to see the Williams driver's pole position margin of 1.7 seconds turned into a first corner exit thanks to Eddie Irvine, it opened the race up, leaving the way clear for a frenetic battle between the second Williams of Heinz-Harald Frentzen, Coulthard's McLaren and Michael Schumacher's Ferrari.
A one-stop strategy gave Coulthard track position over two-stopping Frentzen for the final stint, helped by a slow second stop for the Williams. The only shame was that we could have had a thrilling three-way chase to the finish, only for Schumacher to be called in for a late extra stop, and Frentzen's car suffering a spectacular brake failure shortly before the end.
That all left Coulthard, in the newly-silver McLaren, clear to take the team's first win since the end of 1993. It was a major moment in the McLaren turnaround, and a year later – with Adrian Newey snapped up from Williams – it dominated the 1998 race on its way to a first championship since 1991.
VILLENEUVE'S DEBUT
Matt Beer
Glenn Freeman's status as The Race's Jacques Villeneuve superfan means I can normally keep my own 1996 Villeneuve worship under the radar, but that Melbourne drive made 15-year-old me lose interest in every other driver on the grid.
The Williams's superiority, a new-to-everyone circuit and a comprehensive test programme certainly didn't hurt. But the raw racing energy of Villeneuve taking pole on his debut, managing two starts perfectly, repassing team-mate Damon Hill around the outside after a slow pitstop and retaining the lead despite slewing over the grass all promised so, so much. I'd educated myself in the Gilles Villeneuve legend once Jacques got the Williams drive, and he never looked more like his dad than in the ragged but enthralling spirit he showed that day.
SUTIL LEADS…TWICE!
Josh Suttill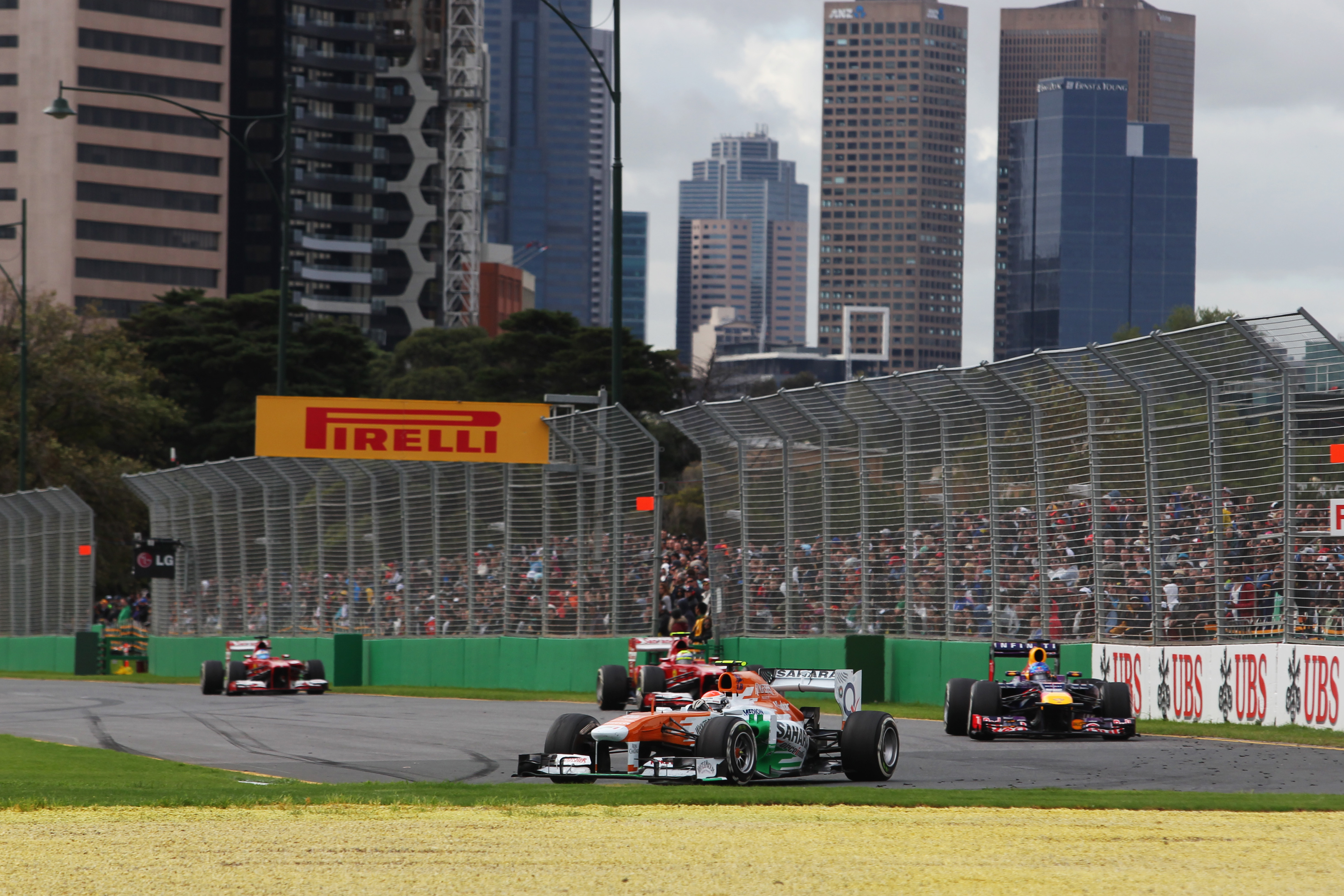 While the 2013 Australian Grand Prix is far better remembered for the second of Kimi Raikkonen's two victories with Lotus, Adrian Sutil's comeback is the first thing that comes to my mind when somebody mentions the race.
Sutil was somewhat unfortunate to lose his Force India drive at the end of the 2011 season, having transitioned from a frustratingly error-prone driver with flashes of speed to one of the most effective operators in F1's midfield.
He rightly received criticism for his off-track conduct in China but showed great resilience to turn in a string of stellar performances before he was forced to spend a year on the sidelines.
So, I was happy to see him return in 2013 when he defeated Jules Bianchi in an old-school pre-season shootout for the seat.
That year's supersoft tyre was far too soft for Melbourne, meaning the leaders pitted as early as lap five to get rid of them. Sutil had just missed out of Q2 in 12th place, but with Nico Hulkenberg's Sauber breaking down before the start of the race, he was the first driver with free tyre choice.
He opted for the medium tyres and a strong opening stint allowed him to take the lead of an F1 race for the first time in his career on lap 15 when Nico Rosberg's long first stint on the softs ended.
Instead of yielding to polesitter Vettel, Sutil was able to pull a small margin over the leading group despite having older tyres until he made his first pitstop on lap 21, and then set the fastest lap not long after emerging from the pits.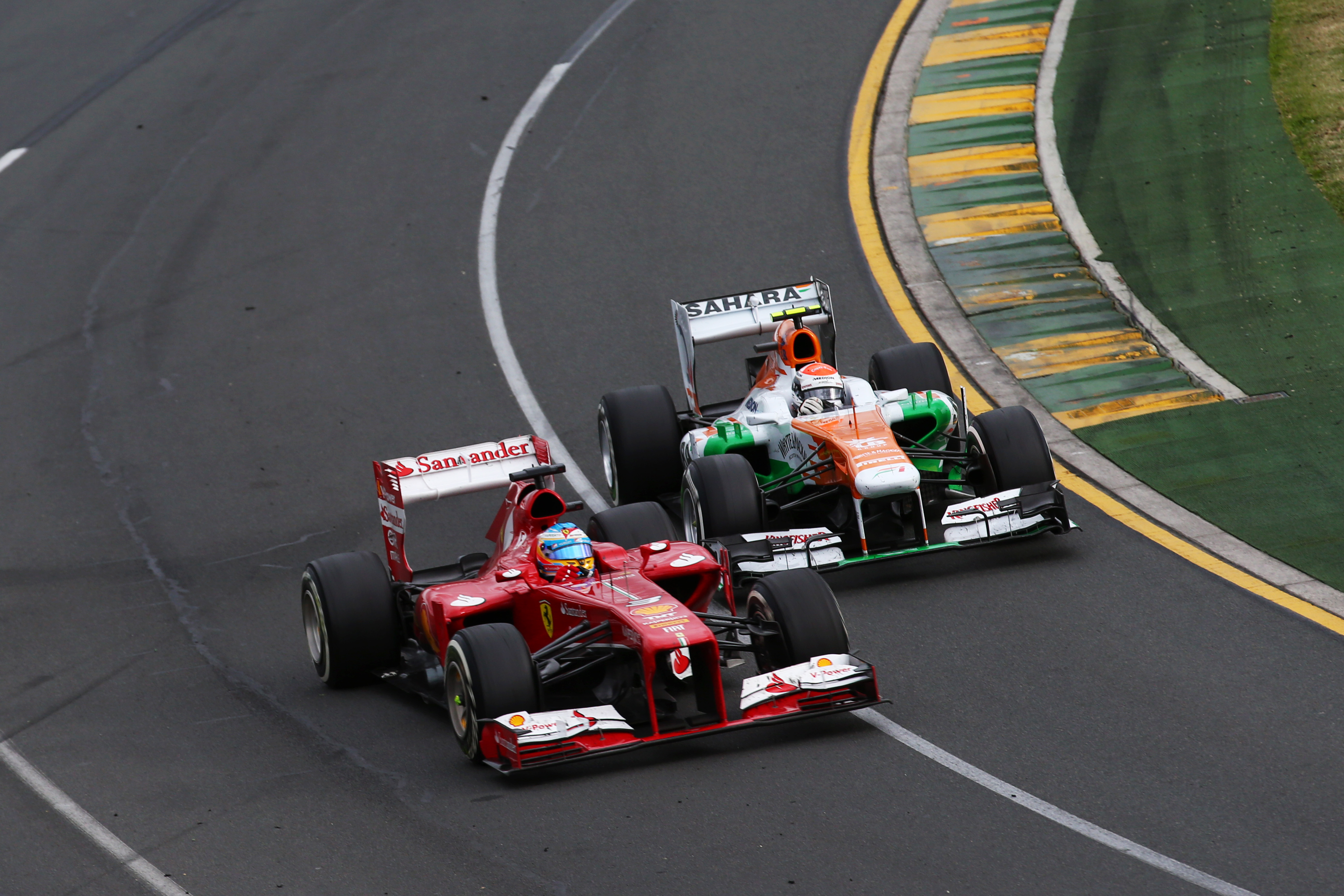 And Sutil found himself back in the lead on lap 40 before he lost the lead to Raikkonen three laps later and was passed by Alonso soon after before switching to the supersofts with 12 laps to go.
The incorrectly waved blue flags from marshals not used to seeing a Force India fight a Ferrari were a testament to Sutil's giant-killing.
Sutil's second stop proved to be far too early, with his tyres looking second-hand even just three laps into his stint. He was quickly demoted to seventh place and was even caught by his Force India team-mate Paul di Resta on the final lap.
Sutil just about held on for seventh, but that result didn't do justice to his fleeting heroics – see also Monaco in 2008 and in 2013. That could have landed him a top seat had Sutil been able to repeat them more often.
FERRARI IMPLOSION GIVES F1 HOPE
Sam Smith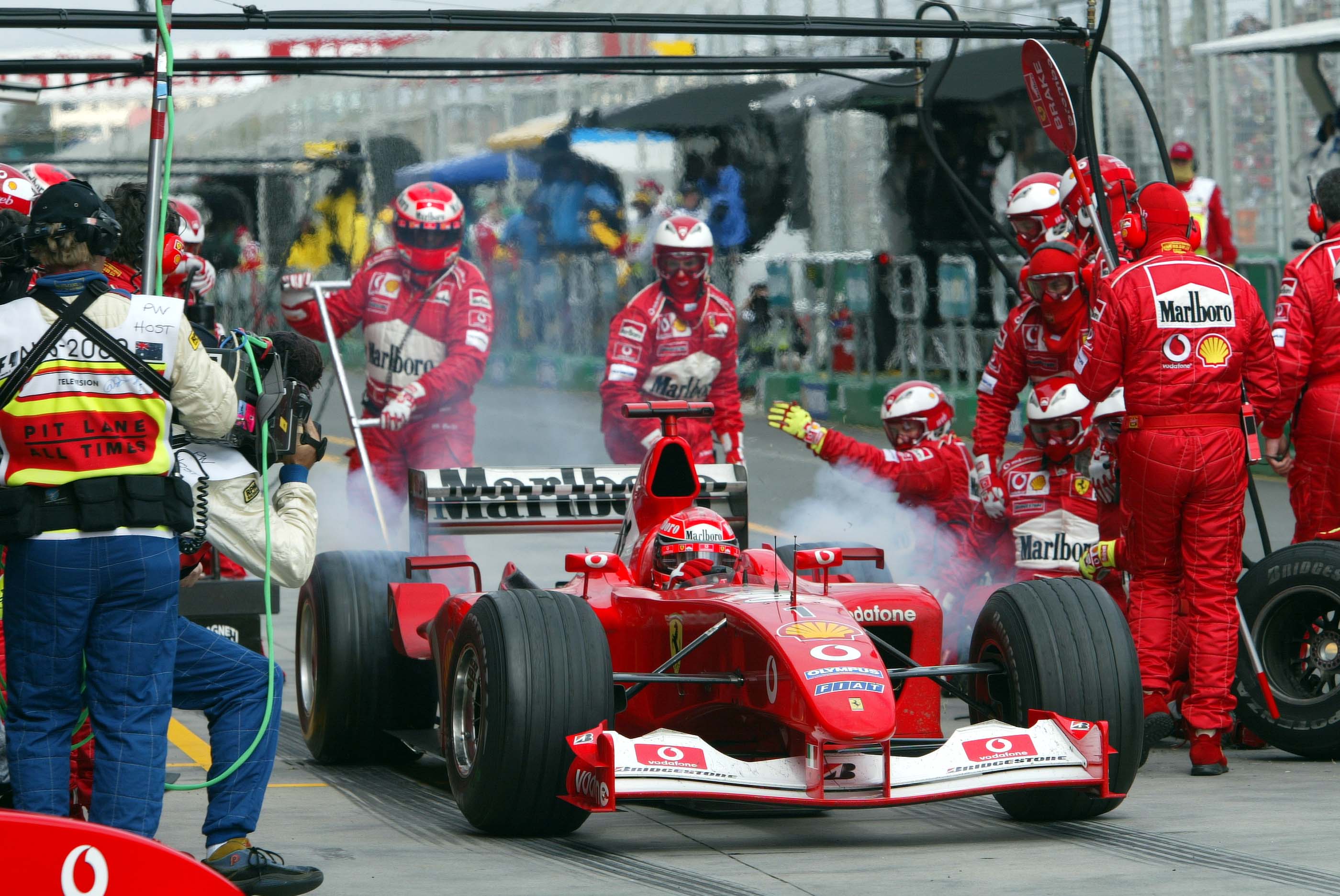 Going into the 2003 season, interest in F1 was at a low point – so much so that then FIA president Max Mosley fast-tracked a new one-lap qualifying system but with race fuel aboard the cars, and also a new points structure rewarding the top eight rather than the top six.
These were all a reaction to a soporific 2002 season in which Michael Schumacher cantered to the title with eight wins from the first 11 races. By Magny Cours in July his fifth title was sealed.
What F1 needed was a highly competitive qualifying session in Melbourne. What it got was Schumacher on pole and the Ferraris locking out the front row by a second.
But a tardy race from the Prancing Horse, which included Barrichello shunting heavily, and Schumacher slowed by a botched pitstop and a damaged bargeboard, completely reinvigorated hopes of a more competitive season.
A Schumacher-less podium was as refreshing as it was unexpected and a new optimism spread through F1 from that point forward.
It would all though prove to be something of a false dawn. Although 2003 was a far more competitive season than the 2002 red-wash, Schumacher still reigned – although he did so by stumbling over the line at Suzuka, some nine months after he hit the first hurdle in Melbourne in atypically clumsy style.
Perez announces his arrival – but loses a milestone
Edd Straw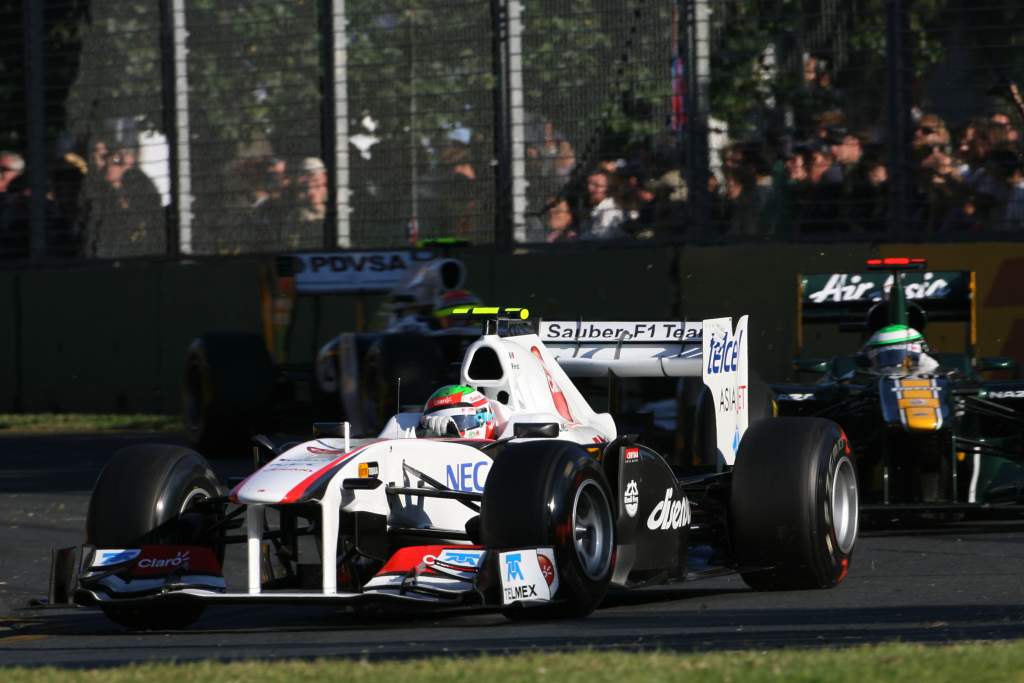 It's not unusual for drivers to finish in the points on F1 debut in Australia, it's happened 11 times since the Australian Grand Prix returned to Albert Park in 1996 after 40 years away. But one instance is overlooked simply because, officially, it never happened.
Sergio Perez, making his F1 debut for Sauber, finished seventh on-the-road in 2011. But he was excluded for an illegally-shaped upper rear wing element, a fate that also befell team-mate Kamui Kobayashi, who finished behind him.
This was blamed on a manufacturing error that led to the infringement of the rules stipulating a minimum radius of 100mm in the curvature of the wing, with the upper surface 3-4mm outside of that limit. The wings were certainly illegal, but there was no performance gain from them.
What was striking about Perez's drive was not only its quality, but that in his first start he set the template for his F1 career.
Qualifying was a little disappointing, Perez ending up 13th after hitting traffic in Q2.
But that meant he could start on hard tyres, immediately completing a marathon 38-lap opening stint and becoming the only driver to finish the race on a one-stopper.
The surprise was that this rookie driver, on new Pirelli rubber everyone was still getting their heads round, had a remarkable knack for making the tyres last that would serve him well for years to come. It's just a shame that he didn't get his reward in this race thanks to the disqualification of the Saubers.