These are not the easiest times to be hopeful in general, and there are many reasons why expecting an absolute classic 2021 Formula 1 season would be a step or three too far.
But our team of writers have picked a few personal hopes for on and off track events that they'd like to see – and believe there's reason to expect – this year.
BOTTAS WILL AVOID A SOUL-CRUSHING LOW
Could this be the year when Valtteri Bottas settles into his place in F1, stops breaking himself psychologically by trying to take on Lewis Hamilton in title fights and finds a consistently calm state in which he can make the best of what will surely be his last season at Mercedes, thereby demonstrating that he'd be a brilliant signing for any other team?
He's still a driver who can match F1's record holder in qualifying but just doesn't put together complete performances like his illustrious team-mate. And if he didn't have the incessant comparison to that team-mate, the speed and talent that made Bottas one of the rising stars of the 2010s would probably flourish more than ever now he's had his years of Mercedes experience.
A contented Bottas with a nothing to lose mentality springing a few surprises, getting a few impressive wins and earning a decent 2022 seat elsewhere would be a lovely outcome this season. – Matt Beer
McLaren's top-team 'rehabilitation' will pay off
At the start of the 2020 season, it was Racing Point that looked a dead-cert for third place in the constructors' championship with Ferrari firmly out of the picture.
But at the Abu Dhabi Grand Prix, it was McLaren who secured the coveted spot – its best performance in eight years of well-documented tribulation and an enormous fall from grace.
In 2021 the goal for McLaren is surely to establish itself in that position, bringing to a close an almost decade-long 'rehabilitation' to its former glory. With Daniel Ricciardo heading to McLaren this year as a de facto team leader, he'll be keen to achieve what he tried to at Renault.
And pending some Monza 2020-style madness, it's not too much of a stretch to suggest the top step of the podium might be in sight. – Lucy Morson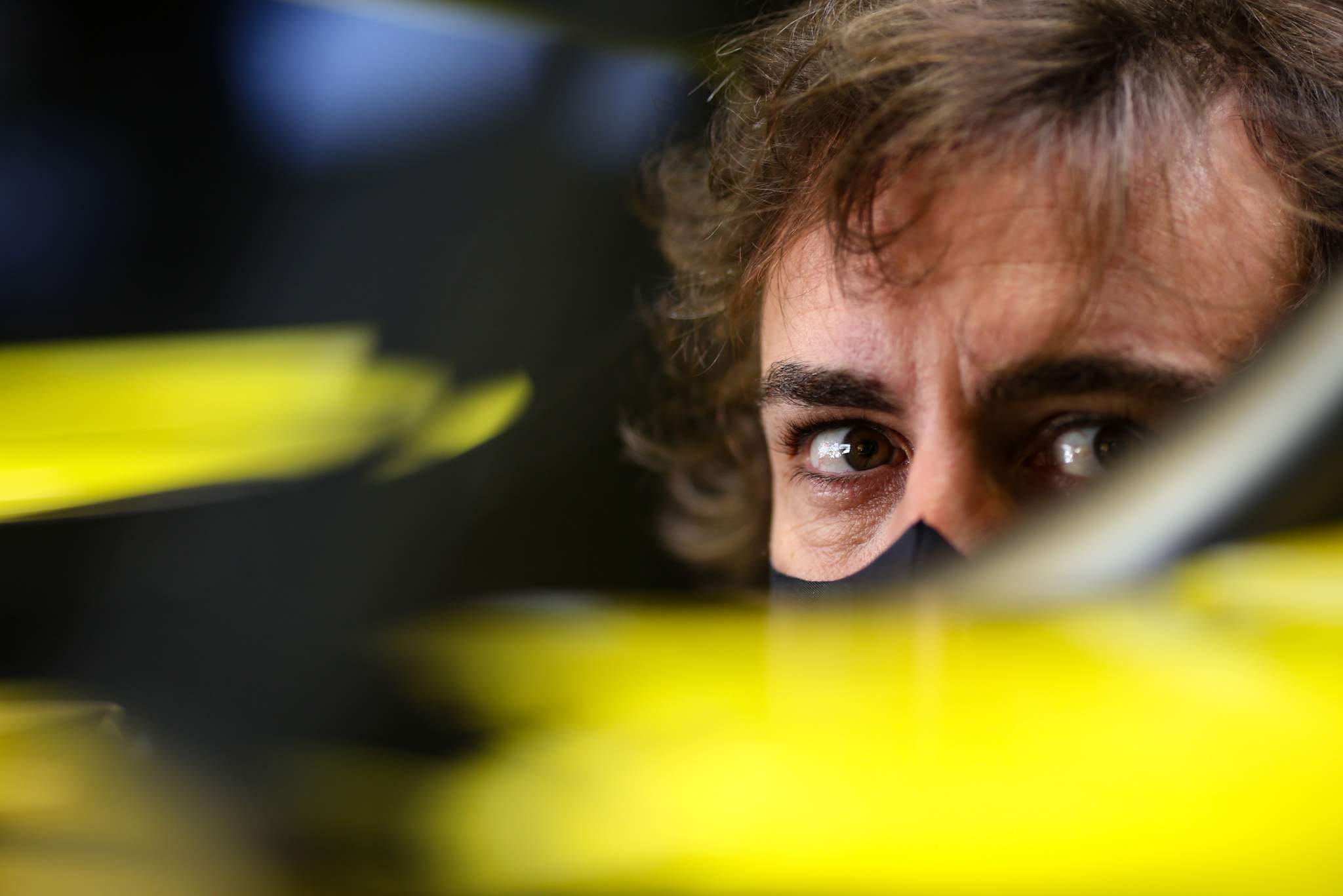 Alonso will be back on the podium
We're going to see Fernando Alonso back on an F1 podium in 2021. It won't be easy – if anything Alpine will find it tougher to be in the mix for podiums than it did as Renault in 2020.
Firstly, the second Red Bull should be more competitive than it was last year. Ferrari will surely take a step forward, and McLaren is only going to be tougher to beat with a Mercedes engine in the back. And if Sebastian Vettel rediscovers his best form, then Aston Martin will have at least one car in the fight on the days one of Lewis Hamilton, Max Verstappen and Valtteri Bottas aren't locking out the top three spots.
However, Alonso at his relentless best will sniff out any half-chance of a podium and pick up his first F1 trophy since the 2014 Hungarian GP. – Glenn Freeman
W SERIES WILL GET THE RIGHT SORT OF RECEPTION IN F1
There's a danger that W Series' arrival on the F1 bill and consequent profile boost will mean more attacks on the 'segregated racing' theme, patronising over-praise or scathing judgements on the quality of the field.
The stats for female participation in F1 are abysmal. Waiting for organic change wasn't paying off. W Series has made clear it wants its racers to get a boost from its development opportunities then move onward and upwards in mixed gender racing. It's a pretty blunt instrument but a sport implying that 50% of the world's population doesn't have a place in its field is a pretty blunt problem.
There have been decades of motorsport being seen – accurately or not – as being for men only, and that leads to deep-seated imbalances that it will take several years to begin to overcome. So the W Series fields of its early years may not contain the next female F1 drivers. Those drivers may not even be karting (or gaming) yet. The creation of this championship was just one step in efforts across motorsport to increase female participation, and hopefully its arrival in the F1 paddock will be greeted as such and judged sensibly as a long-term project. – Matt Beer
VETTEL WILL HIT FORM AT ASTON MARTIN
Full disclosure – ahead of the delayed start of the 2020 season, I predicted Sebastian Vettel would have a fine farewell season with Ferrari. That prediction was made before it became clear just how big a limitation the 2020 Ferrari had at the rear end, and proved very wide of the mark.
That's always been a weakness for Vettel and it constrained him last year. But unless what is now called Aston Martin gets its car changes spectacularly wrong, we can expect the rear end to be more to his liking.
Vettel didn't win four championships by chance and the enfeebled performer of last season is not representative of his capabilities. That doesn't absolve him from responsibility for his struggles because it is the driver's job to adapt, but he should be back in his comfort zone.
He also has the boost of knowing he's Aston Martin's main man and should be revitalised by the challenge of helping it emerge as a regular winner in the long-term. So hopefully we'll see more of the old, virtuoso Vettel in 2021 as a result because history shows us he's capable of being a wonderful driver – even if there were times at Ferrari when things went wrong. – Edd Straw
Giovinazzi will become Alfa's number 1
When Kimi Raikkonen negated Antonio Giovinazzi's positive start to 2020 and asserted himself as still being Alfa Romeo's number one driver, it could've – and many believe should've – been curtains for Giovinazzi's F1 career.
But though the Italian's case for being on the grid is one of the flimsiest among the 2021 crop, he is and has always been a wonderfully gifted racing driver, and his three successive qualifying triumphs over Raikkonen (by a pretty incredible average margin of 0.497s over a standardised 90-second lap) to round out 2020 showed that.
Raikkonen's F1 legacy is secured – Giovinazzi, meanwhile, is still to really make his mark in grand prix racing. But if this kind of pace is representative, then he can do it after all. – Valentin Khorounzhiy
Williams will be back in the points
Williams has endured the two worst seasons in its long and famous history, but I'm convinced it's hit its lowest point and the phoenix will begin to rise.
Last year was much better than 2019, so it was a shame that neither George Russell nor Nicholas Latifi could snatch the point or two that would prove it. After all, Williams was only a point-scorer two years ago through very fortunate circumstances.
In 2021 I hope, if not expect, Williams will get a few points finishes to its name. Everything that's happened since the dismal off-season of 2018/19 has been followed up with action that has benefitted the organisation and been true to the vision and targets laid out as the essential path to recovery.
Even with year-to-year development reduced compared to normal, I believe Williams can and will make a step again in 2021.
And while it may not escape the lower part of the midfield entirely I'm optimistic that will yield points finishes again. – Scott Mitchell
Ferrari will be best of the rest
Ferrari is in a similar situation to that it faced at the end of 2014 when there had been so much obviously wrong with its power unit that it was going to be relatively easy to make a big improvement for '15, when it would be freed from the spec freeze.
This time around its power unit was as much as 65bhp down as a result of the late-notice technical directives that were issued following the FIA's investigation of Ferrari's powerful 2019 engine. There was very little time for adaptation to the new interpretation before the season began, and the spec was effectively frozen by the pandemic cost-saving measures.
For this year Ferrari can make changes to all the elements of the power unit and has been working for many months on optimising around the revised set of requirements. Logically, Ferrari should make the biggest power step of anyone, given that it was so far behind.
Similarly, the root causes of the rear end instability which blighted the 2020 car for much of the season should now be understood and making an improvement in that should be similarly low-hanging fruit.
The combined effect should surely see Ferrari very much contending for best of the rest. Anything less would be very disappointing. – Mark Hughes
Perez will help Verstappen be a title contender
Don't be tricked by Red Bull, don't be tricked by Red Bull, don't be tricked by Red Bull…
Red Bull has a real chance of being a championship contender again this year.
Here we go again…
No, I'm honestly not letting myself get carried away thinking Red Bull will finally topple Mercedes. But I believe Max Verstappen can fight for the championship this year, or at least come close to going the distance.
There are as many arguments against Red Bull continuing its late-2020 form into this year as there are in favour of it, so I'm not going to waste your time repeating something we made earlier!
What I'm buoyed by is Sergio Perez's arrival. Last year Verstappen had some awful misfortune. Without it I think he'd have been second in the championship. And in a perfect year he'd have just about kept in touch with Lewis Hamilton in the title battle.
With a proper rear gunner in Perez, who I think has the experience and the racecraft to be a convincing asset on Sundays even if he's not a qualifying threat, Verstappen has something extra in his fight against Mercedes that he hasn't had since Daniel Ricciardo left.
Maybe my prediction should really be 'Verstappen won't be fighting Mercedes single-handed'. But the logical extension of that is Perez can be key to a Verstappen title challenge. And I'm willing to nail my colours to that mast. – Scott Mitchell
Ocon will avoid another battering
The comprehensive defeat Ocon suffered at Ricciardo's hands in 2020 is the kind that potentially ends F1 careers – and while his (rightfully) survived it, it won't weather a similar battering at Fernando Alonso's hands. And given how it played out for Fernando Alonso's previous F1 team-mate, there's reason to worry.
But Ocon looked at least over the worst of it, and closer to the driver that was such a headache for Perez at Force India, towards the end of the '20 season.
And with Alonso having missed two years of F1, I want to believe Ocon will give him a proper fight, and preserve his career in the process. – Valentin Khorounzhiy