Mercedes Formula 1 boss Toto Wolff says the team isn't yet fully on top of the gearbox problem that limited it to six laps on the first morning of F1 pre-season testing.
Valtteri Bottas took the W12 out of pitlane in the first hour, but had to cease the run immediately as the car developed a gearshift problem.
This necessitated a precautionary gearbox change that kept Mercedes and Bottas off the track until the closing minutes of the morning session, in which the Finn finally returned to the track.
However, his lap count stopped at just six laps – nine fewer than the team with the next-fewest, Haas, which also required a gearbox change.
The rest of the 2021 cars each completed no fewer than 39 laps in the four-hour session, which is one of just six in this year's shortened pre-season testing.
"We had a gearbox issue that came out of nowhere, that we haven't yet been ready to identify, understand," Wolff told media during the midday break.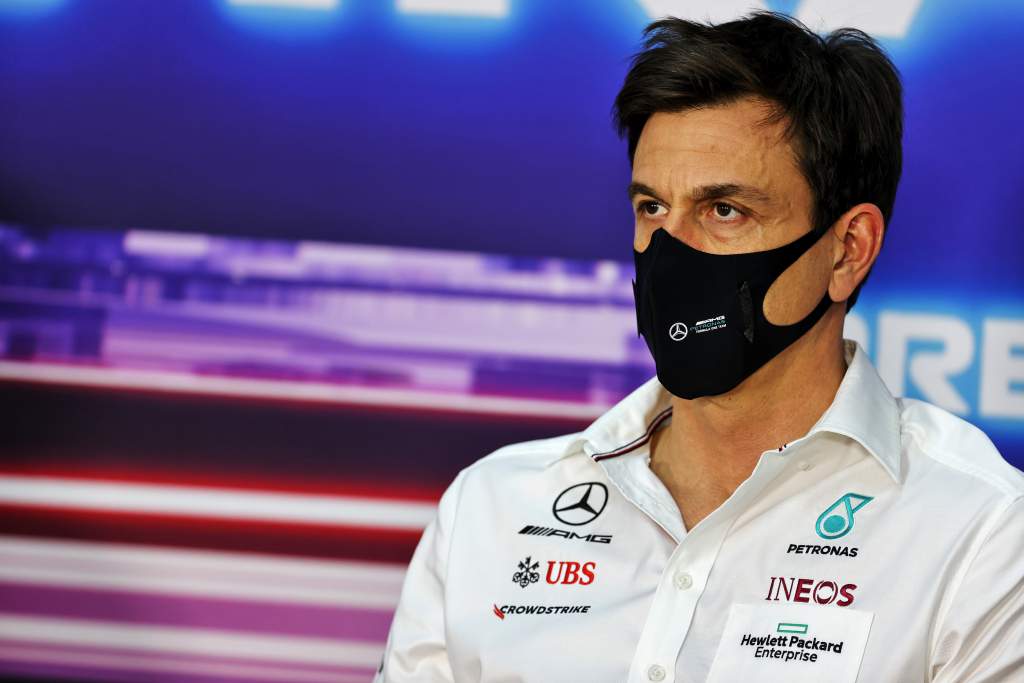 "If we are able to have a smoother ride from here onwards, then I think we can recover.
"If we have more stumbling blocks then obviously with three days [of testing] there is not a lot you can do."
Bottas' brief initial track run did allow the public to spot the W12's new floor for the first time, which Mercedes kept hidden at its launch.
"I think it looks good, optimising the floor around the lack of aerodynamic performance that we have with the new regulations, and let's see [whether] it can be translated into real performance," Wolff said.
Bottas is handing over the car to reigning champion Lewis Hamilton for the afternoon session, which began with the Sakhir track absolutely covered with dust following a sandstorm.
It's a sandy afternoon in Sakhir! 😱#F1 #F1Testing pic.twitter.com/aolWS9uSA2

— Formula 1 (@F1) March 12, 2021
F1's 2021 season will begin at this same Bahrain venue in two weeks' time, but Wolff doesn't expect the pecking order to become particularly clear in testing – especially as he's "sure you haven't seen all the cars in specification that they're going to be raced in".
"We will see some kind of vague picture after the three days," said Wolff. "I think Bahrain is representative but these days are very gusty, the wind conditions change from one day to the other.
"And of course we don't know the fuel loads, and there's quite a difference in performance, [if a car is] just missing 10kg.
"So a vague picture, but on the first race weekend, in qualifying, we're going to know. Once the flag drops, bullshit stops."