McLaren's priority in its analysis of the late tyre call that cost Lando Norris victory in the Russian Grand Prix is whether the team could and should have overruled its driver's preference.
Norris led the majority of the Sochi race and was soaking up pressure from seven-time Formula 1 world champion Lewis Hamilton in the closing stages when he and McLaren opted not to pit during a late rain shower and then got caught out when the downpour intensified.
Hamilton pitted two laps earlier for intermediates and went on to win whereas Norris barely made it back to the pits when the track was at its wettest, and eventually finished seventh after pitting later than everyone except Charles Leclerc, who fell from fifth to 15th.
A few drivers who had less to lose – notably Max Verstappen, Carlos Sainz, and Valtteri Bottas – had indicated their preference for an early switch to intermediates.
Race engineer Will Joseph told Norris with five laps left that "some cars are pitting for inters, Bottas has gone already" but the track conditions at this time were clearly still manageable on slicks so Norris was not interested in changing.
McLaren never told Norris it felt intermediates were necessary and did not give him weather forecast information, let alone an explicit command to pit
Joseph's next message, a warning that Norris was approaching a particularly slippery part of the track where several cars were going off, is what the drew the coarse "Yeah, shut up!" response from Norris – broadcast on the world feed – as he tried to concentrate.
Half a lap later Joseph asked what Norris thought about the intermediates and Norris replied: "No!" and that was the final exchange before Hamilton and Mercedes pulled the trigger on changing tyres themselves.
It meant McLaren never told Norris it felt intermediates were necessary and did not give him weather forecast information, let alone give him an explicit command to pit.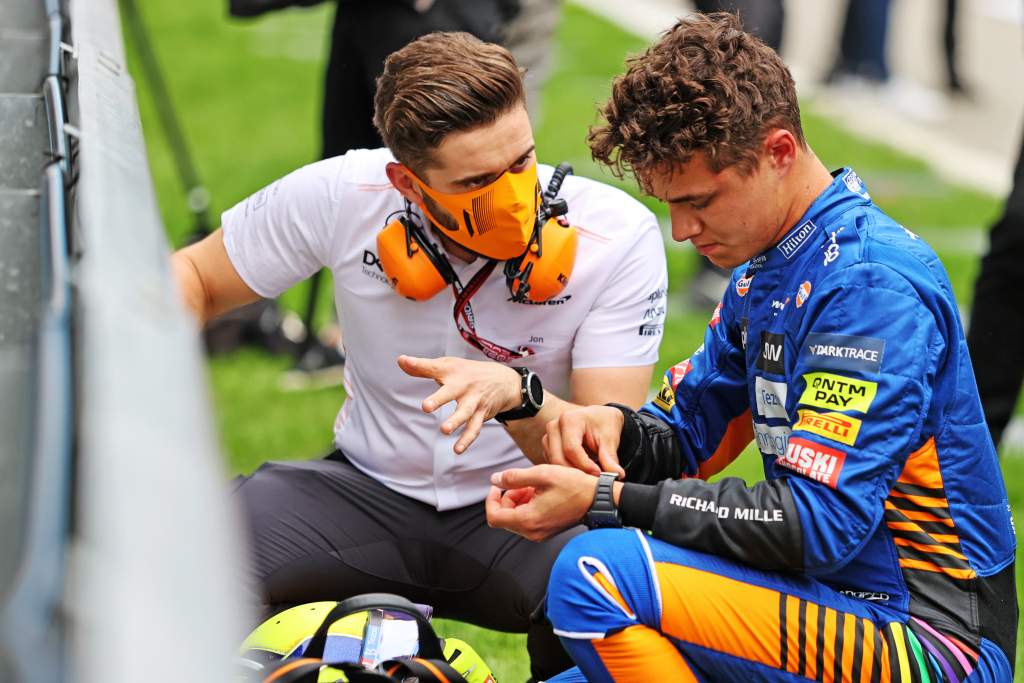 McLaren team boss Andreas Seidl admitted that with hindsight it was obvious they made the wrong decision and so the focus of its review will be whether McLaren had the necessary information to overrule Norris and where the breakdown was in the decision-making process.
Asked by The Race if Norris needed to be given firmer information to stop, given he was judging the live conditions and did not have the benefit of a weather radar, Seidl said: "That's exactly what we have to analyse now in detail: which information was available, and what did we do with it?"
He added: "In these tricky situations it's a communication between the driver and the pitwall using all the information we have available in terms of weather forecasts, what other cars are doing, trying to brief Lando and at the same time get the feedback from Lando on how the track conditions are.
"Lando with the information you get from us as well and what he was feeling on track, he felt good staying out there on the slicks, and in the end we didn't overrule him as a team."
Norris said after the race he did not feel he had gambled anything with his decision because it seemed obvious to him that the slicks were OK.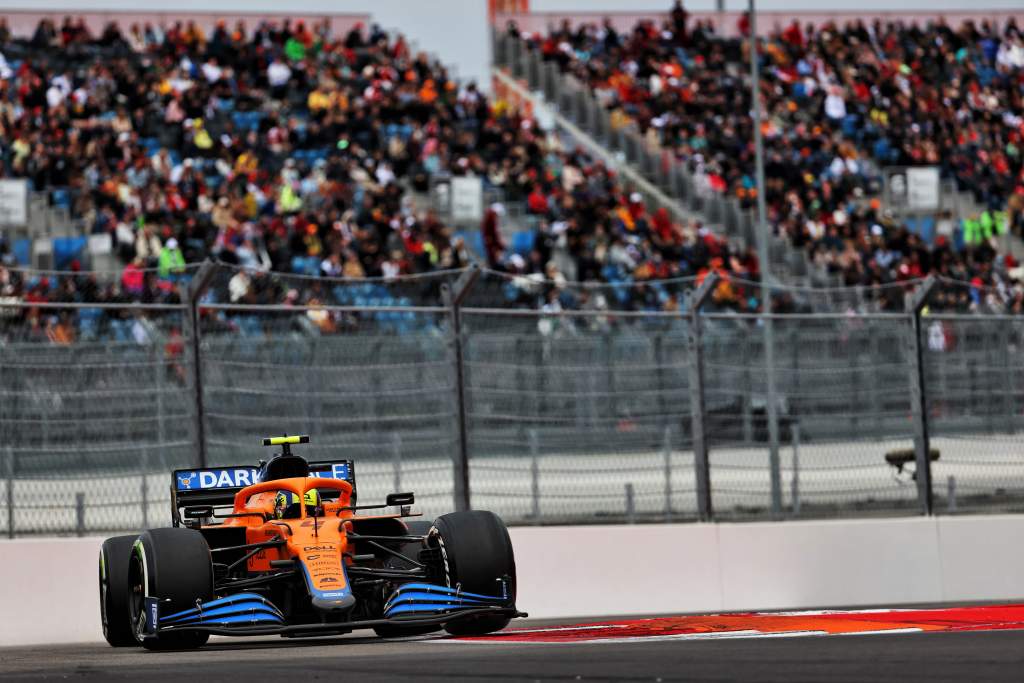 Although Seidl said the decision was made together with Norris, he seemed to side with his driver and admitted that McLaren had the option to decide unilaterally that he had to pit.
"The driver has very limited information," said Seidl. "That's why he can only feed back what he feels on track, which he did.
"But at the same time, if we have firm information that it simply doesn't make sense to stay out, we always have the possibility to overrule.
"And that's exactly what we need to analyse as a team, if there would have been any point in this decision process today where we simply should have overruled him because he obviously doesn't have all the information that we are having."
When told Hamilton had changed tyres, Norris said he'd seen and told Joseph: "We've just got to commit to staying."
That's because Norris was now completely reliant on the slick-tyre call being the right one in order to win the race, although McLaren could still have intervened at this point and ordered him to pit at the end of the next lap – a move that would have at least guaranteed second.
It didn't, Joseph instead telling Norris he had to stay out on track – with eyes solely on the victory – towards the end of the lap after Hamilton pitted, which would prove to be the final lap before the rain worsened and Norris's race was ruined.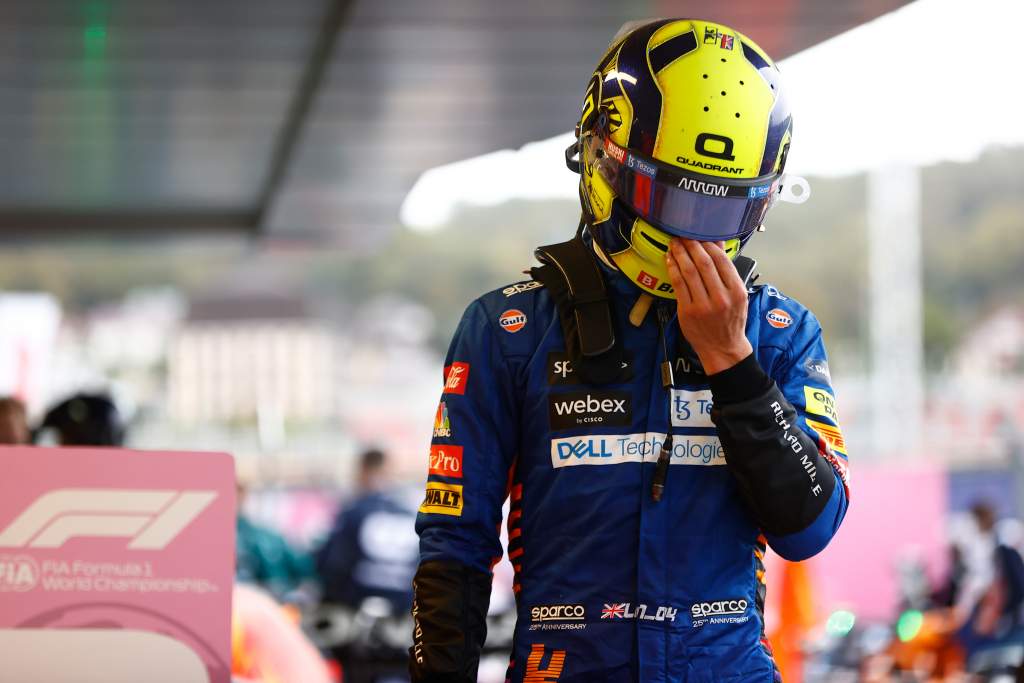 "If we would have been crystal clear from the team side, and convinced that it is 100% the right decision to stop, we would have stopped," Seidl said.
"So in the end, it was a close call. Of course it's easy to say afterwards it was the wrong one, because that's how it played out.
"But I think it was quite close to decide what is the right thing and that's why I say it's in the end a team decision together with Lando.
"The only thing we need to analyse is if there would have been any information available which should have led us to make a clear call."