An epic fight for the win in Formula 1's season opener did not need to turn sour for Charles Leclerc to send a message to Max Verstappen.
Whether you love or hate Verstappen's aggressive approach to racing it is undeniably effective and makes him an opponent few relish getting into combat with.
Leclerc knows that. In the Bahrain Grand Prix he didn't care.
The Ferrari driver went wheel-to-wheel with the Red Bull and came out on top. At one point he was millimetre-perfect in turning in ahead of Verstappen to complete a re-pass into Turn 4.
If that didn't make the point clearly enough, this did afterwards: "It is hard racing, as we have seen with Max in the past. But I'm also an aggressive driver in the way I fight with others."
This is slightly different to the 'live to fight another day' attitude that Lewis Hamilton generally adopted when he fought Verstappen last year.
Hamilton would likely argue he had little choice given Verstappen tended to take things to the limit, and sometimes over it (mainly as the title fight got particularly intense).
Verstappen wasn't as forceful against Leclerc in Bahrain. He didn't squeeze him as hard in defence, he didn't send it deep into the braking zone when they were side-by-side. One wonders if that might change, especially if this becomes a scrap for the championship.
This was a lot closer to the early Hamilton/Verstappen battles in 2021 when they gave each other a bit more racing room and were forceful but not reckless. The only time either car was out of control this time was when Verstappen misjudged a late move into Turn 1, locked up and ran deep.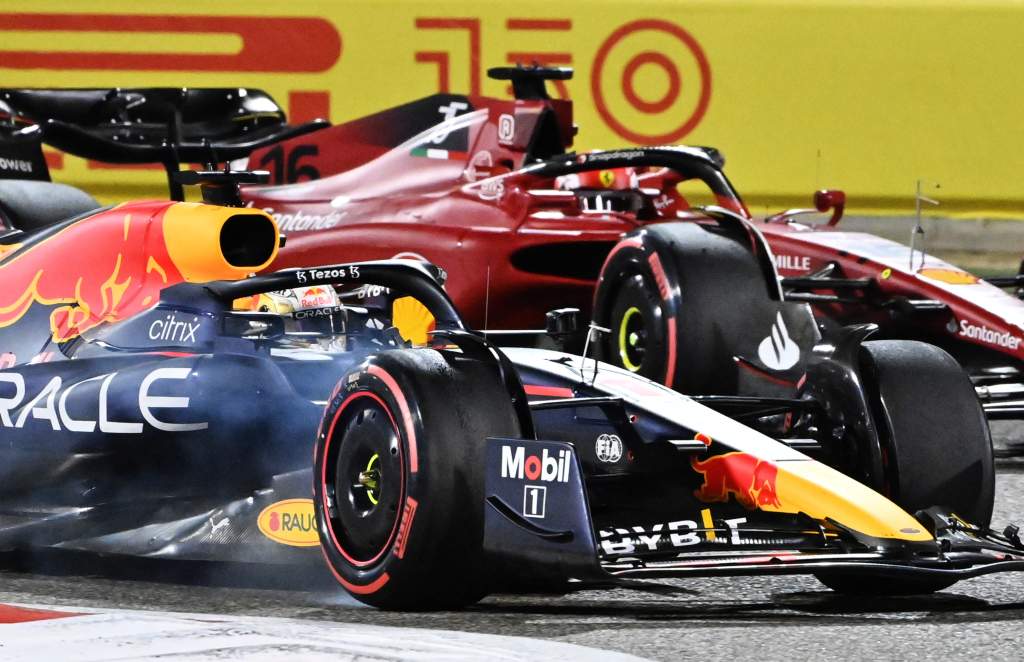 That was the only time he "surprised" Leclerc, who otherwise read Verstappen's attacks perfectly. He even claimed that when he knew he was vulnerable he was not preoccupied with stopping Verstappen making a move into the first corner but rather making sure that it was his Ferrari that had the DRS on the following straight up to Turn 4.
So if you thought Leclerc might have been a little lax in defence into Turn 1, think again.
"With the first three overtakes, I knew he was going to try, so I wasn't surprised," Leclerc said.
"I expected it and actually I wanted it. Because I knew that if he wasn't overtaking me there he would overtake me on the run to Turn 4 with the DRS.
"So I was on purpose braking very early into Turn 1 to be just behind in the DRS detection and to get it on the run to Turn 4 to get him back. It always worked out.
"On one overtake I was surprised, the one where he locked up and it was a bit more of a late move.
"But anyway, it was not a problem for me. It's a type of racing I like. It is hard racing, as we have seen with Max in the past. But I'm also an aggressive driver in the way I fight with others.
"I enjoy hard racing like this but fair racing. So I don't think there was anything wrong in all of those overtakes."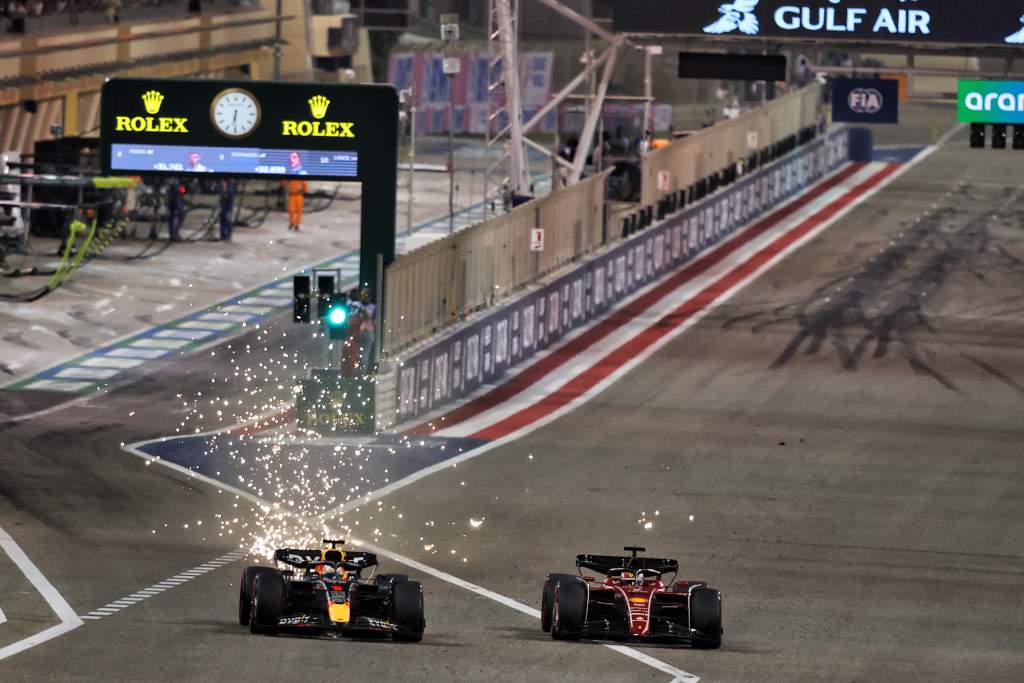 Leclerc was clever in that fight. He took a risk when he felt he needed to with his initial repass of Verstappen, moving across the split-second he thought he was in front on the approach to Turn 4.
But the second time Verstappen passed him into Turn 1, Leclerc had covered the middle of the track until the last minute, when he knew Verstappen was going past and so moved back to the racing line to maximise his exit speed.
And whether it was on the outside or inside into Turn 4 he judged his repassses well and didn't let Verstappen control the corner.
That intelligence extended to other areas of this battle. Like at the late safety car restart, which could have given Verstappen a final chance to attack (futile though it would have been given his eventual fuel problem that caused him to retire).
Leclerc handled that restart brilliantly. Verstappen made the curious choice of pulling half-alongside Leclerc before the final corner, which put the Red Bull on the inside and off-line. Leclerc noticed and decided to pull the pin and go. He even seemed to suggest he'd notice this was a bit of a Verstappen tendency – so maybe Leclerc had anticipated Verstappen would do exactly that.
"For the restart, looking at last year's race, I think it's something that also Max is doing quite often to just be as close as possible and sometimes alongside the driver that is restarting first," said Leclerc.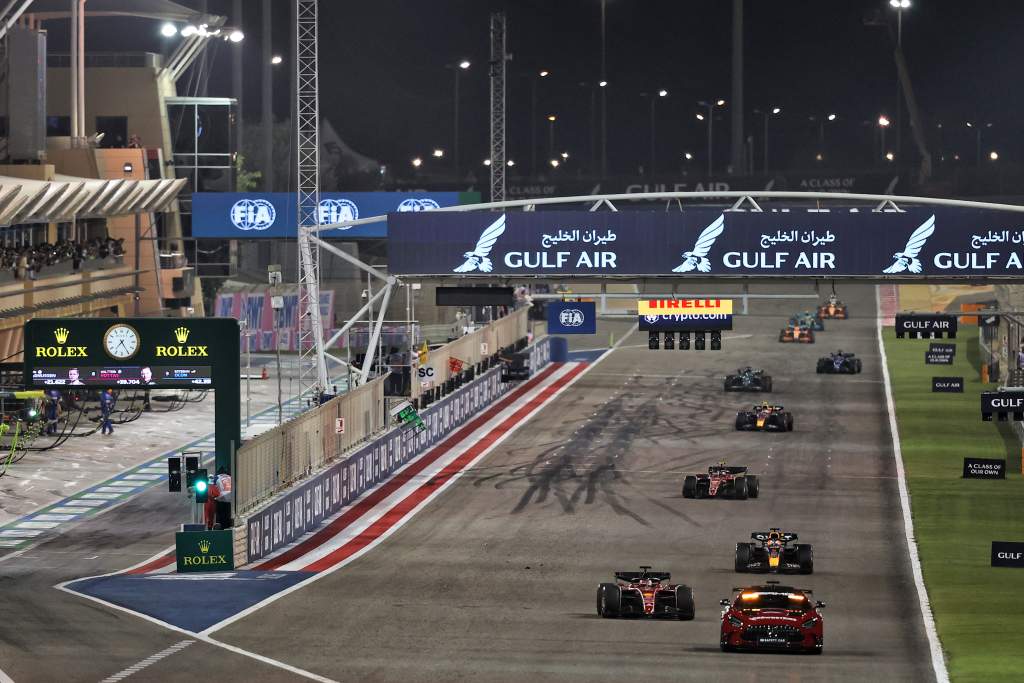 "I just tried to do the best restart possible and I know that the position he was at that moment, it was the right moment for me to do the restart and it worked out.
"I'm happy because it was a very critical part of the race."
It wasn't the only one of those in a thrilling grand prix. Each time, Leclerc proved himself equal to the task.
He wasn't perfect in this race. A small mistake on his first in-lap helped Verstappen get close enough with his undercut to launch the attacks to begin with. Leclerc concedes he was also perhaps a bit too "under the limit" on his out-lap as well.
But he learned from that, which is why Verstappen didn't have another chance even with another undercut at the second pitstops. "It was a bit more under control and we probably also took a bit more margin," Leclerc reckoned.
Overall, the message from this fight was clear. If the Ferrari puts Leclerc in the fight this year, Leclerc is more than up for it.