"I'm not going to lie," said Carlos Sainz after qualifying his Ferrari second-quickest despite no tow but knowing he will start from somewhere near the back for various PU penalties, "it hurts starting from the back, knowing how good I feel in the car."
The Ferrari is in a happy place in its low-downforce Monza trim, its power unit is singing loud enough to have impressed Red Bull and its balance is good. It was good enough for Charles Leclerc to take pole position, regardless of Max Verstappen's penalty.
The theoretical tow benefit here with this generation of car around this track according to team simulations is between 0.25-0.3s. Difficult to know if Leclerc took all of that, but Verstappen, running without the benefit of the tow, was 0.145s slower.
The outright raw performance of the two cars looks very close, though the Red Bull, with its greater wing level, looked stronger on the Friday long runs. Good enough for Verstappen to challenge Leclerc for the victory, starting P7? Yes probably, given that the five cars between them qualified somewhere between 1.2s (George Russell's Mercedes) and 2.3s (Pierre Gasly's Alpha Tauri) per lap slower.
Like Sainz, Leclerc was highly complimentary of the Ferrari. "The balance was a lot better as soon as we put it on the ground here this weekend," he said.
"It's been a good surprise considering where we came from, especially Spa. We were not expecting to fight for pole here. We tested a lot of things across both cars and found a different direction which was quite interesting."
He's referring to the back-to-back tests conducted between a single and twin lower beam wing, and an old floor spec compared to the one introduced in France. The team settled on the single beam wing and the more recent floor for both cars. It's running less wing than the Red Bull, yet their speeds in the different demands of the downforce-rewarding middle sector are remarkably close.
It is Leclerc's speed through the second Lesmo in particular on his final Q3 lap which has made the difference. In a car running less downforce than the Red Bull, he has run it extremely close (0.062s) in that sector to Verstappen, where the benefit of the tow is at its minimum.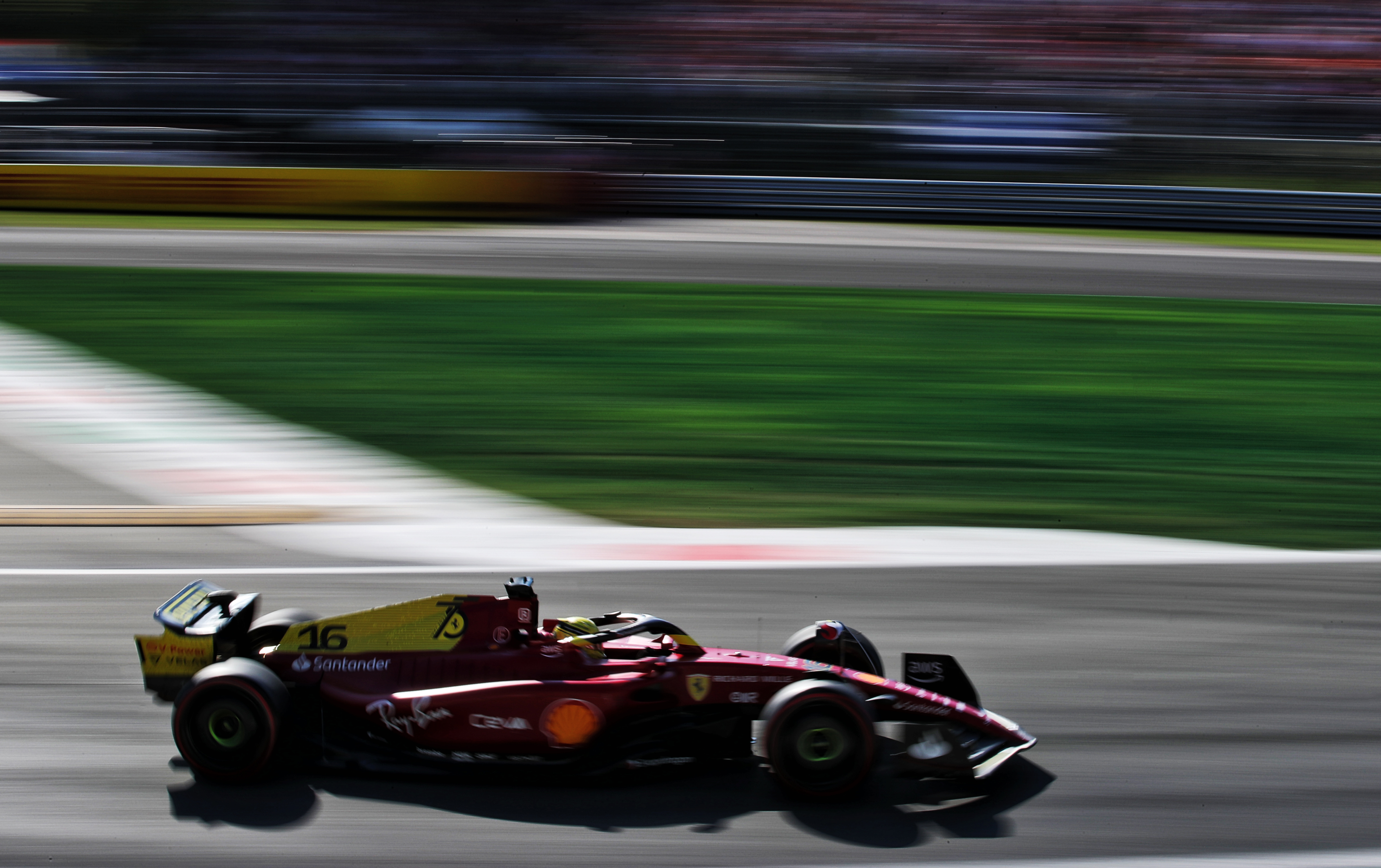 So, within six-hundredths of Verstappen in the Ferrari's weakest sector, he was able to enjoy the benefits of the car's great power deployment and the tow from Sainz to be significantly faster than the Red Bull in sector 1 (by 0.185s). The Red Bull's greater speed through Parabolica allows it to almost claw back in sector 3 what it has lost to the Ferrari's acceleration and towed straightline speed.
---
Q3 run 1 sector times
| | | | |
| --- | --- | --- | --- |
| | Sector 1 | Sector 2 | Sector 3 |
| Sainz (tow) | 26.721s | 27.185s | 26.678s |
| Leclerc (no tow) | 26.804s | 27.197s | 26.762s |
| Verstappen (no tow) | 27.124s | 27.051s | 26.684s |
Q3 run 2 sector times
| | | | |
| --- | --- | --- | --- |
| | Sector 1 | Sector 2 | Sector 3 |
| Sainz (no tow) | 26.85s | 27.055s | 26.524s |
| Leclerc (tow) | 26.733s | 26.875s | 26.553s |
| Verstappen (no tow) | 26.918s | 26.813s | 26.575s |
---
"They definitely seem to have turned that thing up," said an impressed Red Bull man of the F1-75's acceleration and length of deployment. Starting six places behind a car with such a potent Monza package may sound a tough challenge, "but the race sims on Friday felt really good," points out Verstappen. "I'm very happy with that pace and with the downforce level we've chosen we should be better on tyre deg… I just need to clear the cars between us quite quickly."
Asked if he felt it likely he'd be able to keep the Red Bull behind him, McLaren's third-starting Lando Norris replied, "No chance. They are 1.4s faster than us. You'd just be slowing yourself down [trying to defend]."
Here's how the long race pace on mediums (which is expected to be the favoured tyre in the likely one-stop race) on Friday FP2 looked:
| | |
| --- | --- |
| Verstappen | 1m26.09s (12 laps) |
| Sainz | 1m26.32s (6 laps) |
| Perez | 1m26.48s (7 laps) |
| Russell | 1m26.481s (6 laps) |
Leclerc had concentrated his long running on the softs, but comparing Verstappen to Sainz it can be seen that the Red Bull averaged over 0.2s faster despite running for twice as long. Hence Verstappen's optimism.
But how might Sainz have featured in this battle were he not taking his grid penalties? Does his belief that he would have been contending for pole stack up? Because Ferrari felt secure in beating George Russell to pole (discounting the penalised Verstappen and Perez) as the Merc was around 1s slower, it decided to use the first Q3 runs to maximise Sainz's chances by giving him the tow to Leclerc.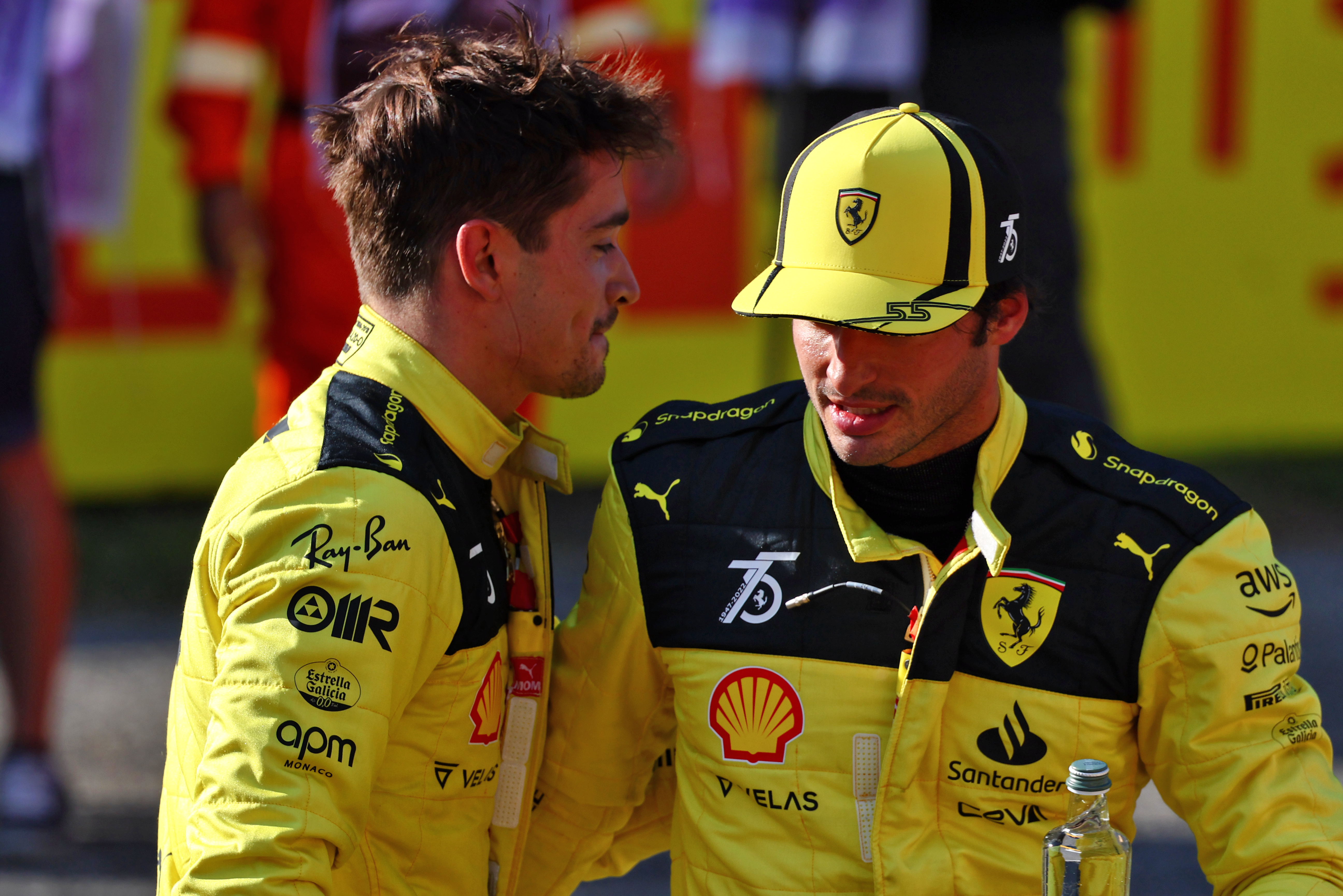 The positions would then be reversed for the final runs. This resulted in Sainz heading the Q2 times almost 0.2s clear of Leclerc and faster in every sector. On the second runs he remains marginally faster than Leclerc in Sector 3 despite the tow situation, mainly on account of how much more momentum he is able to take into Ascari, an advantage which makes him faster for quite a long way down the run to Parabolica despite being the tow-er rather than the towed.
But it is Leclerc's speed through Lesmo 2 which is the deciding factor – and this is unrelated to the tow. He takes 0.2s from Sainz through there, even though Carlos has improved on his previous run through there.
Had Sainz managed to force Lando Norris into passing him on the out-lap, as he was trying to do, maybe he could have made up with the tow what he lacked to Leclerc through Lesmo 2 and challenged his team-mate for the honour of being fastest. Not that it would have changed the front of the grid.