Since the end of Formula 1's first world championship season of 1950 to Lewis Hamilton's breaking Michael Schumacher's record of grand prix victories, only seven drivers have ever held the record: Alberto Ascari (13 victories amassed between 1951-53), Juan Manuel Fangio (24 victories, 1950-57), Jim Clark (25, 1962-68), Jackie Stewart (27, 1965-73), Alain Prost (51, 1981-93), Schumacher (91, 1993-2006) and Hamilton (92, 2007-20).
They each achieved pre-eminence in their careers and were all extraordinary racing drivers. But the challenges they faced in reaching those numbers – while having much in common – were unique to each of them.
They cannot therefore be directly compared. But those challenges can certainly be explained and saluted and can be used to provide context that the statistics alone never could.
The core skill of racing, judging speed against grip, has not changed since racing was invented. The accompanying qualities and demands have of course varied immensely through the eras and are constantly changing. These seven drivers are among the best there has ever been – and regardless of the era in which they'd raced, they would likely still have found a way to be that.
13 wins in 32 starts
Alberto Ascari scored 11 of his then-record 13 victories in an incredible run with Ferrari across 1952-53. His tally of nine consecutive wins still stands. They were accomplished in what was by far the dominant car – the 500 model literally had no comparable rival in '52, though by '53 the Maserati A6GCM was being developed into a formidable machine in the hands of Ascari's great rival Fangio.
Within the Ferrari team, Ascari dominated over a stable of high-calibre team-mates, including 1950 world champion Giuseppe Farina, Piero Taruffi, Luigi Villoresi and latterly Mike Hawthorn. He didn't just prevail over them, his speed was of an entirely different level. There was at the time great debate about who was the fastest man in grand prix racing, Fangio or Ascari. Hawthorn believed it was Ascari, Stirling Moss believed it was Fangio. Sadly the contest between them ended with Ascari's death in 1955.
Enzo Ferrari said Ascari was at his best dominating from the front, that he was less impressive in adversity. But in the 1953 Swiss Grand Prix Ascari gave the lie to this after pitting from a commanding lead with carburettor trouble on the 39th lap of the 65-lap race.
He lost several minutes in the pits as the sister Ferraris of Farina and Hawthorn took up the first two places. Ascari rejoined fourth and made up a staggering amount of time on them to regain the lead with 11 laps to go.
24 wins in 51 starts
Juan Manuel Fangio lost what should have been his prime racing years to World War II and was already 38 years old when Alfa Romeo gave him his first works team drive (after he'd won five races from six in a privately-entered Maserati in '49).
He wasn't from the same pre-war community as the other stars of the time, and had arrived on the European scene like a meteor, just adding to his mystique. Who was this guy from the faraway place that could just turn up in Europe and beat the best in his privateer car?
At Alfa, he put Giuseppe Farina – who pre-war had enjoyed the status of the next big thing – into perspective. Farina won the inaugural F1 title only because of the four-retirements-from-seven unreliability of the car of Fangio, who was demonstrably faster. It soon became clear that only Alberto Ascari was on a comparable level, the Hakkinen to his Schumacher.
After Ascari's death, Moss emerged as the cutting edge of the new generation and they were paired together at Mercedes in 1955. Even against the improbable talent and bursting ambition of a man 20 years younger, Fangio still prevailed – and not just by guile and cunning (such as Niki Lauda did with Prost in '84); no, he just flat out out-performed him.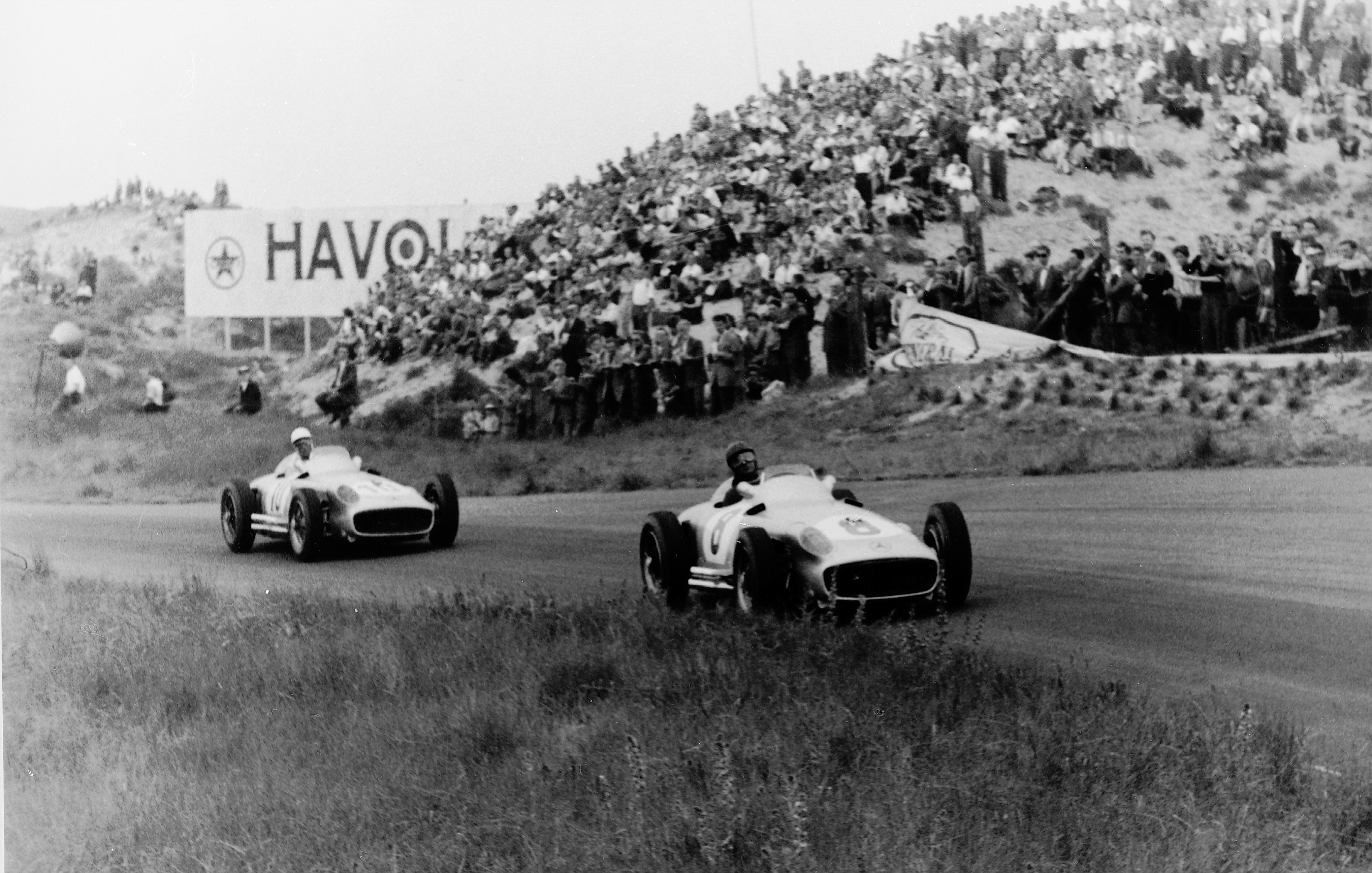 Aside from Ascari and Moss, the only other whose ability could be mentioned in the same breath was Tony Brooks, who only came to the fore in Fangio's last full season of 1957.
Does all this suggest the depth of ability wasn't as great as in later eras? Or that Fangio was so sensationally good that he just made it look that way? Using another gauge, the performance gaps to some very good team-mates were often enormous and could on paper be used to argue he was the greatest of them all.
But this was during a time of very explicit danger when personal limits weren't defined so much by trial and error (as that was a short-cut to the morgue) but by where the level of ability allowed you to be comfortable. His talent was almost mystical.
And if you wanted to beat him, you had to run the 1950s scale of risk to find out if you could. No-one seemed to fancy that challenge. He was operating upon a mountain that was just too dangerous to scale and where the air was too thin.
Fangio always ensured he was in best cars, was quite mercenary in that way. But he was also the best driver and the best teams automatically sought him out. His 24th and final grand prix victory at 45 years old at the Nurburgring Nordschleife was one of the greatest drives the sport has ever witnessed. It was won on sheer pace and desire.
"I went to places there I never want to go again," he reflected afterwards.
25 wins in 72 starts
Jim Clark has to be considered as one half of a partnership with Lotus boss Colin Chapman, who from 1962 onwards invariably provided him with the fastest cars (aside from in 1966, when they didn't have a suitable engine for the new 3-litre formula). Outside of that underpowered season, once he hit his stride, if it wasn't for unreliability, he would win (an exaggeration, but only a small one). But the superiority of his cars sells his other-worldly gift short.
Even after the shift to mid engines, cars of the previous 2.5-litre era had more power than grip and the key to being fast had been all about the drift, holding the car on the throttle against rear tyres running a high slip angle. But into the 1.5-litre era of 1961-65 and with ever-more sophisticated chassis, the cars had more grip than power and the key differentiating driving skill moved to the corner entry.
It was Clark's uncanny ability in this phase which was at the core of his amazing speed. It all appeared to come incredibly easy to him, like he was simply expressing himself and all the others faded to the periphery.
His winning margins against a very good field were often outrageous. Perhaps his most extravagant performance came in the 1967 Italian Grand Prix when an early pitstop put him a lap down. In his recovery drive he unlapped himself, then made up a further lap to retake the lead! Only to run short of fuel. The Lotus 49 was by some margin the fastest car that year – but to take just 48 laps to make up a lap… But he'd won races by a lap before, and in cars without that level of superiority, so perhaps not so surprising.
How good was that field? John Surtees, Dan Gurney, Graham Hill and Jack Brabham were rivals throughout his career, with Jackie Stewart a starring rookie in '65 (when Clark won six from nine grands prix, retiring from two, missing one because he was busy winning the Indianapolis 500). Does that constitute a greater depth of talent than was arrayed against Fangio? Quite possibly.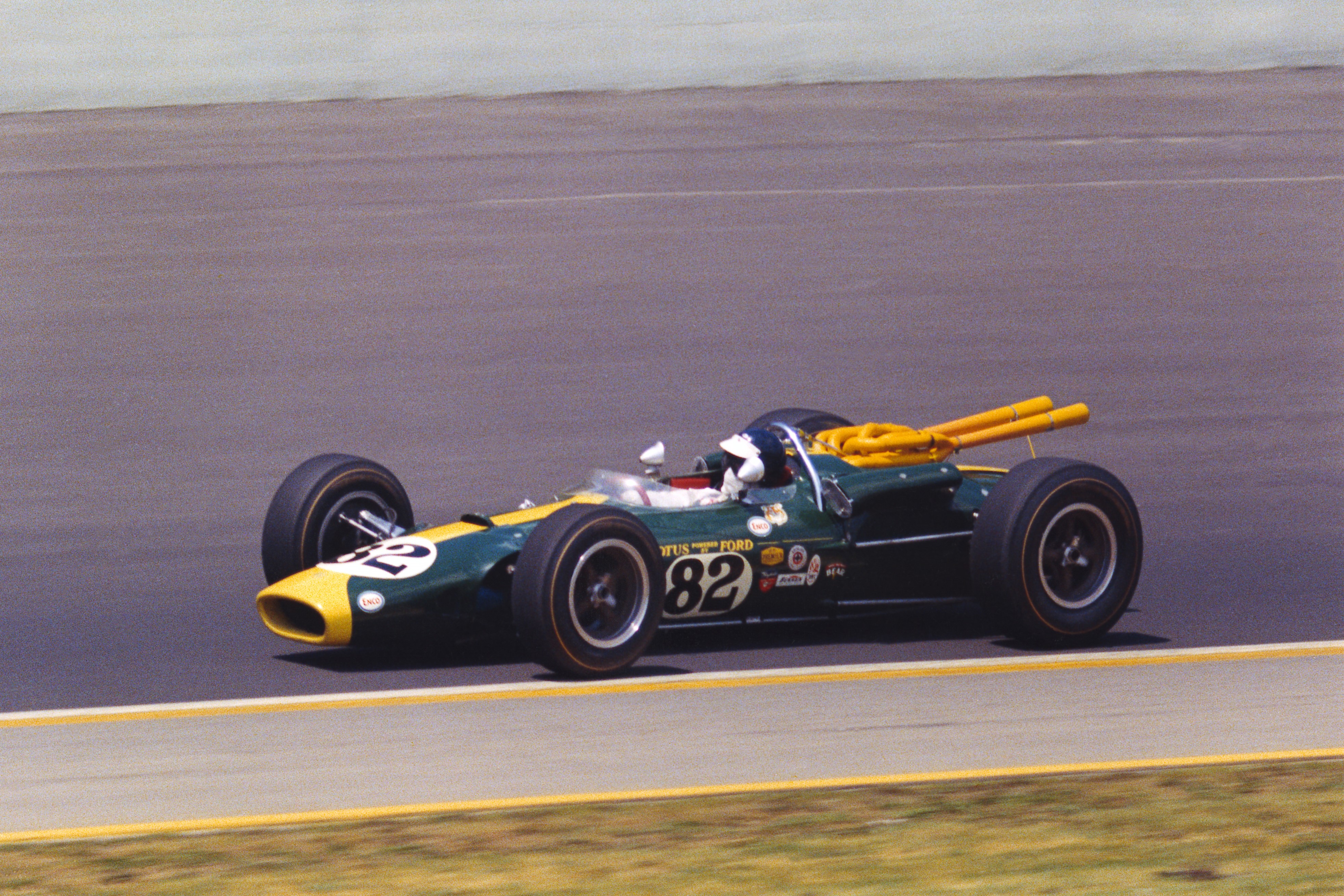 Certainly, there were more competitive teams in Clark's time than Fangio's, who rarely faced more than two other teams fielding potentially winning cars (and in one season not even that). Until '67 Lotus invariably struggled to run two equally-prepared cars and Clark was always accorded number one status. But with Ford money for '67 came Graham Hill, world champion of 1962, and two properly-prepared Lotus 49s.
In the five races where a proper comparison could be made, Clark qualified 1.163% faster. To give an idea, around an average sort of 1m20s lap of today, that would represent around 1s.
The era was every bit as dangerous as Fangio's, the venues just as lethal, the cars less ferocious perhaps, but more fragile too. Statistically, Clark's career was less impressive than Fangio's though some of this was down to the poor finishing record of the Lotus (he suffered seven retirements from 10 in 1964). If we take mechanical DNFs out of the equation, Fangio had 37 grands prix available to win and won 24 of them. Clark had 47 available and won 25.
Unlike Clark, Fangio didn't have the devotion of F1's greatest designer – though the advantages of that over Fangio's situation of being able to pick the best drives is maybe small. The psychological challenge of the era – of retaining an edge when you regularly witnessed horrific human carnage, often to your friends – was probably quite similar. The scale of that danger was never more clear than when Clark's life was snuffed out on a rainy day in Hockenheim, 1968.
27 wins in 99 starts
Jackie Stewart was more than just the triple world champion who dominated the post-Clark era of F1. He bestrode the sport on the track and off.
In the midst of winning grands prix and world championships, he took on the campaign – against great opposition – of ridding motorsport of its gruesome excesses.
As if that were not enough, he also became a different sort of F1 driver to any that had been seen before. As F1 entered a new commercial age, he became a globe-trotting mover and shaker. It was he, not his team boss Ken Tyrrell, who initiated the technical link-ups, who'd make the pitches and presentations to Ford or Goodyear, who'd liaise with Elf's Francois Guiter about budgets, to ensure the team had the best of everything. Tyrrell was his boss only notionally. Stewart bestrode the sport like no driver before – or since.
As F1 grew further, post-Stewart, so the teams grew with it and no single driver ever again held the sort of sway and influence of Stewart, someone who could get a grand prix cancelled or the venue changed if his safety demands were not met. Someone who became the very face of the sport, much like Lewis Hamilton is today, but carrying more weight as a big fish in a pond that was rather smaller.
How good was Stewart behind the wheel? The all-round best of his era, though perhaps his friend Jochen Rindt was outright faster and the star-crossed Ferrari and Matra ace Chris Amon comparably fast, albeit without the sort of personality that would have allowed him to mould his own destiny in the way of Stewart.
Brabham was still running at somewhere near his peak for the first few years of Stewart's career, Jacky Ickx was coming on strong, Emerson Fittipaldi and Ronnie Peterson were stern rivals in the last two years of his career, his team-mate Francois Cevert was becoming, under Stewart's tutelage, a close match.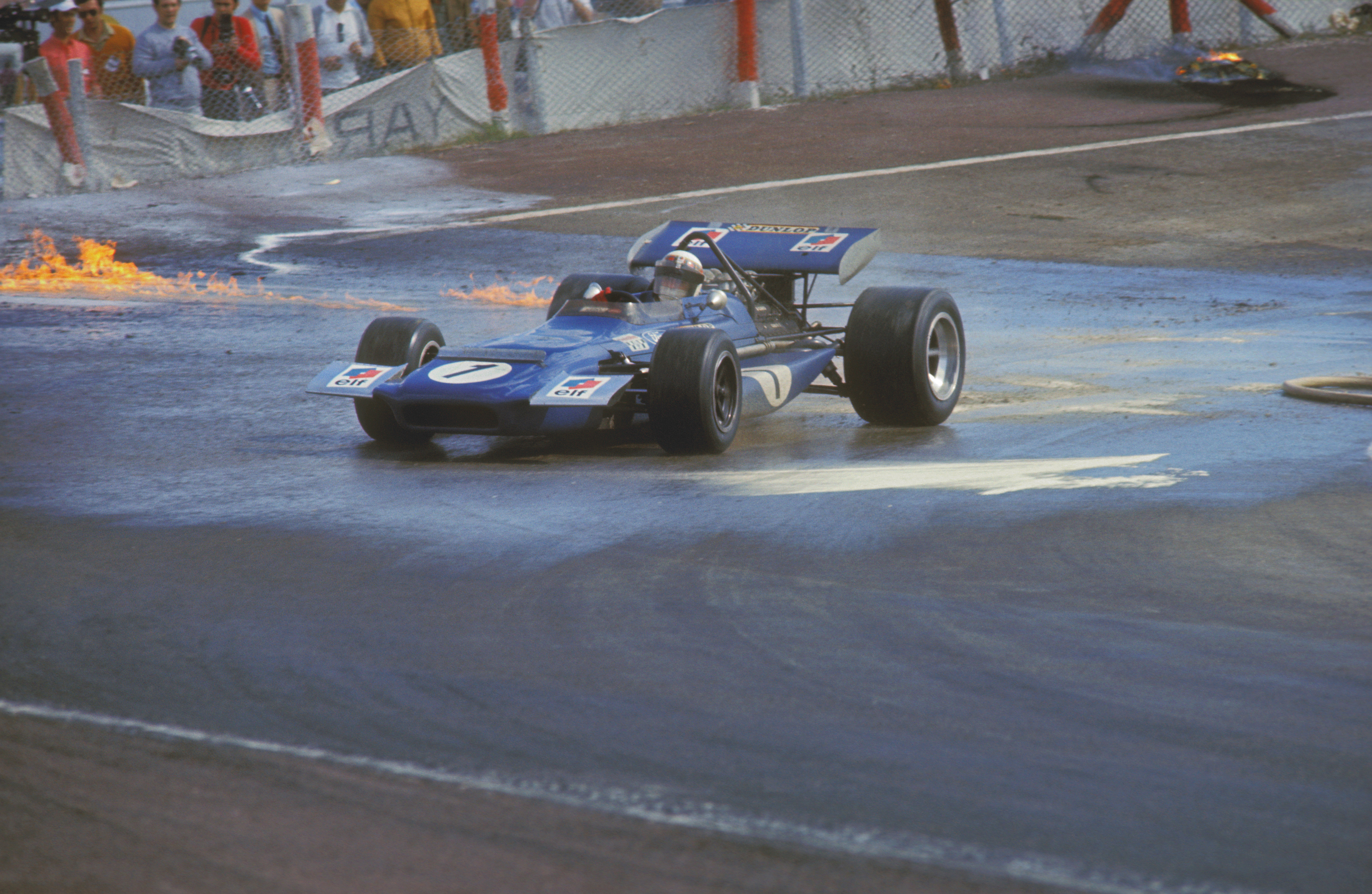 Stewart certainly didn't lack for competition. But he prevailed – not always, but in the long run – over all of them. Despite the distractions of the campaigns, despite the human carnage that he felt up close and horribly personal. Because for much of his F1 career, the sport's danger was probably at its absolute peak. The circuits hadn't changed but the cars had become aerodynamically loaded with the advent of downforce.
He drove shrewdly rather than indulgently. He did what was required, often with a margin in hand. So his genius wasn't always as nakedly on display as with some of the greats. But it was there, the steel just beneath the velvet.
This is someone who in the midst of his campaign against the dangers of the Nurburgring turned up there in the rain and fog and won by four minutes. Or, a couple of years later, campaigning against racing between the trees, walls and houses of the old Spa, set pole a full 1% faster than the next best. Excellence was a bare minimum. Genius was there on tap if needed.
Stewart probably didn't have quite the same degree of machinery advantage as Fangio or Clark. His Matras of '68 and '69 were the best by a small margin over Lotus. His Tyrrells of '71-73 were little better than anything else, but he'd ensured he had the best engines and tyres, and the sum of his parts was the gold standard of the era.
51 wins in 199 starts
Alain Prost achieved his success beneath the radar, rarely the most exciting performer but very often the most effective. From the moment he turned up early at the Winfield racing school, trying to ascertain if any one car was better than another, right up to his out-manoeuvring Ayrton Senna into the 1993 Williams seat, he planned his career with ruthless cunning.
He was operating in a harder, more cynical time of the sport than Stewart or Clark – and he was always proactive in stacking the odds in his favour. But he allied that to a big talent in the car, a low-energy, early brake, early turn-in, early power application style that worked wonderfully well in the turbo cars of the '80s in which he achieved most of his success.
He would literally tame those monster cars, trancing them into lap times, taking little from their tyres, while the others were wrestling with them and wowing the crowds. Often just another car in the pack in the early part of a race, here he'd come, increasingly strong, as the heroes slowed or pitted. There he was taking the chequer, ticking the box yet again.
Formula 1 was still something of a red meat activity when Prost first took part in it – he suffered three potentially lethal mechanical failure accidents in his rookie year but got away with nothing worse than a broken wrist – but it was vastly safer than when the preceding records had been set.
He was the first of the drivers in this list who could feasibly contemplate an F1 career stretching for over a decade. This was certainly a major contributor to his breaking the record and extending it to new heights.
With the sport sterilised of its worst excesses, Prost was able to formulate how best to beat a field that was one of the strongest F1 has ever seen, teams as well as drivers. The beginning of his career overlapped with Gilles Villeneuve, the last couple seasons with Michael Schumacher, taking in second-career Niki Lauda as team-mate along the way. Nelson Piquet, Didier Pironi, Rene Arnoux, Alan Jones, Keke Rosberg, Senna are among the notables Prost was measured against. It's unfortunate that he has come to be defined as the opposing character in Senna's drama rather than as the colossus of a driver he was in his own right.
That behemothian career was set in an era perfectly suited to his strengths, in ways beyond just his driving of the turbos. It was a time of technically complex cars but sparse data, making his biological telemetry and communication skills gold dust.
It was a combative, volatile period in F1's history where ruthless moves behind the scenes, the playing of the political game, could be very beneficial – and Prost was a sophisticate in this game, guileless only on the surface. He moved into Renault and made it his own (though was later fired for reasons unconnected to his on-track performance), transferred to the blockbusting McLaren-TAGs and finished off the second career of Lauda there through sheer overwhelming performance.
Prost and McLaren boss Ron Dennis seemed made for each other, but then came Senna. Prost quickly understood he usually couldn't beat him in the car, nor was he prepared to risk death rather than yield in this less respectful age. But there were other ways.
Prost was rarely the fastest but prevailed against an epic scale of competition throughout his career, never once insisted on number one team status and might quite realistically have been a seven- rather than four-time champion (the '82, 83 and '84 titles could feasibly have been his).
91 wins in 306 starts
Michael Schumacher achieved almost all of his success during F1's refuelling era, when races were divided up into a series of flat-out sprints, a format perfectly configured to showcase his incredible speed and fitness.
At the heart of Schumacher's staggering success was an ability to drive a car absolutely on the edge relentlessly. He was comfortable with a much edgier, more responsive car than most other drivers and could utilise such traits to find lap time out of bounds to others.
Here's how John Barnard, having worked extensively with Prost, described testing with Schumacher at Ferrari for the first time: "He'd lift the throttle to force the car into oversteer and then press it again to compensate with understeer. It really was amazing but you need big balls to drive that way. It just didn't seem right to me." He was doing this at a frequency that engineers didn't believe possible until more advanced telemetry was later able to confirm it.
"It was the right way to drive," states Eddie Irvine, his team-mate of four years. "He'd be off the throttle until the apex, carrying in incredible speed. Then he'd be working the throttle like crazy, balancing the car on it, even in the high-speed corners. To be able to do that to that degree was just insane."
It was all about balancing entry and exit speeds and how long the straight after the corner was. When he was at Benetton he had the team rig up three-speed displays so that he could monitor and freeze his mid-corner minimum and his speed on the following straight as well as his current speed. In this way, he worked out by trial and error the ultimate approach.
"It's much easier and more repeatable for most to just be point and squirt," explains Irvine. "You get on the power earlier and it gets you speed down the straight."
But Schumacher wanted to combine absolutely on-the-edge entry speed – which prevented an early power application – with competitive exit speed. Hence the manipulation of the throttle. The optimum would obviously vary from corner to corner – and he'd adapt. He worked at it so long that it became natural to him and he no longer needed the extra instrumentation.
In that anecdote is the essence of Schumacher's amazing ability and his work rate. The combination of that, his fitness and the style of racing in the refuelling era made him truly formidable. Then add to that his partnership with Ross Brawn and Jean Todt, with all the facilities of Ferrari at their joint disposal, all centred around him. There's the code for five consecutive years of F1 domination.
The rest of the Schumacher legacy – the professional fouls, his heavy-handedness in battle, his number one status within the team – is more emotional. The core was the unique talent, work rate and team-building skills he possessed. He faced Senna at the beginning of his career, Mika Hakkinen for much of the middle and Fernando Alonso at the end. But that was about it as far as serious rivals were concerned. Anyone else who took him on in that first, pre-comeback, career was able to do so only with much superior machinery.
92 wins in 262 starts
Lewis Hamilton's career is too of the moment to fully appreciate. It's only when standing back that the enormity of it can begin to be properly understood. As a racing driver, he is a phenomenon, with off-the-scale talent allied to a fabulously instinctive racecraft that has allowed him to avoid the sort of on-track controversies that blotted the copybooks of both Senna and Schumacher.
"Michael was all about his driving. No one came close," opines Irvine. "But Lewis is a much better racer."
He doesn't ever fully cross the line, though as his one-time team-mate Nico Rosberg has observed, he is able to work in the grey area but always with plausible deniability.
Like pretty much every driver in this list, he's spent much of his career in cars somewhere between good and fantastic and only the 2009 McLaren was bad enough to require a Hamilton-calibre driver to make it into a winner. The depth of driving competition has been immense: from Alonso through to Max Verstappen, taking in Mark Webber, Sebastian Vettel, Jenson Button, Rosberg, Daniel Ricciardo and Charles Leclerc along the way. That's arguably as good a field as Prost's and way deeper than Schumacher's or Fangio's.
Against a quality field, a fully competitive Ferrari team and with the great Alonso as his team-mate, only an incomprehensible strategy call by McLaren in China 2007 prevented him from being F1's only rookie world champion.
Many of Hamilton's challenges have been with himself. He struggled mentally in 2011 and it's only in the last two or three years that he's found an equilibrium in which he can apply himself fully to eradicating any and all weaknesses in the way that Schumacher did right from the start.
But the foundation level of ability is as high as anyone's in this list – and was reflected quite accurately with that sensational rookie season.
Paddy Lowe was there at McLaren when Hamilton was given his first F1 test:
"We looked on the traces and we could see really quite high levels of instability on the corner entries. He didn't even mention it until we quizzed him on it. Then just said, 'Oh yeah, it's busy, but I'm just driving round it.' These were levels of instability that would have had our regular drivers of the time [Kimi Raikkonen and Juan Pablo Montoya] bitching like hell."
A senior McLaren engineer, who'd been there since the '70s, as cynical and grizzled an old bear as they come, was, after a few tests saying, "He is the fastest guy I have ever seen." This from someone who'd worked with Senna and Hakkinen…
So why not the disappearing into the distance victories? Because F1 doesn't work like that in the safety car/Pirelli era. Drive off into the distance and you're potentially a sitting duck on worn tyres with the field bunched behind you on a restart.
This era is all about combining tyre life with pace enough to maintain track position – and that is all. It's controlled by the pitwall and the driver is essentially just the provider of performance. Hamilton has an uncanny ability to take little from his tyres while setting a pace out of reach of the others. He's brilliant at current F1's core skill. But he'd likely be brilliant if the core skill was something else.
James Allison, who worked with Schumacher at Benetton and Ferrari before his stint with Hamilton at Mercedes, says: "If I had to compare Michael to Lewis – which is an unfair comparison because they drove in different eras – the thing they have in common is qualifying pace although I would shade that to Michael if I had to play the parlour game and make a guess.
"But what Lewis definitely has that Michael didn't is an ability to conserve tyres in the race. Lewis has had to develop that ability because that's the predominant challenge of this era of racing.
"Lewis' gift for that has been acquired over the seasons. But his mastery of it now is extraordinary. Whereas Michael came from an era of short stint refuelling racing and certainly didn't have the feel for the tyre that Lewis has in racing conditions. Maybe if Michael had been Michael in Lewis' era of the sport he'd have acquired it."
They could all have done any of it. Depending upon what was required. That's the overarching reality.