A beautiful drive from 10th on the grid to victory for Max Verstappen, a win which had everything in the cool, sometimes drizzly conditions of Hungarian Grand Prix race day.
From the on-the-hoof change of tyre strategy before the start, decisive and sharp strategy calls, managing an early clutch issue, hard wheel-to-wheel racing and a quick 360-degree spin in the middle of it all.
Verstappen and Sergio Perez drove to the grid on soft tyres. They planned to fit hards for the start, as the foundation of what was going to be a one-stop strategy. In the cool damp conditions, even the softs were not coming up to temperature. Both drivers said, 'no way are the hards going to work'.
That entailed a complete switch-around of strategy on the very eve of the race, but the team simply recalibrated and did what it does best: made the adventurous strategy calls which on this occasion helped undercut Verstappen up the field from his power-unit-compromised grid slot. Verstappen did the rest. They are a truly formidable combination of team, car and driver.
Ferrari made it easier for them, not getting its set-up for the cooler conditions of Saturday/Sunday right after looking dominant on Friday and making the wrong tyre calls on Sunday into the bargain.
Had Friday's hot weather continued through the weekend we'd likely have been looking at a dominant Ferrari 1-2 from the front row. Instead Carlos Sainz and Charles Leclerc finished a respective fourth and sixth.
Mercedes got the tyres working beautifully, well enough for George Russell to take his first pole and to comfortably outpace Ferrari on Sunday, this the foundation of Lewis Hamilton and Russell filling out the podium behind Verstappen. But they didn't ultimately have Verstappen's pace. The car is getting better and the team played a blinder in its radical set-up change from Friday to Saturday. But it's still not a Red Bull or a Ferrari.
In fact Mercedes got a good read on the tyres earlier than either Red Bull or Ferrari – as early as Friday. That's when it discovered that the hard compound was to be avoided at all costs and that it would therefore be forced, through the combination of medium and soft, to commit to a two-stop.
In hindsight, avoiding that hard was absolutely crucial. With the exception of Lando Norris, it would go on to ruin the race of everyone who tried it, notably Leclerc and the Alpine team (which finished a one-stopping eighth and ninth from fifth and sixth on the grid). Neither Ferrari nor Red Bull had run the hard at all before race day.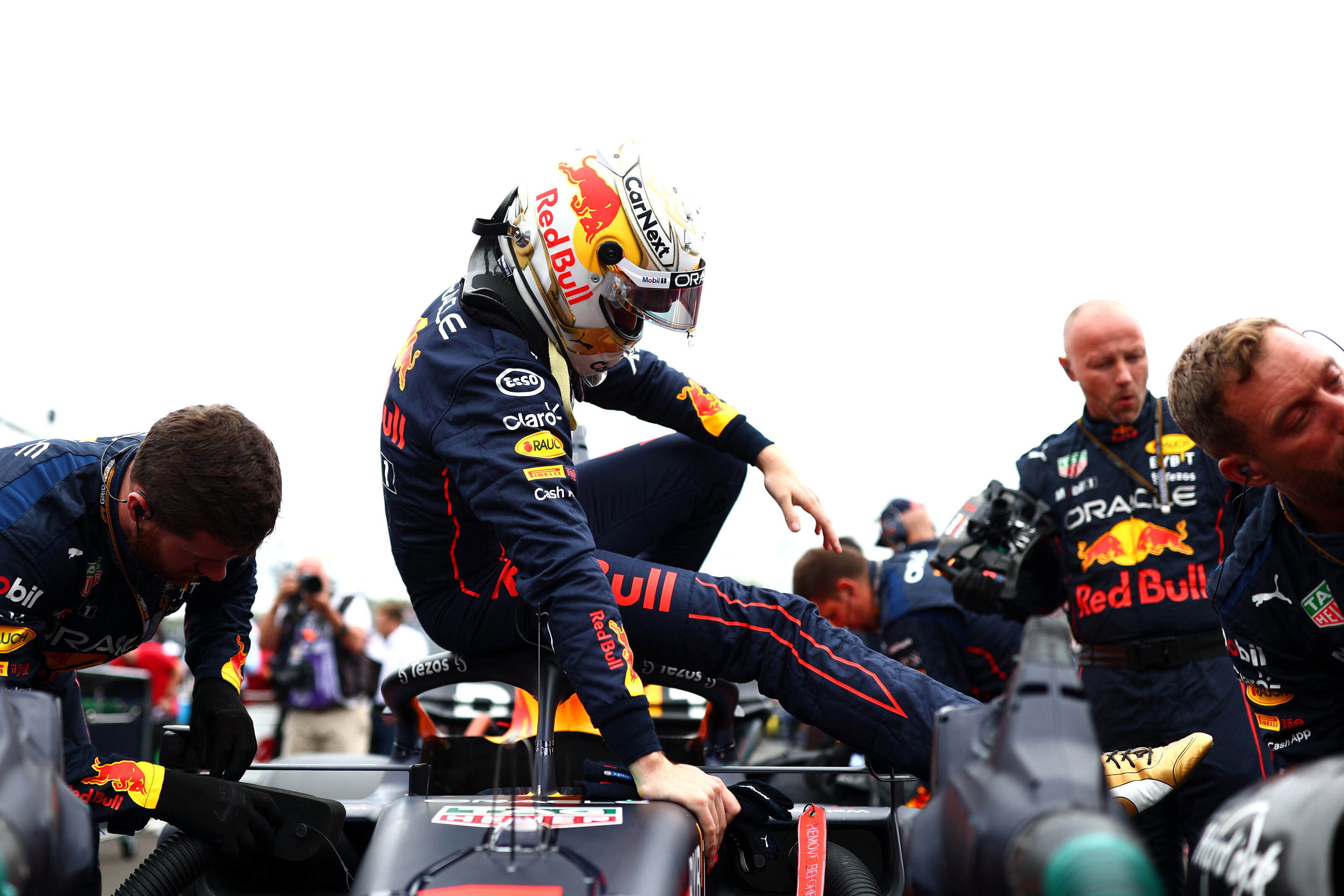 Verstappen and Perez's reconnaissance laps and their firm subsequent insistence rescued them from that booby trap. Ferrari didn't get to try the hard until it fitted it Leclerc's car at his second stop.
But the use of the hard didn't explain everything about Ferrari's shortfall. Sainz didn't use it, after all. The team just were not particularly quick on any of the three compounds. "When the pace is bad, like today," said Sainz, "the strategy is always difficult. We didn't have pace with any compound."
Ferrari took itself out of the picture with a less than full understanding of the tyres and conditions. Red Bull steadily recovered from Verstappen's Q3 PU glitch to ultimately prevail. And the gaps in between allowed an improving Mercedes to take some limelight.
But really all that happened was the changeable weather of the weekend and a few circumstantial things mixed things up.
Along with that Verstappen PU failure in Q3 and Hamilton's DRS failure, and a wild difference in tyre strategies (Verstappen, Perez and Russell went soft/medium/medium, Leclerc medium/medium/hard/soft, Sainz and Hamilton medium/medium/soft) the changeable weather led to a race where the true performance picture only gradually revealed itself, a picture in which Verstappen was ultimately up front and centre.
"It just shows how quickly you have to react," said Verstappen. "The team needs to be flexible.
"Everything was calculated around the hard tyre but we made that quick decision to change, showing we have that belief in ourselves. You need that feel. Not just in the cockpit but from the team, on the pitwall, and we have that."
First stint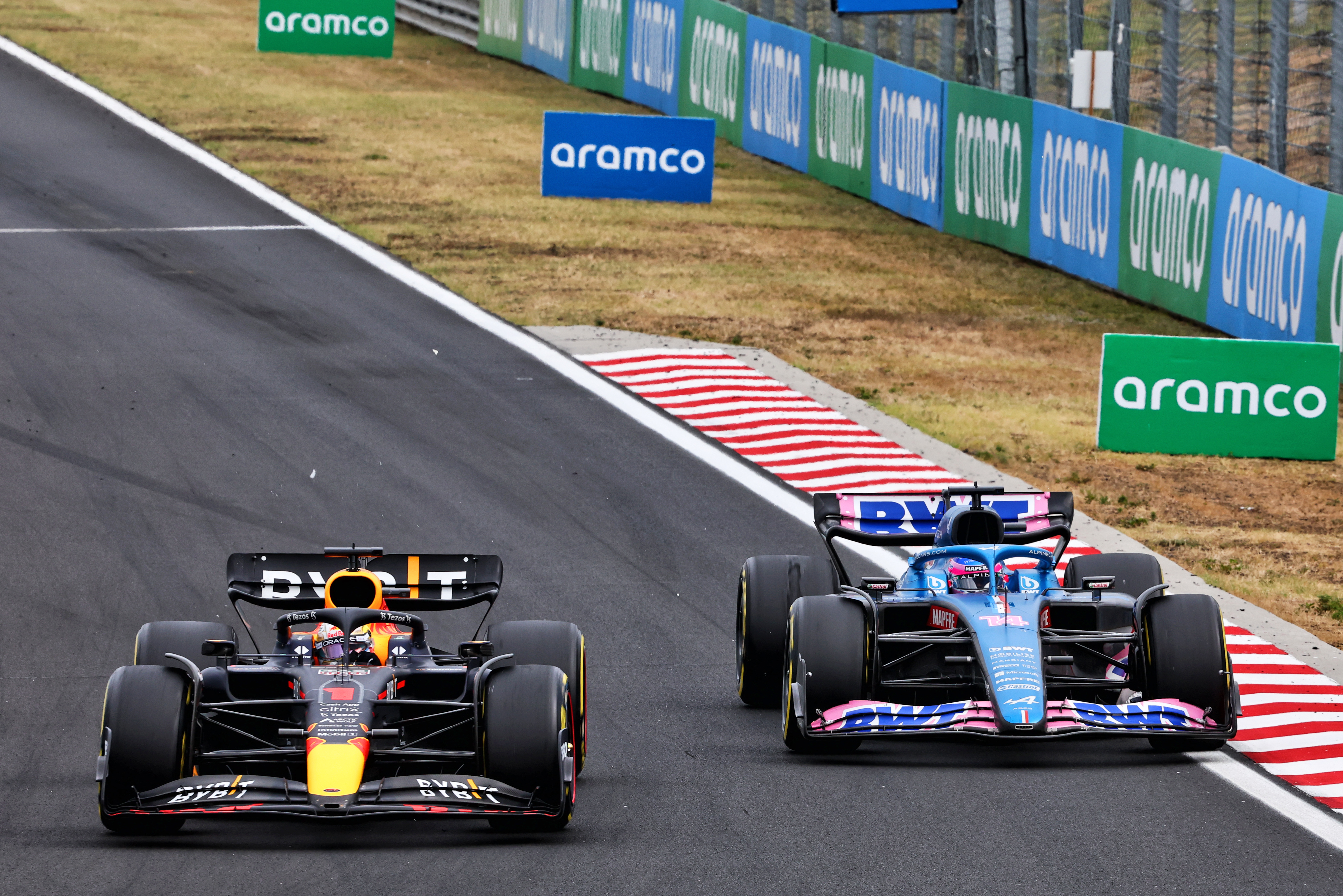 In hindsight this was just to get the race up and running and didn't really reveal the true picture. Verstappen and Hamilton, the first and second finishers, were relatively obscure in this stint. Verstappen took a time to get past the Alpines while Hamilton spent a dozen laps boxed in behind Norris's over-qualified McLaren. Only by lap 13 were Hamilton and Verstappen running fourth and fifth, but well behind the leading trio. The attention had been diverted up front.
Polesitter Russell had used his soft tyres to out-accelerate the medium-shod Ferraris to lead off the grid. Mercedes, as recalled, was committed to the two-stop because of its Friday homework. Ferrari, not realising how bad the hard was, was open-minded about one or two stopping and hence gave itself the option of a one-stop by starting on the medium. That played its part in getting trapped strategically.
The soft was a good tyre in these cool conditions but had a short range. After about a dozen laps the front left would begin graining – and so the 3s lead Russell initially built over Sainz and Leclerc was being eaten into by the 13th lap.
Lap 16 was the first lap in which Russell could be brought in without coming out behind the battling Alpine pair of Esteban Ocon and Fernando Alonso. If Mercedes hadn't pitted him then, Ferrari would have undercut Sainz ahead. So in Russell came for a set of mediums, as he was running out of tyre grip on the old softs.
Ordinarily Ferrari would then have kept Sainz out, taking full advantage of the greater range of his medium tyre. But Russell was delayed a couple of vital seconds in the pits, with a sticking right-front. So potentially Ferrari could now overcut Sainz ahead and that proved too much temptation for them.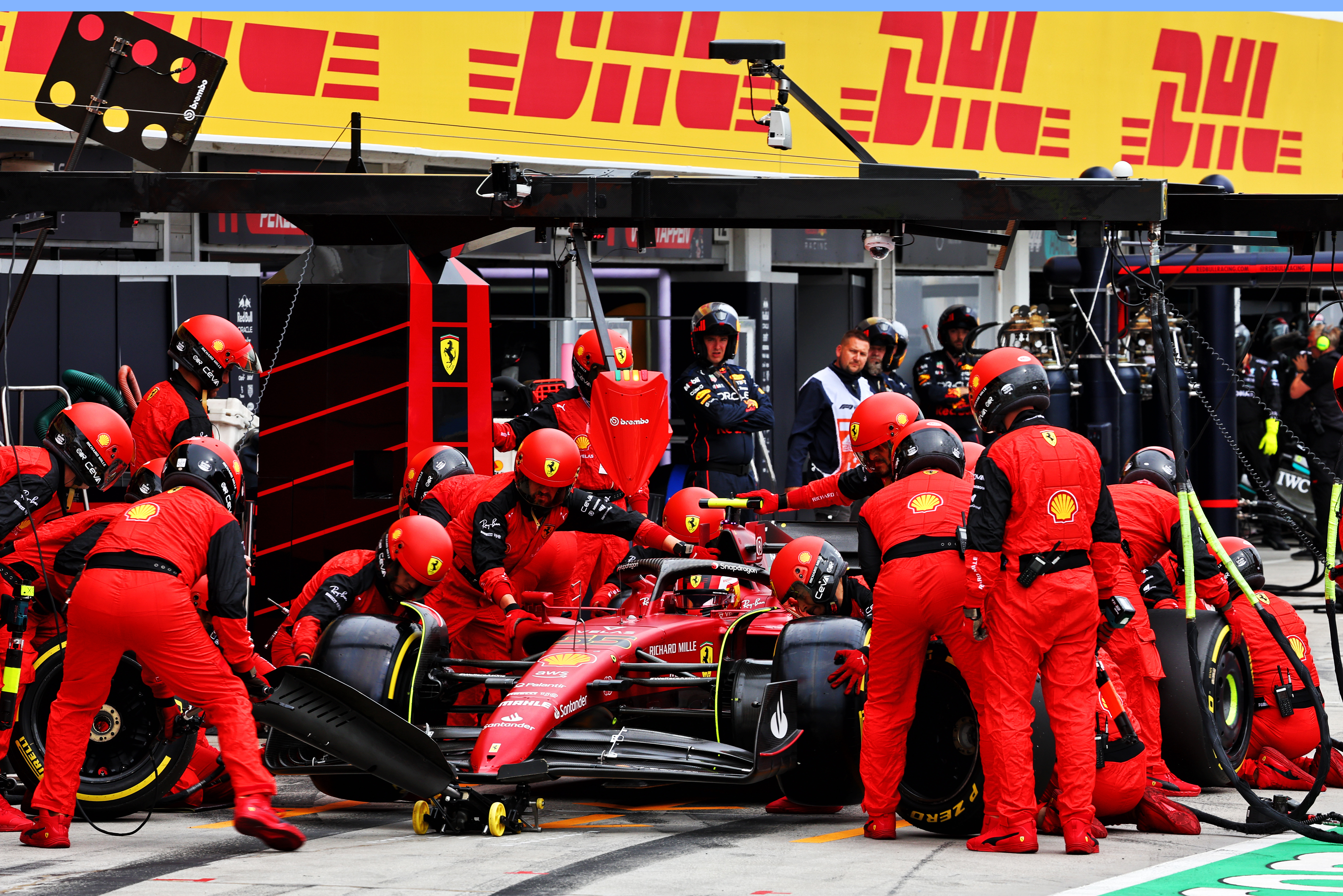 Sainz was brought in next lap. But there was then a delay with his stop, on the left-rear, and it was barely any quicker than Russell's, meaning he came out still behind the Mercedes. So he'd surrendered the strategic gold dust of the medium's greater range for nothing. Coming out behind Ocon and taking a time to find a way by also meant he'd later lose track position to team-mate Leclerc.
The other thing it did – which wasn't disastrous, but wasn't planned – was force Sainz onto a two-stop, because he'd had another set of mediums fitted, as the hards would not have come up to temperature fast enough to have allowed him to fend off Russell. With the requirement to run at least two compounds in the race, Sainz was obliged to make a second stop. The temptation to pounce upon the Russell delay had ultimately forced Sainz onto a less than ideally-spaced two-stop and lost him a place to Leclerc.
Meanwhile, around 10s behind the leaders, the soft-tyred Verstappen had closed down upon Hamilton's medium-shod Mercedes but now the Red Bull's grip was beginning to fade. There was no hesitation on the pitwall – Verstappen was brought in for the undercut and fitted with a set of new mediums. This too was lap 16.
Mercedes left Hamilton out there, trying to maximise the stint length of his mediums. Red Bull then used Perez on lap 18 to apply undercut pressure to Hamilton, who was brought in next lap and fitted with another set of mediums.
That all left the yet-to-stop Leclerc leading but without enough of a gap over Russell to take the lead after his stop – which came on lap 21.
Russell led the race once more, the six cars of the top three teams were now all on mediums and two-stopping and all were clear of the Norris-led midfield and the one-stopping Alpines.
Leclerc closed in on Russell. Verstappen closed on Sainz. Hamilton was around 7s behind Verstappen but comfortably clear of Perez.
Second stint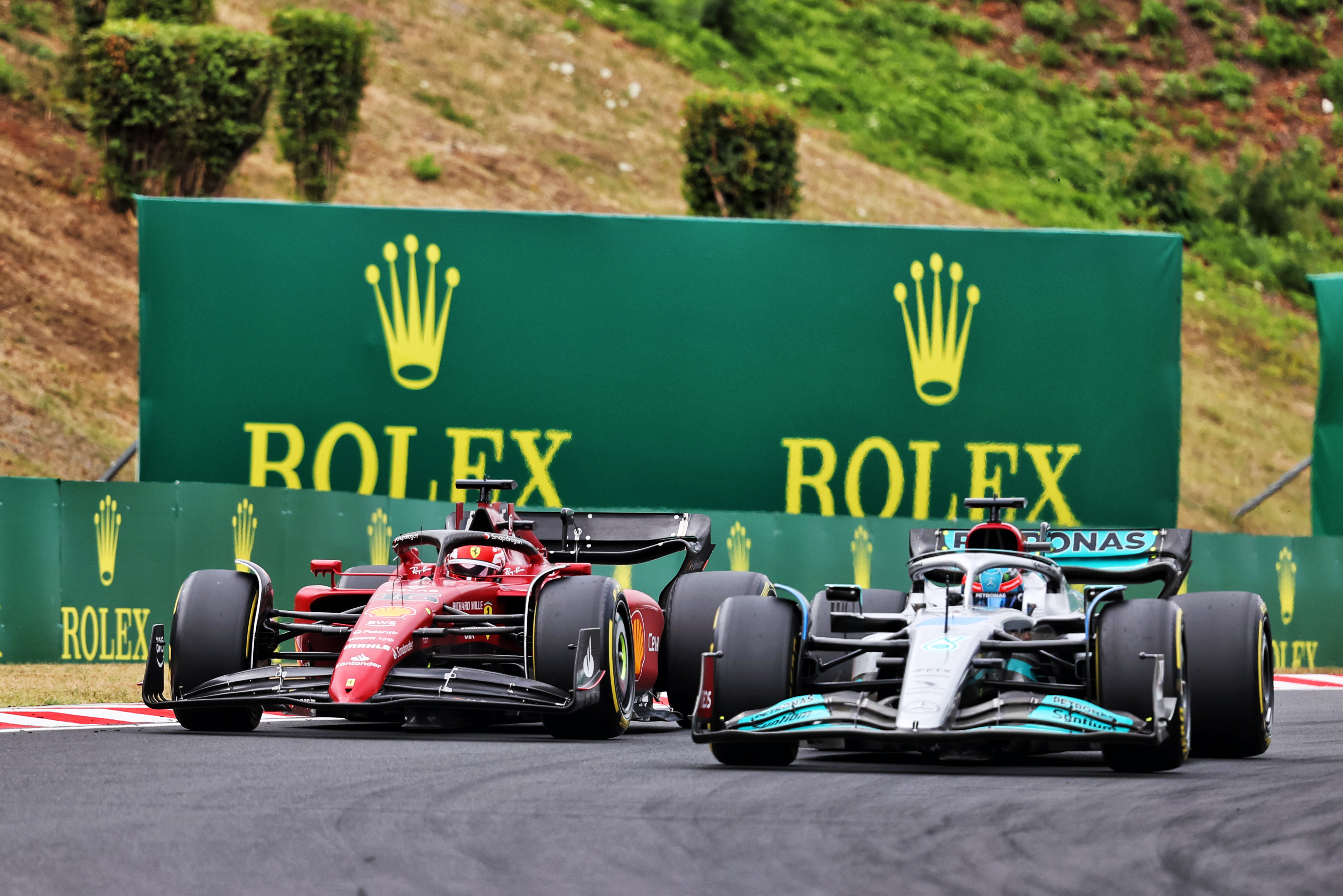 Leclerc used his five-lap tyre advantage over Russell to chase him down and by the 26th lap he was in DRS range. Russell was resolute in his defence but the Ferrari was quicker, Leclerc eventually taking the lead with a committed late lunge down the outside into Turn 1 at the end of the DRS zone on the 30th lap, using the clean air afforded him by Russell's defensive inside line.
Leclerc pulled steadily away and Sainz/Verstappen now began to threaten Russell. Again Red Bull didn't hesitate: at the earliest possible opportunity – lap 38 – Verstappen was called in.
This gave Ferrari a particular headache. Russell was sure to be pitted in response and indeed the Mercedes mechanics were out in the pit box. That in turn threatened Leclerc's position and so Ferrari brought him in too, against his instincts, as he was quite happy with how his mediums were standing up. He'd been on them for just 18 laps.
Leclerc and Russell came in together, with the Ferrari getting out still ahead of Verstappen but Russell now behind the Red Bull (as well behind the sister car of the yet-to-stop Perez, who had backed off to allow Max past on his out-lap). But Leclerc was now obliged to be on the hards. He was about to discover just how bad they were on a cool track with occasional light drizzle.
Ferrari left Sainz out in the lead, the plan being to get him to go long enough that he could get onto a set of softs at his second stop. Mercedes did the same with Hamilton, for the same reason, and he ran around 4s behind the Ferrari. They were around 11s clear of Leclerc and Verstappen but on their old tyres lapping around 1s slower.
"These tyres are s**t," said Leclerc after being unable to fend off the aggressive medium-shod Verstappen into Turn 1 on lap 41. Later that very lap Verstappen spun out of the penultimate corner, his tyres still not fully up to temperature. It's possible it had something to do with the excessive clutch slipping the car had suffered early in the race, the solution to which may have made the upshifts a bit abrupt.
He hit the throttle at the perfect moment to convert the spin into a full 360 and carried on with very little time loss – but it had enabled Leclerc to zap past ahead once more. As Perez backed off, keen not to pass his team-mate, so Russell was all over them both and it got quite congested for a few moments. Perez was in for his stop at the end of the lap, Verstappen was pulling away from Russell once more and catching Leclerc, ready to attack the Ferrari all over again.
"I could see he was in trouble with the hards," said Verstappen of Leclerc. Indeed the Ferrari was a twitchy handful out of the final corner in particular. Four laps after the spin, Verstappen repassed Leclerc as the Ferrari struggled to get the power down out of Turn 1.
That put him just 13s behind Sainz and Hamilton, both of whom had to stop again at a cost of 20s. With 25 laps to go Verstappen had effectively bought himself the victory. It was just a question of how the Russell/Sainz/Hamilton/Leclerc quartet would fare against each other.
Third stint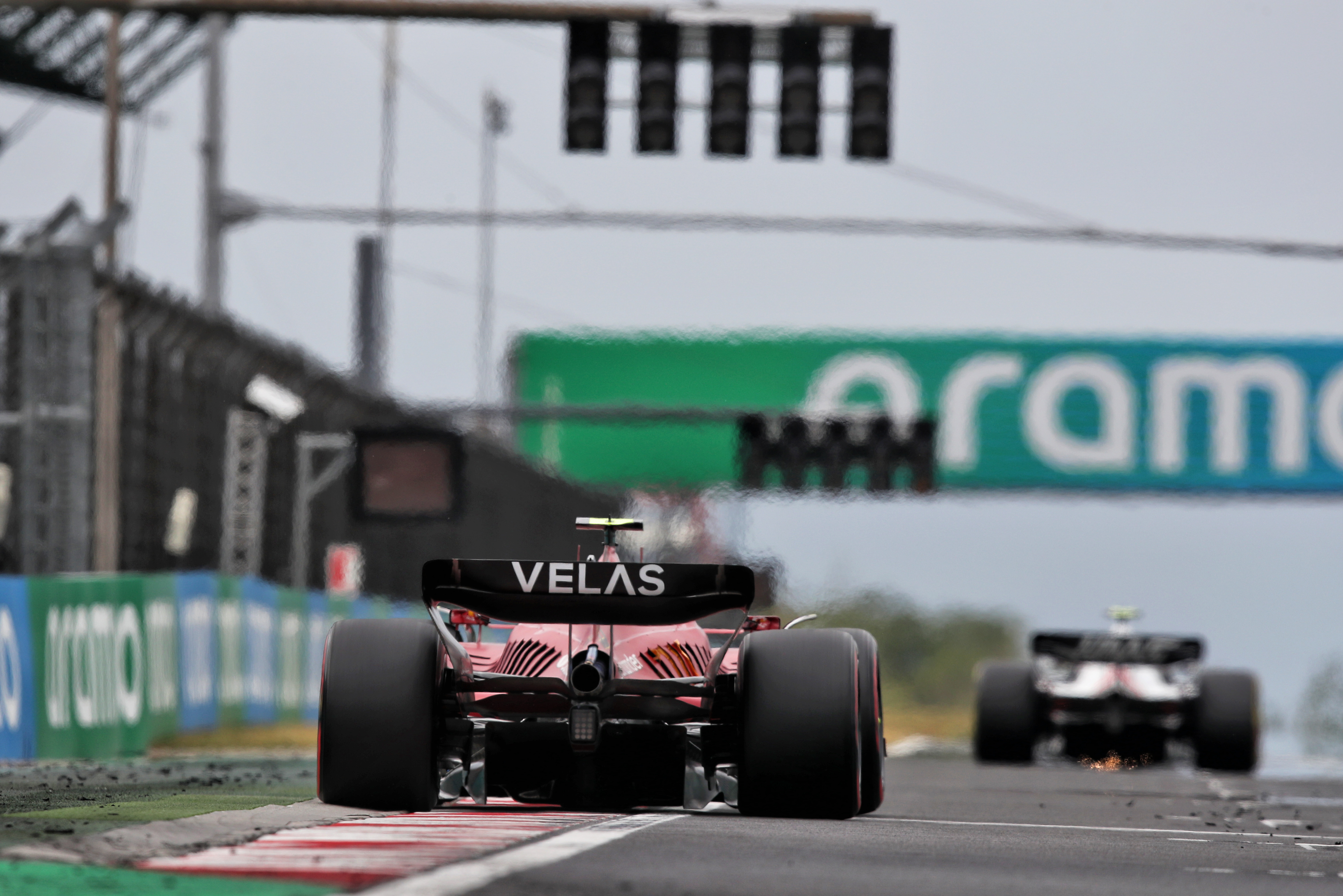 Sainz ran until lap 48 on his second set of mediums before switching to the softs. He was briefly quick on these and as Mercedes left Hamilton out for a few more laps in order to increase his tyre offset over Sainz for the final stint, so it temporarily ballooned his advantage over the Mercedes. But Hamilton was going over 1s a lap quicker once onto his own set of softs, setting the race's fastest lap along the way.
Sainz had exited a few seconds behind Russell who was catching the troubled Leclerc at 2s per lap. As Leclerc (on old hards) was being caught by Russell (on old mediums) so Russell was being chased down by Sainz (on new softs), with Hamilton (also on new softs) catching them all!
Russell was all over Leclerc and finally nailed him for second on the 54th lap, at which point Leclerc bailed out of his hard tyres and made a third pitstop for a set of softs, rejoining sixth, behind Perez. With 10 laps to go Sainz was just over 1s behind Russell – with Hamilton about to join the fun too.
Hamilton's pace on the softs had averaged almost 1s per lap faster than Sainz's on the same tyres over the previous nine laps, rather highlighting Sainz's point about the lack of pace of the Ferrari on any of the compounds. His front left was beginning to grain. Hamilton's was still in great shape.
On the 63rd lap he DRS'd his way past the Ferrari very early onto the pit straight and set off after team-mate Russell whose tyres were harder and 12 laps older. This is how Hamilton's offset starting tyre choice to Russell ended up favouring him. Two laps after passing Sainz, Hamilton simply out-accelerated Russell as they came out of Turn 1.
A VSC two laps from the end for Valtteri Bottas' broken-down Alfa Romeo coincided with the intensity of the drizzle increasing. Verstappen on his old mediums was a little nervous about this but the 10s lead over second he'd built up allowed him to cruise the last couple of laps.
"I was hoping it was going to rain at the end so I could challenge Max," said Hamilton in reference to his tyres being 13 laps newer. But there had been enough plot twists already and Verstappen took one of the most impressive victories of his career. Hamilton and Russell followed to make it the same top three as a week ago at Paul Ricard.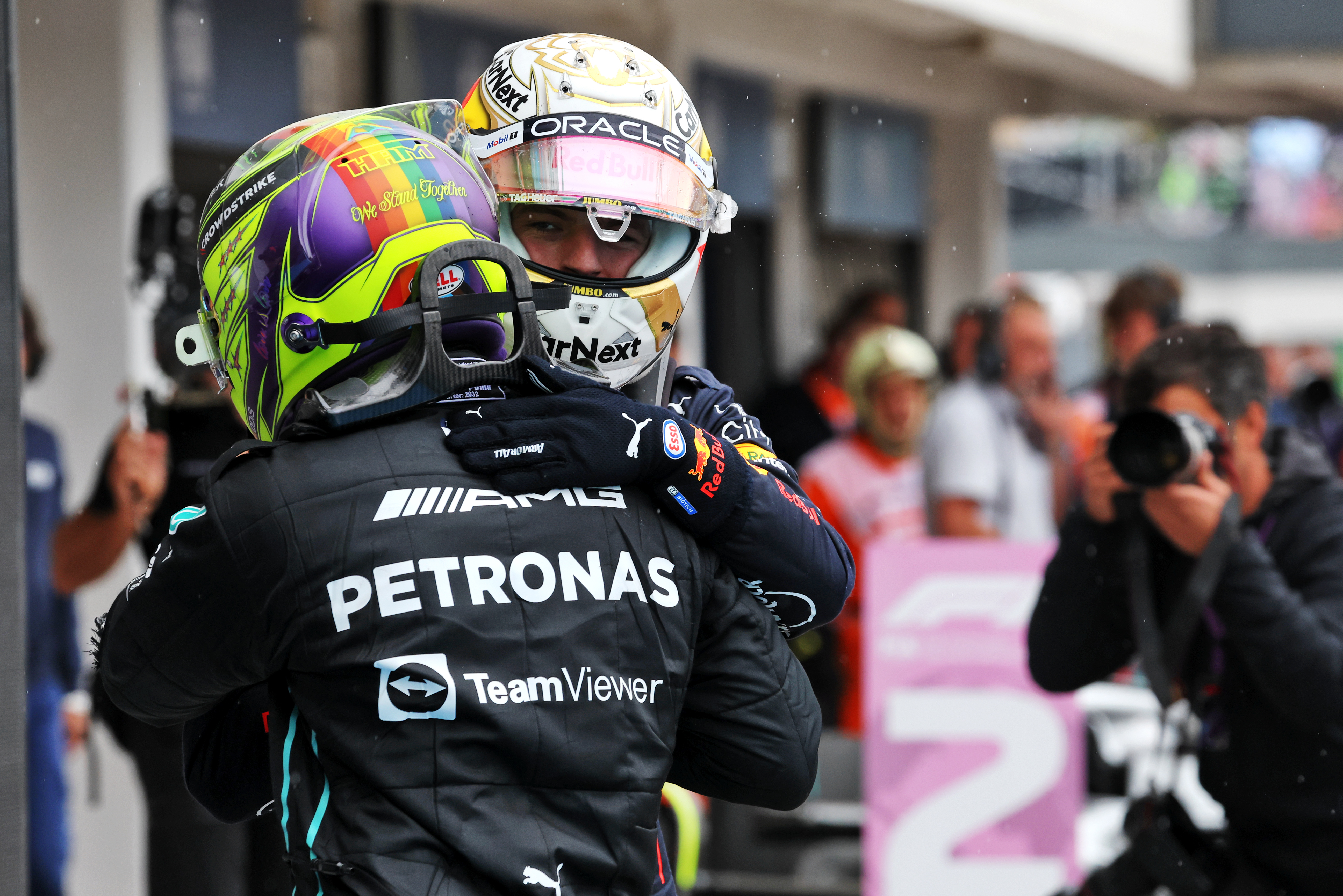 Verstappen made it sound simple: "We put the right tyres on the car. I think that was the most important thing today, to have the grip. And, yeah, slowly we were just moving forward. Then, I think that final stop was very good, at the time we planned it."
But it was the performance of a great driver and team at the top of their combined powers and made the gap between a truly top team and the current Ferrari, despite the quality of its car, more plain than ever.
"If you want to fight for a championship, you can't afford many mistakes," continued Verstappen, now 80 points clear.
"It's of course, very hard, to always be on the good side, let's say it like that. But I think we have a lot of good guys in the team and girls. Today, I think Hannah [Schmitz], our strategist, was insanely calm. Yeah, she's very good."
Leclerc couldn't reach Perez's fifth place before the end. Norris bossed the 'best of the rest' class in the McLaren but, as usual, it had nothing like the race pace of the top three teams once it had used up its new tyres. Alonso was being held up in the middle stages by Ocon who was instructed to pull over, with Esteban only just holding off Sebastian Vettel's Aston Martin at the flag for ninth.
It's going to take one hell of a reset over the summer break for anyone to combat the Verstappen steamroller.